When it comes to getting a backpack, there's more to consider than just aesthetics. You need to ensure that your new backpack will be comfortable to carry, has the right capacity, and is lightweight enough not to weigh you down. Granite Gear has various products that may fit the bill, but how do you decide which is right for you?
To help make your buying process easier, we made this list to take an objective look at the best Granite Gear backpacks.
If you want to know the best Granite Gear backpack in a hurry, we recommend the Granite Gear Blaze 60L because it has great capacity, organization, and comfort in mind.
Best Granite Gear Backpacks
Compare Top Granite Gear Backpacks
Detailed Analysis Of The Best Granite Gear Backpacks
1. Granite Gear Crown2 60
Overall Score: 80
Advantages
Roomy interior
Ultra-lightweight
Decent organization
Disadvantages
Maxes out around 30 pounds of gear
Expensive
Capacity
The Crown2 backpack is a great option for hikers who need an abundance of gear.
Designed for a weekend trip or a longer excursion into the woods, you'll be impressed by its 60-liter capacity, even if it doesn't have the organization you might want.
If you don't plan to dig through your pack on the way to the campsite, you'll be able to make the best use of this bag.
Weight
One of the best features of the Crown2 is its overall weight. Fear not if you're concerned about how your backpack will feel when on a long hiking trip.
It weighs just a little over 2 pounds, making it one of the market's lightest and most impressive backpacks.
Organization
While you won't find many bells and whistles on the Crown2, you'll have all the functionality that you truly need.
The lid of this backpack opens wide to give you a great vantage point into what's in the body of your bag. It also has a mesh panel pocket, perfect for items that have gotten wet, like a rainfly or clothes.
As you might expect, it also comes with two water bottle pockets and a hydration pouch. The waist belt also has some pockets that will make your snacks easily accessible so that you can eat on the go.
This is also a great place to store your phone if you don't want to carry it but still need quick access.
Comfort
The one thing to consider when it comes to the Crown2 is that it isn't designed to carry an extremely heavy load.
Most campers find that the frame can only support about 30 pounds of gear before it becomes uncomfortable to carry.
The foam back isn't the most comfortable and may not do much to wick away moisture. Not to mention, the foam in the shoulder straps leaves something to be desired.
Price
This model is a bit expensive, given its use compared to some backpacks on the market. If you want to invest in a backpack and budget is no concern, this is a durable option for lightweight packers.
Remember that you could find less expensive backpacks from other brands that can carry a heavier load.
2. Granite Gear Blaze 60L

Overall Score: 88
Advantages
Has a larger weight capacity (50 pounds)
Vertical zipper to access items in the bottom of the backpack
Lightweight
Hydration port and internal reservoir
Disadvantages
Capacity
Like most of the Granite Gear backpacks, this model doesn't disappoint regarding capacity on the interior. It has some limits regarding weight, but it should easily hold a robust 60 liters of gear.
This makes it great for multi-day trips as long as your gear is relatively lightweight.
Weight
This backpack also packs a powerful punch regarding the overall weight. Despite being a high-quality backpack, it doesn't weigh much, and you won't even feel it on your back until it's loaded with your gear.
It clocks in at just one pound, making it an ultralight option that is as robust as possible.
Organization
When it comes to organization, you'll love how easy it is to keep everything straight in the Blaze.
While it technically loads from the top, you'll find that the vertical zipper makes it simple for you to gain access to all of your gear at any point without having to completely unpack everything to get to items on the bottom.
A benefit of the Blaze backpack is that it has a hydration port and an internal sleeve to hold some water for your convenience.
This backpack also has a removable lid that can be repositioned over the chest.
A chest pack is more easily accessible without setting the backpack down, making it great for snacks or small electronics you want quick access to while hiking.
Comfort
One of the benefits of the Blaze backpack is that it comes standard with the newer air current frame from Granite Gear.
This makes it more comfortable to carry, along with the dual-density shoulder harness and load-lifter straps.
Most will find this backpack fairly comfortable to carry as long as you stay under the max weight rating.
The Blaze might be a better fit if you know you'll need to carry more gear than the Crown2 can reasonably hold. It practically doubles the overall load capacity with a max rating of 50 pounds.
Anything heavier than this may cause undue wear and tear and be less comfortable to carry. It does come in three different sizes (long, regular, and short), depending on your torso length.
Price
While the Blaze is a solid contender for backpacking, it might price itself right out of the market. It's easily one of the most expensive options, even among the other Granite Gear backpacks.
This is a great option if cost is no issue when buying your gear. However, most people will find this price tag nearly impossible to stomach.
3. Granite Gear Crown 3 60L
Overall Score: 82
Advantages
Roomy interior
Removable lid (for use as a chest or lumbar pack)
Comfortable to carry
Disadvantages
Lower weight capacity
Expensive initial investment
Capacity
The Crown 3 doesn't offer anything new regarding the backpack's capacity. It's the same as the Crown2 and the Blaze at 60 liters.
Whether you want it in short, long, or average, you can comfortably carry a load this size, making it perfect for a weekend or multi-day camping trip.
Weight
Despite the roomy interior of this pack, you'll find it relatively lightweight. With the regular torso and without the lid, the backpack weighs 2.4 pounds.
It can also be reduced to 2 pounds if you remove the frame sheet. When every pound matters on your back, you'll want to opt for this backpack for its lightweight nature.
Organization
You'll be pretty impressed by the organization of the Crown 3. Learning from earlier models, this updated version has everything you need for easy access.
It boasts a roll-top main compartment with a removable lid and top compression straps. The lid can be removed and used as a chest or lumbar pack with the hip belt.
It also comes with a hydration port and an internal sleeve for those who don't want to be weighed down with multiple water bottles. There's still room for water bottles in the side pockets.
Comfort
This backpack will be ideal for anyone with difficulty finding a backpack that'll fit them comfortably.
Along with the three torso sizes you can select, it also comes with the new Vapor Current Mark 3 compression molded PE frame sheet designed for comfort.
Plus, you'll still get a molded foam back panel to keep the weight easy on your spine.
Another feature to mention is the fully adjustable re-fit hip belt that can help anchor the pack on your body while still giving you access to convenient storage.
It can reasonably and comfortably hold about 43 pounds of gear (25 pounds without the frame sheet).
Price
Much like the Blaze, the Crown 3 is a bit more expensive than other backpacks with a similar capacity.
It's a solid option for someone who wants a high-quality backpack with the brand name Granite Gear, known for being durable long-term.
However, it'll set you back a bit if you don't have a large budget for your camping gear.
4. Granite Gear Virga 2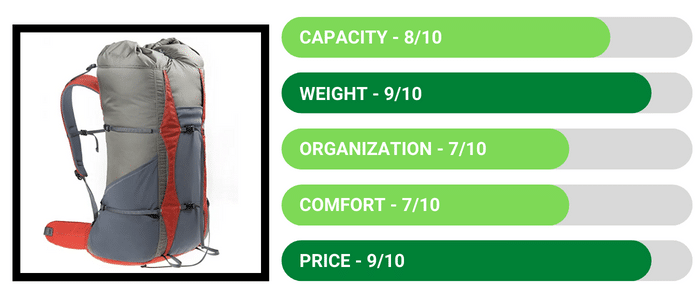 Overall Score: 80
Advantages
Ultralight due to the frameless design
Affordable
Comfortable to carry within specs
Disadvantages
Smaller capacity (54 liters and 20 pounds)
Minimal organization
Capacity
Unlike most of the Granite Gear packs on this list, the Virga 2 is just a touch smaller regarding capacity. It holds just 52 liters instead of the more standard 60 liters.
This model could be a great fit for your next camping trip or serve as a solid hiking day backpack if you don't mind having a slightly smaller pack or frequent travel light.
Weight
This ultralight backpack certainly shines when weight is the most important thing to you. With this easy-to-use pack, you won't be weighed down, which weighs in at just 1 pound and 2 ounces.
Forget about removing the lid and frame sheet to get the pack's weight down. This one is good to go, completely as-is.
Organization
The roll-top design of this backpack makes accessing your gear a bit more challenging, but some people love the simplicity of this style.
Despite loading everything in your pack from the top down, you'll also love that it comes with three stretch pockets on the exterior for quick access to items you frequently need, like snacks or first aid kits.
The best way to pack your Virga 2 is to roll your supplies up in a good quality sleeping pad.
When you drop the sleeping pad in the pack, it will expand and take up as much room as it needs to keep your pack light and perfectly balanced.
Comfort
This backpack is a great option for those who don't mind packing light. It has padded shoulder straps, a must for those hitting the trails for the day or the weekend.
The belt is also padded to keep it comfortable around your midsection. A webbing belt will help to stabilize the load.
Keep in mind that the Virga 2 is a frameless backpack which means it won't be able to carry as much as some other models.
With this model, you can comfortably carry about 20 pounds before it starts to weigh too heavily on the fabric, shoulder straps, and other pressure points.
If you want to stay comfortable with this pack, you'll err on the side of packing lightly.
Price
Out of all of the Granite Gear backpacks included here, the Virga 2 is one of the most affordable.
You'll get one of the best quality backpacks from a reputable name brand, but you won't have to break your budget to do so.
While it's still a bit pricey compared to other brands, it's a real steal for Granite Gear.
5. Granite Gear Dagger

Overall Score: 86
Advantages
Smaller pack but still boasts a great max weight capacity
Affordable
Good organization
Disadvantages
Capacity
Some campers prefer not to pack for an entire weekend. Instead, they need just enough space for one day of food, clothes, and water. To this end, the Granite Gear Dagger certainly delivers.
It's smaller than the other packs included here, but it still allows you to carry everything you need with a 22-liter capacity.
Weight
Because it's a bit smaller than some other models, it's much lighter. This model is designed to be ultra-lightweight – and it delivers.
Most people agree that this backpack weighs less than two pounds, significantly less if you remove the frame sheet and the hip belt. You can't go wrong with the Dagger if every pound matters to you.
Organization
Much like standard small backpacks, the Granite Gear Dagger has a zipper for access to the main compartment, but it also has a secondary stash pocket.
The front pocket is made of easily stretched material and comes equipped with a reflective cord. Plus, you'll get side pockets that can accommodate even more items.
The Dagger has a hydration port and internal sleeve to help you stay hydrated.
Comfort
One of the areas where the Dagger truly shines is in the comfort department. It has a dual-density padded back panel and shoulder straps.
It also features a removable webbing waist belt designed to hug your waist as much as possible.
Given its overall size, you'll be surprised to learn that it's going to be comfortable to carry up to 20 pounds without weighing too heavily on the shoulder straps.
Price
When it comes to Granite Gear backpacks, this is easily the most affordable model. While it's also one of the smaller options, it's great for a day-long hike and packs a powerful punch in a small package.
You can't go wrong with the Dagger if your budget is the most important consideration when buying a quality backpack.
Final Thoughts
If you need a comfortable backpack that packs a powerful punch, you can't go wrong with one of the leading options from Granite Gear.
Though these packs are designed to travel light, they can handle large loads.
We found that the Blaze 60L was the best value for the money and will keep you happily trekking along the trails for some time to come!