Backpacking and comfort can sometimes come with compromise, especially when you want a lightweight pack and a full night's sleep. With hundreds of options, finding the right sleeping pad that is comfortable and suitable for backpacking can be difficult.
We reviewed 8 of the best backpacking sleeping pads for any backpacking trip. If you're short on time, our best overall backpacking sleeping pad is the NEMO Tensor Insulated Sleeping Pad. It's lightweight, compact, and comfortable. Everything you need!
Keep reading to find other great backpacking sleeping pads that are season-specific, budget-friendly, or perfect for side sleepers! We've made it easier for you by creating a review of the best backpacking sleeping pads currently on the market!
Best Sleeping Pads For Backpacking
Compare Top Backpacking Sleeping Pads
Detailed Analysis Of The Best Backpacking Sleeping Pads
1. REDCAMP Closed Cell Foam Camping Sleeping Pad

Overall Score: 72
Advantages
Lightweight
Cheap
Durable
Disadvantages
Thin pad
Not best compact shape
Weight
This is an extremely lightweight sleeping pad that weighs 17oz. Its weight makes it a great option for backpacking or camping trips. For a sleeping pad that measures 72 inches, it's unbelievably light.
Comfort
At 0.75in thick, this pad is very thin. It'll be best on flat ground or grass. Its surface is made from an aluminum film reflecting heat from your body back, making the pad warmer.
However, this pad does not provide warmth for winter or colder camping.
Durability
With its egg-shaped design, this closed-cell foam pad helps it be extremely durable. The REDCAMP's durability is also tougher by its rigid form, making it stronger and harder-wearing.
This sleeping pad will last you years!
Compactability
The mat does not roll into a circular form but instead into a rectangular shape. If you usually put your sleeping pad at the top of your bag, this is not ideal as it will make your backpack less compact.
Price
This sleeping pad is an absolute steal at a price that's usually below $50. With its solid durability and lightweight, you get just what you need at a very attractive price. If you're looking for a bargain, this is it!
2. Klymit Klymaloft Sleeping Pad
Overall Score: 74
Advantages
Incredible comfort
Compact for its weight
Good value
Disadvantages
Heavy for long backpacking trips
Durability of product is connected to heavier material
Weight
At 36 oz, this sleeping pad is not the lightest on the market. You can still backpack with a sleeping pad weighing this much, but some hikers may find it too heavy for longer backpacking trips.
Comfort
With a luxurious foam topper and inflatable air layer, this sleeping pad gives the impression of sleeping on a memory foam mattress. The foam also adds extra warmth.
With this foam and air combination, you'll experience the best night's sleep you've had while backpacking.
Durability
The Klymaloft is made from 75D polyester, which indicates why it's heavier than other sleeping pads. However, this polyester is much more durable.
While some reviewers have claimed you're paying for the durability of this product with its weight, we've seen with the REDCAMP closed-cell foam pad that this is not the case.
Compactibility
For a sleeping pad weighing 36 oz, it is surprisingly compact. Once deflated, the sleeping pad can be rolled into a tight size that will fit inside your backpack.
Although it isn't the lightest pad, it's compactibility makes up for it.
Price
The price of the Klymaloft is usually good value, especially for a product that is so compact and comfortable. If you plan to use your sleeping pad on longer hikes, this would not be worth the weight.
3. Sea to Summit's Ether Light XT Insulated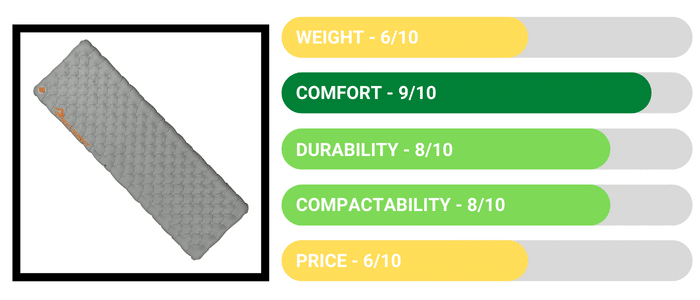 Overall Score: 78
Advantages
Great for side sleepers
Repair kit included with pad
Disadvantages
Heavier than usual inflatables
Expensive
Weight
The Ether Light is 17.6 oz, slightly heavier than the average sleeping pad. Unlike the closed-cell type of sleeping pad, inflatable sleeping pads will always be heavier.
If purchasing the Ether Light, you'll need to sacrifice a light pad for this one, which is more comfortable.
Comfort
The Ether Light is an insulated air mattress measuring 4 inches thick.
This pad is perfect for side sleepers as its thickness allows you to rest easily on your side by distributing your body weight evenly across the whole pad.
Durability
This is a 3-season pad, so its durability may be affected by using it on rough terrain. Luckily, when purchasing this pad, you get a small repair kit.
This is extremely portable and will allow you to fix any tears immediately.
Compactibility
Although this pad is slightly heavier than other inflatable pads on the market, it is still compact. It can be tightly rolled to fit easily inside a backpack. Like all inflatables, you must be patient to get all the air out!
Price
This is not the cheapest pad, but if you're a side sleeper and you've struggled to find a pad that helps you sleep, this is worth the investment.
However, if you plan to camp through the winter, it's best to look for another pad.
4. Therm-a-Rest NeoAir UberLite Backpacking Sleeping Pad

Overall Score: 74
Advantages
Ultra-lightweight
Compact size
Disadvantages
Low durability
Poor comfort
Weight
The NeoAir UberLite is our lightest sleeping pad in this review. Weighing in at just 8 oz, this pad is every backpacker's dream.
An ultralight pad like this is perfect for longer backcountry trips or harder hiking trails.
Comfort
This product is primarily concerned with weight, so you can expect it won't be as comfortable as other pads on the market.
This pad will offer enough comfort if you have little trouble sleeping after a day of backpacking.
Durability
The NeoAir UberLite is made from 15 denier nylon, which is extremely thin. The downside of this sleeping pad is how fragile the material is.
You can avoid ripping the fabric by putting extra fabric between your tent, like a tarp. This does, inevitably, mean packing extra or adding more weight to your pack to compromise poor durability.
Compactibility
This pad may look like other sleeping pads on the market, but once deflated, it can pack down to the size of a 1L bottle.
The combination of weight and compactibility makes the NeoAir UberLite a backpacker's dream.
Price
The NeoAir UberLite is not budget-friendly. However, for such a lightweight, compact product, the price is worth it. Before purchasing, consider the fragile durability and low comfort this pad offers.
5. Sea to Summit Ultralight Insulated Backpacking Sleeping Pad
Overall Score: 82
Advantages
Best 3 season pad
Very compact
Disadvantages
Generally pricier
Not effective in the winter
Weight
This pad weighs in at 13.7oz, which, although it is not as light as the NeoAir, is still fairly light for a sleeping pad. However, unlike the NeoAir, this pad does not compromise on comfort.
Comfort
This pad is perfect for spring, summer, and autumn. Although the pad is only 2 inches thick, it has an air-sprung cell design that mimics a spring bed, evenly distributing body weight.
The pad also uses a reflective fabric to reflect body heat, reducing heat loss.
Durability
The Sea to Summit Ultralight is made from 40 denier nylon, which offers relatively strong durability. With any air bed, punctures are always a risk. However, this sleeping pad does come with a small repair kit.
Compactibility
The Sea to Summit Ultralight is one of the most compact pads throughout this review. Compared to the NeoAir, once packed down, it measures the size of a 750ml water bottle.
With this compactibility, you'll have more room for luxuries in your backpack!
Price
This sleeping pad is usually over the $100 mark, but we believe it's compactibility, weight, and comfort is worth the investment.
If you are looking for a sleeping pad that works well year-round, then, unfortunately, this pad won't do the trick.
6. Klymit Static V Inflatable Sleeping Pad
Overall Score: 82
Advantages
Very compact
Budget price
Disadvantages
Not advised for side sleepers
Not ultralight
Weight
At 25oz, the Klymit is heavier than the average weight of a backpacking sleeping pad. If you want to save on weight, a lite version of this pad is available, but it compromises durability and price.
Comfort
The Klymit works to distribute weight evenly when sleeping on your back or front, so it's not great for side sleepers.
The pad is designed with V-shaped baffles, which predict where you'll put the most pressure on the pad during sleep. This helps the pad to be as comfortable as possible.
Durability
The Klymit is made from 75 denier polyester, which gives the sleeping pad a more robust and durable feel. The thicker polyester reduces the chances of the pad ripping or popping.
Compactability
The Klymit is a compact sleeping pad that rolls down to the size of a thermal coffee flask.
This makes it extremely easy to fit inside a backpack and take longer backpacking trips where you'll need the extra space for more food.
Price
The Klymit is a budget-friendly option. As you've seen above, you'll pay more for lightweight products. The Klymit is a more price-accessible option for a compact and durable sleeping pad.
7. Therm-a-Rest NeoAir Xlite Camping and Backpacking Sleeping Pad
Overall Score: 80
Advantages
Best for winter
Comfortable
Disadvantages
Pad is noisy
Expensive
Pad thickness affects the durability
Weight
Winter backpacking will demand more resilient gear, so your pack will likely be heavier. The Xlite is the best sleeping pad for winter backpacking as it only weighs 16 oz without compromising comfort.
Comfort
The Xlite has a thick horizontal baffle, which helps the sleeper bounce less, compared to the vertical baffle.
At 2.5inches in thickness, the Xlite offers a comfortable sleep throughout your winter backpacking trips. The only downside is that the pad is not quiet. If you are restless, this pad will likely keep you up all night.
Durability
The pad is made from 30 denier nylon. With this nylon thickness, we recommend using the pad with a tarp underneath to avoid the pad ripping.
Adding a tarp to your winter backpack can be irritating, especially if you're trying to shave off weight.
Compactability
The Xlite rolls down to the size of a 1L water bottle, which is extremely handy in the winter. Compared to other winter sleeping pads, the Xlite is not bulky. This is, in part, down to the fact it is an inflatable pad.
Price
This is a pricey sleeping pad! If you are an avid backpacker in the winter, it may not be a surprise that cold-weather sleeping pads are usually more expensive.
If you want to prevent the ground from stealing your body heat, then it's worth the extra dollars.
8. NEMO Tensor Insulated Sleeping Pad

Overall Score: 92
Advantages
Lightweight and compact
Comfortable for all sleepers
Disadvantages
Not recommended on rocky terrain
Weight
Offering great weight savings, the Tensor weighs only 15oz. This makes it one of the lightest pads in this review. It's perfect for those looking for a pad to take on longer backpacking trips.
Comfort
With a smooth top surface and 3 inches of thickness, this sleeping pad gives you a solid night's sleep with a high level of comfort.
Due to the thickness, it also suits side sleepers! Don't worry about the pad being noisy. It's silent all night long.
Durability
Made from 20 denier polyester, the Tensor holds up well in most terrains. However, we would not recommend camping on rocky terrain because it is inflatable.
A Tensor would need another layer underneath to prevent it from popping.
Compactability
For its big inflated size, the Tensor packs down to the size of a 1L bottle. It'll easily fit inside your backpack without sacrificing comfort or weight, which makes it a steal for backpackers camping in any season.
Price
The Tensor is not a cheap sleeping pad, but it is fully worth it for its comfort, weight, and compatibility. If treated with care, this sleeping pad will last years, and that's exactly why it's worth it.
Final Thoughts
Searching for the best backpacking sleeping pad for your trip can be a long, daunting task. However, we've made it easy and accessible by reviewing 8 of the best pads around.
Our review analyzed factors such as weight, comfort, durability, compactability, and price to give you a range of options to choose the best sleeping pad!