You want to invest in more camping equipment or nicer items, but you've got a tight budget. Chances are you want to know when you can find the absolute best deals on these items, whether that means a sleeping bag, tent, or a new pack. When does camping gear go on sale?
Camping gear is sold at the end of each season (August to September and February to March). You'll also find great deals during the holidays and at the end of the year. June and August present great opportunities for purchasing new gear. Keep an eye out for flash sales and outlet sales.
Learn more about when camping gear goes on sale in this detailed guide.
When Can You Find Camping Gear on Sale?
Nobody relishes the idea of paying full price for things they need to go on a trip, especially when it comes to big-ticket items like camping gear.
Fortunately, you'll find several sales on camping gear scattered throughout the calendar year.
The steepest discounts are found at the close of a season (both summer and winter), but holidays can also bring about excellent deals.
For the most part, you can expect to find discounts of up to 30 percent, particularly if you're shopping for major name brands like North Face and REI.
You might find even steeper sales, around 50 percent off or more. This is often true for clearance items to make way for new products in the coming season.
Depending on what you're looking for, you can find excellent sales at several points throughout the year.
If you're in the market for new camping gear, here are all the best times to shop to get a great deal.
1. Seasonal Items
One of the best times to find camping gear on sale is during the season shift.
Depending on what part of the world you live in, you may need separate gear for summer and winter camping.
Some campers have separate sleeping bags and outerwear for the warmer and colder seasons.
By planning for what you'll need next season, you can often find the best deals on gear.
For example, the end of the summer season (August to September) usually comes with sales on thinner sleeping bags, hammocks, and light outerwear for those chilly evenings.
Depending on the area you live in, you may not have much camping left for the year. However, you can always use this time to stock up for next year.
You'll find even more sales on winter gear as spring ramps up, including thicker winter sleeping bags, boots, and accessories like gloves and hats.
Winter camping gear often starts to hit the clearance racks right around March. Keep in mind that seasonal sales will depend on the climate in the area you live.
Sales may be a few months or later, depending on when most campers transition from summer to winter (and vice versa).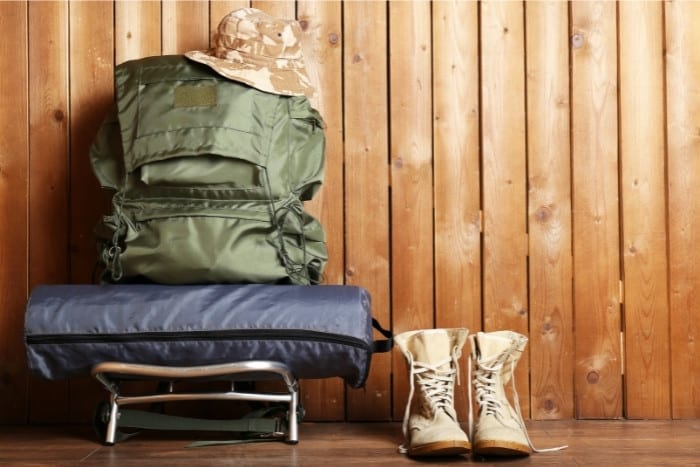 2. Black Friday
Most people know that Thanksgiving is accompanied by some of the most advantageous sales all year long: Black Friday and Cyber Monday.
Black Friday, the day after turkey day, is an annual event with huge markdowns across almost all categories, camping gear included.
While you may be able to get some online deals, most Black Friday sales take place in brick-and-mortar retail locations.
If you're hoping to score some deals from the comfort of your couch, you might need to wait a few days for Cyber Monday.
Some brands like REI don't offer Black Friday sales, but they put lots of camping gear on sale in the weeks leading up to Thanksgiving to compensate.
It's a good idea to keep an eye out for any items you might want to add to your gear collection throughout November, especially if you are interested in making an online purchase.
3. Cyber Monday
Cyber Monday takes place the Monday after Thanksgiving and hits online retailers hard. You'll find lots of great deals on gear around this time.
However, most deals are on the items that retailers are stocking for the upcoming winter season.
This usually means you can find deals on winter sleeping bags, warmer accessories, and outerwear.
If you're hoping for springtime equipment, you might have better luck during a different season.
4. End of the Year
After Thanksgiving passes, you still have one last opportunity to save big on camping gear before the year is out.
Brands often post sales around the holidays to inspire you to give some of the best camping gear as Christmas presents (or some of the other winter holidays that are often celebrated).
This is also a great time for camping gear companies to clear out their old inventory.
They'll often mark down older models to give you a better deal and help them make room in their warehouses for new products.
As a result, you'll find plenty of sales even after Christmas. One of the best times to buy new camping gear is the week between Christmas Day and New Year's Day.
5. Amazon Prime Day
Amazon Prime Day should be marked on your calendar for those who prefer to do their shopping online.
Usually held around mid-July, Amazon Prime Day features steep markdowns on useful items across various categories, including camping gear.
Find discounts on small items like portable charging stations to larger items like tents.
No matter what you're looking for, you'll find several options on this mega-retailer for the year's biggest sale.
6. February
One of the best times of the year to shop for new camping gear is quite early before camping season gets underway in most parts of North America.
February sees a lot of discounts on very expensive gear such as tents, coats, hiking boots, and more.
Around this time of the year, most retailers focus on putting out their latest models for the upcoming camping season.
This means that stores need to make room for the newer designs and colorways. Older models and outdated colors will start to be marked down.
If you don't mind not having the latest and greatest product in the year's trendiest color, February is a great time to invest in camping gear.
This is particularly true if you must stock up on winter camping gear.
7. March
For those who prefer to have the newest technology and hippest colors, you might want to wait until new models start to hit the sales shelves.
Most retailers will try unloading their clearance items before marking new inventory. However, once this inventory is gone, many retailers will start sales around March.
This is the first big sale of the year on new inventory, and it isn't the best deal you'll get all year.
There are better sales toward year-end or even around the holidays that coincide with summer.
Some campers can't wait to get their hands on a new tent or sleeping bag, though, and it might be time to get one before you plan any major trips.
If this describes you, try to hold off until March for sales, typically around 20 percent off retail.
8. June
Depending on where you want to purchase your camping gear, many major brands feature steep discounts in June, right around the beginning of the camping season.
It's a great time for people to give camping gear for Father's Day gifts, and it often segues into outdoor plans made for the Fourth of July.
If you can plan for any camping trips you'll take throughout the rest of the year, June offers some of the steepest discounts we'll see on tents and other accessories all year-round.
Savvy shoppers can expect to find discounts as high as 50 percent off depending on the retailer and the item in question.
9. August
While June tends to be the best month out of the year to buy camping gear, August should also be a consideration.
The discounts aren't quite as steep as they are in June, but you'll find that some prices will drop as prime camping season draws to a close.
If you can wait a little longer, most shopping experts point out that sales tend to pick up in the latter half of August.
This is because many people will want to take advantage of Labor Day sales for one last hurrah before many campgrounds close for winter.
August also coincides with the end of camping season, meaning many retailers will want to unload any remaining inventory from summer camping gear.
Take inventory of what you already have for camping during the next year's season and stock up on anything that needs to be replaced or purchased for a more comfortable camping trip.
You might even be able to squeeze one or two more camping trips before winter weather comes so you can use that new equipment you've been eager to try out.
10. Holiday Sales
When most people think of holidays, they think of the winter holidays clustered together at the end of December.
However, avid campers know that other holidays offer better deals on camping equipment: Memorial Day, Fourth of July, and Labor Day.
Anyone in the market for a tent, sleeping bag, or other big-ticket items may want to wait until one of these holidays rolls around if you can't wait for the end-of-the-season clearance sales.
While you can certainly find good deals during the winter holidays (as mentioned above), look for less traditional holidays, and you'll often find great discounts on expensive items in the prime of camping season.
Retail tends to be slower during the summer as most people save their money for vacations, so stores are eager to promote more sales.
REI is especially well-known for its anniversary sale, which launches the week before Memorial Day each year.
Often, they feature discounts of up to 20 percent off a single item during this special time of year.
This is quite a hefty discount for such a well-known brand, especially if you plan to buy a more expensive item like a tent or a new pack.
11. Any Time at Outlet Retailers
Sometimes, you just can't wait for the next big sale to replace an old tent, sleeping bag, or cooking stove.
There will always be a few odds and ends that need to be replaced mid-season, so where can you look to get the best deal if there are no holidays or seasonal changes on the way?
Many campers have great success with outlet retailers that are more flexible than traditional retailers.
For example, outlet retailers might carry outdated models or colors that weren't quite as popular as the manufacturers thought.
Often, they're still great quality items and can come from top-name brands like Backcountry and REI.
Be sure to browse through the selection at some of these outlet sites before you make a full-price purchase anywhere else.
12. Flash Sales
Sometimes, there seems to be little rhyme or reason when a retailer decides to host a major sale on their camping gear.
You might be able to find a popular flash sale at any point of the year. These are often scheduled for company milestones like an anniversary or a birthday.
You'll also notice flash sales when they have too much stock or want to push sales of a particular product.
The bad news is that flash sales can be hard to predict. Unless you keep in touch with the company, you might miss the boat on these sales.
Be sure to sign up for their newsletter and email offers, and even follow them on social media to ensure you see the announcement that a flash sale is happening.
Keep in mind that flash sales can start and end at any time. Most of the time, they will last just for a day or a weekend.
You'll rarely find a flash sale that lasts longer than that.
With this in mind, if there is a piece of equipment you've had your eye on, it's best to buy it right away before they sell out or before the flash sale officially ends.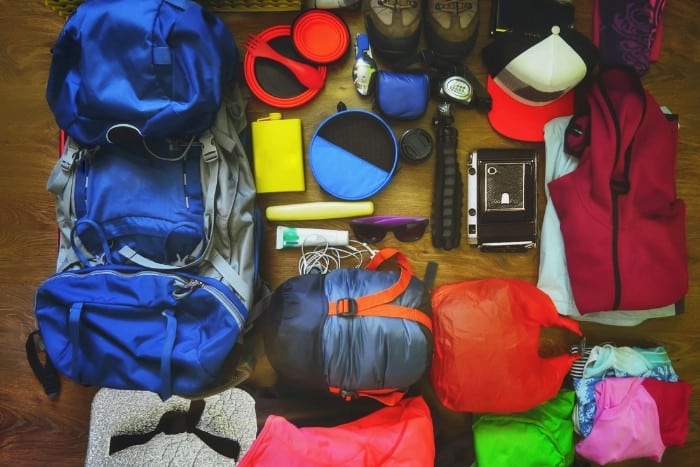 Final Thoughts
Camping gear is expensive, but you can save a lot of money if you know when to shop.
No matter what season it is, you'll likely find that there's a sale just around the corner if you need new equipment.
However, you'll get the best deals if you can hold out for the end of the season when items are marked down on clearance to make room for new products.
Plan your shopping trip accordingly to save big money!