When getting the right backpack for day hiking, you need to balance many factors, from overall capacity and weight to material and comfort. Not to mention, all of this has to be balanced against the backpack's price. You want something that's going to last you for years to come, but which day hiking backpack is going to be the right fit?
To help make your buying decision easier, we objectively ranked the best day hiking backpacks.
If you want to know the best day hiking backpack in a hurry, we recommend the Osprey Daylite Daypack because it's lightweight, compatible with other bags, and very affordable.
Best Backpacks For Day Hiking
Compare Top Day Hiking Backpack
Detailed Analysis Of The Best Day Hiking Backpacks
1. Teton Sports Oasis 18L Hydration Pack
Overall Score: 82
Advantages
2-liter hydration bladder with two hydration ports
Comfortable to carry and lightweight
Made from honeycomb ripstop
Disadvantages
Capacity
While you may not have the roomiest backpack on the market with this option from Teton Sports, you still have some room to play with in your pack. It holds up to 18 liters, along with a 2-liter hydration bladder.
If you're only going for a short jaunt down the trail and can travel lightly, this option might be the best fit.
Also, do read our article on: Teton Backpack Review for more suggestions.
Weight
You'll be pleasantly surprised to learn that the Oasis is still a relatively lightweight backpack, even though it holds a great deal of water.
The backpack clocks in at just two pounds, making it one of the more appealing options for many hikers.
You'll be bogged down enough with all the items you need to take on the trail, and this backpack leaves plenty of space.
Material
The good news is that this backpack will also last you a long time. The Teton Sports Oasis is made of honeycomb ripstop, keeping you from tearing large holes in the fabric.
This type of ripstop material will prevent holes from worsening as you continue carrying your pack.
It's great news because it's inevitable that someone or something will puncture your pack while on the trail eventually.
Comfort
This backpack is ultimately made with your comfort and convenience in mind. It features extra wide straps that are comfortable to carry on the shoulders along with an expandable waist belt (up to 60 inches).
It also has adjustable chest straps to more evenly distribute the weight of your gear across your body more.
Another important comfort measure to note is the hydration port. Many backpacks come with just one hydration port, requiring you to reach across your chest to get a drink of water.
Teton Sports thought of everything and included two hydration ports for your convenience.
Price
If you want a budget-friendly option that's a solid contender for being the best hiking daypack, this option might be for you.
You won't have to worry about carrying additional water bottles, and it still has plenty of room for your gear. Consider adding this one to your shopping list today.
2. Osprey Talon 22
Overall Score: 84
Advantages
Roomier backpack at 22 liters
External storage for trekking poles and bike helmets
Durable and comfortable
Disadvantages
No hydration bladder included (but compatible with external reservoirs)
A bit more expensive
Capacity
Hikers who want something a little more spacious than the Teton Sports Oasis will want to consider getting the Osprey Talon 22.
It carries just a few extra liters of gear, clocking in at a modest 22 liters (much as the name implies). Plus, it has built-in storage for trekking poles on the backpack's exterior.
It can also hold a bike helmet, an external hydration reservoir, and more. These unique features will allow you to carry even more gear you might want on a long day hike.
Weight
Despite being a slightly larger backpack, the Osprey doesn't weigh that much more than the Oasis option.
It comes in just a few decimal points away from two pounds, making this a lightweight solution for longer hikes.
This is a solid option if you know that you'll want to carry as much gear as possible in your pack without being weighed down by the base weight.
Material
Knowing what your backpack is made of is important if you want to ensure that it'll last well into the future.
Most of the backpack is constructed of recycled 100D x 210D wave-check high-tenacity nylon with PFC-free DWR.
The bottom is made from a similar fabric, a recycled 420 HD nylon packcloth, and PFC-free DWR. These durable fabrics have wear and tear on a well-loved backpack in mind.
Comfort
As you might expect, the Osprey Talon has padded shoulder straps, but that isn't where they stop. They also feature a BioStretch harness and hip belt for the ultimate comfort.
They have a continuous lumbar-to-hip-belt wrap that will allow you to move organically, even over difficult terrain.
In addition to the padded straps, it also comes with an injection-molded, die-cut foam back panel that remains breathable despite its proximity to the body.
You won't find your backpack pressed against your sweaty back with this type of ventilation and comfort found here.
Price
While the Osprey Talon 22 may not be the cheapest backpack on the market, it isn't going to break your budget either. It's a decent investment and still quite affordable compared to many competitors.
If you want something flexible and comfortable while still long-lasting, this is the backpack for your next hiking trip.
3. Osprey Daylite Daypack

Overall Score: 86
Advantages
Can be attached to other Osprey backpacks
Lightweight and comfortable to carry
Affordable
Disadvantages
Lower capacity (13 liters)
Capacity
When a short hike is all you have in mind, you don't need a spacious or roomy backpack. If you know you won't be traveling far, then the Daylite might be a perfect size and fit for your needs.
Its capacity is slightly lower than some backpacks on the market, but it's perfect for those who intend to travel light. It has a 13-liter capacity.
One thing to mention here is that the Daylite can also attach to other Osprey backpacks, adding storage capabilities that you didn't have before.
Hikers who want to start small and build up to larger trips may want to invest in this backpack now, knowing they'll use it with another Osprey backpack in the future.
Weight
A benefit to having a relatively small capacity is that this backpack remains extremely lightweight.
Hikers who want to be agile will appreciate that this backpack weighs just a touch over a single pound (1.09 pounds, to be exact).
Save your strength for the heavy gear you need to carry instead of wasting it on your backpack.
Material
Much like the Osprey Talon, the Daylite backpack is made from recycled materials and the same durable fabrics.
The backpack's body is made from GRS-certified recycled polyester with a PFC-free DWR coating.
Because this backpack can grow with you over the years, you'll be pleasantly surprised to learn that it's built to last.
Comfort
While the straps may not be as padded as some backpacks, that doesn't necessarily mean that the Daylite is less comfortable to carry.
The shoulder straps are made of breathable mesh so that air is constantly circulating, and it eliminates the buildup of sweat.
Similarly, it features a mesh-covered, die-cut foam back panel that prevents overheating and sweat.
It's comfortable to wear and helps you improve air circulation so that your daypack won't stick to your back or slick with sweat after a long hike.
Price
Given that this is one backpack you can use well into the future, you'll be pleasantly surprised by the price. It's very affordable, especially since it's an add-on to other Osprey bags in the future.
If you love the name brand and want to start with an entry-level product, Daylite is likely the right fit.
4. REI Co-op Flash 22 Backpack
Overall Score: 84
Advantages
Extra spacious capacity (22 liters)
Ultralight (less than 1 pound)
Very comfortable to carry
Affordable
Disadvantages
Not as durable as some other backpacks
Capacity
Much in line with the Osprey Talon, the REI Co-op is a great solution for those hikers who want a little more space in their backpacks.
Adding nine liters to what the Daylite can hold, this model boasts a 22-liter capacity and offers plenty of storage pockets.
It has side pockets, an internal sleeve for a hydration reservoir (not included), and even internal pockets for better organization.
Weight
Despite the greater capacity of the backpack to hold all of your goods, it still comes in at a decent weight. One of the lightest models on this list, it weighs just 14 ounces, keeping it under a single pound.
It qualifies as an ultralight backpack without sacrificing size or style to make it into this elite category.
Material
Also in line with the two options from Osprey, the REI Co-op features bluesign-approved textiles which have been tested for harmful substances. They are high-quality and safe for long-term use.
The fabric itself is recycled nylon that'll be able to stand up to the wear and tear of your use on the trail.
Comfort
REI keeps user comfort in mind when designing their backpacks. The shoulder straps are made of stretch mesh material along with fold-over padding.
The result is a softer surface that rests on the shoulders and around the neck, which is the ultimate comfort.
Additionally, it has a mesh back that functions as a breathable material and is lightly padded to keep items from digging into your spine while hiking.
This back panel can be removed from the backpack and doubles as a sit pad when you reach your destination. The sternum strap is also removable if you want to save weight on your backpack.
Price
Given the many features and extra space that REI promises with their Co-op backpack, you'll be pleasantly surprised to learn just how affordable it is.
This option features a reasonable price point that allows you to invest more money where it matters in your other gear.
5. Black Diamond Bolt 24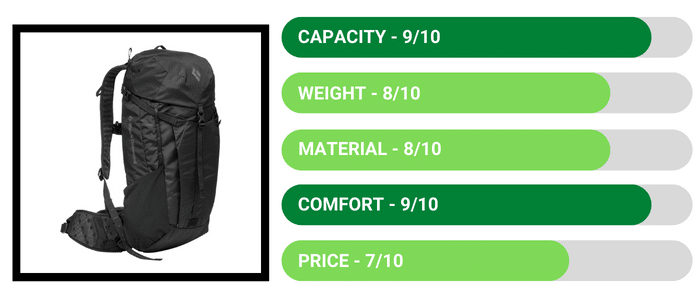 Overall Score: 82
Advantages
Roomy backpack (24 liters)
Compatible with a hydration reservoir
Comfortable to carry
Disadvantages
Heavier (over 2 pounds)
More expensive
Capacity
The Black Diamond Bolt is one of the most spacious all-day hiking backpacks included on this list.
If you know you have lots of gear to carry, tech to store, or snacks to bring, this should make it to your ultimate must-have list.
This backpack holds an impressive 24 liters of gear while remaining comfortable and easy to carry. It's also compatible with hydration reservoirs (not included) if you need them.
Weight
Unfortunately, that extra capacity comes at a cost when you consider this backpack's weight. It comes in at 33 ounces, just a little over two pounds.
While this may not be enough to warn you away from this backpack, it's something to consider if every ounce matters to you or if you have a more delicate frame.
Material
While it isn't made of the same recycled materials that some of the other backpacks here are made from, that doesn't mean that the Black Diamond Bolt isn't going to be a durable option.
It features a 210D ripstop, meaning it'll hold up well under the pressure of random branches and puncture points.
Comfort
Everything about this backpack has been designed with comfort in mind. The shoulder straps and waist belt are fully adjustable, but that isn't its shining feature.
It also uses a ReActiv suspension system to help align the weight more comfortably. Given that this is a bigger pack, you'll want to ensure that the load is easily distributed.
It'll keep the weight as close to your spine as possible with the hip and chest straps, making it ideal for climbing and more rugged activities.
Price
The Black Diamond Bolt is a great selection for a day hike with its comfortable wear, durable material, and excellent space.
However, you'll have to pay for some of these more convenient features. It's one of the more expensive backpacks on this list, but it's well worth the extra money spent if you know you'll be using it frequently.
5. Osprey Stratos 36

Overall Score: 80
Advantages
Most spacious backpack found here (36 liters)
Designed with comfort in mind
Durable material
Disadvantages
Heavier than most (over 3 pounds)
Expensive
Capacity
The Osprey Stratos is hands-down the best backpack if you need something that holds a little more gear. If you plan to go on a long hike or even spend the night, this 36-liter pack might be the right fit for you.
It even outstrips the Black Diamond Bolt featured here by a long shot. When space matters most to you above everything else, you can't go wrong with the Stratos from Osprey.
It also holds up to a 3-liter water reservoir which is sold separately.
Weight
That being said, you'll have to understand that this backpack's roominess will impact its overall weight. Unlike many of the others that are two pounds or less, this model comes in at 3.28 pounds.
A one-pound difference might not be enough that you'll notice, but if you're worried about every spare ounce, you may want to reconsider.
Material
Much like the other Osprey backpacks on this list, you'll find that the Stratos 36 is made with all recycled materials and PFC and PFAS-free DWR.
You'll find that it holds up well on the trail and is friendly toward the environment. When this is important to you, you'll want to consider anything made by this brand.
Comfort
While this may be the largest backpack found here, it's also one of the most comfortable to carry.
It comes with its signature AirSpeed suspension system that holds the backpack close to the spine while allowing some room to breathe. It has up to four inches of adjustability for smaller or longer torsos.
Not to mention the straps are also padded with foam to ease a load of a heavier pack on the shoulders.
Price
While you get some great features you won't find on other backpacks; you'll pay for them. The Osprey Stratos 36 is a robust offering, but it's also one of the pricier options on the market.
However, if you know that you'll be using this backpack for years, you'll want to consider it worth the investment to get a quality pack that'll last for the long haul.
Final Thoughts
If you need a little help getting your next backpack, this objective look helps you to narrow down the field based on the five most important categories.
Look for the perfect blend of size capacity, weight, and comfort to determine which durable option is right for your budget.
When in doubt, we recommend going with the Osprey Daylite Daypack so that you can use it well into the future!