When shopping for a camera backpack for hiking, you want to ensure the bag is lightweight, organized, and durable. With so many backpacks now available, it can be difficult to tell how well they work. That's why we're here! We've made the perfect guide to the best camera backpacks for hiking.
If you're running short on time, we'll let you know that the best camera backpack for hiking that we'd recommend is the Shimoda Explore V2 25L. It comes in a range of lightweight, strong, and well-organized sizes!
If you're looking for something different, like a camera backpack with more space or tailored toward drones. Then we've got you covered. Keep reading to see our other top picks.
Best Hiking Backpack For Your Camera Needs
Compare Top Camera Backpack For Hiking
Detailed Analysis Of The Best Camera Backpack For Hiking
1. WANDRD PRVKE Lite
Overall Score: 80
Advantages
Best small camera bag
Seriously durable
Disadvantages
Small water bottle pocket
Struggle to fit camera and hiking essentials
Capacity
Holding up to 16L, the PRVKE is the perfect small camera backpack. With three compartments, the bag is great for lighter trips where you won't need as much gear.
However, this bag will be too small if you prefer to pack a tripod and multiple lenses.
Weight
The PRVKE weighs 2.5 lbs, which you'd expect from a smaller camera bag. The bag is not as lightweight as we'd like it to be for its capacity.
The bag doesn't come with a hip belt, but this shouldn't be a problem with the capacity and weight combined. The bag shouldn't be that heavy.
Durability
The PRVKE's exterior is made from tarpaulin and 1680D robic nylon, which is practical and tough. The long-lasting fabric is also waterproof and flexible, so you can use this bag in any weather conditions.
Additional Features
The PRVKE comes with a built-in camera cube and a well-padded interior, so you can be sure your camera and accessories will be safe inside.
There's a side water pocket on the outside of the bag, but it's pretty small, so you'll only fit a small water bottle inside.
Price
For the durability and features it offers, the PRVKE is well-priced. It's great to know that you won't have to purchase a rainfly or packing cubes separately to maximize this bag's potential.
However, it is still small, and fitting a camera and hiking essentials inside may be a stretch.
2. Bagsmart Camera Backpack

Overall Score: 84
Advantages
Best on a budget
Lots of organized space
Disadvantages
Capacity
The Bagsmart is a large camera backpack that has a 20L capacity. With a tripod pocket, clothing zone, camera compartment, laptop sleeve, and multiple accessory pockets.
The Bagsmart has a place for everything you need.
Weight
It weighs 3.19 lbs, which is reasonable for the size and number of dividers included. The canvas material that makes up the bag also adds to the weight, but it's worth it for its durability.
Durability
Made of hard-wearing, water-resistant canvas, the Bagsmart is extremely practical. With a rainfly included, you can also use the bag in any weather. Lockable high-quality zips also add to this bag's longevity!
Additional Features
The Bagsmart has removable dividers, which makes the backpack versatile for any trip. You could easily use it for a weekend without any camera gear!
The one additional feature that would make this bag perfect is a waist strap. Unfortunately, you'll struggle to carry heavy camera equipment on longer treks without one.
Price
Usually priced below $60, the Bagsmart is worth it. For the quality of organized space you receive, you'll struggle to find a bag that's this affordable.
3. Vanguard Alta Sky 45D Backpack
Overall Score: 86
Advantages
Best for drones
Comfy waist strap
Disadvantages
Capacity
The Vanguard combines 3 compartments to give 19L of capacity. The top compartment is designed for drones, a middle section for your camera or clothes, and a bottom compartment for lenses.
The bag's capacity does not include what you can carry on the outside, such as a larger drone.
Weight
Weighing 4.8 lbs, the Vanguard is one heavy bag. However, it's built for this extra weight.
With a thick hip belt, adjustable padded straps, and ventilated back panel, this bag is great for hiking or long photography trips.
Durability
Constructed of dense nylon, the Vanguard will hold up well against showers, and if the rain gets heavier, you've got a rainfly included. The structure of the bag is robust and sturdy. It'll last you well!
Additional Features
The Vanguard offers ultimate versatility for whatever you choose to use it for.
Multiple straps on the front of the bag allow it to be adapted perfectly to whatever you choose to carry, whether a large drone or a tall tripod.
The padded sections inside the bag are also removable, so you can use this bag outside of photography trips.
Price
Usually priced below $200, the Vanguard is a great bag for anyone needing longer equipment, such as big drones or tripods.
It'll remain comfortable to carry regardless of the equipment you decide to put on the back.
4. Lowepro Photo Sport AW II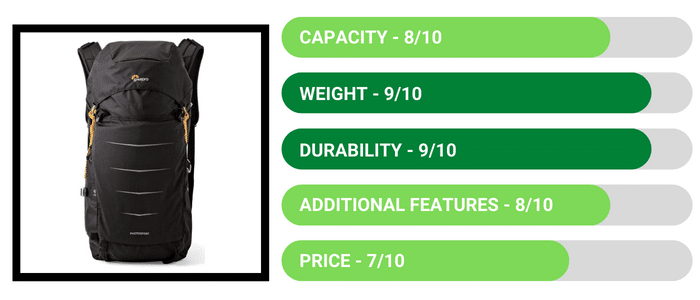 Overall Score: 82
Advantages
Lightweight for its size
Seriously durable
Disadvantages
Capacity
The Lowepro has two main compartments: a padded camera compartment and a free open-space top compartment. This camera compartment is built to fit one DSLR camera and an extra lens.
The top compartment has a water sleeve and room for extra day hiking gear. However, the dividers cannot be removed, so keep this in mind. 
Weight
The Lowepro weighs 3.3 lbs, which is light for its capacity. It's a sports model, so it's made with hiking in mind.
The bag comes with an ActivZone harness which combines a comfy hip belt and molded neoprene back panel, so tailor the bag to fit almost perfectly to your body.
Durability
Made from oxford-weave ripstop nylon, the Lowepro is indestructible. While this material is waterproof, the bag also comes with an All-Weather cover if you plan to shoot in a storm.
Additional Features
The Lowepro uses UltraCinch technology which helps to secure your camera and lens. This is handy if you know you'll be hiking on rocky terrain or you're a bit clumsy.
This bag will keep your camera and equipment safe.
Price
This backpack is pretty reasonably priced for the quality and comfort it provides.
If you're looking for a backpack that you can also use for travel, we suggest purchasing a bag with removable dividers for added versatility.
5. F-Stop Ajna DuraDiamond

Overall Score: 82
Advantages
Best in extreme weather
Great for 2 cameras
Disadvantages
Expensive
No laptop sleeve
Capacity
With a 37L capacity, the Ajna DuraDiamond is the biggest bag we've reviewed.
Although the camera compartment is located at the back of the bag, you can still access your equipment by removing the shoulder straps and swinging the bag around to face you.
Weight
The Ajna backpack weighs 3.5 lbs which is pretty lightweight for its capacity. Even with aluminum poles that help distribute the bag's weight, it remains fairly light.
Great if you're carrying an extra camera or several extra lenses.
Durability
The Ajna is made from DuraDiamond™ material, which the manufacturers claim to be stronger and lighter. We can't find any fault with the material.
It's a much more convenient and functional fabric to hike in any weather.
Additional Features
The Ajna attempts to cater to every adventurer, with straps for travel tripods and a protective sleeve for carrying ice axes. It has almost every possible pocket you could need for hiking and photography.
The one thing it's missing is a laptop sleeve.
Price
This bag is usually priced between $400 and $500, which is extremely expensive.
Even if this figure won't break the bank, it's unlikely you need to pay this much for a camera hiking bag unless you are a professional.
6. Manfrotto Pro Light RedBee-310 Camera Bag
Overall Score: 86
Advantages
Disadvantages
Heavy for its size
Thin waist and shoulder straps
Capacity
With a 22L capacity, the Manfrotto gives you plenty of space to fill up on camera and hiking equipment. This will easily fit 2 PRO DSLR bodies and a lens of up to 400mm.
With this gear in mind, the Manfrotto is perfect for professional photographers.
Weight
The Manfrotto weighs just over 4 lbs, which is fairly heavy. Some of this weight can be attributed to extra padding and its harder outer shell, so at least the bag will keep your camera safe.
Durability
Made from durable ripstop nylon, the Manfrotto has a tough exterior, so you can shoot in any weather. Even in heavy rain, the backpack includes a rainfly.
This bag will likely last and keep your cameras dry and safe in any terrain.
Additional Features
The Manfrotto comes with versatile, padded, flex dividers. This makes it easier to adapt the bag's space to fit your desired internal configuration.
The bag includes a hip belt and adjustable shoulder straps, too, although these aren't as thick as we'd like with the added weight of the empty bag.
Price
Compared to the Ajna, this professional camera backpack is much more affordable. The quality and padding prove that you don't have to spend hundreds on a camera backpack for hiking.
7. G-raphy Professional DSLR Camera Backpack
Overall Score: 76
Advantages
Best large option
Versatile
Disadvantages
Heavy
Poor zipper durability
Capacity
The G-raphy measures 23″ x 13″ x 10″, with adaptable compartments.
You'll easily fit 2 DSLR bodies and 3-4 lenses. The backpack also contains multiple pockets and straps, so you have space for tripods, a laptop, and a tablet.
Weight
At 6.16 lbs, this is the heaviest camera backpack in our review. This may or may not bother you, as a bigger bag is more likely to be heavier.
However, if you're likely to be filling it, you will start feeling those extra pounds the bag adds on.
Durability
Made from high-density nylon, the G-raphy fabric is water-resistant and tough. A rainfly is included, so your gear is protected from any weather.
The only questionable feature is the zips, which are fairly basic and flimsy.
Additional Features
For added versatility, the G-raphy includes a removable gadget bag. This will fit 1 DSLR and 2 lenses, which is great for short trips.
The added space can store clothes or gear for your hike even if you don't need it. Its adjustable waist and shoulder straps are also great additions for any hiker.
Price
With the bag's features and capacity, it is a real bargain. However, it does feel like you compromise on durability and quality for an affordable price.
We recommend spending the extra bucks to ensure your camera gear is safe.
8. Shimoda Explore V2 25L

Overall Score: 88
Advantages
Variety of sizes
Durable and Comfortable
Disadvantages
Capacity
The Shimoda is available in 3 sizes: 25L, 30L, and 35L, which is great if you're looking for a bag that will fit your specific gear.
These bags each include a front pocket, top section, water carry compartment, and the main compartment, accessed at the side or rear of the bag.
Weight
Weighing from 3.5 lbs for the 25L to 4.4 lbs for the 35L, the Shimoda is relatively light for its size.
Each Shimoda includes a core unit with shockproof protection, which is removable if you want to shave off some extra weight for hikes.
Durability
The Shimoda is made from highly weather-resistant ripstop nylon, which is durable and practical. The YKK zippers are also high-quality and will keep your camera gear safe on any adventure you take.
Additional Features
The Shimoda comes with an adjustable harness made from aerated mesh, so it's extremely comfortable to carry.
The shoulder straps also each come with a pocket, so you can easily access lens wipes or other small camera accessories.
Price
This bag is usually priced between $300 – $400, which is fairly expensive. However, with the Shimoda's quality, comfort, and capacity, it is the perfect hiking backpack for any photographer.
Final Thoughts
We hope this guide made selecting a camera backpack for hiking simpler. You can't go wrong with any camera backpacks we've listed above.
Remember, for hiking and photography; you want a lightweight, durable, waterproof, and comfortable bag. With this, you'll get the best shots with minimum stress!