Are you thinking of camping for the weekend but want to go somewhere other than the usual campground? The beach might be an appealing option, and camping can save you lots of money on expensive accommodations. The benefits of beach camping abound, so you'll want to add this trip to the top of your list during warm weather.
Beach camping is a cheaper alternative to hotels and can result in better sleep and melatonin levels, reduced stress, and improved serotonin and vitamin D levels. It's great for running, biking, or walking along the shore. You can unplug more easily and even cook a fresh meal.
For more information on how you can benefit from beach camping, here is what you need to know before you pack up the tent.
Benefits of Beach Camping
If you're looking for an ideal spot to stake out your campsite for the weekend, there may be no better place than the beach.
Park your tent along the sandy seashore and enjoy the beauty of the beach even at nighttime, when there's no one else around.
Here are a few benefits of beach camping as long as you're smart about where and how to pitch your tent.
Also, do check out my article on the best tents for beach camping in case you don't already own a nice beach tent!
1. Avoid Expensive Accommodations
For those who have done any research on what a beach getaway will cost you, you know how quickly an overnight hotel fee can truly add up.
A beachfront hotel could cost you hundreds of dollars a night, especially if you opt for a room with a waterfront view.
Staying for more than one or two nights is enough to break the budget for any financially savvy vacationer.
On the other hand, you can save some serious money and get closer to the water by camping.
Most beachfront camping spots are less than $50 per night, with some coming in at just a few dollars per person.
2. Get Better Sleep
When you stay in a hotel, you have people coming and going at all-night hours.
The other guests aren't as concerned about your beauty rest, and there's no real way to get people to keep it down as they traverse the halls.
Unfortunately, these sounds can echo into a hotel room and make solid shut-eye a real problem. Camping on the beach presents a much different scenario.
Instead of listening to the sound of slamming doors and loud conversations, you can drift to sleep listening to the waves pounding the seashore.
Plus, research has shown that listening to the ocean can help you to relax and get better sleep – a win-win situation!
The natural sunlight also regulates your melatonin levels, making it more likely that you'll get a great night of rest.
3. Cook Your Meals Fresh
There's nothing more satisfying than knowing that you have fresh food for an upcoming meal.
While some people on vacation can easily blow their budget at restaurants, you can make the best use of your prime spot on the beach.
Pull out your fishing rod and catch your dinner fresh from the ocean (with the approved permit).
Not only is this free, but it'll be much more satisfying knowing that you caught and prepared your meal all on your own.
4. Lots of Open Space
When you stay at a campground, you might be limited by how much space each site is allotted.
It can be challenging to stay within your designated boundaries, but the beach offers endless space for campers.
Because the beach is so huge, you can keep your distance from the other campers and enjoy your solitude as much as you want.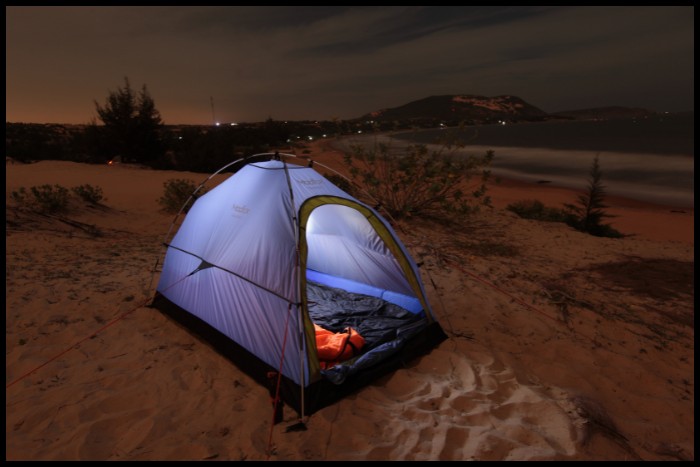 5. Maximum Activities
You can spread out with your gear and have access to a seemingly endless landscape where you can walk, run, ride a bike, or play in the waves.
No matter what your favorite pastime may be, beach camping offers it in spades.
You won't have to worry about hiking up steep inclines, and you can always take a break for a quick swim in the ocean to cool off.
6. Reduce Stress
Most people are buzzing with damaging stress hormones like cortisol from their demanding jobs and lifestyles.
Figuring out how to unplug is necessary to keep your body from the negative side effects of these hormones.
The good news is that spending time in nature, including at the beach, can reduce your levels of these toxic stress hormones.
As a bonus, you can also reduce blood pressure, lower your anxiety, and calm the nervous system.
If you have been feeling a bit more stressed than usual, it might be time to unplug and enjoy the best nature offers with the sun and sand.
7. Boost Vitamin D
Chances are that you already know vitamin D is essential to your overall health, but getting more of it in the grind of daily office work can be a challenge.
Getting out onto the beach is a prime way to boost your levels of vitamin D. With exposure to the sunlight, you can get stronger bones and even lower levels of inflammation in the body.
8. Great for Stargazing
Because you'll be along the beach, which often has lights-out rules at night, you'll be able to see the stars in a new way.
Light pollution is minimized on the sandy seashore, so be sure to bring your telescope or a blanket that allows you to lie down and observe the starry sky.
This is one view you won't be able to imitate from even the most expensive hotel room.
9. Unplug for a While
Any avid beachgoer knows it's nearly impossible to keep up with your phone and other tech while enjoying the wind and waves.
The bright sunlight makes it hard to see screens, and the sound of the ocean waves pounding the shore in the background makes it hard to catch up on phone calls.
As a result, unplugging while beach camping is simple and effective.
When you return home, you'll feel refreshed and ready to catch up on the news you missed. However, you may just find that it isn't as satisfying as you thought it would be when you initially left on your trip.
10. Improved Serotonin Levels
Reducing stress hormones isn't the only way the beach can influence your brain health. It also impacts neurotransmitters such as serotonin.
Serotonin levels increase when you spend time at the beach, which can serve numerous purposes for your mental health. It's responsible for helping you regulate mood, appetite, and sleep.
With improved levels, you may even find that your ability to think clearly improves memory and learning. This is perfect if you intend to bring some light reading to the beach!
Final Thoughts
The beach offers a great solution for those who want to enjoy the great outdoors without the crowds or those who want to enjoy the beach without the hotel price tag.
Beach camping offers myriad ways to relax and take advantage of the sun and waves. Do check out my article on beach camping tips to get the most out of your trip!
You can take advantage of these benefits, from better sleep to improved brain health, when you pitch your tent for the weekend along the seashore.