It is amazing to wake up on a beach and breathe in the ocean air. We feel deeply connected with nature when we visit a beach. Ocean sunsets, beachside bonfires, and crashing waves remain ever fresh in our memories.
Yes, beachside camping can give you an amazing experience, which is significantly different from an average camping trip. If you have good preparation, you can add spice to your experience. Here are a few beach camping tips for you.
Do your research
Before you choose a beach, make sure you know enough about the region. Know if you are permitted to camp on the beach. Ask the authorities if it is okay to camp there.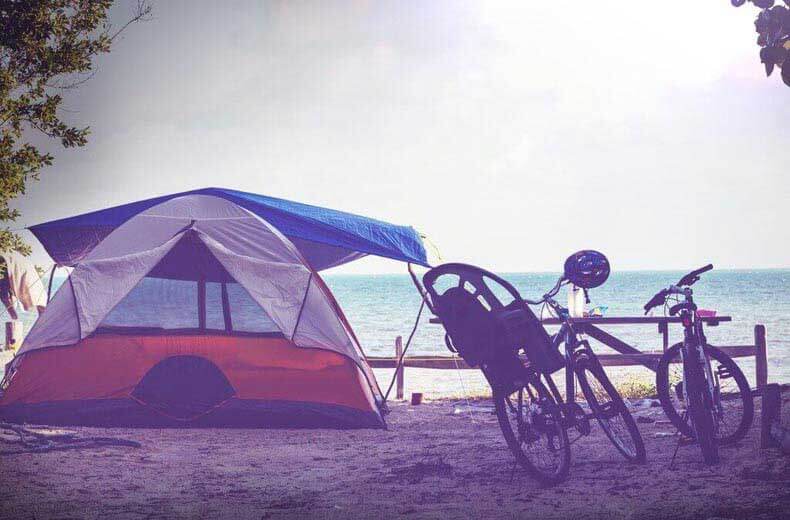 During cyclone season, some beaches are closed. You also have to keep that in mind. Make sure there is at least one potable water source nearby. It is very important because if there is no water source, you will have to pack a lot of water.
Bring your supplies
For any camping trip, you need the basics such as cooking tools, tarp, and a beach tent. Your trip will be smooth if you take necessary things with you. Among other things, you should bring a brush and a dustpan.
You will be able to keep the quarters clean by brushing off the sand. Also, take some sand stakes. In loose surfaces, sand stakes easily hold their grounds. As a result, you will not have to deal with tent frustration.
Sun preparation is essential
A beach typically has expansive bodies of water alongside it. That means you will be exposed to the glaring sun reflected off the waves. If your site has a shade, that's fine. But if it doesn't, you should plan ahead. If you have a car, add an umbrella to the gear stash.
It will save you from the bright midday sun. Use sunscreen and bring some wide-brimmed hats. Remember, if you have a bad sunburn, it will ruin your camping trip.
Bring some shade
When it comes to beach camping, protection from the sun is very important. You might know that the powerful morning rays of the sun can make some foods less tasty.
A collapsible sun shelter can help you in several ways. It can provide some welcome shade, and you can even use it as a refuge from rain and mosquitoes. Consider purchasing a sun shelter that has removable screen walls. A roomy sun shelter can accommodate several campers.
Track those tides
It is pretty obvious that you will set up your camp beside the ocean. Make sure you build your bonfire and pitch your tent away from the water. Otherwise, when the water hits high tides, you will have problems. Make sure you are familiar with the nature of the tides.
Organize your activities accordingly. Setting up the tent near the water may be appealing, but you will repent the decision when everything gets washed away.
Protection from wind
The wind is strong on a beach, and it blows sand everywhere. Sometimes it may be strong enough to take your tent down. You should take preparation for this weather condition.
On a windy beach, sand stakes can be very useful. If the beach is windy when you are camping, avoid leaving lightweight objects around. Bring some chapsticks because they can be useful too. Make sure you choose a high-quality tent. It should be stable and durable.
Protection from rain
If you are camping in the summer season, storms may pop up without much warning. You should also be ready to face thunderstorm. To keep your tent dry, you can use a tent footprint. You should always be ready for a storm, because it may roll in quickly.
Keep your things organized. When it rains, do not worry. Just enjoy the beauty of nature. Do not place your things in your screened canopy. To cover your beach toys and gear, you can use a tarp.
Avoid walking on the dunes
Dunes often contain plant life which is important for the environment. Avoid camping on dunes and tell your kids to stay away from them. If you are environmentally aware, it is one of the most important beach camping tips for you.
Kids find dunes quiet tempting, so you have to make sure that kids do not walk on them. Collecting seashells is fun, and it is a great hobby. However, there is something to know about things on the beach. Just like starfish, sand dollars are living creatures. So, it is better not to collect them.
Beach camping etiquette
For any camping trip, you should make sure that no trace of your visit is left behind. Whether you are camping near a lake, a river or the ocean, you have to know some important things about camping etiquette.
When you leave the site, make sure that no garbage is left there. Do not forget to take the garbage with you. Do not camp in sand dunes. When taking soap and sunscreen, make sure they are biodegradable.
If there is any fire, bury the ashes. When digging a toilet, make sure that it is at least 100 feet away from your source of water.
Keep sand out
Sands can be your enemy when you are camping on a beach. The best thing you can do about it is to prevent sand from getting in because you will find it hard to get it out. Before getting in the tent, do not forget to brush off your sandy body parts.
If you have kids with you, tell your kids to rinse their feet in the water before getting in the tent. Also, make sure that they wipe their feet with a towel. For sweeping inside the tent, use a dustpan and brush.
Camping essentials
Take your time and figure out what things you need to pack to ensure an amazing trip. To help you make a good camping list, we are going to mention some items you should consider taking with you.
A list of beach camping tips is incomplete without mentioning the items you should take with you. These items will make your trip safe, enjoyable and comfortable.
You have to consider your personal items first. These may include wide-brimmed hats, sunscreen lotion, quick-drying towels, and sunglasses. For clothing, consider taking breathable windbreaker, extra clothing layers, sandals, swimsuit, and water shoes.
Also take some camping gear such as pop-up shelter, tarp, beach umbrella, hammock, beach chairs, firewood, and large water containers.
Mosquito repellant spray, extra bags for wet clothes, beach balls, snorkel gear, flotation devices, and life jackets are some other items to consider. For more good ideas, check out this article.
Keep bugs out of your tent
You may need to share the sandy shore with bugs. Depending on the site, bugs will be more or less annoying. That is why some research should be done ahead of time.
To repel mosquitoes, just throw some sage in your campfire. Mosquitoes will not stand the fumes. You can also use a bug spray. If you find too many ants around your campsite, just sprinkle some grits.
However, beach camping is supposed to be fun, and don't make it boring while paying attention to the ins and outs. Just enjoy camping and make some unforgettable memories.