* If you make a purchase through any of the Amazon links on this site, we may earn a commission. This costs you absolutely nothing.
The Best Tents for Beach Camping
If you haven't experienced camping on the beach, consider adding this to your 2019 must do list. My first beach camping experience is by far the best camping excursion of my life. After a long day of work, my partner and I packed our gear, drove to Point Beach State Park late at night and trekked to a large sandy dune right on the shore of Lake Michigan. We fell asleep to the stars and woke to an incredible sunrise and the sounds of crashing waves. We left our tent as we hiked the trails of this beautiful national park knowing that our nap time would be unforgettable, and it was. Our only regret? Not having the best tent for the job. As a result, here is our list of the best tents for beach camping 2019.
If you are going to splurge on the best beach shade that does not fully enclose or offer complete privacy, I'm going to stop you right there. Consider all that beach camping has to offer- a shade tent does not give you quite the bang for your buck. There are many "Beach Tents" on the market that are true shade shelters with only a floor, many have one side or even two sides open and do not fully enclose. While they are convenient for install and take down- why spend money for just shade when at a comparable price you can have privacy too? With a fully enclosed true beach tent, you can avoid long changing room lines, it's easier to nap or have your kids nap, and if you want cuddle time with your partner… well… privacy.  In this list, I offer you the BEST fully enclosing beach tents that will allow for a truly unique camping excursion. For those interested in a truly unique (albeit costly) camping experience, I have luxury tent ideas at the very end.
Odoland Beach Tent Pop Up Sun Shelter UPF 50+ Sun Protection Polyester Tent Extended size
The Odoland Beach Tent tout's instant setup and comes fully assembled. The user simply needs to stretch out the legs of the tent, pull the strings and voila! Another product perk is that the Odoland Sun Shelter is made from UPF 50+ specially coated fabric to aid in burn prevention while relaxing within the tent. Three windows can be opened or closed to provide airflow, accommodate privacy needs or enhance protection from the elements should you experience unexpected changes in weather or wind patterns.
You can anchor this tent in the sand or grass and its additional storage and functionality make the Odoland an excellent option for any outdoor activity- not just beach camping! There is even an internal hook designed to hang a fan! This tent is perfect for storing in the vehicle so that you can have it on hand for outdoor events, adventure day trips or short camping trips. This tent isn't huge and probably wouldn't do for long trips away from home but would certainly suffice for an overnight beach campout!
Up Outdoors Cabana Anti UV Portable UPF 50+ Automatic Sun Shelter
Another small beach tent but worth mentioning due to its cost and features. This tent is literally a toss in place tent, truly pop up. The UP Outdoors Cabana Anti UV tent can fit between 2-4 adults with adequate room above your head. The UV rating for this tent is 50+, it's important when beach camping to understand whether your tent will provide adequate UV protection as you will likely not think about applying sunscreen until you are ready to leave your tent. This tent will ensure you don't burn while relaxing inside. There are 2 large doors and 2 mesh windows to provide adequate ventilation. The material of the tent is waterproof and will withstand sun, wind or rain conditions! The small size makes this tent another great stow and go option for your vehicle, to have on hand for any outdoor adventure that may come your way. Again, probably not the best option for a longer camping trip but perfect for the day or overnight camping trek!
Easthills Outdoors Easy Up 4 Person Beach Tent Sun Shelter Deluxe XL – Extended Zippered Porch Included 185T Polyester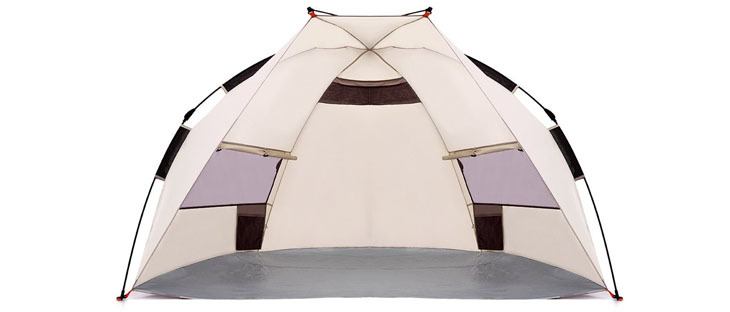 The Easthills Outdoors Easy Up 4-person Beach Tent Sun Shelter Deluxe XL seems to have it all, large capacity, fast setup time, ease of use, durability, UV protection, zipper front and more! While the text says that there is space for up to 4 adults AND children or pets, that estimate only means the capacity of the front porch space.
Zipped up the tent capacity is greatly reduced and probably would only fit 2 adults and possibly one child or pet comfortably. Unzipped the tent offers the perfect porch for picnics, relaxing or as a brush off area before entering the tent to nap or relax. The tent has adequate ventilation (3-sided roll up windows) and enough sun protection to keep you comfortable inside when sleeping, resting or relaxing. The tent itself has instructions sewn directly inside of the carry bag so you won't need to worry about losing your instructions but after a few uses you will probably get the hang of construction- it's that simple to use! Finally, it weighs only 8 lbs. and compacts to a much smaller size, allowing you to bring this tent with you anywhere "Just in case".
Quick-Up Cabana Style XL Beach Tent– 2 in 1 Sun Canopy
I love this tent. With 56 sq. feet of floor space and a height of 4'8'' you will be able to comfortably arrange sleeping pads and other items within your tent. While the tent is large when constructed it compacts into a functional oxford carry bag that you can quickly stow and go. Setup utilizes a quick up automatic frame system that is both durable and waterproof. Constructed of ripstop fabric and thick flooring your tent will last and resist debris puncture from below the tent. The fabric provides excellent shade from the sun and the elements and the door zippers closed for privacy. Because of its portability, protection from the elements and durability you can use this cabana style tent not just for beach camping but for a variety of camping and outdoor activities making this an excellent value if you are thinking about replacing your current tent.
Our Top Pick For The Beach
Ridge Outdoor Gear 6.5ft Pop Up Changing Shower Privacy Tent
I like to think of this tent as a luxury addition if you already have a great tent for beach camping. Whether you have more than one person changing and want to avoid a changing room line, or you have a latrine space that needs privacy this mini tent delivers. Toss open and the Ridge Outdoor Gear Privacy Tent is ready for use. The tent includes a carry bag, thick removable flooring and enough space for a single adult to move comfortably while changing or using the bathroom. It also comes with a removable rain fly, stakes, and sandbag weights with tie lines.
Before we move forward on our list I want to stress that successful beach camping requires a few additional items you may otherwise forget on other camping expeditions. Remember, there will be sand. Even your best efforts to minimize sand will result in sand… There will be lumpy ground, there will be shells and rocks and stiff beach grass that tries to poke you in the back. If you have the proper gear you will be fine, if not? Well, you will forge onward knowing that next time you need extra equipment!
Small handheld broom with a dustpan. Trust me on this- you won't regret the use of space, in fact, bring 2!
Spray waterproof sport sunscreen. Rubbing sunscreen on the skin at the beach can be a beast around the time of second application, the sand/sunscreen combination can irritate the skin especially if you were late to apply and have already burned.
Folding ax/trowel. This is to help level the sand or ground below your tent. Easily pop out sharp rocks, pointy weed bundles or sharp stiff beach grass (be mindful of dune areas however that may prohibit removal of beach grass)
Bring an extra tarp (or two) with you to cover food, clothing or anything that you want to be shielded from sand and also a tarp to use as a path for sand removal.
Ahoy Glampers, these next tents are for you. While they may not be cost-effective they are guaranteed to provide luxury and a truly unique camping experience. I've added these to my personal wishlist and I have a hunch that many of you will as well!
Tentsile Tree Tents
The designer of Tentsile tree tents envisioned a tent that relied on trees to prevent deforestation for the creation of campsites. Rather than destroying the majestic beauty of nature, the tent construction relies on trees to provide structure and support for the tent. Adhering to its mission to preserve the forest Tentsile has committed to planting 18 trees for every tent sold, having already planted over 140,00 trees. I am listing this luxury tent for another reason, however, and it has to do with the design of the Tentsile Tent. Similar to the hammock the Tentsile tent lifts the camper off the ground, keeping ground bugs, snakes, sand, water, and uneven terrain from affecting conditions from within the tent. Even with the best ground leveling or tarping at the bottom of your tent, most ground tents are still impacted by the conditions below the tent. With the Tentsile Tent, you are lifted as high off the ground as you like, allowing airspace between your tent and the terrain. If you can find trees near the beach you will be able to set up your Tentsile Tent.
Cocoon Tree Tents
These beautiful tents look more like an art installation when constructed. When lit up at night, your campsite glows like a sacred space. Beyond the beauty of the Cocoon Tree tent, there are several features that make this luxury camping item worth the buy if you can afford the price tag (or if you want to attempt to create your own). The Cocoon Tree Tent is another tent that lifts the camper off the ground, providing airspace protection from a variety of terrains, while providing an amazing amount of room within. The Cocoon can fit a mattress sized bed inside of it, while still accommodating lighting, food prep equipment, and adult campers! If your beach camping location doesn't have trees- that's ok too! Cocoon tree tents have the option to use a sturdy hanger system to lift you off the ground and into the air.  Personally, this is my near favorite glamping fantasy. Imagine waking up on the beach encased in a beautiful white dome, listening to the waves and watching the sunrise, on a bed, with the one you love…
Shoal Tent
This tent floats, forget camping on the beach friends, go straight to the water! The tent itself is a large, thick pontoon boat, except the floor, which is soft like a mattress. The floor design of the tent has caused many to tout the Shoal Tent as "the waterbed of camping". Constructed of durable materials meant to last and resist tears the entire structure of the shoal tent is waterproof, weather resistant and wind resistant. Held in position by an anchor, you don't need to worry about the Shoal floating away while you sleep. If you choose to opt for the Shoal Tent, you must remember that some of the features of campsite camping will not be readily available. Cooking with heat, using the restroom, and anything that requires a level, non-moving surface is going to require you to return to land. In exchange, though you have the convenience of stepping outside of your door to paddle board, kayak, canoe, swim or fish. Safety with the Shoal tent is important, I wouldn't recommend this tent if you have young children to occupy safely or adults/children who have sleep disturbances or a history of sleepwalking. That being said- I can't wait to try this tent out myself and see if it proves to be one of the best beach camping tents.
Next time you hit the beach, hopefully one of these awesome camping tent options will help.