Are you planning a major beach camping trip but unsure what to do to fill your time? You can only take so many long walks on the beach before you tire of collecting seashells. Instead, you need a robust list of activities to keep you, your friends, and even your kids occupied for a fun weekend with the sun, the sand, and the sea.
Beach camping activities could involve water sports like kayaking, surfing, paddleboarding, or tubing. You can also host competitions, play games, and even try underwater photography. Get your exercise in with yoga on the sand, build a bonfire, fly a kite, make art, or have an impromptu concert.
Next time you go camping on the beach, here are some beach camping activity ideas you won't forget!
What to Do While Camping at the Beach
If you're planning a fun getaway in a tropical locale, you have different options for activities than you might have at your usual haunts.
Before heading out for your next beach camping trip, do a little homework on what rentals and lessons might be available near you.
Be sure to bring a bathing suit, as many of these activities will get you at least a little bit wet!
1. Kayaking
Kayaking is something that people often do on lakes and small bodies of water, but it can be equally enjoyable out on the ocean as well.
You'll find it easier to learn how to kayak initially on a still body of water. You might need to practice elsewhere before hopping on your next beach camping excursion.
The tides can make it harder to paddle your kayak in the right direction, which takes much of your upper body strength.
You'll get a great workout with this fun activity, but don't neglect important safety features like a flotation device or life jacket.
2. Surfing
One fun activity that you might want to try your hand at on your next beach camping trip is quite a bit of fun: surfing.
Many local beaches offer surfing lessons or allow you to rent a board for the day, cutting back on the need to invest in expensive equipment.
Let a professional teach you how to get up on a major wave, make new friends, and get a good workout.
3. Paddleboarding
For those who aren't keen on surfing, you can still enjoy the feeling of walking on water with a paddleboard.
There are several ways you can paddleboard, including both seated and standing. It requires great balance and arm strength to propel you where you want to go.
Some people even paddle themselves out to where the waves break less often and practice some yoga on their paddleboards!
4. Snorkeling
While some of the other activities we've covered here require big (and expensive) equipment, snorkeling is one water activity that requires very little.
You should be able to pick up a mask for just a few dollars. Not to mention, it's very easy to transport and pack even if you have to walk a distance from your car to the perfect spot on the sand.
While under the waves, this is a great time to try out a waterproof camera to remember what it looked like beneath the sea's surface.
5. Frisbee or Disc Golf
When you have the beach mostly to yourself, you can play games on the sand that take up more space.
Frisbee is one of these games that can sometimes be challenging to play if there are too many sunbathers in the path of your throws.
If you have some spare time and a DIY streak, you can even make your disc golf basket at home to take with you on your next trip.
6. Get in Your Exercise
Just because you're on a relaxing weekend away doesn't mean you can't get in your workout.
Tons of campers find that they're even more motivated than usual to exercise in the beautiful surroundings of the beach. Do a little sunrise or sunset yoga while you gaze at the ocean.
Take a long jog along the seashore (while someone else watches your tent and gear). Most beaches are also equipped with beach volleyball nets, offering a built-in way to get a full-body workout.
The only thing you have to do is bring your ball with you. Of course, you can always take a leisurely walk down the shore collecting seashells at dusk if that suits you better.
7. Pack a Kite
The wind at the beach might make setting up your tent a little difficult, but it's great for flying a kite. Most people can pick these up at dollar stores during the summer months.
Getting it up in the air tends to be relatively easy, even for beginners. This is a great activity for kids who are often mesmerized by the colors and the power of controlling the wind.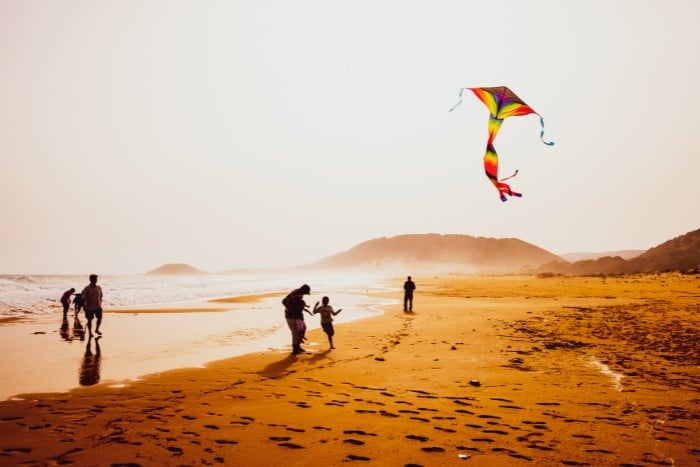 8. Host a Sandcastle Competition
When was the last time you got down in the sand and made something with your own two hands?
Many people haven't built a sandcastle since they were children – or maybe you're camping with your kids and want to keep them occupied.
Either way, there's nothing better than letting a little healthy competition fuel your games. Building a sandcastle requires patience, skill, and a bit of luck.
You can even incorporate fun ways of exploring the beach as you look for shells, sea glass, driftwood, and other items that can adorn an otherwise plain sandcastle.
It's a way to get active and flex your creative muscles simultaneously.
9. Bring Along Beach Games
When packing your supplies for a beach camping trip, don't forget to pack a few games. Think of portable lawn games like cornhole, ladder toss, or Bocce ball.
Anything you can play with in your backyard, such as horseshoes, could be a fun addition to your beach camping trip. It might take a little creativity to set it up in the sand, but it's well worth the effort!
10. Beach Bonfire
A beach campfire is one of the most rewarding aspects of camping on the sand.
Many campers look forward to ending their day with a bonfire on the beach where they can sit around and swap stories, listen to music, or make great snacks like s'mores or banana boats.
Do a little research ahead of time if you plan to have a bonfire. Some beaches may have areas where you can go to collect firewood, while others may require you to bring your own.
Either way, you'll need to remember to bring supplies to get your fire stoked in the first place, like flint, matches, a lighter, and more. These are lightweight supplies, but make sure they don't get wet!
11. Have an Outdoor Concert
Do you and your friends have musical talent? You can entertain yourselves and others nearby with an outdoor concert on the beach's shores.
Bring your guitar, your violin, or your battery-operated keyboard, and spend some time jamming out while you gaze over the ocean.
You never know – creativity might strike, and you might write your next hit song while you relax on the beach!
12. Host a Talent Show
Everyone has a hidden talent, no matter how weird or outrageous. One way to get everyone in your group laughing and talking is to host a late-night talent show.
As the sun goes down, establish your stage and let people take turns sharing these talents.
Whether you want to sing your favorite song, do impressions, or show how flexible you are, a talent show lets other people get to know you better.
13. Look for Constellations
When camped out on the beach, you won't have many bright city lights interfering with the night sky.
This is one of the best times to stargaze because you'll have a clearer view of the nighttime sky than in the city. Bring a guide to the constellations and see how many you can spot from outside your tent.
14. Pack Art Supplies
You may not be the next Picasso, but everyone can benefit from a little art therapy. Next time you head to the beach, pack up some of your favorite art supplies.
Maybe you like to sketch in charcoal or paint with acrylics. Bring your art supplies and let the beauty of nature inspire your next masterpiece.
15. Fishing
You don't necessarily need a boat to go fishing in the ocean, making this more accessible to people than they realize.
If the beach isn't populated during the season that you go camping, you can often fish right from the shore or off the pier. Fishing supplies are lightweight, making them easy to carry to your destination.
16. Tubing
Some people are content to drift out in the ocean in the innertube, allowing the waves to gently push them back toward the shore.
However, other campers may crave the adrenaline and excitement from tubing. Allow a local motorboat company to attach your tube to the back of their boat and take you for a drive.
You'll have a blast skipping over the waves and going at top speeds!
17. Bodyboarding
Even if surfing isn't in the cards, you can still invest in a small bodyboard that allows you to ride the waves back to shore.
You won't be able to stand up on it, making it great for those who are just too nervous about falling.
The only risk here is that you might scrape your body on the sand and shells as you get closer to shore before walking and paddling yourself back out to catch another wave.
18. Try Survival Tactics
Want to try your hand at how well you can brave the elements? Ditch the tent and the traditional trapping of beach camping and build your survival shelter.
You and your buddies can either work together to make something fantastic or host a friendly competition to see whose shelter is the sturdiest.
Of course, this might just be a fun afternoon activity and not your source of shelter for the entire camping trip. Many try this activity out but still bring their tents to sleep in at the end of the day.
Consider your experience with this type of thing before deciding to forgo your camping equipment.
19. Whittle Driftwood
If you already have a pocket knife in your beach gear and can find some driftwood, you have everything you need to start carving.
Try to make small animal figurines or just basic shapes like hearts and smooth worry stones. Be sure to have a first aid kit handy just in case you aren't very good at whittling.
20. Flashlight Tag
While camping on the beach, it can get pretty dark at night. A fun throwback to your childhood might include playing a rousing game of flashlight tag or even a manhunt.
Divide into teams so that no one gets lost on the camp's outskirts, and ensure that everyone has a fully charged battery in their flashlight. You can play until you feel ready to hit the sand for the night!
21. Floating and Lounging
While many of the ideas on this list are designed to get you active, there's something to be said for taking a lazy weekend too.
As long as you slather on the sunscreen, you should be just fine to spend an hour or two lounging on the beach.
Not to mention, soaking up some vitamin D is good for you – as long as your skin doesn't burn in the process!
You can even bring a float or paddle outside where the waves break and kick back. Ensure you don't drift too far from the shore or your campsite over time.
22. Water Balloon Fight
While filling up water balloons in the hose in your backyard might not be the most fun way to spend an afternoon, they can be filled up in half the time in the ocean.
Prepare with your water balloons, and then battle it on the seashore. Make sure that no unintended strangers become victims of your water balloon play!
Remember that you must pick up all the pieces of the discarded balloons to prevent sea life and other wildlife from getting a hold of them.
If you can't manage to do this, then you may want to reconsider whether water balloon fights are the right choice for you.
Final Thoughts
If you have been thinking about what to do on your next beach camping trip, plenty of creative ideas will keep you busy for a weekend.
From time spent on the water to an afternoon on the sand, these activities are easy to pack up and bring with you on your next beach adventure.
Consider what equipment you want to invest in to get the most fun out of your next beach camping trip!