If this is your first time camping with kids, you may find the experience daunting. Before you go camping with kids, you must do some research and know what items you should take with you. Many people reach the campground only to find that they have not brought the essential things. In this post, we will provide a camping with kids checklist that will make your camping smooth and enjoyable.
Clothes and toiletries
Your kids will still need clothes when they are camping in the woods. But the number of clothes to bring camping depends on several factors. No matter where you are camping, as a rule of thumb, you should not end up packing a lot of outfits. Chances are that your kids will not wear many of the garments you are taking with you.
When your kids are in a camping ground, they will be just fine wearing the same cloths for a couple of days. Just accept that your kids will get a little filthy. A camping with kids checklist is incomplete without some items. Here is a checklist of clothes you should consider taking:
Pajamas
Diapers
Jackets
Baby wipes
Beach blanket
Toiletries
Camp towels
Toilet paper
A first aid kit
Yes, you will need a first aid kit for your camping trip. You also need to know what you should put in it. You will need antiseptic and pain relief cream, and band aids. It will be nice if you take a few gel-filled cold packs. Once you have reached at your campsite, your kids will tend to get wild.
If your kids get injured, you will need to apply your parental skills. Make sure that your children do not get fungal infections. There are some sprays that offer protection against nail fungus and warts. An anti-fungal spray will be very useful at a campsite.
Head lamps and torches
When you are camping with kids, you must make sure that you have packed headlamps and torches. If your children have head torches, they will enjoy camping at night.
You can use other bulbs that are friendly on your eyes. If your kids wake you up in the dark, you will not feel overwhelmed. Make sure you choose a head torch with fluorescent bulbs. Use the torch to search for things that you need at night.
Take everyday essentials
When doing camping shopping, most people can not think of actually how many things they will need at the campsite. If you do not want to face any problem when you are camping, take everyday essentials including dishwashing liquid and scourers.
Do not think that toothpaste and soap are luxury items. Choose the same brands that you and your kids use at home. There are some items you must include in your camping with kids checklist. There are some items you may need there.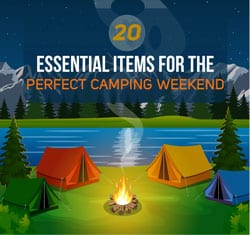 Insect repellant
Sunscreen
Toothbrush
Prescription medications
Soap
Plastic bags
Plastic bags are very important items for a successful camp trip. So, do not forget to include plastic bags on your list. These bags will be useful in many situations. If your kids collect some sea shells, store them in a plastic bag.
You can also use these bags when your kids vomit in the car. While plastic bags can be very useful, they are not environmentally friendly. As they are not biodegradable, you should be very careful about using them. If you use plastic bags the right way, you will cause less damage to the environment. Make sure you do not leave these bags around the site.
Spare clothes
If you have kids with you, take as many spare clothes as possible. If there is bad weather, you will need to change clothes multiple times on the same day. Many campers do not bring spare socks.
But on a rainy day, your kids will have fun in the rain and so you will need to change their socks. Do not consider it a luxury to bring some extra pairs of socks. And, even if you are not camping in winter, do not forget to bring a warm fleece or jumper.
Cooking gear
If your camping site provides you with everything you need, you do not need to bring cooking gear. But even in that case, you should ask the authorities what you need to bring. But if your camping site does not provide these things, you have to bring everything you need.
To make a fire, you are going to need containers and pans. You must also have other things such as cutlery, camping mugs and plates. Do not forget to bring plenty of matches. For baking potatoes, tinfoil will be very useful. And yes, bring a tin opener.
Camp kitchen
Many people think that they will not take many things when camping. But in reality, you need to include many items in a camp kitchen. Do not think that they will make your trip more complicated. Rather, these items will make your camping more enjoyable. Here is a list of camp kitchen items:
Cups, plates and utensils
Cooking utensils
Tongs
Spatula, paring knife and cooking spoon
Bottle opener/can opener
Cooler with ice
Cutting board
Booster seat or portable high chair
Snacks
Food items for meals
Baby food or formula
Water
Foil
Paper towel
Tub
Trash bags
Check your site
To set up your tent, you must choose a flat piece of land. Do not settle on an area with ditches. If it rains, the place may become a pond. Clear the space and remove dirt from the tent floor. Make sure there is no overhanging branch in the area. Before setting up the tent, make sure it faces the right way.
Many campers end up setting up the tent facing the incorrect way. Once you have set up your tent, it will be very difficult to take the tent to a different place. That is why you should settle in a good place.
Keep the tent clean
Keeping sand and dirt out of the tent will not be possible at all, but you can do something to reduce the gravity of the problem. Pour some water into a shallow tray and keep the tray near the tent door. Then keep a towel next to the door.
Whenever you enter the tent, wash your feet in the shallow tray and then wipe them with the towel. Keep a brush and a dustpan next to your tent door . Before you enter the tent, clean your feet with the brush. You can also ask your kids not to wear shoes in the tent. If you ban shoes inside your tent, there will be far less sand, mud and dirt.
Test your camping gear
You may face a host of unexpected situations when you are in the camping ground. For example, you may suddenly realize that your airbed is leaky. And if there is no pump or air compressor, what will you do?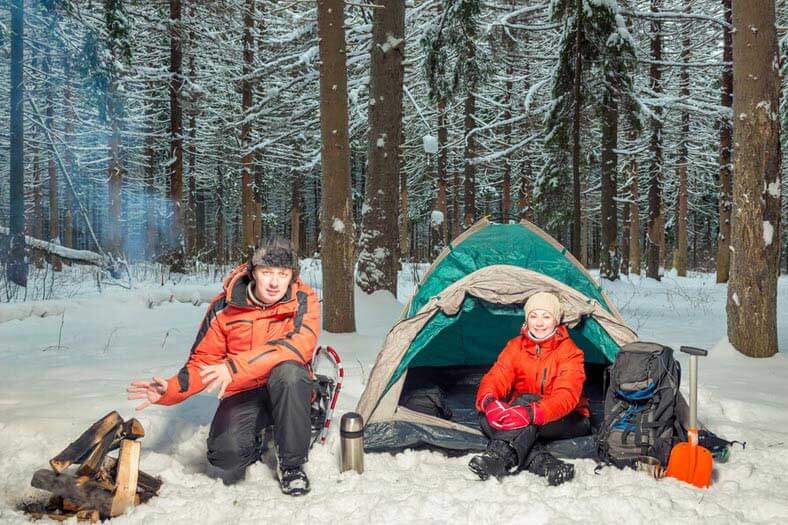 To reduce the chances of facing unexpected situations, you should carefully check all your equipment when you are still at home. Make sure that your tent attachments are working well. Test your cooking equipment before leaving home. Refresh your flashlights, batteries and gas bottles. Another option is to make sure you carry some of the unique camping gear found here.
Protecting food
When you are in the wilderness, be aware of the local wildlife. Make sure that your food is protected from them. They will roam around your campsite try to steal your food. Bring some containers, put your food in them and make sure they are tightly sealed. This is the best way to protect your food.
If you have no container with you, you will have to aware of the presence of wildlife around your tent. You can also keep your food in the car overnight. Using your car is a great idea if you do not have a tightly sealed container with you.
Preparing the food
When you are camping, you will have to cook your food in a different place, possibly under the open sky. But the basics of cooking are not different, and that is the reason you should not worry too much about it. Besides, camping does not mean satisfaction of your gustatory feeling, so your family members will not expect something very special when they are camping in the wilderness.
But make sure that your kids are well-fed, and pack those food items even before you leave your home. What are you going to eat for meal? Write down the names of food items so that you do not feel overwhelmed when it is time to prepare the food.
Invite friends
You may or may not invite your friends to your camping trip, but if you do, you must make sure that you are ready to accept guests. Do you want to invite another family or some of your kids' friends? If you want to invite them, you should plan ahead. Make sure they see this list and also some additional family camping tips. Camping is a great way to make bonds with other families.
Nature has the ability to make humans more sensible and compassionate. If you make this bonding with other people, chances are you will keep this relationship alive after you go back to the maddening crowd.
Washing and drying
When you are camping in a park or on a beach, read the rules of that campsite. Most probably your campsite will not allow you to use washing lines in the area. Authorities often claim that these lines cause some damage to the site. Then how are you going to wash and dry shirts, shorts, and pants? Yes, you will have to be a little creative.
First, contact the authorities and ask them if there is any pole for drying clothes. If their answer is a hard no, do not despair. You can dry those clothes on the bushes! But if it sounds too much, plan ahead. Foldable clothes aires are available in the market. You can buy one or two of them.
Rainy day fun
Obviously, you will not sleep in your tent on a rainy day. Remember, the aim of camping is to get one with nature, and you should not lose any chance. When it rains, walk with your kids under the open sky. Have fun and listen to the rain.
If you do not have any issue with tonsils, you will have no problem walking in the rain. Do not worry too much about whether your kids will catch cold. Rather, let them catch cold because there are medicines!
In developed countries, children are less exposed to nature in its raw form, and that is why many of them are becoming mechanical. You do not want your kids to be like them.
What about a "trial run"?
It may sound a bit funny, but it is a really good idea to camp in your backyard before you go camping in the wilderness. This trial run will help you figure out what you have skipped. You kids will find it fun, and they will get ready for a real camping.
Camping will not be a great surprise for you kids, and they will not cause you any distress. This trial run will give you and your kids a chance to get prepared for the real thing.