When it comes to buying a new backpack, there are lots of things to consider. How much weight do you need it to carry? What type of organization does it offer you, and how easily accessible is your gear in a pinch? Factor in the price and comfort, and it can be overwhelming even once you've narrowed it down to a name brand like Osprey.
We've rounded up this detailed list of the best Osprey backpacks to make your purchase decision easier.
If you want to know the best Osprey backpack in a hurry, we recommend the Osprey Aether 65 because it holds a heavy load without sacrificing comfort or organization.
Best Osprey Backpacks
Top Camping and Hiking Backpacks From Osprey
Detailed Analysis Of The Best Osprey Backpacks
1. Osprey Aether 65 Backpack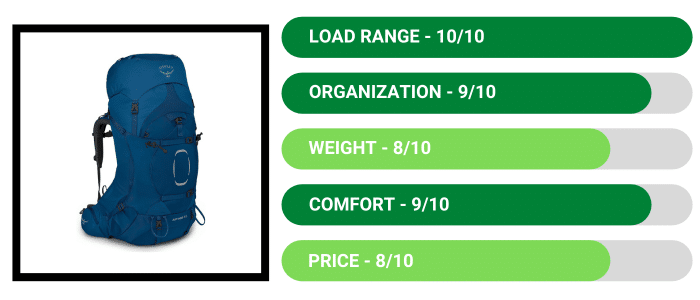 Overall Score: 88
Advantages
High weight capacity (60 pounds)
Great organization
Comfortable to carry and adjustable torso length
Disadvantages
Heavier than some
Expensive
Recommended Load Range
For those campers and hikers who intend to use their pack to its fullest capacity, the Osprey Aether 65 is a worthwhile investment.
It can hold up to 65 liters in volume, but the actual load range is perhaps the more impressive statistic. This backpack is best when toting a load ranging from 30 to 60 pounds without sacrificing comfort.
Organization
One of the perks of the Aether backpack is that it's easy to access all of your gear whenever you need it most.
For the most part, you can load your backpack from the top down as you would with many other backpacks on the market.
In addition to the top-loader cinch, it also has a front panel zipper that grants you access to the main compartment.
If you plan to use it to store a sleeping bag, it has an internal zippered compartment with a removable divider just for this purpose.
Do check out my article on the best camping sleeping bags in case you need to buy a new one!
In addition to those fantastic features, you also have dual zippered pockets on the hip belt and mesh pockets on the sides for storing water bottles, umbrellas, and other items that you may want quick access to while on the trail.
Weight
When it comes to getting a new backpack for your latest trip, you need to make sure that the pack itself isn't going to be what weighs you down.
Despite its roomy interior capacity and great organizational features, you'll find that this pack clocks in at just a touch under five pounds.
Given everything that you stand to gain by using this pack, it's an impressive feature.
Comfort
Of course, no backpack review would be complete without a quick look at how comfortable the pack is to carry.
The Aether 65 has tons of bells and whistles when custom-fitting it for your unique body type and shape.
One of the best features is the adjustable torso length which grants wearers the ability to adjust up or down to make things easier on the back.
It also has a fit-on-the-fly hip belt and shoulder straps for the ultimate comfort.
Price
The only place where the Aether 65 doesn't necessarily shine is its price tag.
While some of the other models on this ranking are great for budget-conscious shoppers who want value for their hard-earned dollars, this backpack may price itself out of the market.
It offers a solid return on investment if you can afford it, though!
2. Osprey Daylite Plus Daypack (Best option for growth)

Overall Score: 86
Advantages
Attaches to other Osprey backpacks for added storage
Laptop sleeve or holds hydration bladder
Inexpensive
Disadvantages
Smaller in size
Comfort isn't top of mind with this design
Recommended Load Range
While Osprey isn't as forthcoming about the weight that the Daylite Plus Daypack will carry, you'll be pleasantly surprised to learn that it holds up to 20 liters.
Most people find that the comfort of the straps is a little thin when you reach higher weights of 15 to 20 pounds with this pack.
However, it's a great starter backpack if you only intend to take short day hikes and don't need anything as robust as the Aether.
For purely hiking purposes, you'll be better off with one of my recommendations from the best hiking backpacks list!
Organization
Because this is a smaller backpack, you might think you'll get fewer organizational features, but Osprey is full of surprises.
The main compartment houses a separate section that can store a 15-inch laptop, tablet, or hydration bladder, depending on your preferences.
If you have a larger laptop, it can easily fit in the main compartment and still be nice and secure.
It also has side mesh pockets for storing water bottles and quick-access items. On the very front of the bag is an additional pocket, great for your snacks or first aid kit.
One of the best features of the Daylite Plus is that it can attach to many other Osprey bags.
This allows you to make the most of your camping or hiking experience with additional storage or weight capacity, should you need it.
Weight
This ultralight backpack shines when it comes to its overall weight. It features an overall weight of just over a single pound.
If you're worried about how you will carry the weight of your backpack on a long hike, you don't have to fret about this Daylite Plus.
It's designed not to weigh you down, so you can carry more of what you need on the trail.
Comfort
While this backpack is one of the most convenient for everyday use, it leaves little to be desired from its overall comfort.
Do check out my article on the best everyday backpack if you're looking for something for daily use.
Many people wish the straps were just slightly more padded so they could comfortably carry a heavier load. However, if you pack lightly, it's comfortable enough for a short jaunt down the trail.
It also features a mesh-covered die-cut foam back panel to help ventilate your back and prevent that awful feeling of sweat from sticking to your shirt and backpack.
It also keeps a heavy pack from digging into your spine so much.
Price
The place where this backpack shines is the price. It is easily one of the most affordable Osprey backpacks on the market and makes a great addition to your gear.
Especially given that you can continue to use it once you upgrade to a bigger Osprey pack, it's well worth the small investment you'll make now.
3. Osprey Porter 46 Backpack (Best midway point for weight capacity)
Overall Score: 80
Advantages
Decent load range and higher weight capacity
Good organization
Affordable
Disadvantages
Middle of the pack on overall weight
Recommended Load Range
This backpack presents a nice midpoint option between the Aether and the Daylite Plus. The Porter 46 holds a maximum of 46 liters and can comfortably support just about as many pounds in the pack.
Most people find this backpack comfortable, around 30 to 35 pounds. This still gives you plenty of options regarding which gear you plan to take.
It also meets carry-on size restrictions if you plan to use this to travel rather than to hike or camp.
Organization
Most of the organizational features of this backpack are found in the main compartment. You can access this compartment via a U-zip access point.
That being said, there are separate options for your padded rear panel laptop sleeve and your front panel pocket, which is great for storing important documents and books.
Once you open up this backpack, you'll find even more options for organization. It has internal zippered organization side pockets, front panels with zippered pockets, and a built-in key clip.
If you need to check into your flight, the shoulder straps and hip belt are easily tucked away to make your departure easier.
It also features compression straps when the bag isn't filled to max capacity.
Weight
As this backpack falls in the middle of the Aether and the Daylite Plus, you expect a similar finding regarding the overall weight.
It clocks in at just 3.26 pounds, making it easy to carry with your gear without weighing you down. If you need something that can haul serious loads and doesn't add much weight, the Porter 46 is a great option.
Comfort
Most notably, the Porter 46 has a foam-covered fabric back panel to make carrying a heavier load a little more comfortable.
This is also where you will find the tuckaway pockets for the straps, namely the harness and hip belt. The goal is for this bag to feel comfortable, no matter how you intend to use it.
The hip belt is made of comfortable webbing and has padded wings to prevent it from digging into the sides of your hips while carrying a heavier load.
It also has an adjustable sternum strap, complete with a whistle for your safety in the woods.
Price
As with most other categories, the Porter 46 also falls solidly into the middle of the pack regarding pricing.
You'll get a quality backpack for a reasonable rate, and you won't have to blow your whole budget on it. If you're looking for a backpack that's at a great price without sacrificing space, this is your go-to option.
4. Osprey Talon 22 Backpack (Best for lightweight packing)
Overall Score: 80
Advantages
Excellent organization
Compatible with external hydration sleeve (up to 3 liters)
Low weight
Affordable
Disadvantages
Low recommended load range (10 to 20 pounds)
Recommended Load Range
For those who want something a little bit smaller, you might want to consider the Talon 22. It holds a robust 22 liters, but you'll want to keep the weight capacity a bit lower.
Most camping enthusiasts find this pack most comfortable when you limit it to 10 to 20 pounds.
This means you won't be able to cram in as much gear as possible, but it could work wonders for everyday use.
Organization
You have plenty of options for accessing your gear while on the go with the Talon 22.
It features a dual-zipper option for the main compartment and has an external hydration sleeve that can hold about three liters (purchased separately).
Plus, you'll love this if you're taking a difficult hike, as it has a separate trekking pole attachment.
You'll also enjoy the convenience of having many different pockets, from a couple of stretch mesh side pockets that are standard on Osprey packs to zippered hip belt pockets.
You can even attach your helmet with the LidLock attachment.
Weight
This backpack is a great option for anyone who wants to stay light and lean. It comes in at just a hair over two pounds.
This means that the overall weight of the backpack itself won't eat up the 10 to 20 pounds you can pack inside. It's a reasonably-sized option when you need something just for the day.
Comfort
A perk of the Talon 22 is that it has an adjustable harness system to fit every size torso.
Whether you need it to be a little longer or shorter, making the changes necessary to accommodate what you need from your backpack is easy.
The hip belt and shoulder harness are designed with comfort in mind. They make it easy for your backpack to move with you.
It also has padded shoulder straps and space mesh over die-cut foam for a more breathable experience.
Price
This backpack is a solid investment for anyone who wants a backpack that can quickly get them from point A to point B.
It isn't the most expensive backpack on this list, and it comes closer to the bottom of the price ranges found on most Osprey backpacks.
This option is for you if you want something that'll accommodate a budget and pack a powerful punch.
5. Osprey Kestrel 48 Backpack (Best for features)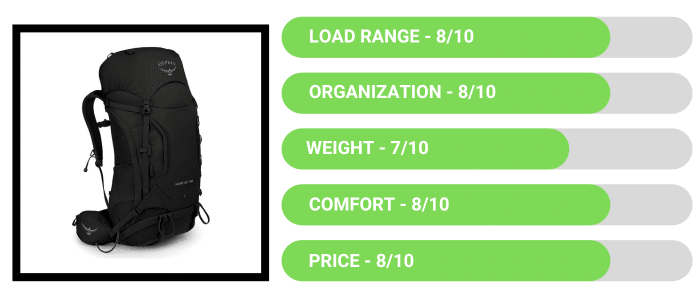 Overall Score: 78
Advantages
Robust recommended load range (up to 35 pounds)
Organization features like side zipper access
Affordable for the features
Disadvantages
A little heavy compared to some
Recommended Load Range
Campers and hikers who need a backpack to do some serious hauling will want to give the Kestrel 48 a closer look. It holds a whopping 48 liters, but its weight-bearing capacity is even more impressive.
While it doesn't hold a candle to the 60 pounds that the Aether can hold, it can hold up to 35 pounds of gear without sacrificing comfort.
Organization
You'll love how easy it is to access your gear in this backpack. At the bottom of the pack, you'll find a sleeping bag compartment with a removable divider.
It has an external reservoir sleeve, a stow-on-the-go trekking pole attachment, and zippered hip belt pockets.
Perhaps the area that is most appealing to campers is the side zipper access. You no longer have to fight through all your gear to get to items on the bottom or side.
Instead, just unzip and reach inside to access everything in a cinch. This is one feature worth paying for if you know you'll want access to things like a camping stove or a snack bag on the trail.
P.S.: I have some decent recommendations for the best camping stoves if you ever need one.
Weight
Despite its impressive load range, this backpack doesn't weigh you down. Weighing in at just 3.5 pounds, you'll have plenty of room and space for your other gear.
Don't allow a heavy pack to keep you from progressing on your camping or hiking goals. Instead, carry only the weight you truly need with the Kestrel 48.
Comfort
Perhaps the most prominent comfort feature of the Kestrel 48 is the Airscape back panel. This is designed to be breathable and adjustable for any torso length.
It keeps your back cool and comfortable on a long trip, padding the spine and allowing the air to circulate.
You still get the comfortable padded shoulder straps and the hip belt that moves with you while you walk.
Price
If you want a backpack that can hold a tremendous amount of gear but don't want to blow your entire budget on a backpack, then the Kestrel 48 is the right fit for you.
Given its capacity to hold your gear, you'll be pleasantly surprised to learn that it isn't the most expensive pack on this list.
When you have a moderate budget and want something sturdy, the Kestrel 48 is a great option.
6. Osprey Atmos AG 65 Backpack (Best for heavy loads and attachments)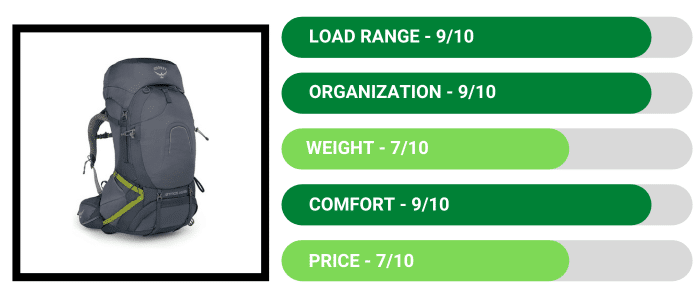 Overall Score: 82
Advantages
Higher load range (up to 50 pounds)
Great attachments for trekking poles and ice tools
Floating top lid
Anti-gravity suspension
Disadvantages
Heavier overall weight
Expensive
Recommended Load Range
If you want something that's going to be robust compared to the Aether 65, then the Atmos AG 65 might be the next best option.
It holds the same liter capacity (65 liters) but can comfortably carry just a little less weight.
Most recommend keeping the Atmos AG at just 30 to 50 pounds, which is still well above what some of the backpacks listed here can handle.
Organization
Organization is key in a large backpack, and the Atmos AG doesn't disappoint. It features a handy internal hydration reservoir sleeve that can hold up to three liters (sold separately).
Like the other Osprey backpacks, you'll also get dual side mesh pockets for your water bottle or snacks. One unique feature is the floating top lid.
Once this lid is removed, you have a FlapJacket flap designed to keep your gear in pristine condition. You also get a sleeping bag compartment and a removable divider at the bottom of the bag.
Store your trekking poles and ice tools from the exterior of your bag as well.
Weight
As you might expect, this backpack will be a little heavier than something like the Daylite Plus.
Because you're getting a much larger backpack with a greater capacity to carry gear, you'll find that it weighs closer to 4.5 pounds.
While this isn't enough to scare you off the backpack, you might feel more comfortable with something smaller for shorter trips.
Comfort
The advantage of the Atmos AG 65 is that it feels like you carry a much lower weight than you are – thanks to its anti-gravity suspension.
The anti-gravity suspension consists of a back panel of lightweight mesh that stretches from the top of the backpack down to its hip belt. Of course, this ensures you have great ventilation and an excellent fit.
This backpack features an adjustable harness and a hip belt that you can fit easily on the fly to get a custom fit every time.
Price
This backpack falls very closely in line with the Aether 65, which makes sense given the similar size capacity.
If you have a little bit of money to invest in a solid backpack, then you should consider making a one-time investment into gear that you'll have for years to come.
That bumps the Atmos AG 65 to the top of the list.
Final Thoughts
If you think it might be time to invest in a new backpack, Osprey is one of the leading name brands.
They have a robust selection of backpacks to accommodate any purchase you need, from lightweight to long hiking trips.
If you need the most storage and comfort with excellent organization, we recommend the Osprey Aether 65, but you can't go wrong with any of the options found here!