Choosing the right everyday backpack can make the difference between hassle-free trips and days fraught with worry or discomfort. Will you be able to fit your belongings in securely? Is your backpack going to be comfortable enough to carry around all day? Which backpacks are best for use every day?
To help inform your decision-making process, we'll consider several important factors to bear in mind when choosing the bag you'll be using day in and day out. We'll look at the space available and how it's organized, the comfort levels, how durable it is, any special features, and the price.
As a quick summary: those looking to invest in a top-quality day bag should look no further than the REI Peak Design Everyday Backpack, while those looking for high standards on a budget should consider the Matein Business Travel Backpack.
Best Everyday Backpacks
Compare Top Everyday Backpacks
Detailed Analysis Of The Best Backpacks For Everyday Use
1. REI Peak Design Everyday Backpack V2 20L/30L

Overall score: 86
Advantages
Great use of space
Exceptional design
Comfortable to wear for long periods
Weatherproof
Disadvantages
Space
With the REI Peak Design backpacks, you can choose between 20 or 30L sizes depending on your space requirements. Either way, this is an excellent amount of space for a well-packed day bag.
The REI has been exceptionally designed to make the most out of the space inside. There are 3 'FlexFold' dividers so that you can customize your own organization to suit your needs.
In addition, you'll find a protected laptop sleeve and other compartments for tablets or documents. Additional side and top pockets are perfect holders for your phone, key, or wallet for easy accessibility.
Comfort
As with hiking packs, the back panel is ventilated, breathable and quick drying.
The shoulder straps are designed for comfort, and there's also the option to use a sternum strap to alleviate some of the weight on your shoulders when moving about.
Durability
With a waterproof outer shell, you can expect to own an extremely durable day pack if you choose the REI Peak Design.
For extra reassurance, the pack is covered by a Peak Design lifetime guarantee, so you know your investment will stand the test of time.
Features
This sleek backpack has almost too many features to mention as it has been designed to perfection with every last detail of backpack wearing considered.
Magnets have been incorporated to keep the straps closely stowed against the bag when it's not in use. The zippers are designed to be theft-deterrent.
You also have access to your belongings from both the top and side of the bag, with the side access points intended for use on the go, so you don't even have to take the pack off.
A special latch design also means you can access it from the top using just one hand.
To top it all off, the outer layer is made from 100% recycled material as the manufacturer is making moves towards sustainability.
Price
At nearly $300, this beautiful backpack is the most costly that we're looking into, but we think you get a lot of careful design for your investment, plus a lifetime guarantee that may save you money in the long run.
If you have the cash to spare, this is an excellent choice.
2. Thule Chasm Backpack 26L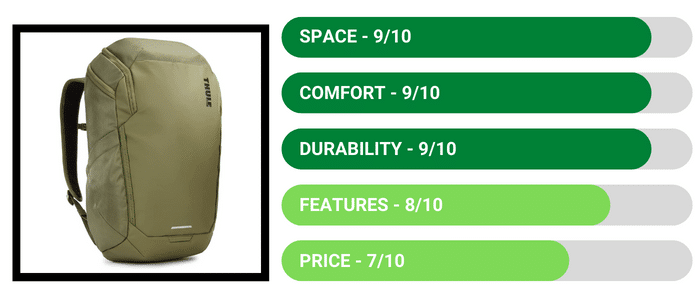 Overall score: 84
Advantages
Sleek and attractive design
Good organizational features
High comfort level
Warranty
Disadvantages
Not particularly affordable
Space
This neat and stylish backpack can hold up to 26 liters, making it the perfect size for a large day pack.
Despite the sleek design, there are many organizational features, including a side-access back pocket for a laptop.
Within the main compartment, there's plenty of free space for bulky items and a protected additional sleeve for another device.
The front section is packed with a panel of pockets for smaller items such as electronics, a wallet, or keys.
And that's not even mentioning a top compartment for easy access and a side pocket for water bottle storage.
Comfort
With a back panel that's contoured to fit comfortably, with good weight distribution and nicely padded shoulder straps, carrying the Thule Chasm backpack for the day should be a breeze.
The addition of a sternum strap just makes it all the more comfortable for hiking or more adventurous activities.
Durability
Made of phthalate-free TPE laminate and 840D nylon, this high-quality pack is robust enough to last you through most excursions and the limited lifetime warranty is a great addition.
As a bonus, it's weather-resistant, and the front panel is water-resistant in addition to the base, so you don't have to worry about your pack getting soaked on wet ground.
Features
The sleek design and organizational features are already enough to make this bag stand out.
However, we love that the laptop storage area is extremely well-protected and well-cushioned and that the top pocket is softly-lined to safeguard your phone or other important items.
Price
At almost $150, the Thule Chasm isn't a cheap everyday backpack. However, we think the attractive exterior and highly practical interior make it an excellent investment for a bag you can use every day.
3. MATEIN Business Travel Backpack
Overall score: 84
Advantages
USB port incorporated into the design
Laptop compartment
Excellent value
Disadvantages
Space
Designed for business users but perfect for anyone on the go, this Matein backpack can hold books, food, clothes, or supplies for school, work, or hiking, in addition to a 15-inch laptop in its own separate compartment.
There's a large main compartment that you can fill with the bulk of your belongings, but there's also a front compartment, laptop sleeve, and flexible mesh pockets for your key items and water bottle or umbrella.
Comfort
The design focuses on back support with a padded back panel and thick straps, which you can adjust to your comfort levels.
As with the more up-market backpacks we've looked at, the Matein is also made of breathable padding so that you don't get too sweaty when you're out and about.
Durability
This is a water-resistant bag and quite durable, making it a safe holding space for your laptop and other valuables.
Users have enjoyed using the bag for years, so if this is your choice, it should be with you for many a day.
Feature
The most notable feature of this backpack is the USB port design element, which allows you to conveniently charge your phone while you are out and about.
Although there's no charging port included, the thoughtful design allows you to keep your portable charger in your backpack and connect it to the internal USB charging cable, allowing you to charge your phone on the go.
The anti-theft back pocket for your valuables is also a bonus.
Price
At around $40, this is an excellent value-for-money option, considering all the added features.
4. Osprey Hikelite 18 Hiking Backpack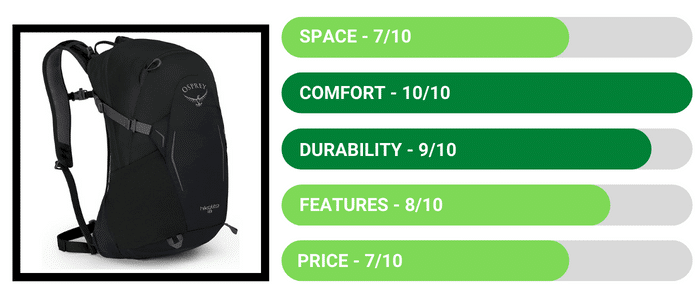 Overall score: 82
Advantages
Very comfortable to wear for long periods
High quality
Durable build
Disadvantages
Space
Although it's designed as a small hiking bag, the Osprey Hikelite is adaptable enough for many purposes.
It doesn't have the appearance of a technical hiking bag, and at 18 liters, it's the perfect size for a day out of the house with a light pack, whether in the great outdoors or the city.
There are several pockets for organization, including a scratch-resistant one for your electronics or sunglasses so that you can keep your smaller items separate and not in a heap at the bottom of your bag.
There are also stretch mesh side pockets for extremely flexible storage.
Comfort
As it has been created for hiking trips, you can expect the added comfort level of a well-designed support system. There are nicely padded shoulder straps and a breathable back panel.
While this may not be necessary for every trip, it's a plus to keep your back cool and comfortable even if you're taking a walk around the city.
Durability
Osprey is a trusted outdoor gear brand that can be expected to produce good quality gear, so this nylon bag should last you a good while.
There's also a rain cover integrated into your bag, which will help to protect your bag and your gear from bad weather.
Features
In addition to the storage features already mentioned, the backpack frame is also created with lightweight technology.
There's also a waist belt made of removable webbing, an internal slot for a hydration bottle, and straps where you can attack trekking poles.
With all these added features, we think this bag is an excellent choice that can double as both a hiking pack and for daily use.
Price
Priced at $100 normal price and $65 on sale, this is not a budget backpack by any means, but its multifunctional benefits will make it worth the cash if you're looking for a high-quality, multi-purpose bag.
5. Dakine Campus Pack 25L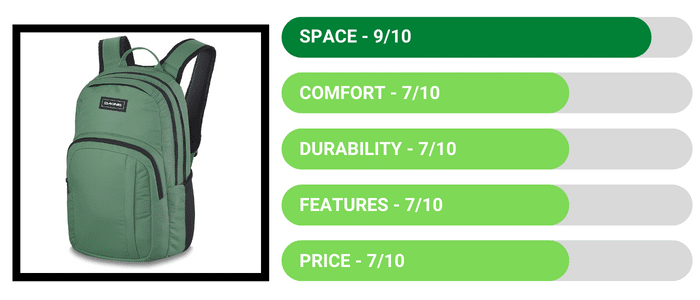 Overall score: 74
Advantages
Good amount of space
Laptop sleeve
Attractive design
Disadvantages
Space
This attractive 25-liter campus pack gives you plenty of space for a day's worth of belongings which you can divide into three compartments with an organizer pocket.
If you need to carry your laptop regularly, this bag is perfect for you as it has a laptop sleeve with protective padding that will fit most laptops that are 15″ or smaller.
Comfort
This sleek bag has a simple design with reasonably padded shoulder straps and an ergonomically designed S-curved back panel to distribute weight across your back and shoulders.
Durability
This pack doesn't claim additional protection from the weather or elements.
However, users find it strong and durable, so you can rest assured that your belongings will be safe and you can use this pack for a considerable period.
Features
The most remarkable feature of the Dakine Campus pack is the wide range of available colors and patterns.
Whether you're looking for something eye-catching or more neutral, there's a design that'll be perfect for you. So if you're in the market for a sleek and attractive city bag, the Dakine Campus pack is great for you.
Price
While the listed price is around $65, it is possible to find it cheaper on sale. This is not a budget backpack, but it is perfect if you have some cash to spend on an attractive day bag.
6. JanSport Cross Town Backpack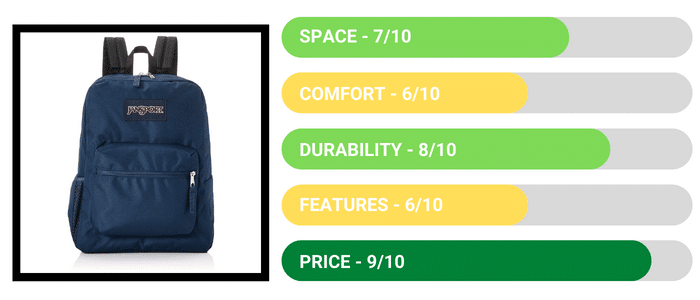 Overall score: 72
Advantages
Affordable
Simple backpack style
Lifetime warranty
Disadvantages
No extra organizational features
Space
For those seeking simplicity, JanSport's bag doesn't overcomplicate things.
There's a big main compartment, a front pocket, and a side water bottle pocket so you can keep your belongings in a basic level of organization.
While there is plenty of room for a day's worth of items, users have felt the negative impact of the lack of compartments available within the bag.
Comfort
The bag has a regular amount of padding around the shoulder straps and back panel and is reasonably comfortable. However, this is not your bag if you want something extra comfortable.
Durability
JanSport offers a lifetime warranty on this durable backpack, so you can use it to your heart's content, knowing that any repairs due to product malfunction can be carried out free of charge.
It also has a bit of water resistance, so your belongings will be safe in a quick rain shower, but any more than that, everything will get soaked through.
Features
As a basic backpack, there are not a lot of extra added features with the JanSport, and you mostly get what you see.
However, like the REI Peak Design Pack, it is partly made from recycled material, which is reassuring from a sustainability perspective.
Price
At $30-$36, this is a very decent budget everyday backpack that comes highly recommended by many users.
7. Everest Luggage Basic Backpack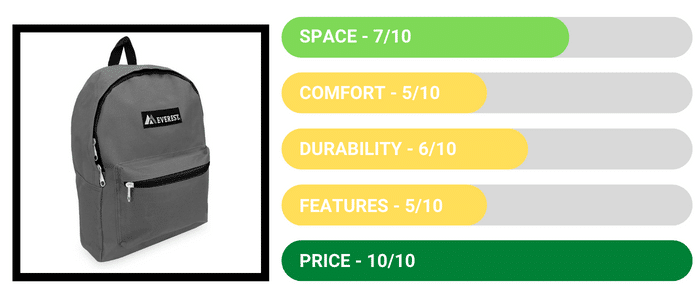 Overall score: 66
Advantages
Extremely affordable
Large central compartment
Disadvantages
Only basic comfort levels
Minimal organizational features
Space
The Everest Luggage Backpack is a medium-sized budget pack with a large central compartment that's big enough to hold a decent amount (one user reported being able to pack two outfits, plus toiletries in the space available).
There's not much in terms of separate compartments for organization purposes, however, as there's only one separate pocket on the front, which is useful for often-used items like your keys, phone, or wallet.
If you're looking for a basic pack just to store all your belongings while you're out for the day, this bag will serve this purpose perfectly well.
Suppose the ability to organize all your gear is important to you. However, looking elsewhere at one of the more specifically designed packs like the Osprey Hikelite or the REI Peak Design is best.
Comfort
This is the most basic backpack on our list, and as you'd expect from such an uncomplicated design, the comfort feature is mostly just basic padding around the shoulder straps.
Durability
This is a budget pack, and while it can't be expected to last a lifetime, you will surely get value for money out of this bag after a few months or a year of use.
Features
With an extremely simple design, this bag comes with no added features.
However, not everybody needs a backpack with a whole host of extra features added, and if this is the case, then the Everest pack is great for you!
Price
At around only $10, the Everest Basic backpack is unbelievably affordable. It is the perfect option for those not looking for anything fancy and looking to stay within a small budget.
Final Thoughts
Whether you've been searching for a high-spec backpack to hold all your electronic gear, a hiking pack that can double as a bag for everyday use, or a budget option that you can use for many purposes, we've got you covered.
Just choose from our comprehensive list to finally find your ultimate day bag.