Enamel camping mugs can serve more than one purpose. It's an easy option for anyone on a budget.
Camping mugs are typically coated with enamel because it adds to their durability, design, and affordability. They're also multipurpose and suitable for a camping trip. Enamel mugs are the most accessible and versatile among the other camping mugs available.
Enamel camping mugs have plenty of benefits. More than the trendy designs available, you'll want them for practical reasons.
10 Benefits of Using Enamel Camping Mugs
When deciding on a camping mug, you'll need to consider how you'll pack it, use it, and how it retains heat.
You can also add a personal touch to it when it comes to design. An enamel mug is suitable for camping because it checks all those boxes. Let's take a look at how.
1. Durable
Enamel camping mugs are typically made of steel or aluminum. The metal is coated with enamel to protect it from rusting.
Enamel is made of melted and fused glass powder with additive pigments and fired at about 850 °C. This results in a smooth and shiny protective coating.
Because the mug is metal, you don't have to worry about it breaking or shattering. This is especially helpful when you're camping with kids.
However, the coating can chip, and I don't recommend using a chipped enamel camping mug because this can lead to rusting.
2. Lightweight and Travel-Friendly
Compared to double-walled mugs, the enamel is a lighter material. These lightweight, compact mugs make them easier to pack.
Together with its durability, packing enamel mugs is more travel friendly than ceramics and plastics.
These mugs are even known as the "proper camper mug" and are a typical go-to.
The problem with other mugs and tumblers is that the material they use is heavy, which makes them even heavier when filled with water or other drinks.
3. Heat Retention
Enamel mugs retain heat well because of the steel insulator. The heat spreads through the enamel, so you're sure it's thoroughly heated.
Some campers claim that it retains heat for a considerable amount of time. However, others claim the opposite.
Although, compared to its ceramic counterpart, it does retain heat better.
Keep in mind that you should be careful when holding the handle. Some mugs get too hot and spread to the metal handle.
Some campers advise wrapping the handle with a rope or string to avoid burning your fingers.
4. Safe to Drink From
The enamel coating doesn't change the flavor of your drink.
Enamel doesn't react with acid, so you can drink coffee, cocoa, or other beverages knowing the taste won't be affected.
This also makes it safe to use for food such as soup or beans. Modern enamelware is free of toxic materials.
However, this is not the case for vintage enamelware. You might want to take extra precautions when purchasing those.
When enamel mugs were first made, cadmium, lead, and other toxic additives were used to cast iron.
5. Come in Various Sizes
You can get enamel camping mugs from 12 oz to 32 oz! If you're only going to use them for your drinks, you're better off with the smaller ones.
However, I'd prefer larger ones as they make mixing drinks easier and use them to eat food.
Some coffee lovers say that a wider cup can significantly improve the taste of coffee.
I love drinking my soup, and these mugs are shaped with rolled rims that make it easier to sip.
6. Easy to Clean
These enamel mugs are easy to clean. You can simply use soap and water, and washing it by hand can help preserve the shine of the mug.
You can also use your dishwasher when you get home, as these enamel mugs are dishwasher friendly. This will help save you time and stress.
7. Using Over a Campfire & Cooking With Them
Speaking of food, you can use enamel mugs over your stove or a campfire. You can use it as cookware or as a kettle to boil water.
It won't crack or damage due to high temperatures. However, make sure to cool it down before washing.
And when cooking, make sure to cover the handle to prevent it from getting too hot.
This makes it very convenient when packing. You can get rid of your pots and pans or your kettle.
Of course, if there are many in your group, you'll likely need to bring multiple camping mugs.
8. Eco-friendly Choice
Enamel mugs are reusable compared to bringing single-use plastics or paper cups to your camping trip.
They can last many years, which is good news if you plan to camp regularly. They aren't recyclable or biodegradable, but they can be repurposed.
When they start to chip, you can use them as plant pots, home décor, pen holders, whatever you choose.
They are available in different designs, which means they can add character to any room.
9. Can Suit Your Personality
Speaking of designs, you can choose an enamel mug that suits your personality. Etsy has plenty of enamel mug sellers.
Some of them even customize designs for you. If you notice, many of the designs available are "outdoorsy" or camping related.
Designs come in different colors with a glossy finish. Usually, white mugs are lined with a blue or red rim.
You can use these mugs in your trailer or while drinking hot cocoa around a campfire.
The designs you'll see will reflect the camping theme, which can add to the entire experience. Common designs also include trees and adventure quotes.
10. Inexpensive
Enamel camping mugs are inexpensive compared to other mugs. This is especially helpful if you buy many for your family or friends.
As a rule of thumb, six enamel mugs can be the price of one ceramic or insulated steel mug. You're not sacrificing quality for the price.
You're still getting a durable, multipurpose cup. Personally, there's "less pressure" purchasing inexpensive mugs.
I see my thermal mugs as some "jewelry" or "tech" for their price and fragility. Some of them dent when dropped.
Alternatives to Enamel Camping Mugs
Camping mugs come in other material choices. These are the alternatives when you don't want to settle for an enamel mug.
Camping mugs are also made of titanium, ceramic, or plastic. Titanium mugs are durable and have excellent insulation. Ceramic mugs have high heat retention yet the lowest durability.
Lastly, plastics are relatively durable but have the lowest heat retention.
Because these are camping mugs, you'll want to prioritize their durability (due to packing, hiking, and dropping) and heat retention.
1. Titanium Mugs
Titanium mugs are becoming increasingly popular as a substitute for enamel. Although it is more expensive, it's still a durable and lightweight option.
Unlike enamel mugs, titanium has excellent insulation. You might also know them as "thermal mugs" or "travel mugs."
You'll likely not get burned while holding this mug with your hands. Instead, they can help warm you up on chilly mornings.
Some of these mugs come with a lid to help retain heat. You can personalize them by purchasing cloth sleeves.
What I love about these mugs is that they're the most elegant. The natural titanium look is often used as a minimalist design.
2. Ceramic Mugs
Ceramic mugs are the least durable because they can break when you drop them. They also tend to chip and get scratches.
However, their heat retention is better than enamel and plastics. But it doesn't beat the insulation of titanium mugs.
Unlike enamel mugs, these are microwave-safe, so you can use them for reheating certain food or drinks.
Lastly, amongst the four choices, ceramic mugs are the most neutral and won't affect the taste of your drink. There won't be any lingering smells or aftertastes.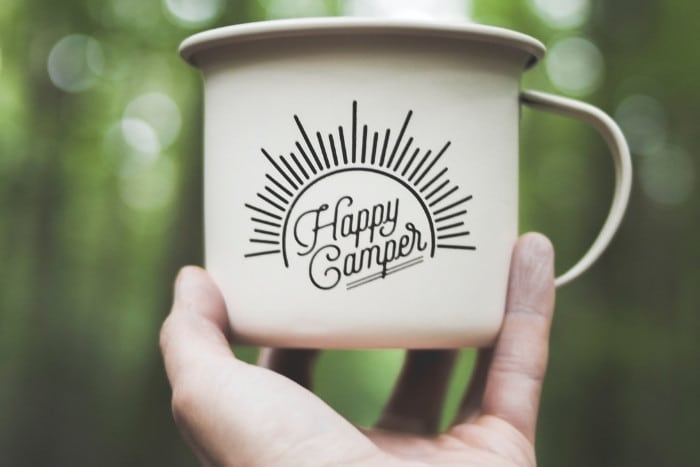 3. Plastic Cups
This is the least eco-friendly of the four. And being a camper, taking care of nature is one of the most important things.
However, the durability of plastic is either fair or reasonable as a camping mug. They can handle drops or falls with no issue, but they wear faster than the others.
They can also stain, scratch, crack, or break from degrading due to sun exposure or washing.
This is not ideal, especially for camping where you do more physical activity. Your mugs could be more susceptible to drops or kicks, especially around kids.
For safety, you'll also want to ensure that they are BPA-free and are non-leaching polypropylene plastic. This ensures that the material you drink from isn't toxic.
It has the lowest heat retention compared to other options—so not an ideal option for your hot cocoa and morning coffee.
Where to Buy Enamel Camping Mugs?
If you've decided that enamel camping mugs are the best option, here are some places to purchase them online.
You can buy enamel camping mugs online through Etsy, REI, Bed Bath & Beyond, or Amazon. You can also get them through physical stores such as Target.
Some online camping websites may also have their products, but the price will depend on the brand.
Because the price varies at different retail outlets, online stores may be more economical. I've listed some options below you can consider.
1. Falcon Mug
You'll probably recognize this as a classic design. It's made from heavyweight steel and thick enamel, making it extra durable.
It's a UK-based store, so you might want to consider overseas shipping costs. Click here to see Falcon Mugs
2. Adventure Together Mug
What's great about this option is that you can personalize it. You can gift it to a fellow camper or use it yourself.
It's got an outdoor design that gives off a camping vibe. Click here to see Adventure Together Mugs
3. E-far Camping Mug
This comes in a set of 6 and is reasonably priced. If you're deciding to camp with a group or use it for yourself, this could be an option.
The designs are also suitable for camping, and they come in a variety of colors.
Click here to see E-Far Mugs
4. Mountain Summit Gear
Another classic design, this product comes in a set of four. You can use 12 oz. camping mugs for your hot and cold beverages.
REI is one of the camping brands you may have heard of, and they have exceptional enamel camping mugs.
Click here to see Mountain Summit Gear Mugs
5. Customize Your Own Camping Mug
Bed Bath & Beyond has its own collection of enamel camping mugs. This particular option allows you to personalize names or quotes.
Unlike the "Adventure Together Mug," this is a plainer design focusing on the text and font of your choice. Click here to see Custom Mugs
In Summary
Camping mugs are typically coated with enamel, making them durable and rugged.
The coating also provides various designs you can choose from, most of which reflect the camping lifestyle.
Enamel camping mugs are also the most affordable and versatile. They have many functions that will help make your camping trip easier and more efficient.
If you prefer mugs without enamel, there are other options. Camping mugs can also be made of titanium, ceramic, or plastic. All of which have their pros and cons.
However, if you've decided to stick with enamel, you can get them from almost anywhere online.