You want to go camping but aren't sure you want to rough it for a few days. Maybe you don't want to shell out money for a tent and sleeping bags if you're unsure whether you'd even enjoy camping. On the other hand, you might want a more effortless experience if you are bringing along small children.
Bougie camping aims to make camping more comfortable with solid accommodations such as an already-pitched tent, safari tent, cabin, or yurt. It may have a private bathroom, running water, and electricity. You can pack lighter and minimize the cost of a first-time camping trip.
If you're considering exploring bougie camping, here is what you can expect.
What is Bougie Camping All About?
Bougie camping, sometimes referred to as glamping, is a relatively new experience that lets people enjoy being outdoors. It combines glamor and camping, making you more comfortable while "roughing" it in the great outdoors.
Even if you aren't up to the physical task of hiking to your campsite and getting everything set up, bougie camping allows you to still enjoy camping without all of the work.
Here is what you should know about what sets bougie camping apart from traditional camping:
1. More Solid Accommodations
One of the defining features of bougie camping is that most campgrounds that offer this service will have more accommodation options for campers.
Instead of sleeping on the hard ground in a tent that you had to pitch yourself, spend the weekend in a cabin with a mattress and bed frame.
The luxury of the accommodation depends on the campsite.
Other accommodations include safari tents, yurts, house trucks, camping pods, converted shipping containers, and many other eclectic abodes.
Of course, some people still prefer camping in the traditional sense with a tent but hate the idea of pitching it themselves.
In this case, you can pay for the campsite to pitch a tent before arrival. They may even provide air mattresses fully inflated and ready for a good night's sleep waiting for you.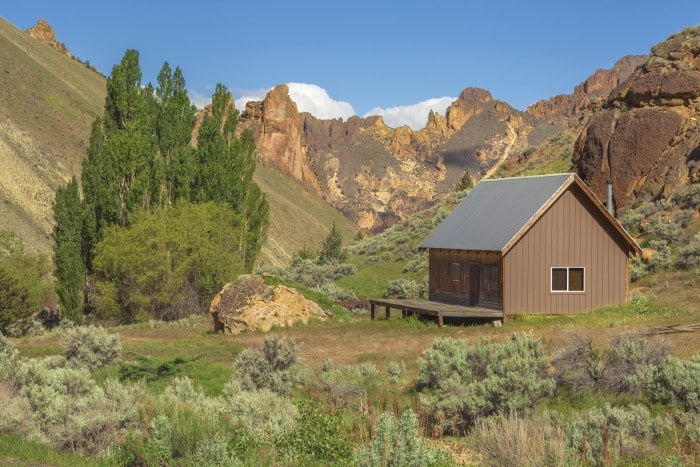 2. More Privacy
Depending on where you camp, you might enjoy having a bit more privacy.
Deluxe cabins and even yurts may have running water which means you have access to your own private bathroom instead of venturing into the woods to do your business.
This could be a great option if you have small children who need to get up multiple times during the night.
You won't have to worry about traipsing to the communal bathroom and risk having an accident in the middle of the night.
3. Electricity
While many people love camping because it allows them to unplug, being off-grid for a few days might not be an option.
Instead, bougie camping may have electricity and many accommodations have outlets to plug in your devices.
You may not have a good source of Wi-Fi outdoors, but you can still get a signal via your phone so you can document your trip on social media as you experience it.
4. Packing Lightly
When you go camping, you have to pack your car up with gear and supplies to make your stay as comfortable as possible.
Bougie camping limits what you need to pack for a great trip. Leave your tent, flashlights, and other items required for traditional camping behind.
However, you might want to bring more creature comforts such as a laptop, video games, or speakers to listen to music.
5. Less Financial Investment
In addition to being able to pack lightly, bougie camping saves you money.
While the campsite rental might be a bit more expensive, you don't have to invest in all the gear required for traditional camping, such as tents, sleeping bags, and cookware.
You won't need that when you go glamping because the campsite provides the basic necessities.
If you aren't sure whether you will enjoy camping, save your money on the first few trips and opt for bougie camping instead.
6. Increased Comfort
Not only do you benefit from a comfortable mattress, bougie camping makes you comfortable no matter the season.
Many accommodations will have central air conditioning for those extra hot summer days.
Enjoy the cool morning air, and as soon as the sun starts to beat down, move your camping indoors for a more comfortable experience.
Many glamping sites have wood-burning stoves. Keep warm throughout the winter without bundling up so much that you can barely move.
Some accommodations also focus more on ambiance, giving you the experience you truly want with small touches like fairy lights or a more rustic feeling.
Many of these campsites are simple yet modern. Each camping trip can give you a different mode of living, but the uniqueness of each abode makes it an all-inclusive experience.
For example, you might take a relaxing bath in a repurposed steel milk container heated by a wood burner.
If you are looking for quirky stays or unique experiences, you can search Airbnb for glamping and find stays in treehouses, converted shipping containers, camping pods, geodesic domes, and more.
You can view the level of comfort and gauge what to expect before booking.
To learn more about what is available in your preferred camping area, search #glamping on Instagram to get an idea of what others shared from their experiences and what they thought was IG post-worthy.
7. Easier with Kids
If you have little kids that are part of your camping excursion, bougie camping may be the better option.
It limits the work that has to go into setting up and tearing down the campsite with little ones running around.
Bougie camping also allows them to enjoy the comforts of home that they are most used to, such as electricity for their video games and even food straight from the refrigerator.
Bougie camping makes kids more comfortable and takes the strain off of parents.
Your kids will find less to complain about in the comfort of a cabin, not too far removed from the fringes of society.
8. Easier Cooking
Traditional camping can make cooking a laborious feat as you have to start your fire and wait longer till your food is cooked.
Bougie camping often gives you access to easier types of cooking, such as a wood-burning stove or a grill right on site.
Of course, most bougie campsites also have an area for a traditional fire pit if you prefer to keep things cozy at night with some toasted marshmallows and s'mores.
You don't have to miss out on anything. At some glamping campsites, you may have access to a communal kitchen that makes cooking even more effortless.
9. More Time to Relax
Because someone else is taking care of your accommodation, you will have more time to relax and unwind in nature.
Unpack the car and dive straight into your camping experience as soon as you arrive. Take a leisurely stroll around the campsite, start a fire, or pitch a hammock and read a book.
No matter what you prefer, you will get more time to yourself without the hassle of having to set up your campsite.
Final Thoughts
Bougie camping is a great way to test the waters to see if you enjoy spending time outdoors before you invest in expensive equipment.
It is a more luxurious way to enjoy camping with greater comfort and convenience.
You'll get more privacy and can have more time to relax and unwind by avoiding the dreaded setup and tear-down of a campsite. Test out whether bougie camping is right for you!