Whether you're planning a camping trip with intensive hiking or just hate lugging around unnecessary weight, there comes a time when you'll want to start making your pack as light as possible for an easier and more enjoyable experience.
It's possible to take everything you need for a multi-day winter camping trip while maintaining an ultralight pack, even if no campsite facilities are available. You won't have to sacrifice comfort or functionality. A proper gear list can help you lighten the load and still stay warm.
Below, we've compiled a comprehensive list of the most essential camping items. We've even provided some examples so you can get an idea of what to look for when putting together your own ultralight winter camping gear list.
Pack System
The first choice you'll need to make is how you'll carry your equipment – there's no point in carefully selecting ultralight camping gear if your pack system adds a bunch of unnecessary weight.
1. Backpack
The ideal pack volume for short to mid-length trips is between 40 and 50 liters, and you'll always want to opt for a lightweight, water-resistant material like polyester.
Packs like the Osprey Atmos also come with "anti-gravity suspension" straps, so it will feel like you're carrying less weight than your pack.
High-quality packs like those from Osprey also come with a waterproof pack cover for even more protection from the elements.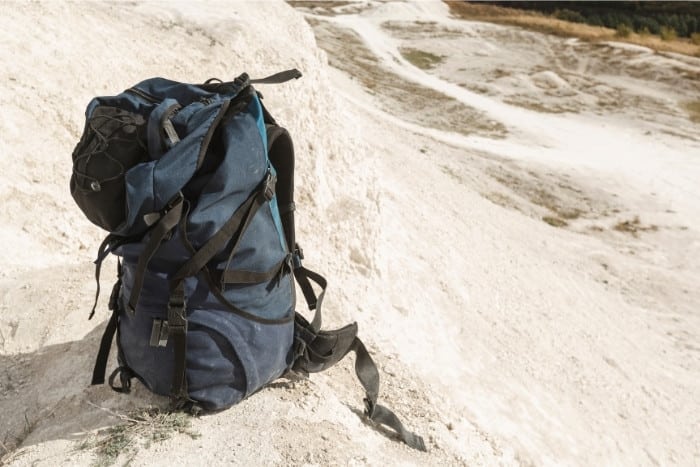 2. Liner
A waterproof pack-liner is a must for keeping your things dry in inclement weather and, in a pinch, can be used to keep your dry gear separated from anything soaked in the rain.
Nylon liners like the Osprey Ultralight will fit most packs and come in various sizes.
3. Waterproof Compression Sack
Compression sacks are fantastic for not only functioning as another waterproof partition in your pack but for completely optimizing your available space.
You can use multiple sacks like the ultralight Sea to Summit Ultra-SIL dry bag in conjunction with each other for maximum space and protection.
Shelter
Next, you'll want to think about how to strike a balance between having a lightweight shelter without compromising warmth, safety, and comfort.
1. Tent
Your lightest tent option will be a simple two-pole setup with a rainfly, inner tent, and footprint.
In terms of materials, you should opt for lightweight and water-resistant polyester for the body and ultralight aluminum for the stakes and poles, as seen in tents like Hyke & Byke's Yosemite.
If you trust your winter sleeping system, you can drop your pack weight further by ditching the inner component.
2. Tarp
A tarpaulin is an essential backup item for keeping dry in case of winter rain, especially for tasks like pitching your tent or cooking.
Nylon-based tarps with a waterproof silicon coating, such as the Aqua Quest Guide, come in various sizes, are engineered with ultra lightweight camping and can weigh less than a pound.
Sleep System
There's little point in maximizing your physical comfort through weight-saving if a poor night's sleep will make the next day miserable, so an appropriate cold-weather sleep system is crucial.
1. Sleeping Bag
When it comes to sleeping bags, the filling with the best warmth-to-weight ratio is undoubtedly goose down.
Nylon-skinned bags like the Naturehike Ultralight come with compression sacks to save space, can weigh less than two pounds, and are guaranteed to keep you warm and comfortable, even in winter.
2. Sleeping Pad
For both comfort and warmth, you'll need a sleeping pad with a decent R-value: an indicator of the insulation between your body and the cold ground.
To keep weight to an absolute minimum, we suggest a self-inflating pad with a thermal foam core, like the Therm-a-Rest Prolite Apex.
3. Pillow
As with your sleeping pad, an inflatable pillow is the best choice for ultra-light camping, and you'll want to opt for material like polyester for durability.
Options from reputable brands such as the Klymit Luxe will cover all your bases, and if you can spare an extra ounce, come with a quilted cover for a sounder night's sleep.
4. Camping Blanket
If you're going to be camping in winter, you'll want an extra blanket at night.
As with sleeping bags, down-filled quilts are unbeatable in their weight-to-warmth ratio.
Something like the Horizon Hound Trek can weigh as little as 1.1lbs and is made with water and tear-resistant ripstop nylon for extra durability.
Hydration
There's nothing more important than proper hydration while camping.
You may not be able to affect the weight of the water itself, but you can pick an ultralight storage system.
1. Bottle
While the capacity of your water bottle can come down to personal preference, the lightest and most space-efficient option is a collapsible plastic bottle.
You'll want to opt for a BPA-free plastic model like the Hydrapak Stow, which is made from abrasion-resistant TPU plastic and weighs less than two ounces when empty.
2. Water Bladder
Depending on the water availability on your camping trip, a bottle alone may not be sufficient, especially if you plan long hikes.
To store more water without compromising weight, you'll need a hydration reservoir like those pioneered by Camelbak, known for their military-grade systems.
3. Filtration
Drinking contaminated water can be deadly, so a water filtration system must. While these sound like cumbersome pieces of equipment, the opposite is true.
If you filter a lot of your water supply on your trip, you'll want a multi-use option like the Sawyer MINI.
However, if clean water won't be an issue, but you'd prefer to have something for use in an emergency, the Vestergaard LifeStraw is ideal.
Food & Cooking
After hydration, eating and preparing the right meals is critical to a safe and enjoyable camping trip.
Fortunately, sacrificing weight doesn't have to mean sacrificing flavor and nutrition.
1. Stove
The lightest cooking solution is simply to use an open campfire; however, this can sometimes be more hassle than worth it, especially in inclement weather.
If you're going to take a camp stove, you can't get lighter than a gas stove with a titanium burner like the Jetboil Stash, which weighs a mere seven ounces.
These are great because they also come with an aluminum pot, reducing the need for excess cookware, and gas is an incredibly light fuel.
2. Utensils
For cooking utensils, your best bet is something multifunctional.
A classic spork is a great option, although, for more functionality, you could go for a 3-in-1 version like those from Valtcan.
Not only do they feature a serrated knife edge for cutting, but they come in super lightweight and durable titanium.
3. Mug
There's nothing better than a mug of cocoa after a long winter hike, but you'll need something to drink it from.
Like your water bottle, we recommend a BPA-free, collapsible camping mug like the UCO Collapsible Cup that weighs less than two ounces and saves on precious backpack space.
4. Food
For your food, freeze-dried camping meals are your best option to maximize your much-needed calories without adding extra pounds to your pack.
Meal pouches like those from Backpacker's Pantry only need a little boiling water, and they're ready to eat.
If you're planning a more intense trip and want to ditch your camping stove, go with military rations.
Not only do military MREs offer the most nutrition, but they also come with flameless ration heaters that only need three ounces of water to prepare your meal for eating.
Clothing
Winter clothing can be unavoidably bulky but choosing the right layers and pairing them with the ultralight packing solutions mentioned above means you can stay comfortable, warm, and dry while keeping weight to an absolute minimum.
1. Base Layer
An ultralight base layer should keep you warm and be able to wick moisture away from your body. For this, there's no better material than Merino wool.
Thermal shirts like those from MERIWOOL are also the most breathable base layers around.
They have natural odor-resistant properties, which are perfect if you plan on being away for several days.
2. Mid-Layer
A microfiber polyester fleece will be your lightest and most comfortable option for a middle layer that's breathable yet still warm.
While you'll find a huge range of options, stick to fleeces from reputable brands, like the 15oz Columbia Granite Mountain Fleece, to avoid lower-quality materials.
3. Outer Layers
While you'll need your outer layer to provide warmth, you'll also want it to keep you dry in all weather.
A fleece-lined, polyester soft shell jacket with a waterproof TPU membrane will be the best and lightest all-weather solution.
Jackets like those from Little Donkey Andy come with a detachable hood and are rated suitable for temperatures as low as -22F.
4. Footwear
With footwear, the most lightweight shoes come at the cost of sacrificing water resistance, durability, and support.
If you don't need any of these, polyester or nylon mesh sneakers will be your lightest option.
However, you'll want a waterproof leather boot for anything less than the most casual summer camping trip.
However, you can still find boots like the Columbia Newton that cut unnecessary weight by using a lighter midsole and mesh for areas that don't need to be completely water-resistant.
Washing
If you're away for a few days, you'll need a way to keep clean and fresh.
Not only will you feel better about it, but if you look for lightweight alternatives to traditional camping hygiene options, your camping buddies will thank you.
1. Personal Hygiene
The easiest way to stay clean and fresh while camping without dragging around a camp shower is a pack of wet wipes, but you shouldn't pick any old pack from the drugstore.
Make sure you put mother nature first and pick biodegradable wipes from a brand like Combat Wipes.
This style is better for the environment, but they contain aloe and vitamin E, so they have antibacterial properties and are safe to use on your most sensitive areas.
2. Towel
Taking a regular towel on a camping trip is rarely a good idea.
Not only do they take up a lot of space, but they can be a nightmare to dry unless you have a lot of time and great weather.
An ultralight microfiber towel like these from Rainleaf comes in a huge range of sizes, is extremely absorbent, and will dry in no time.
3. Toothbrush
While you can find plenty of travel toothbrushes, the biggest issues with these while camping are carrying toothpaste, which can easily leak and keeping your brush dry and clean.
You don't need to carry any excess water or toothpaste with disposable toothbrushes.
Make sure you opt for an eco-friendly brand like Colgate to know you can recycle the waste when you return from your trip.
Electronics
If you're packing ultralight for your camping trip, you'll probably want to leave your camera and laptop at home, but that doesn't mean you won't need a few bits of electronic gear for emergencies.
1. Power Bank
You'll want a power bank on hand to keep your essentials charged, like your cell phone or GPS.
These come in various sizes, but as long as you stick to a well-known manufacturer whose products you can trust to hold a charge, you shouldn't have any issues.
Bigger units can store more power but opt for the lightest you can find, like the Anker Portable. Below, you'll see why you can get away with this.
2. Solar Power
You won't need more power if you can generate it while you camp, which is where a portable solar panel comes in.
Not only are these incredibly light and portable for what they are, but some models, like the FlexSolar 40W, can power most electronic devices and recharge your power bank.
These still weigh a couple of pounds, so they may not be suitable if you're only camping for a few days without power, but for longer wild camping trips, they're invaluable.
3. Headlight
A flashlight is a camping necessity, and we'd argue that it's imperative you can use it while keeping your hands free.
LED headlamps are superb because they're brighter and hold a charge for longer than traditional bulbs.
Choosing a rechargeable USB product like a Foxelli also means you can forget the AA batteries (which weigh an ounce a piece) and recharge them from your power bank.
Extras
Lastly, we have a few extra bits and pieces that don't quite fit into the categories above but still have a place on almost every camping trip.
1. Trekking Poles
You'll likely only need trekking poles on camping trips that involve a lot of walking, but if you do, you'll want to avoid heavy ones that weigh down your pack when not in use.
Pick a telescopic pair to make the most of your space when they're not in use, and go for carbon fiber shafts for the best strength-to-weight ratio.
Cork handles are a must as they're ultra-light, wick away sweat, and conform to your hands over time for maximum comfort.
If you're serious about trekking, you'll want a set like these from TheFitLife, which combines all three of those features.
2. First Aid Kit
Any camper will tell you that you should never set out without a basic emergency first aid kit, even if you're trying to cut down on weight for an ultralight trip.
Fortunately, essential medical supplies don't weigh much, so you can pick up a mini first aid kit that comes in at less than six ounces and still contains things like bandages, band aids, gauze, sterile wipes, and an emergency foil blanket.
3. Fire Kit
If you're ditching the stove to save on weight and choosing to cook on a campfire instead, you'll need a quick way to get a fire going with minimum fuss, especially in colder weather.
We've tried plenty of options over the years, and our favorite ultralight fire kit is a basic fire starter paired with magnesium shavings.
A combo pack like this from Moderock weighs a paltry 4oz and will get your campfire started in no time.
Conclusion
The list above includes items we'd consider must-haves on any winter camping trip.
Hopefully the examples provided demonstrate how it's feasible to take everything you need while keeping weight to an absolute minimum.
The best part is that there's no need to forgo quality or functionality to create the most efficient, ultralight camping gear list.
Keep in mind that every camper has different needs and preferences, so not everything on this list is required for everyone.
Our intention here is simply to provide a great starting point for anyone considering ultralight winter camping. Happy winter camping!