If you have a baby, you might love the idea of taking your baby camping. But, for a host of reasons, the idea may also seem far-fetched. If you are tempted to do it, you are not alone. All campers want to take their new babies camping. We would like to assure you that it is not only doable but also enjoyable. In this post, we will show you how you can take your baby when you are going on a camping trip.
Choose the location wisely
When choosing a camping site, make sure you choose a place that is close to your home. You also have to pay attention to some other things. Does that place have basic amenities such as a bathroom? Make sure that the campground is a shady place. The idea of camping with your baby may be fun, but at the same time, you have to know that babies are more susceptible to catch a cold and be affected by viruses. So you have to be very choosy when selecting the camping site.
Check the weather
It is of utmost importance to check the weather before you go tent camping with a baby. Check the weather forecast and make sure it will be fine for the next few days. If it rains, the campsite will get muddy. Knowing the weather forecast will help you prepare for bad weather, and that will be a huge plus for you.
You will find it easier to decide which clothes to take for your baby. A sudden change in weather may add spice to your trip when you are camping with grown-up people. But that is not the case when you have a baby with you. You have to be extra careful.
Use a large tent
You will be more comfortable with your baby if you bring a large tent. Make sure you choose a tent you can stand up in. You will have to use an air mattress and that is another reason to have a big tent. Some people may think it unusual, but do not hesitate to take a 4-person tent. Also, use a tarp if the weather forecast says that it will be rainy or cold.
Bring an air mattress
When you are camping with a baby, consider using an inflatable sleeping pad. You should choose it partly because snuggling will provide some heat for you and your baby.
But you have to consider some important things when you use an air mattress. You will have to use the pump and for that, you will need electricity. The air inside the mattress will make the mattress cold at night. So, bring a sheet and lay it down on the mattress.
Keep your baby's meals simple
The simplest solution is breastfeeding, but if your baby eats solids, there is no problem. To mix formula, you will need clean water. You will have an amazing bonding experience when breastfeeding your baby by the fire.
But if your child is older, here are some food items you can consider for your baby: apples, bananas, cheerios, corn kernels, vegetable crackers, cheese pieces, and berries. Your child may not like some of these items. That is why you should always pay attention to your baby's preferences when you choose food items for a camping trip.
Pack for your baby
Pack necessary items for your baby. You should also bring some extra clothing. If you are going to camp for 3 days, you can bring 4 onesies and 3 sleepers. After that, you can add one of each for every extra day.
Make sure you keep the clothing simple and nice. If you are not taking a full body suit for your baby, add a sweater, torque, and pants to your list. If the nights get colder, figure out what your baby should wear and take preparation accordingly. As a rule of thumb, your baby should wear an extra layer of clothing on cold nights.
Camping neighbors
When you go tent camping with a baby, you must choose a family-friendly camping site. If you choose such a place, other campers will not complain if your baby cries. On such a camping site, you will find many families with babies. There is another benefit of choosing a site where there are other families with toddlers: you will not have to deal with loud music. You will get many types of support from other families.
Limit driving time
For many new parents, camping with a toddler is daunting. If you are one of them, do not have a long car trip. A long trip will just aggravate the problem. If this is your first outing with your baby, choose a place that is not far away from your home. You will reach your destination within a short time, and your baby will not have to deal with the stress of travel. You can choose a camping site far away from your home when your baby grows up a bit.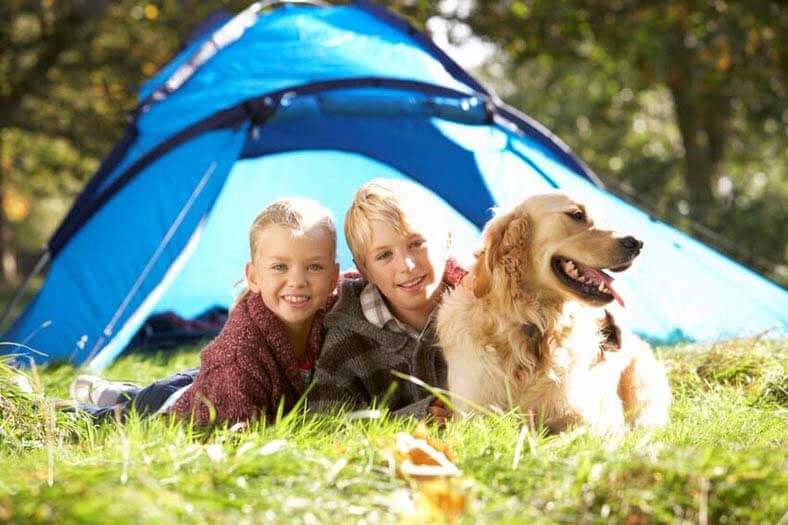 Be flexible
You have your own pattern of sleep. But when you are camping with your baby, accept the fact that the trip will disrupt your normal pattern of sleep. Maybe you have some sleep techniques that you employ at home, but that will not work when you are camping. Perhaps you could use a heavy dose of tips on camping with the family?
Of course, there is something you can do to ensure some good sleep for your baby, but if things do not go well, do not worry too much. This is among the most important tips when camping with a baby. Camping is supposed to be something different, and it is better not to expect much comfort when you are camping in the woods or on a beach. When you break rules, you make memories.
Choose comfortable clothing for your baby
Your baby will be ready for changing weather if you dress him or her in layers. If you know that the weather will get cold, pay special attention to the type of clothing you choose for your baby. Avoid cotton and choose woolen cloths. These clothes will dry quickly. If it rains, choose a shell jacket for your baby.
But do not overdress. For extra warmth, you can use a sleep sack. You will not have to abandon cloth diapers when you are outdoors. You can diaper your baby the same way you do when you are at home.
Bring a portable crib
Your baby will sleep peacefully if you bring along a portable play yard or crib. If your baby is used to sleeping in a crib, this is one of the best tips for camping with a baby.
Remember that a crib will take some space, so you need a large tent. Your baby will find the crib a familiar place and therefore settle down within a short time. You will not have to worry a lot about your baby's comfort. You will be able to cook dinner while your baby sleeps.
Walk in the campground
Even if you are camping in a crowded place, you will feel relaxed if you walk around. You will soon get to know your camping neighbors, and the natural setting will have a good impact on your baby. The whole point of camping is to enjoy nature, and the best way to enjoy nature is to use your feet. Children who get in touch with nature become more compassionate when they grow up.
Keep things clean
When camping, many people do not take cleanliness very seriously. For adult people, it is fine to get a bit untidy. But you have to be very serious about cleanliness if you have a baby with you. You must clean the feeder every time after using it. Sanitize the bottles with hot water. Your baby may fall sick if you are not very serious about cleanliness.
For more camping tips and a kid-friendly camping list, check out this post. As always, happy camping!