There's more than one way to camp, and it's always worth knowing your options, especially as many people miss out on experiencing the great outdoors because they worry the activity just isn't for them.
The three most common types of camping are traditional tent camping, van camping, and glamping. Tent camping in the wild is low-budget but can be dangerous. Van camping protects you from the elements but not every campsite allows it. Glamping gives a hotel-like experience but may feel like cheating.
How do you figure out which type is right for you? Below is a summary of the three most common forms of camping so you can make an informed decision before heading out into nature for your next adventure.
The Top Three Ways to Go Camping
If you've ever been put off by camping, it's likely you just haven't found the right type yet.
Explore your options and determine the kind of camping to suit your desired budget and comfort level.
Let's check out the pros and cons of tent, van camping, and glamping – you're guaranteed to find your favorite way to get back into nature.
1. Tent Camping
When most people think of camping, their mind goes straight to tents – a form of shelter used by humans as a lightweight shelter for millennia.
These days, tents come in many forms capable of comfortably sleeping dozens of occupants, and even highly portable varieties can include separate "rooms" for both sleeping and leisure.
The Pros of Tent Camping
The main benefit of tent camping is the ability to store everything you need in a backpack, making it perfect for hikers looking to get off the beaten track.
While it's possible to invest heavily in the latest high-tech gear, tent camping is possible with even the slimmest of budgets.
A dependable waterproof tent, sleeping bag, and roll mat are all you need to spend a night under the stars.
Although most people would agree there's a happy medium when it comes to balancing portability and comfort.
Using a tent gives you access to even the most barebones campsites and even the option to camp for free in the wilderness, with wild camping legal in plenty of spots worldwide.
That being said, it's always important to check a region's camping regulations, such as whether a permit is required, and to research an area thoroughly in advance to guarantee a safe experience.
The Cons of Tent Camping
Even the most advanced tent can only hold up against so much, meaning one miscalculated weather forecast can turn a pleasant trip into a soggy disaster.
You'll also need to take the time to ensure your chosen site isn't prone to flooding or visits from wild animals that could pose a danger.
Picking a purpose-built campsite over wild camping is a safer and easier option.
However, it's worth noting that those with camping facilities can vary massively in terms of quality.
Sometimes, many campers have to share a sparse number of facilities, meaning long lines for showers and toilets or cooking utilities that may not have been left in a state where you'd like to find them.
2. Van Camping
Van camping can take many forms, each offering its benefits and drawbacks.
It can be as simple as folding the seats down in a car and throwing an inflatable mattress in the back.
However, RVs (recreational vehicles) come in many shapes and sizes.
These can include towable trailers, classic campervans, removable truck campers for pickups, and luxury camping buses.
The Pros of Van Camping
The variety of RVs available means there's usually an option within everyone's budget, allowing campers to boost their comfort level through increased protection from the elements and a larger storage capacity for home comforts.
With the right budget and know-how, you can even convert a van from scratch, giving you complete creative control over your vehicle's visual and functional design elements.
Unlike tent camping, van camping allows you to head further afield, giving you the potential to visit multiple locations over the course of one trip and fitting in more activities.
You can even enjoy a broader range of activities with a motorhome's ability to store equipment like bicycles, kayaks, and surfboards.
The Cons of Van Camping
Although a van increases your range of travel, not every campsite allows camping with vehicles, and those that do may not offer motorhome facilities such as electric power points.
Finding workarounds for less well-equipped sites with specialist equipment such as solar panels and camping batteries is possible.
However, these can be expensive or require larger vehicles to store them. Van camping also requires a bit more homework.
Different regions and countries have different rules when it comes to both operating and parking recreational vehicles.
Depending on the size of your vehicle, you may require a specific license to drive it as larger vehicles are trickier to maneuver than your average car, can have limited visibility, and involve extra considerations such as height restrictions.
Advanced licensing, higher campsite fees, and increasing fuel costs can all ramp up your holiday costs without careful budgeting.
3. Glamping
While the idea of glamping may feel like a somewhat recent trend, "glamorous camping" has been around in one form or another for centuries.
When noblemen of old were expected to host not only their lords but entire royal households, it wasn't uncommon for them to erect luxurious campsites on their lands to cater to upper-class expectations.
In some ways, not much has changed.
There are now deluxe glampsites around the world that offer all the modern amenities you'd find in a resort, conjuring the rustic atmosphere of a holiday under the stars and situated in some of the most pristine surroundings, nature has to offer.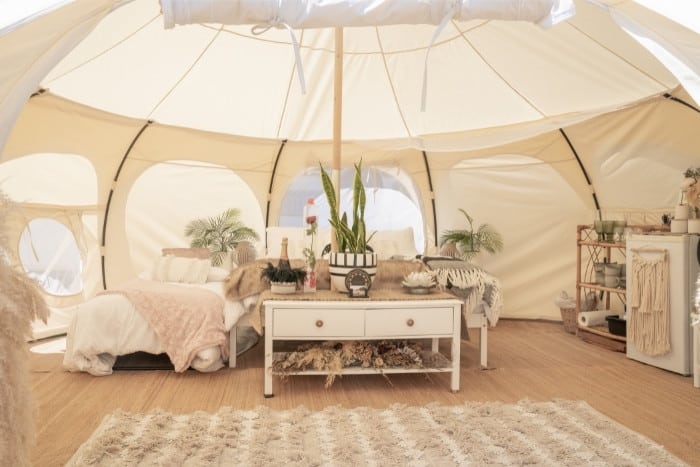 The Pros of Glamping
Glamping is the closest you can get to a hotel experience in nature, and there's no limit to the number of home comforts that can be provided, including aircon, high-speed wifi, and even hot tubs.
Despite these luxuries, glamping is still a far more eco-friendly alternative to staying in a hotel so you can relax comfortably while knowing you're playing your part in combating climate change.
Glamping can also be a more family-friendly way of holidaying outdoors without worrying about the well-being of children that may be too young for tent camping and reducing the time spent prepping and packing everyone's necessities.
The Cons of Glamping
To the camping purists, glamping feels like cheating when you take away some of the risk and exploration.
This is a bit of an unfair assessment but accurate because glamping limits the places you can stay.
There are certainly glampsites situated in glorious locations, although spaces can be limited, meaning you may not always be able to book the dates you'd like.
Even if you can secure your preferred dates, you may pay hundreds of dollars a night to grab a spot during peak season.
Conclusion
From personal experience, every type of camping is worth trying at least once to find out which works best for you.
We're fortunate there are enough options available to allow everyone to get closer to nature in their own way, regardless of age, mobility, or budget.
There's always a primitive joy to be found in finding a unique spot in the wilderness, pitching a tent, and cooking dinner off a campfire.
Still, there's also a lot to be said for returning after a long hike, jumping in a hot shower, and spending the night in a comfy king-sized bed.