Camping on the beach in Texas is a wonderful way to connect with nature and visit some of the United States' most beautiful beaches. It can, however, be difficult to work out exactly where you can take your RV and what amenities are on offer. Here we've compiled a brief guide describing what RV beach camping in Texas offers.
Although camping in public areas is prohibited throughout Texas, there's no need to fret, as numerous free and paid RV parking sites are available along the coastline. Whether you seek a lavish beach camping experience at a resort or a more economical rustic option, this guide can help you.
Keep reading to see what laws around RV beach camping are in place and our top spots for free and paid RV camping along the coast. We are confident that you will discover something that captures your attention.
RV Camping On The Beach In Texas
Beach camping in Texas is a memorable experience, sure to offer something everyone will enjoy. Some camping destinations in Texas will only allow tents, while others run exclusively for RVs.
One law that is the same across the board in Texas is not camping (RV or tent!) in public spaces. If disregarded, this legislation passed in 2021 could result in a fine of $500 or more being imposed on you.
In this sense, it's important to check the rules and regulations of each beach to see if they have a designated camping area and if it fits your preferences.
For a quick rundown on some of the major beach camping laws, read my article on beach camping regulations in the US.
Some Texas beaches are rather remote, so they will not include hookups. Luckily below, we describe the best paid and free RV camping spots and what they offer.
For some common tips and tricks on RV beach camping, read my RV Beach Camping Guide.
Best Paid RV Camping Spots
First, here are our top 5 paid RV camping spots along the Texas coast. Keep reading to see exactly what they offer and how much they charge!
1. Bird Basin Island Campground
Footsteps from the shore, Bird Basin Island Campground offers a calm, chilled camping vibe. It's a gravel lot with limited amenities.
While vault toilets and a trash/recycling point are included in your $8 nightly fee, this campsite does not offer any hookups, electricity, or water. For a rustic camping experience, it's super affordable.
The campsites are suitable for RVs with a maximum length of 45 feet, and the campground works on a first-come, first-serve basis.
It's also handy to note that the fee for Bird Basin does not include the park entrance, which must be paid on top of your camping charge.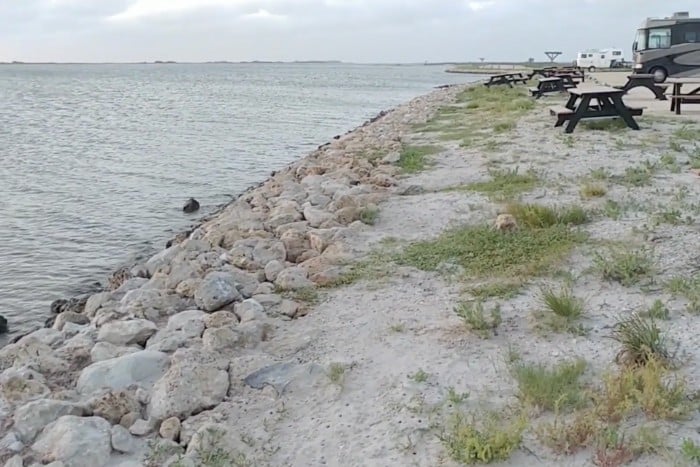 2. Camp Margaritaville RV Resort Crystal Beach
Previously known as Bolivar Beach Club & RV Resort, Margaritaville Resort is pure luxury.
If you're looking for a camping spot near the beach but also want a restaurant, bar, and swimming pool at your fingertips, then Margaritaville is for you.
Every RV site is fully equipped with water, 20/30/50-amp electricity, and a sewer hose. They also include WI-FI, a picnic table, a patio area, access to a laundry area, a fitness center, and luxury private bathrooms.
As you can imagine, stays here are not cheap, ranging from $105 to $195 per night. For the ultimate luxury vacation, we'd claim this price is worth it.
3. Gulf Waters Beachfront RV Resort
Located on Mustang Island, Gulf Waters Beachfront RV Resort is another luxury RV destination along the coast of Texas.
With four scenic pools, a boardwalk to the beach, and a community grill area, this is the best RV resort for families.
Each RV site has a concrete patio area, full hookups (electricity, sewer, and water), a picnic table, and WI-FI.
Prices vary depending on the time of year you visit, with prices in winter ranging from $79 to $94 and summer prices from $91 to $108 per night.
The resort's breathtaking scenery and well-maintained green spaces create a serene atmosphere that ensures a peaceful vacation for your stay.
4. Jamaica Beach RV Park
Jamaica Beach RV Park boasts stunning views of Galveston Bay and the Gulf of Mexico.
The resort provides a perfect blend of luxury with its spa and swimming pools, and unrestricted entry to natural habitats, making it an ideal location for hiking, fishing, and cycling.
All RV sites are pull-through and range from $58 to $88 per night, which we think is reasonable for its full hookups (electricity, sewer, and water).
If you've got a furry friend, you'll also be pleased to hear that the site is pet friendly!
5. Loyola Beach RV Park & Campground
Loyola Beach RV Park & Campground offers simple RV camping at its best. Loyola provides everything you need efficiently and cleanly for those that don't need all the bells and whistles of a luxury resort.
The Park also puts a strong focus on the local hunting and fishing scene, which means you'll have the opportunity to interact with highly skilled guides with abundant knowledge in these areas.
For an RV site, prices range from $21 to $40 per night, including water, sewer, and electricity. There are only 21 sites available, so it's best to reserve ahead!
Best Free RV Camping Spots
If you're looking for a more affordable way to experience RV camping on the beach, check out 5 free spots we'd recommend.
1. Padre Island National Seashore
Padre Island National Seashore is among the most popular camping destinations along the Texas coast.
Famous for its ridley sea turtles, incredible beaches, and tranquil vibe, Padre Island is perfect for anyone that wants to escape the city and jump into nature.
There are 5 camping grounds on Padre Island but only South Beach and North Beach offer free camping permits for RVs.
Free camping permits can be picked up from the Padre Island park entrance, and this is also where you will need to purchase an entrance fee to the park.
This fee won't break the bank. It usually costs $25 for 7 days. The RV sites have no hookups, so you must come prepared. There is, however, a dumpster and water filling station that everyone can access.
2. Chamber Park
South of Freeport, Chamber Park offers free RV camping within seconds of the beach. The RV sites are located in what looks like a big parking lot. But you can't complain when it's completely free, right?
There are no amenities included like electricity or sewer. However, there are restrooms and running water. Chamber Park is a relatively quiet and peaceful camping destination, great for 1 or 2 nights.
3. Port Aransas
Port Aransas is located on Mustang Island and offers some of the best deep-sea fishing throughout Texas.
Also guaranteeing miles of beautiful, sandy beaches, Port Aransas is a wonderful spot to get free camping.
RV camping on the beach is free and limited to 3 nights per stay, but you must purchase a beach parking permit to drive on the beach.
When setting up on the beach in Port Aransas, it is essential to be cautious and prepared for any changes due to the area's strong tides and unpredictable storms.
4. Boca Chica Beach
Boca Chica Beach offers free RV camping along the coast in south Texas. Compared to beaches in the north, Boca Chica is much more rustic, and the beach is far wilder.
With this in mind, be prepared for no amenities! That means no hookups, dumpsters, or services. We think camping directly on the Gulf of Mexico for free is worth the sacrifice.
Be aware that after storms, a lot of trash can wash up on Boca Chica, so try to choose a more sheltered slice.
5. Port Lavaca
Port Lavaca is home to the famous Magnolia Beach, which offers free RV camping for 14 nights.
Compared to Mustang Beach, where the surf and high winds can be challenging, Port Lavaca is much more sheltered, thus adding to a peaceful vibe.
Although it can get crowded during peak seasons, Port Lavaca is kept clean, and trash cans and restrooms are available for all campers.
This camping spot is a heavenly slice of free wilderness that will entice you to return again and again.
P.S.: I also have a guide on beach camping in Texas without an RV if you ever feel like going without your home on wheels.
Final Thoughts
We trust this brief yet informative guide to RV beach camping in Texas has provided you with all the necessary details.
Whether you're seeking knowledge about the rules governing camping in public areas or are curious if free RV beach camping is available in Texas, we have provided you with the answers and some useful accommodations recommendations!
Regardless of your preference, we are confident you will relish every moment of your camping expedition along the Texas coastline.