Many people misinterpret the term "primitive camping". They mistakenly think that primitive camping implies living a dangerous and harsh life, like a caveman. While that is not the fact, primitive camping does involve living an exciting, uncertain and risky life.
You have to be careful when planning a primitive camping trip. In this post, we will provide some great tips for your next primitive camping trip. One thing to ensure is that you take the time to pack your backpack carefully.
Choose the campsite ahead of time
You will feel stressed and panicked when you do not know where to set up the tent. That is why you should take your time to find a good camping spot. Know as much as possible about the areas you would like to explore. Although primitive camping is all about thrill and excitement, you do not want to risk your safety.
Bring a knife
A knife can be very useful for a primitive camping trip. This small and versatile tool can be used to do a host of things. If you get injured, you can make a bandage by cutting clothing with the knife.
And if the weather is very cold, you can use the knife to cut kindling and make a fire. If you have a sharp and strong knife, you will not need a machete. But, before you go camping, make sure the knife is sharp.
Clothing layers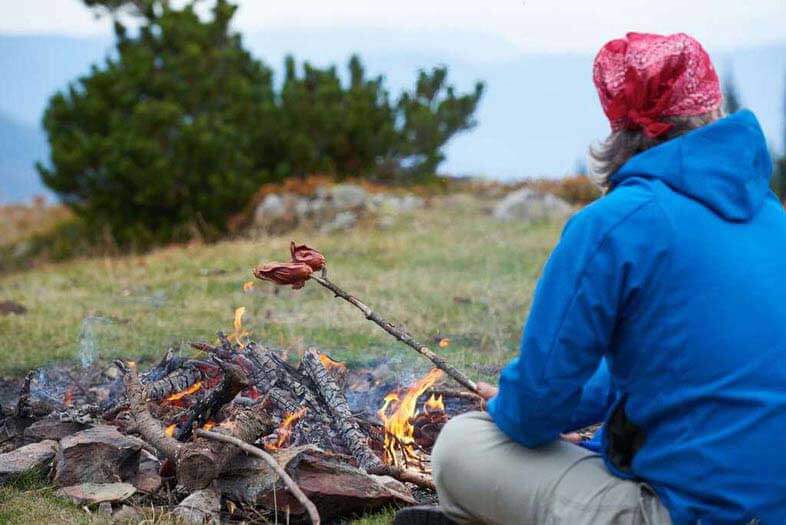 If you are camping on highlands, Mother Nature may get crazy any time. Be careful about it because many people get lost in the wilderness and run the risk of hypothermia. After sunset, the temperature drops severely.
If there is snow, rain or cold weather, an extra layer of clothing can save you from cold. Make sure you bring clothing with layers. If the temperature drops a bit, you can remove a layer of your clothing.
A cigarette lighter
A lighter is a very important part of primitive camping. Without a lighter, it will be nearly impossible for you to stay warm. Do not think that you will be able to make a fire by rubbing sticks together. Lighters are durable, small and effective.
It will be easy to use the lighter if you keep it dry. If you have a plan to explore the surroundings, make sure you keep a cigarette lighter in your pocket. This, of course, is of little concern if you will be camping without fire.
Bring a water bottle
A proper hydration system is an important part of primitive camping. Before you go to a campground, you must do your research to know if the site has a good hydration system. You will also need a filter if you are planning an excursion of several days.
Make sure you bring a water bottle that holds a sufficient amount of water. Before planning a hike, take a reusable bottle and fill it with water.
Use a garbage bag
Most campers forget garbage bags. But it is important to realize that garbage bags can be used in different ways. If you have a garbage bag, you can easily dispose of waste. Before you use a garbage bag to dispose of waste, you can easily pack your clothes in it.
It can be very useful to protect your clothes from the elements. You can also use it as a makeshift shelter if you are lost in the woods.
Do not forget to bring a map
If you are camping in an area you have rarely been to, make sure you bring a map when you are going to camp. Sometimes even seasoned campers find it hard to come back to the tent. The surroundings may look a bit different due to seasonal nuances. As a result, you may get disoriented.
You may have a terrifying experience if you get lost in the woods. That is why you should bring a map. Also, make sure that the map is waterproof. A map can be very helpful when you are in the wilderness.
Waterproof your tent
Mother Nature has many faces. You can not tell whether the weather is going to change within a few hours. Even if it is sunny right now, it may start raining within an hour or two. So you must be prepared for a sudden change in the weather.
You can waterproof your tent to make sure that your camping gear remains dry in sudden wet weather. Making your tent waterproof is not difficult. You just need to purchase silicone sealant and spray your tent with it. Spray every part of the tent, including the zippers.
Bring extra padding
Primitive camping does not necessarily have to be tough. If you have to right camping gear, you will have a good night's sleep in the tent. A sleeping pad should be an inseparable piece of equipment for your camping trip.
An inflatable mattress can be a better choice. Do not forget to bring extra padding because it will give you some comfort. If you pay a little more attention to your comfort, your primitive camping trip can be much more enjoyable. If you don't want to carry a pad or air mattress, the alternative would be to invest in a nice tent cot.
A headlamp or flashlight
You will have a terrible experience if you get lost in the woods at night. If you have a high-quality headlamp or flashlight with you, finding your way out will be easier. Without a flashlight, you will feel overwhelmed in the dark.
A flashlight will also help you protect your food from wild animals, especially if it has a strobe. A light source will help you find your way out when you are in the darkness. This is among the best primitive camping tips.
Make sure you have a water filtration system
Water is an essential thing when you are camping, but it is also heavy to carry. Primitive camping requires carrying at least a few liters of water. If you are camping near a river or lake, you will find it easy to refill water. But you must filter the water before you drink it.
You can filter water in a number of ways. Sawyer squeeze water system is an easy way to filter water. You can also use water purification tablets. If you use these tablets, you will need to wait for about 15 minutes before you can use the water.
Another way to filter water is to use the Steripen, a method that works by using ultraviolet light rays. But this system requires the use of batteries, so you may not want to bring it on a primitive camping trip.
Bring lots of baby wipes
When you are on a primitive camping trip, you may not have to an opportunity to take showers regularly. Baby wipes can be very helpful in this situation. You will find different varieties of baby wipes and some of them biodegradable. When you are on a long trip, some anti-bacterial baby wipes can be very useful.
Carrying a lot of baby wipes may sound like carrying a burden, but it can be highly rewarding. After using the wipes, you must bury them. And make sure you purchase biodegradable wipes.
Clear away overgrown vegetation
Set up your tent in a place where there are not many overhanging branches, sharp rocks, and pinecones. And if there is plenty of overgrown vegetation, make sure you clear away some sturdy and strong vines. You may have to spend some time doing this, but it will be good for your camping trip. If you are the type to sleep in the trees, make sure to clear the area directly overhead to prevent injury to damage to your hammock.
Pack some coffee
If you are a coffee drinker, make sure you pack some coffee when you are going camping. Some campers are pretty comfortable with cowboy coffee, but if you are a coffee snob, you will have to take some preparation for your coffee drinking sessions.
It is not a good idea to deny yourself some coffee just because you are on a camping trip. Buy some instant coffee, and do not forget to bring a pour-over setup and a French press.
Consider packing a solar panel
When you are on a primitive camping trip, chances are that you will not have access to electricity. In that case, a solar panel can be very helpful. If you can afford it, do not forget to add it to your camping checklist.
You can recharge your devices with the battery attached to the solar panel. Solar powered lamps and lights are available on the market. They are not expensive, and very easy to use.
Bring a first aid kit
Even if you are very careful, you may get injured outdoors. You may have an accident when you come across sharp branches or slippery rocks. You may also have an issue if you are not careful when handling your knife.
A first aid kit can be very helpful when you get injured. There are pre-packaged first aid kits and you can choose one that suits your purpose. You can also buy pain relievers, antiseptic, and bandages, and make your own first aid kit.
Bring a mess kit
When you are on a primitive camping trip, you should avoid bulky pans, pots, and coolers. Rather, you should bring a mess kit that serves all these purposes. If you just do some research, you can find a mess kit. They are portable, light and very useful. In a mess kit, you will find at least a mesh bag, a Spork, a pot and two pans.
Prepare campfire-friendly meals
Although you do not have many cooking facilities when you are camping, you can have some good food. You may not find hot dogs and a can of baked beans very exciting. That is why you should plan ahead.
There are many kinds of delicious food items that you can prepare on a campfire. Do some research and you will find some amazing camping recipes. Preparing these food items is very easy.
Do not go camping on the weekend
This is one of the most useful primitive camping tips. You should choose to go on a camping trip during the week. Chances are that you will find a campsite jam-packed if you go there on summer weekends. This is the time when almost all people try to escape from their monotonous daily routines.
Your camping trip will be quiet and relaxing if you choose to go during the week. Try to find some time during the week. You will find the endeavor highly rewarding.
Do not spoil the campground
You should try to leave the campground as you found it. It is important to respect the other campers and to protect nature. Do not leave any trash when you leave the site.
All your gear should be packed up and nothing should be left behind. Maintaining cleanliness should be a part of your camping trip.
Primitive camping can be highly rewarding if you know how to make the best use of your time. Before you start the journey, make sure you have the necessary skills. This is a great way to observe nature in its raw form and explore the wilderness.
If you follow the tips above, hopefully, your primitive camping trip will be an enjoyable experience. As always, Happy Camping!
FAQ's
What does primitive campsite mean?
In general primitive camping is defined as being without neighbors electricity running water bathroom facilities and often times cell service. You camp in a remote location and provide everything for yourself.
How do I make my camping tent more comfortable?
Choosing a proper place to pitch your tent will go a long way to keeping you comfortable. For more comfort, using a lightweight sleeping pad will help.
How do you set up a perfect campsite?
You will want to keep your fire in front of your sleeping area, preferably as far as possible. Additionally, try to position your picnic table or sitting spot in the shade if possible.
How do you camp primitive?
You will have to prepare for the lack of some amenities like electricity and running water. Often times bathrooms may be little more than pit toilets if any at all.
Can you go camping under 18?
It depends. State parks will not issue permits or give campground reservations to anyone under 18 years old. … Private campgrounds may have different age restrictions. For dispersed camping in National Forest there are no age restrictions.
What do you sleep on when camping?
A sleeping pad made of either foam or air-filled and a high-quality sleeping bag. Of course, don't forget your pillow.