About The North Face Vault Backpack
The North Face Vault backpack is the best use not just for everyday activity but also for traveling. As a popular North Face backpack, it's very reliable for everyone who is always on the go. You can use it while riding your bicycle or commuting to work. Also, it's the best choice for hiking or any trips you're about to plan.
The North Face vault backpack's important feature is that it permits you to bring all your things in the most comfortable way. When it comes to its storage, it has enough space to store your belongings but with easy access to it, even when you're on trail trips or road.
Take note that backpacks these days have the same looks and style but always prefer the one that offers you comfort. They also differ in weight, function, and cost. You should not forget all these important factors to carefully choose the kind of bag that compliments your style and lifestyle.
The North Face Vault Bag is first in line when it comes to the best and most popular choice. It is flexible and can serve a wide range of whatever you need. It's versatile to almost anything, and anywhere you'll take it. As a buyer, you will not regret paying for a kind of bag made from one of the best and trusted names in the gear industry.
Here are some specifics to prove to you the North face vault backpack is one of the great choices:
It is a durable 600d polyester material.
It has 2-mesh side pockets for your water bottles.
Its handle has a padded top haul.
It is weighted 1.59 lbs and can carry 28 liters of a load.
It has a system made with comfortable flex-vent suspension.
It has a molded compression straps
It has back panel with padded air-mesh
It has spine panels that help remove strain on the person's back while carrying it.
With all these excellent and top features, The North Face Vault Backpack offers magnificent value for your money. Though the North Face vault backpack is known for selling pricey gear, still, it's one of the best in their line. Also, you will get a lifetime guarantee if you buy any of their products. Not all brands in the same industry will give you this kind of offering.
The North Face Brand
It is one of the most trusted brands when it comes to producing outdoor gear products. They are known for quality and high-class bags and other gear apparel for adventurous people. They began in 1966, and until today, their name is still known in the industry because of their world-class performance in backpacking materials and equipment production. They continue to provide the market with their creative solutions in gear designing and let people believe in adventures.
Every craftsmanship can be seen on their North Face apparel. They are different in a good way, especially when it comes to design, quality, and long-lasting products.
The North Face Vault Backpack Review: The Pros And Cons
The North Face vault backpack is loved by many and ideal for everyday use. You can find evidence from the feedback online, proving the fact that it's a must-have for everyday use.
Many customers praise the bag's features and other aspects. From the size, weight, durability, and value it gives for their money. The best part for them is the ability of the North Face backpack vault to adapt to a person's back, especially to those who are suffering from back pain. They found its style beautiful, but most importantly, the comfort it gives exceeded their expectations.
The only cons of the product are, some customers find it small. That's what disappoints them, but the brand clearly stated that it was designed with that limited size because they need to consider its weight limitations too.
But overall, the North Face vault backpack got five-stars from most customers.
The North Face Vault Backpack Description
The North Face vault backpack provides a floating laptop sleeve that is padded in which you can put any small devices with 15in size. This feature means that your laptop can be in good shape and will never reach the floor, which makes it free from scratches and well-protected from falls. You don't have to worry about your valuable things.
The bag is lightweight also. Not to light, but not too heavy as well. It's just the right weight and size you can use every day, and it's just natural to carry it. The 28L capacity is enough for the valuable things you need, like laptops, your jacket, books, and even snacks. That makes this bag an ideal choice for students, professionals, and people who love the outdoors.
It has a reflective biking loop and water bottle tabs that can build 360 degrees reflectivity features. But don't worry, it won't feel heavy even with these given characteristics. This is helping you to travel even at night because this will make you visible in the dark.
What Is A Vault Backpack?
North Face's vault backpack is the right choice for you if you are planning to go on short vacations or trips. The design is simple and not loud, which makes it perfect to use in your daily work and office applications. Its flexibility makes it a better choice than other outdoor gear.
If you have doubts, you can check their proprietary flex vent suspension system and the design lightweight, so you will understand why you also need to have it. 
How Big Is The North Face Vault Backpack?
Compared to the JESTER product model, the North Face Vault bag is smaller, but they both have the same attributes, which can be often tagged as the best commuter daypack.
The laptop sleeve, which is padded and its bungee system feature, makes the bag an ideal choice for those who love to travel to/from school or office without the heavier feel. It has pockets too classified as the main one that provides bulk storage and the smaller one in front, which offers a special contoured-made pocket for small electronics like iPods.
The best characteristic of the product is its removable belt in hips. From everyday use as a commuter, you can transform it into an adventurer multi-day type of bag in just one snap.
You have to remember that the North Face vault backpack has its limit as well, so you better check as to how much weight you are putting into the North Face vault backpack. Of course, you don't want to feel that kind of discomfort in your shoulder while carrying the bag.
In reality, you shouldn't take the vault backpack with heavy-to-carry belongings in there for a long haul. So if you are a commuter who wants to find a bag that can help you organize all your daily needs without causing you troubles or complications, the North face vault backpack is the one for you. Its simplicity, features, and design make it beautiful and versatile at the same time.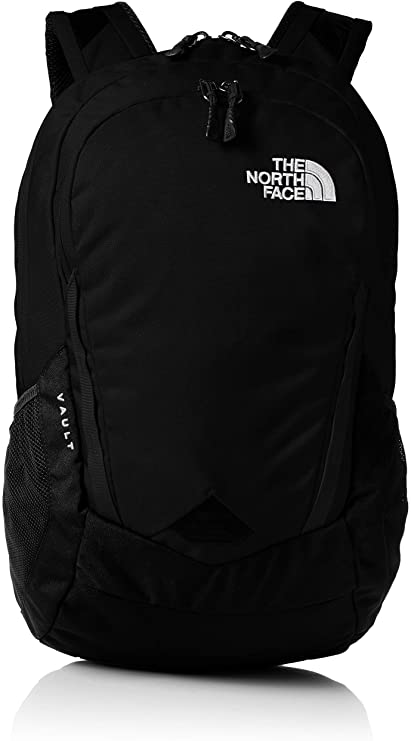 Dimensions
The vault backpack has dimensions 19 .3" X 12.25" X 7.5" ( or 49 cm X 31 cm X 19 cm). You have to store this gear in a safe and complete 28L vault. This design with dimensions 19 .3″ X 12.25″ X 7.5″ has iron-clad features as well, which has a main and large zip compartment with 15″ padded sleeve. It has an internal organizing panel in front in which you can keep some smaller important items. 
Features And Benefits
Here are the important features of this vault backpack that you must know:
It's available in eight different colors
It's nice to know that when it comes to color, it has a lot to offer. As a customer, you'll feel very lucky because you have eight chances to find your most favorite color in it. The colors are vibrant, which means to say that its aesthetics are quite a few too.
Polyester construction is strong
It includes 600d polyester and 1200 D polyesters. These variables are not easily torn off even if you will use the vault backpack every day. Its lifespan is amazingly long. In addition, the bag is water-resistant. The gear is secure and will not get wet with 600d polyester materials. It's one of the many advantages of the North face vault backpack.
Reflective aspect construction
There are many reasons why it is called a reflective vault backpack product—the bike-light loop for an instance in which you can easily put a bike-light if needed. The tabs for the water bottle and the shoulder straps are reflective too. So whenever you are walking or traveling at night, anyone can still see you in the dark. This will prevent you from getting into accidents. The reflective aspect attached to it can be of great help.
The suspension system is excellent
The flex vent suspension system allows you to be more at ease while using the vault backpack. It facilitates the proper ventilation at the back of the person, so it will give you enough support while carrying it.
It has two sides mesh pockets
With this kind of pocket, it's an easy carry for you of your water bottles. The pocket is made for that.
It features a sternum strap
This strap serves as a buckle, and it connects the two straps in your shoulder. So if one strap falls, there is another one who can support the bag and your things in it. It helps you become more comfortable wearing the backpack because, with the sternum strap, it helps you carry the weight inside it.
The good thing about this sternum strap is, it also serves as an emergency whistle. So if you are in a situation where you feel that someone is tampering with your backpack, then use it to attract attention.
Learn the benefits of using the North Face vault backpack:
The laptop sleeve
It's safe to put your laptop in it because it has a padded sleeve to offer you. It can carry a 15 inches laptop inside. With this feature, your laptop is safe from any bumps and stays secure the entire time you are using the bag.
The main compartment is large enough for your belongings
You can carry books, laptops, binders, and other paper materials you need for school or offices. In terms of more space, you will not complain about it.
The back panel has foam in it
It has comfortable foam at the back panel of the bag. It assures you that any pressure present inside the bag will not affect you and your back too. As a user of the bag, you will not feel any back pain at all.
The top handle is foam padded
Some prefer to use the top handle and not the shoulder straps. If you are this kind of user, it's beneficial for you as well since it will be easy for you to move the bag around in one place to the other because it will only weigh 1lb. 
Selling Price
It's a go-for price. The brand is known for producing quality products, and that includes this outdoor gear. Given all the features and benefits above, it's clearly stated how it gives value to your money. It's an everyday backpack, so you can make use of it whenever and wherever. That being said, it serves its purpose well no matter how much its price is. 
The men and women version has the same selling price. It will cost you $50 to $60. It's not a bad deal, after all, if it means not just getting a stylish backpack but also the most comfortable and technology-inspired bag.
The North Face Women's Vault Backpack: Its Difference From Men's Backpack
The North Face Women's Vault Backpack is a minimalist and stylish backpack that's perfect for everyday use whether you're going to school, work, or you just need a bag to carry your stuff around. Women's backpacks like the Vault are significantly different from men's backpacks to account for the difference in the physique of men and women.
The dimensions of the Vault are 19.5 inches by 12.75 inches by 9.5 inches. The length of the North Face Vault is shorter than that of the typical men's backpack. Also, it is designed for a lower center of gravity. Although backpacks come with adjustable back pieces, it helps to have a backpack that fits your torso length properly.
The width of the Vault is narrower than most men's backpacks because men have broader shoulders. This is important because if the width of a backpack is too BIG, the shoulder strap won't fit on your shoulder properly and it will feel uncomfortable.
The Vault comes with some of the features that you'll find on other North Face backpacks. It has a primary and secondary compartment, padded shoulder straps, the FlexVent suspension system, a large main compartment with a padded laptop sleeve or tablet sleeve, a large zippered compartment on the back, mesh water bottle pockets on either side of the bag as well as a chest strap.
North Face Vault Backpack Dimensions Compared to Router Transit 41L
The Vault and the Router Transit are two of the best North Face backpacks in the women's and men's category respectively. These backpacks are starkly different from one another and stand out for numerous reasons. Here's a brief comparison of the Vault and the Router Transit.
The Router Transit is the largest backpack from North Face to date. It measures 21 inches by 14 inches by 3.6 inches and has a capacity of 41 liters. On the other hand, the dimensions of the North Face Vault Backpack are 19.5 inches by 12.75 inches by 9.5 inches and it has a capacity of 26.5 liters.
Both the Router Transit and the Vault have the North Face FlexVent suspension system with molded shoulder straps and a padded mesh back panel.
The North Face Router Transit has a lot more compartments than you'll find on the Vault. They both have a primary and secondary compartment, but the laptop compartment on the Router is much larger - it can fit a 17-inch laptop while the Vault laptop compartment can fit a 15-inch laptop.
The Router Transit has multiple fleece lined pockets including a padded tablet sleeve, two external zippered pockets, mesh pockets, and even pen pockets. Another way the Router Transit is different from the Vault is that it comes with a removable hip belt. Both backpacks have sternum straps with a whistle buckle.
Frequently Asked Questions

Are North Face Backpacks Bulletproof?
North Face backpacks are not bulletproof. Currently, only the North Face Access Backpack is rated as bulletproof. It is made of bulletproof 500D stretch polyester and 840D ballistics nylon. While the Access may not protect you from a gunshot, it will protect your electronics and other things in your bag from a heavy impact.
Which North Face Backpack is Best for College?
Most North Face backpacks are perfect for college students. Ultimately, the backpack you choose depends on your requirements and personal requirements. Many North Face backpacks that are perfect for college students.
Conclusion
Overall, the North face vault backpack is an average bag. On a positive note, it's one of the lightest you can find in the market but not heavier as well. It's the exact size perfect for everyday use, which can carry your normal belongings. Since it has a 28 L capacity pack, it's already enough to store your books and other work files needed in the office.
The North Face Vault backpack is the best pick for students. The design is simple and not too loud that helps you blend in with a big crowd. Using this backpack, you can organize all your belongings; especially, it has two flexible compartments for all your things. The backpack is very affordable, so no need to worry if you'd like to give a try.