An In-Depth Look: The North Face Surge Backpack Review
Travelers who like to travel without a fuss would prefer taking a backpack because they are much easier to carry, more convenient to bring along, and certainly much lighter. The North Face Surge Backpack is the perfect solution for every traveler who wants to travel light.
This backpack is ideal for those who carry some electronics with them as it has a TSA friendly laptop compartment. This North Face's feature would allow you to get through TSA checkpoints without any hassle.
The Surge backpack has several wonderful features that will be mentioned in this North Face Surge backpack review.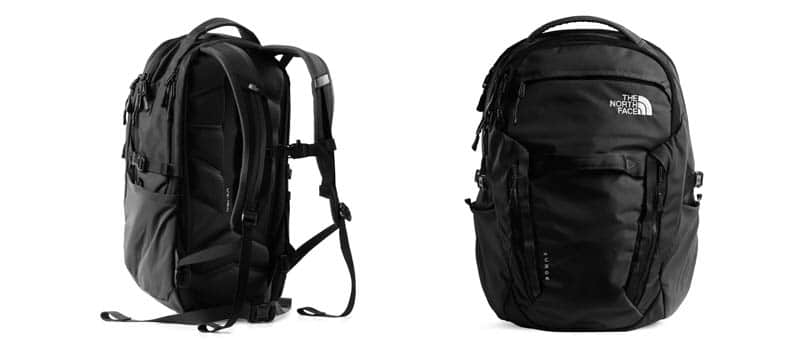 What is North Face
When it comes to outdoor gears and apparel, the North Face is always an essential companion. Whatever type of backpack you are looking for, whether the multipurpose and very popular Surge or a lightweight like the Isabella, The North Face has everything that every person needs.
North Face Backpacks:
In case you are looking for a backpack for school or adventure, you can be assured that the North Face has something for you. Having been in the business for more than 35 years, this brand has always kept on creating products with the most advanced technology, such as the North Face Surge, that works so well with those who love the outdoors.
Outdoor enthusiasts prefer the North Face due to its reliability and durability that has been tested by time. Their products are known to resist the elements which makes them perfect for use while biking, mountain climbing, hiking, etc. A backpack like the Surge that is produced by the North Face will surely have comfortable shoulder straps with some extra padding to offer comfort to the user as well as to protect the valuable items, including some electronics that are in the bag.
The North Face has a wide range of product selections from the most classic, or the ones with a laptop compartment, or those bags with front compartment, or with water bottle pockets to the most popular as the North Face Surge. All these come with an equally wide selection of colors, designs, and styles to ensure their clients that their items will always be organized and safe.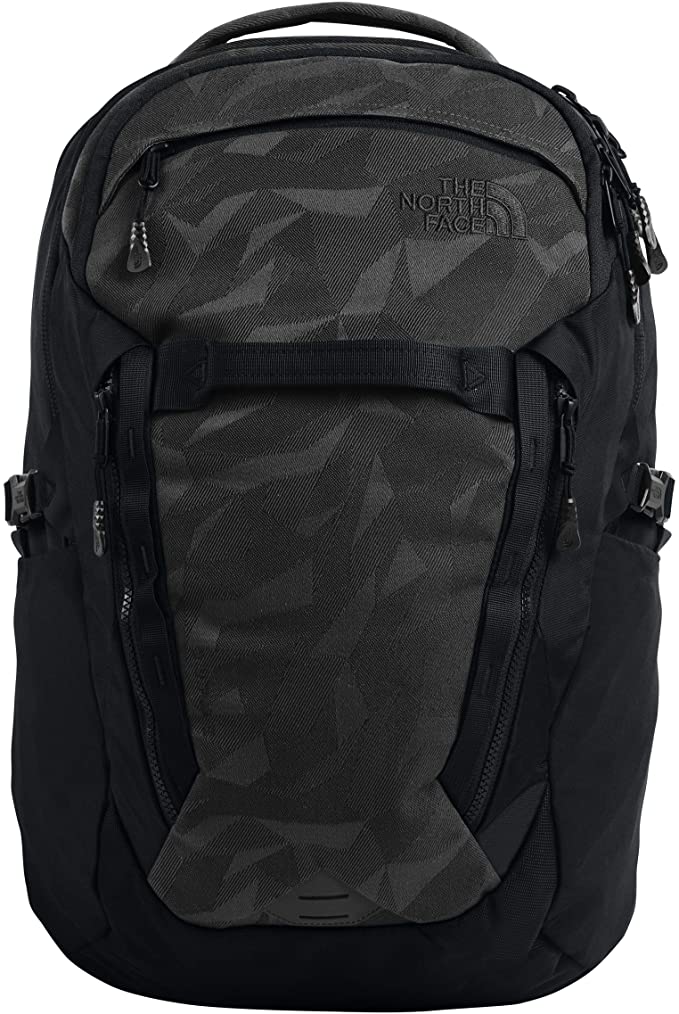 About the North Face Brand:
What makes this brand? The North Face name came up because, in the northern hemisphere where the north face of a mountain is, the condition is generally the iciest, the coldest, and the most challenging part to climb. To get through the north face of a mountain, the climber most certainly needs a backpack that is not only functional as it should have bottle pockets for the water bottle, but it should be reliable and durable as well to withstand all the elements of nature.
When it comes to concerns on quality and technology, the North Face has already got all these covered, and these are visible in all their bags and other equipment like water bottle, laptop sleeve, and more.
Description of North Face Surge Backpack
The Old Surge vs. The New Surge
The old Surge backpack was recently given a revamp, though nothing much was revised about the pack, and all of its cool features were kept. The backpack's look, along with its other technical features, was changed.
With the new Surge, the laptop sleeve is bigger, and the backpack is wider and lighter. Though the new version has a bigger laptop sleeve, the 17" laptop will not be able to fit.
If comparing with the old Surge, this updated Surge backpack has a smaller capacity as its pockets and the main compartment pretty much remain the same. One thing that a North Face Surge user would notice right away would be the position of the front strap.
Since the revamped North Face Surge is not available on Amazon yet, North Face lovers can still get the chance to get the old Surge at a bargain price. As for those who are excited about the new Surge backpack, you would have to wait a bit more until they are available.
Women may look forward to the new Surge backpack as it has a woman's version that features different shoulder straps that will perfectly fit a woman's body, unlike the old Surge. This may be worth checking out for women because the price is the same but only a better fit for them.
North Face Surge Backpack Features
Who does not want a North Face? Given that they produce great products, especially a good backpack like the Borealis, anyone would want it. So with the introduction of the Surge, it was not a surprise that it will also turn out to be a hit.
North Face Surge is a classic backpack with amazing features that will make any traveler's life organized and easy. If you love to travel, getting one is definitely worth your money.
Durability and Breathability
Surge backpack's primary material is nylon, which is highly durable, water-resistant, easy to clean, and very sturdy.
When discussing breathability, the back panel becomes the most essential.
The Surge backpack uses a FlexVent suspension system that lets you stay as dry as possible, and along with this technology is a fully padded harness and a lumbar panel.
The Surge also has shoulder straps that are adjustable and padded, so it is easy to adjust it to your torso, and you will not even feel them on your shoulders.
The Surge backpack is probably one of the most comfortable backpacks you can ever have.
TSA Friendly Laptop Compartment
At the very back part of the pack is the laptop compartment, which can be unzipped fully so it can lie flat, making it easier for you to get through TSA checkpoints at the airport. This is what makes this Surge backpack a travel laptop pack.
Another great feature of the Surge is that it has a sleeve in the compartment, so your laptop will not fall out when you unzip it. The laptop compartment can fit 15.6" or smaller laptops.
The Front Compartment
The front compartment of the Face Surge is composed of an organization panel, a fleece-lined tablet sleeve, and a smaller pocket with a zipper. The front compartment also comes with elastic webbing to organize the cords, which is a useful feature for travelers who like bringing technology such as DSLR's, Go-Pros, laptops, etc. All these can perfectly fit inside the Surge.
The Main Compartment
The main compartment should be the star of the backpack, so it needs to have a big space to fit in all your stuff conveniently but still keeping your items secure. It should also have good zippers to prevent it from getting caught in something.
The Face Surge's main compartment is very spacious that weekend trip items would comfortably fit in, including all the electronics that you will be taking along. A nice bonus would be the zippered pockets inside.
The North Face Surge also comes with compression straps that run over the main compartment and function as security because no one can unzip the backpack without you hearing it open. Another purpose for this is that it keeps your items in place, and can allow you to make your pack smaller by an inch.
Sternum Strap and Waist Belt
Sternum strap may not be a popular feature, but it comes with some purpose. One is that if the backpack falls off your shoulders, it will protect your laptop from getting hit. The second is that it can be used as an emergency whistle.
The sternum strap will distribute the load of the backpack across your torso as well. You may also use the waist belt of your pack to transfer some weight to your waist, to lessen the load from your shoulder.
North Face Surge Backpack Benefits
PC Protection
The Surge backpack has a laptop compartment that can fit in a 15" laptop or smaller, which will not make you feel concerned whether your laptop is touching the ground as its pouch is raised. Another nice thing about this compartment is that it is fleece lined and is padded, which gives additional protection to your device.
North Face Surge is perfect for travelers who always bring their laptop along as it is checkpoint friendly because its compartment opens through the top and lays flat when unzipped, so there is no need to remove the laptop from the backpack.
Though the sleeve of the Face Surge is ideal for thinner laptops, the whole compartment may be used for a much bigger one. This section also has a semi-rigid plastic frame that prevents the North Face Surge from compressing and keeps your laptop safe at all times. Because of its plastic frame, it will be a safe spot for documents and other important papers as well.
Admin Pouch
This North Face Surge backpack review is showing us how perfect the Surge is for traveling light, but one downside though, is that the zipper cannot open fully due to the bottle holder that is blocking it. On a positive note, this netting pouch can be used for other things as well, like putting anything that you need to access easily.
The Surge compartment has three pockets that are easy to access: a zipper pocket, a tablet sleeve, and a small admin pouch. There is so much storage in this backpack, which makes it so great for travel.
Though you can put in so much stuff in these pockets, if you overload it without loading the entire backpack, it will sag on the outside, and it will not look balanced. To solve this issue, you may use the compression strap.
At the front of the Face Surge are two vertical pouches where one is interlined above the other. These pouches are designed for small items or those that you need to access easily. This spot is then not intended for valuable stuff.
Bottom Compartment
This part of the Surge is independent of the compartment on top, and this one at the bottom has limited space, but you can still put some other items that you can fold or those that do not require a lot of space such as t-shirts, pair of socks, or other small clothes. A pair of sneakers may also fit.
Another purpose of this section is that you can attach a rain cover in this compartment and zip it up. This way, when it rains, you can easily pull out the rain cover and pull it through the entire backpack to prevent it from getting wet. The Surge also has a unique feature called the ice ax loop.
Comfort
The back part of the North Face Surge has some very nice features and a good construction as it has a flex vent to ensure that you are always kept dry. It also has a strap that is nicely padded and well-textured to be sure that the user is always comfortable, and that it will not dig into the shoulders even if you are carrying heavy stuff. The top strap is elastic, where you can attach some items as well by clipping them to it.
This Surge backpack is ideal even for hot weather as it enables the air to flow easily, so it will let you stay dry. This North Face backpack model has a sternum strap as well that comes with a tubular design that allows you to adjust the straps so easily.
Is North Face Surge Backpack Waterproof?
This Face Surge is made of a heavy-duty fabric that is laced with a material that is resistant to water, and these materials are guaranteed to last for a very long time. Because of the Surge's material, the backpack always stays dry, which then prolongs the longevity of this North Face product. Though its compartment zipper leaks, its flap is well- designed.
How Big is the North Face Surge Backpack?
The North Face Surge is a 31-liter pack that uses advanced technology and whose design is so ideal for those on the go as this product simplifies their life. This North Face bag organizes your electronics as well as all the other stuff inside because of its compartments. The Surge can safely accommodate important stuff such as your laptop or tablet, your phone, valuable documents, and more due to its padded top handle and fleeced lined sleeves.
Because of its padded shoulder strap and breathable lumbar panels, it gives a lot of comfort to its user.
North Face Surge Backpack Price
In this review of the Surge backpack, the list price is $129, which makes it one of the most expensive backpacks reviewed. However, this price is so worth it if you want to save time when you pass through security screenings.
Or if you want to travel light but still be able to carry so much stuff, or if you want a bag where your laptop and other valuable stuff can stay safe and protected from elements.
If you have a stricter budget and only need a simple but still stylish bag, there is the Borealis, which is another North Face product that is also good though not as travel- friendly as this model.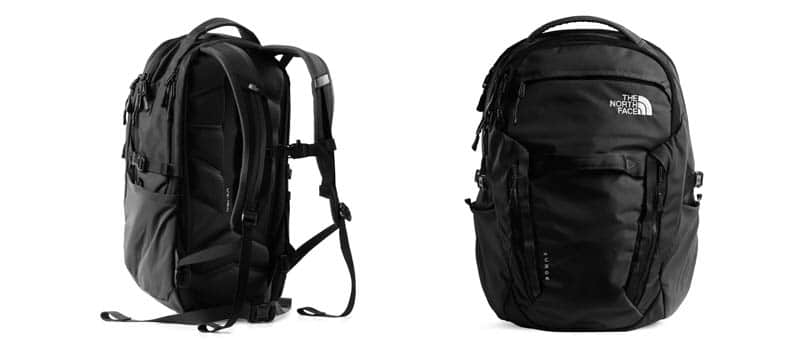 Conclusion
The North Face Surge backpack is intended to make every traveler's life simple and comfortable. This North Face product is also perfect for those who are always on the go as it is light and convenient to take along.
This is a must for every traveler because it organizes your items way more than a suitcase can. Plus, it can safely store your important items such as your laptop, tablet, or phone, and even your other valuable documents as its sleeves are padded.
Though it is lightweight, there is so much room to put in all your stuff because it has several spacious compartments, and it comes with smaller compartments as well that are ideal for small items that you need to access easily.
Having a North Face product like this makes travel so convenient and easy because after a flight, there is no need to wait for checked-in baggage, but instead, you can just take it right away and go.
The North Face Surge backpack is comfortable, breathable, and has tons of pockets. Not forgetting that it makes your airport security screening a breeze as well.