North Face Jester Backpack Review A Bag for Urban Life
The North Face Jester backpack is the answer to any urban commuter's dilemma when it comes to having a backpack that is convenient for going around but still able to carry so much load without exerting much effort. This Jester backpack is anything but ordinary as it looks very chic but is sturdy and has so many compartments to hold your stuff either for work or for school, or even just for any outdoor activities.
The North Face Jester backpack is perfect for those who want a backpack that is made of high-quality materials that will last for a very long time but would still fit in their budget.
This Jester backpack comes with so many compartments, including a zippered main compartment that can safely hold valuable items and a laptop. Aside from this, there is also a smaller compartment that is zippered as well but is lined with a microfleece. This part of the backpack is ideal for storing pens and other small stuff. One of the many good things about this Face Jester backpack is that it uses a FlexVent suspension on its back panel to let you stay cool and dry even when you are out for the whole day.
Though this Jester backpack is basic as compared to other North Face backpacks, it certainly delivers.
This North Face Jester backpack review will give further details about this amazing product.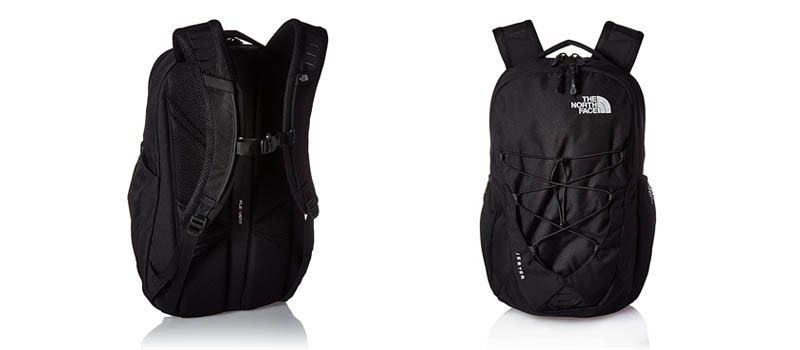 The story of North Face began in 1966 in San Francisco. This company was started by husband and wife Douglas and Susie Tompkins. What this couple founded turned out to be one of the best in their line of business because they do not only offer expertise in the industry but more so, they understand what people need.
At first, the owners only had limited products, but as time passed, they started producing other items that were intended for outdoor enthusiasts such as mountaineers, climbers, and hikers. Today, they do not only offer equipment for climbers, but they have items for the campers as well.
North Face has everything for everyone, including a North Face backpack called Jester, along with all their backpack models, tactical packs, luggage, duffels, camping equipment such as tents and sleeping bags, and they even have water bottles as well! What is great about all this is that the quality of each item is 5 stars.
Description of North Face Jester Backpack
Any product that has been manufactured by the North Face, from outdoor bags, different lines of backpack models, to other gears, and apparel. This brand is known for its five stars quality of materials and technology that make their products highly durable and can withstand the elements of nature.
Being keen on details in terms of design and functionality, and the fact that it can stay for a very long time tells us that buying a North Face product is certainly worth having.
North Face backpack Jester, which is one of North Face's travel laptop bags is made from 600d polyester fabric and is among the toughest materials used for a backpack.
The North Face Jester comes in several varieties of colors that are both bright and neutral to match your taste and style.
The North Face delivered above expectations when they launched the Jester backpack as it is perfect for tech-savvy travelers.
Some of the amazing features of the North Face Jester backpack are: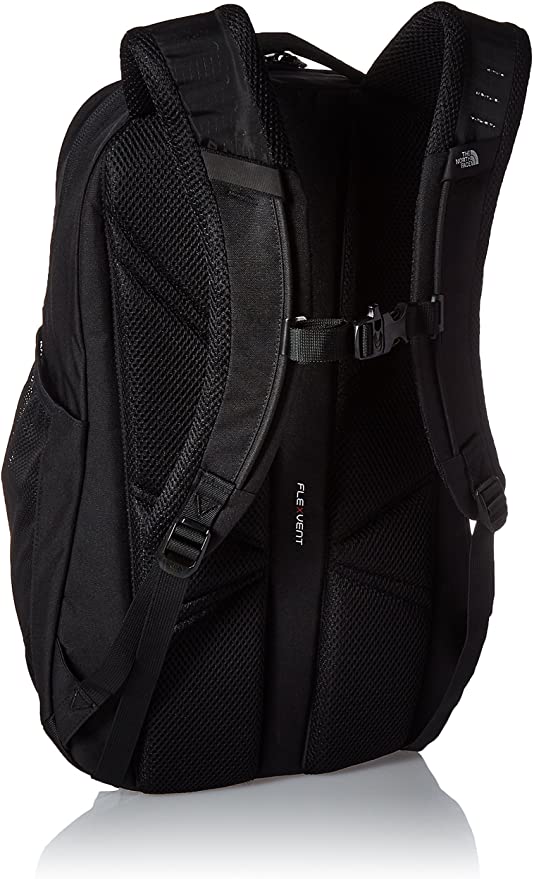 The North Face Jester backpack, which is a travel laptop bag is the most ideal for both everyday use as well as for outdoor enthusiasts. Having very spacious storage of 29-liter capacity with some extra compartments including its front, this Jester backpack can take you from the city to the mountains without even having to switch bags.
The North Face Jester provides great comfort through its highly innovative design technology of shoulder straps and sternum strap. This Jester comes with a 360-degree reflective feature as well that will make you feel safe even at night time or when it is dark.
North Face Jester Backpack Features
The North Face Jester backpack is a very convenient daypack that would perfectly suit both the students and also day hikers as this backpack can hold a capacity of 29 liters that include the very spacious main compartment.
If a student uses this Jester backpack, the latter will enjoy the incredible space where he or she can fit in all of his or her school stuff, such as notebooks, textbooks, and a laptop if needed. However, there is no designated pocket for a laptop.
Another useful feature of the North Face Jester is its water bottle holder that is made of a mesh pocket that can be found on both sides of the backpack. This holder can fit a 32 oz water bottle that stays in place firmly.
Face Jester backpack is made of 600D polyester fabric, which is one of the toughest materials to be used for a backpack, and which supports its durability.
The North Face Jester backpack is definitely for the outdoors because of its two side pockets to fit each water bottle. This backpack also comes with some external bungee straps which can hold small dirty stuff and even shoes! These straps outside the Jester can also hold other things such as a neck pillow, which then makes it perfect for travelers as well.
The North Face Jester has a mesh on its shoulder straps that provide additional padding, which then offers comfort and also ventilation.
The North Face Jester backpack is available in various colors to match your taste.
This backpack review will mention the Jester's features in detail.
Jester backpack's flexibility comes from having several compartments and pockets and also the yoke on its suspension system, which makes it ideal for storing different items.
Jester's suspension system makes use of an updated version of the FlexVent, which comes with a flexible yoke that is produced from the custom shoulder straps that are injection- molded.
The Face Jester backpack has so many different pockets of varying types and sizes both on the front and also inside where the primary compartment is. On the Jester's front is a zippered pocket that has a laptop sleeve where your electronic devices such as smartphones can be safely stored.
In the Jester backpack's primary compartment is where you can fit all the binders, books, and much of the load that will go into the backpack, including a 15" laptop.
The North Face Jester may be a small backpack, but with its generous space, it still does deliver in keeping all the items that it holds organized and secure, and it also allows the user to use the space creatively.
The North Face Jester comes with protective features such as reflectors on the backpack for the safety of the user, and it comes as well with an insulated laptop sleeve where you can safely keep your laptop or tablet.
This Face Jester's laptop sleeve on its interior is padded to keep the electronics safe from bumps and falls. The North Face Jester's laptop dimension is 15" with an extra tablet sleeve in front that is padded as well. These padded sleeves protect electronic devices such as a laptop, smartphone, or tablet from hitting the ground or hard surfaces.
Though North Face did not mention that the backpack is waterproof, the Jester's sealed padding offers protection against liquids. The Face Jester has safety reflectors in its bike- light-reflective loop as well as in its water bottle tabs, and the webbing on the shoulder straps to keep the user safe when it is dark or while walking at night. These reflectors increase the backpack user's visibility.
This 29 liter Face Jester backpack certainly responds to the needs of the user, which is usually an urban dweller or a student. Its padded sleeve that is designed to protect a laptop or a tablet is essential to be in the backpack as students at this age usually take electronics with them to school.
The North Face Jester backpack secures the laptop and keeps it safe on the inside when the bag is accidentally dropped. Though we do not want this to happen, if it does, using the Jester will give you a higher chance of protection as compared to a regular backpack.
If in case your North Face Jester becomes so dirty that it needs some washing, this backpack can be washed safely in the washing machine and can withstand several washings.
The Jester backpack provides ventilation as well as maximum back support through the spine channel on the back panel of the mesh. These features give dryness and coolness to the backpack user's back.
The North Face Jester is equipped with a whistle buckle and sternum strap for its fastening requirements. This Jester backpack allows the user to keep his or her things organized, and though its size is small, this Jester can let you put in so much stuff. This North Face product can almost hold as much as the other larger backpacks that have support frames to give them stability.
Having a smaller backpack such as the Jester has its advantages, and among those is that it is much lighter and so is easier to carry around. This type of convenience works so well with students as they go carrying their backpacks around so they will enjoy having this Jester as it is lightweight, comfortable, and sturdy.
North Face Jester Backpack Benefits
The North Face Jester backpack has been revamped to give added protection to your gears as well as to provide more organization to the items that you put inside the bag. This Jester backpack offers so many purposes.
In this review, each benefit of this North Face model will be mentioned.
North Face products have always been popular when it comes to durability and detail, as well as their use of only the best materials. Because they believe in their products, North Face offers a lifetime warranty.
If in case your North Face product starts to deteriorate, you may give them back the product so they can fix it for you.
The North Face Jester backpack is made of 600D polyester, 450D x 300D heather polyester, 600D geo emboss polyester, and 1200D polyester fabrics that give this backpack durability and comfort.
600D polyester is a strong and water-resistant material, as well as fade resistant.

450D x 300D heather polyester is excellent in heat retention and offers solid protection.

600D geo emboss polyester offers comfortability and is stretch resistant.

1200D polyester makes the backpack reliable and durable.
The North Face Jester backpack got a perfect five out 5 rating in this backpack review in terms of durability.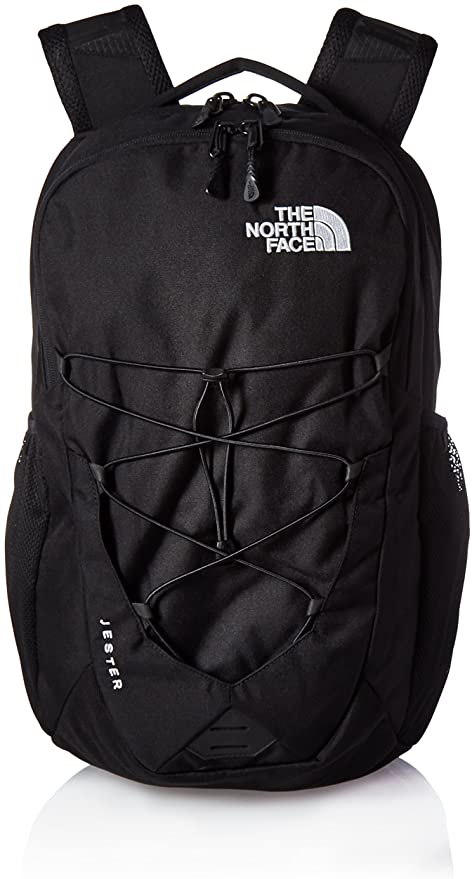 The Jester is your solution whether you are in search of an everyday backpack or something that you would take when you travel because of its sturdy and lightweight features.
The North Face Jester has a two- clip choice that you can use if you are hiking with gear and not use it if only when just at school. These clips give extra support and distribute the weight further.
The Jester backpack is multi-purpose, and because of its semi-hard but padded back, it protects you from getting poked in the back.
The North Face Jester backpack has some very amazing features which make it great for daily use. Its comfortability and durability make this North Face product a must-have for students as well as hikers.
The Jester backpack has a padded back panel that offers comfort to the back, and it comes with padded shoulder straps as well, so it will not dig into your shoulders while you carry your stuff. Plus, its ventilated back panel will always keep you cool and dry at the back.
This North Face product has an additional useful feature, which is the chest strap. This strap lets you connect the two shoulder straps to help you stabilize the load and to give your back an added support.
The Jester's top handle is padded as well, so it will not dig into your fingers or your hands. The North Face Jester backpack gets a 5-star rating in this review for overall comfort.
North Face Jester Backpack Price
The North Face Jester backpack is very affordable that makes it highly sought after in the market. Having a Jester is definitely worth your money.
The North Face Jester is multi-purpose, so it can be used by students or any other person who simply wants a lightweight but sturdy backpack, outdoor enthusiasts such as hikers and mountaineers. And another great thing about Face Jester is its price!
For an ideal school backpack, the North Face Jester is the right choice because of its 30-liter capacity, its padded sleeve that protects a 15" laptop, or other electronic devices, and its front compartments that can hold small items. Its bungee straps make it great for hooking a helmet, jacket, etc.
This North Face product's Moab Khaki Camo print design is on sale for $65 on Amazon.
Are The North Face Backpacks Worth It?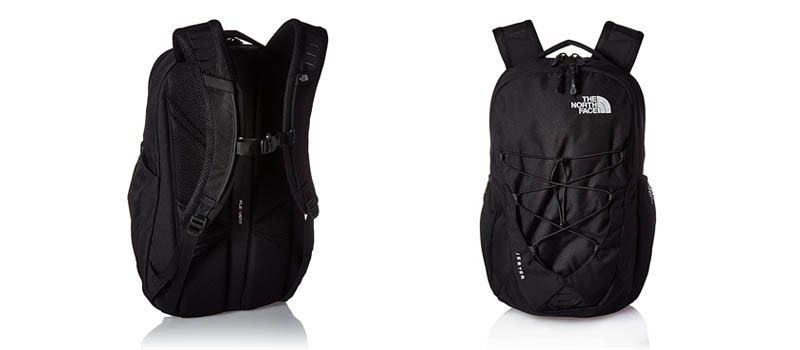 The North Face Jester backpack is certainly worth having as you can use it for anything, from the daily commutes to hiking, and other activities. People go for the Jester because of its sturdiness and comfortability.
What makes it amazing for the users of this backpack is that it takes the weight off their back. With its price that is highly reasonable and affordable along with its product superiority, what more can you ask for?
What is the Difference between North Face Borealis and Jester?
Through this North Face Jester backpack review, we have seen the exceptional features of this backpack and how versatile this Jester can be. But if it will be compared to the North Face Borealis, what difference will they have?
Both of these North Face backpacks are great for work, school, or travel because both are very spacious and have several compartments, which include a space for a 15" laptop. Both backpacks are available in women's versions, and both have two bottle pockets, sleeve for a laptop, as well as various compartments for organization.
These North Face products have reflectors as well for night visibility, and they come with sternum straps with a whistle buckle for added safety protection.
The difference between these two North Face backpacks is the price. The Jester costs less than Borealis.
Is the Borealis or Jester Better?
The answer depends on what you are looking for. The Jester is ideal for work and school, while the Borealis is more for travel and hiking.
The North Face Jester backpack is a great product to have, especially if you are looking for something that is lightweight and sturdy and yet has so much space. Not forgetting to mention its very affordable price for its superior features and quality materials. 5 Top Rated North Face Backpacks