The Nomatic backpack is one of the best travel backpacks out there right now because of its more advanced and sleeker features, which help us carry every essential we need for our next trip.
If you are an avid traveler and a digital nomad that totes around gear, electronics, and extra items daily, you should know the importance of quality backpacks with features that can help you store your favorite gadgets with ease. The Nomatic backpack lets you bring these essentials without having to worry about getting dragged around with a bulky bag. The best travel bag isn't about the looks but versatility and design. And no one does it better than Nomatic.
It can carry 30 liters to 40 liters' worth of things, with a special compartment for tech gadgets, which is one of the brand's specialties. The company has recently upgraded all its bags, and we have done a deep dive into breaking down all the features, benefits, advantages, and disadvantages of this product. 
The company Nomatic is known to manufacture products that inspire confidence and provide convenience to its clients. Keep reading to find out more about their latest innovative backpack and see if it's worth the hype that it's getting in this Nomatic backpack review.
What is Nomatic?
Nomatic is a Kickstarter brand launched by two cousins, Jon Richards and Jacob Durham. They started the company with the mission of creating the most functional gear. It all started with the basic wallet back in 2014, and it was a massive success, so Durham and Richard decided to launch their Kickstarter with their iconic Basic Notebook in 2015.
Their maximum estimate was around 50 orders for this product, but more than 6,000 people supported and backed their Kickstarter campaign with almost $200,000 invested. Since then, both of the cousins have launched many crowdfunding campaigns and have been raising millions of dollars as a result. It was successfully shipping products to hundreds of thousands of eager clients globally.
The brand gradually improved, and they changed their name from BASIC to NOMATIC. Every piece of Durham and Richards' Nomatic collection is carefully and expertly designed with quality, versatility, and numerous features to ensure their products give their clients' confidence for a life on the move.
Nomatic has continuously manufactured innovative products and tailoring it to what their consumers want—successfully creating the most functional products with the quality intact. The company's most notable products are their Nomatic bag collection that is made with top-quality, water resistant, and durable fabric along with globally renowned YKK zippers that are proven to handle consistent commuting. This company has numerous supporters and buyers, having more than 100,000 customers from around the world enjoying their products daily.
Description of the Nomatic Backpack
The Nomatic travel pack was designed with the intention of it being able to handle everyday use. It's made with durable, water-resistant materials and globally renowned YKK zippers. The size of the Nomatic backpack starts at 20L and expands to 24L. The product itself is slim, but it can expand with ease if you need to pack more things for your adventure. Nomatic is known for its innovative products, and this travel pack is not an exception. 
The backpack comes with a patent-pending shoulder strap system that allows you to alter this bag into whatever you want, and you can go from the traditional backpack to a sophisticated briefcase carry for events that acquire you to look more professional.
From its many features, the magnetic water bottle pockets, hidden compartments, full perimeter zipper, and the RFID (Radio-frequency identification) safe storage are some of the product's best features. Here are more details about the backpacks' description:
Dimensions 
This backpack may look slim, but it uses a simple expansion process that makes the travel pack east to expand. Its original size of 20L can reach up to 34L. The dimensions of this product are 18.5″ H (Height) x 12″ W (Weight) x 5-7.5″ D (Dimension). It weighs 3 lbs. (roughly 1 kilogram) and 10 OZ.
Durability
The Nomatic travel pack is made from Kodra 500D water-resistant tarpaulin fabric. Its exterior zippers are also waterproof. It is ensuring long-term service.
Safety
This travel pack ensures the safety of your essentials by using tough exterior perimeter YKK zippers that are lockable for added security. Its hidden RFID blocking pocket, which is located at the back, protects your personal information. This bag has embedded reflective ink that makes you visible at night.
Functionality 
This travel backpack has more than 20 noteworthy features that make it a good functional travel pack that can be utilized for commuting purposes. It has two exterior water bottle pockets that contain magnetic snaps that remain shut when not in use, which maintains its sleek look, the retractable key leash, which helps you easily lockup the backpack with one hand.
But since this travel pack is designed for everyday use, it means that it's limited and may not have the specialized features that most Nomatic travel packs have. But the features mentioned above with the addition of a cord pass-through makes this bag perfect for day time excursions and commuting. With its sleek minimalist design, this backpack ensures confidence for your life on the move.
Pros
This Nomatic travel pack is carry-on approved.
It provides strong security.
Lifetime warranty.
Its main compartment can expand.
Durable.
Water-resistant.
It provides a better day-to-day organization.
This bag has many features.
Cons
Very expensive.
It can't be used for one-bag traveling.
It's not suitable for long trekking.
Nomatic Backpack Features
The Nomatic travel pack is different from your average backpack as it combines unique features and convenience in one awesome bag. Besides, the main compartment's handy expansion feature here are other notable features that truly make this bag special:
Interchangeable Panels
The Nomatic travel pack allows you to fully customize the bag to meet your specific needs with the removable panel.
Notebook Pocket
Nomatic is all about convenience and unique features. They have placed a purpose-built notebook compartment in all of their backpacks. Extra pocket space is always good to have.
Hardshell Pocket
Eyeglasses are fragile and can easily break inside a bag. Nomatic has thought of a solution by including a hard-shell pocket where you can store your glasses without having to worry about it breaking.
Cord Pass Throughs
The most beloved feature by the masses. It allows you to have quick access to your phones, portable solar chargers, and headphones with its cord pass-throughs throughout the bag.
RFID-Blocking Pocket
Nomatic aims to keep your essentials safe during your travels. All Nomatic travel packs have a theft-proof pocket lockable and lined with RFID blocking material that ensures the protection of your personal data.
Magnetic Water Bottle Pocket
The Nomatic travel pack can let you carry two water bottles with ease with each water bottle pocket having a snapback feature that securely locks into place when not being used.
Hidden Pockets
Nomatic knows their way around bag security well. Most of their products are filled with hidden pockets with RFID blocking pocket linings. These hidden compartments let you store even more valuables.
Roller Bag Sleeve
You can travel with ease and comfort with this feature that comes with the Nomatic travel pack. It slides over the handle of the bag, which keeps your bag balanced during your travels. You can mount your travel pack on your luggage when traveling with this convenient roller bag sleeve.
Expansion System
To provide convenience with style. The Nomatic travel pack may be slim, but its main compartment can expand with ease if you need to pack more things for your next trips.
Laptop Sleeve
With most people having laptops on hand, the presence of a laptop compartment in any bag is crucial, and the laptop sleeve is mandatory nowadays. Nomatic is up-to-date with the current must-haves when it comes to backpacks. That's why their backpack collection comes with a free laptop sleeve. You can fit 13-inch laptops in each Nomatic bag.
Laptop Compartment
We have established that Nomatic gives their clients what they want, and that includes a laptop compartment. With technology taking over, more people are increasing their demands in storage space for these tech gadgets.
Innovative Stow-Away Strap System
Nomatic bags allow users to snap the shoulder straps away when you do not need them—making this the perfect option when you travel, especially when you want to check your bag in for the flight. This feature allows you to carry the bag by its side handles without the hassle of dangling shoulder straps.
Retractable Key Leash
Each Nomatic travel pack has a retractable key leash. Making it the perfect feature for people who lose their keys frequently. You can easily keep your keys in one convenient place. Just hook your keys on to the in-built leas on the bag and pull it out when you need to use it.
Water-Resistant
The Nomatic travel pack is made of durable, water-resistant materials that ensure you a long-term service.
Many Pockets
It's no secret that Nomatic loves their pockets. Each Nomatic travel pack has numerous mesh and zippered pockets. These pockets include the hard-shell pocket, RFID pocket, bottle pockets, notebook pocket, laptop pocket, hidden pockets, and more. Making this bag perfect to bring when you travel.
Quick Access Fleece-Lined Pocket
Nomatic cares for your safety. That's why each Nomatic travel pack has safe places for your expensive possessions. Each bag has a fleece-lined pocket that keeps your valuable safe and intact. It's easy to access and perfect for breakables and valuables.
Nomatic Backpack Benefits
The Nomatic travel pack is different from every other travel pack because of the incredible organization that it offers that makes packing easier. Its specially designed compartments for various things such as shoes, tech, clothing, notebook, laptop, and other valuables. Making it the perfect companion when you travel. Aside from there here are other benefits of the iconic Nomatic travel bag:
Free Compression Packing Cube
Each Nomatic travel pack comes with a handy compression packing cube that helps you package your clothes for trips by compressing the air out of these garments. The compression packing cube provided by Nomatic is made of Rip-Stop nylon that enables you to pack even more clothes.
These are not your typical vacuum-bags because the compression cube has two compartments, one side for used clothes, and the other for clean clothes. The zipper compresses the product with clothes down to one inch.
Keeps Your Essentials Dry (Waterproof)
When out on a trip or just commuting. Rain can downpour anytime, and often it can lead to your valuables inside the bag getting soaked. But Nomatic has solved this problem by incorporating durable waterproof materials in their travel packs and sturdy zippers. Effectively keeps your valuables dry and safe.
Free Shipping
Shipping fees can be tedious. It racks up the product's price too much, but Nomatic cares for its clients, so they offer free shipping for customers who reside anywhere in the United States.
You Can Pack However You Want (Versatile)
Each bag from Nomatic is versatile. Helping you organize your things better when traveling. You can use it in three different ways:
The standard full-zippered front which is ideal for traveling because it perfectly resembles a regular travel bag.
The "clamshell" opening gives you the option of turning the bag into a sophisticated suitcase that you can use for any professional setting.
You can also use it just like the conventional backpack from opening it from the top.
Hassle-Free Airport Security Checks
The Nomatic travel pack makes passing through airport security so much easier. The bag allows you to not take your electronics out of it during regular airport checks at the TSA (Transportation Security Administration). It is freeing you from juggling several bins at the airport during these checks.
Versatile Strap System
With convenience in mind. The Nomatic travel pack comes with a detachable waist and shoulder straps that evenly distribute when loaded. This versatile strap system makes it easy to adjust the bag accordingly to your specific needs. For example, the built-strap around the travel pack provides easy switching between a duffel bag when you travel or backpack when commuting.
Full Perimeter (Main Compartment) Expansion
One of the most notable benefits in the Nomatic travel pack is the full perimeter expansion of its main compartment. It is expanding its storage capacity from its initial 20L to 34L. It can fit all your travel needs during a short trip for 1 to 3 days.
Keeps Your Tech Secured
The Nomatic bag comes with various lifted compartments that are specifically made for your gadgets. These padded compartments protect your laptop, tablet, phones, and other gadgets secured.
Comfortable
We have established that Nomatic focuses on functionality, but they aim to please too. The bag comes with soft and cushy back padding that provides comfort when carrying it around when you travel. With the addition of an air-channel that lets your back breathe with ease.
Two Bags In One Pack
We have established that this Nomatic bag can be used as an everyday backpack or a travel bag because of its expansion feature. It is letting the bag expand twice its size.
Lifetime Warranty
To ensure you get your money's worth. Nomatic does not disappoint because all their products come with a lifetime warranty. Their products are made with durable materials and are expertly crafted by the best in the industry.
RFID (Radio-frequency identification) Safe
In today's modern world, It's difficult to ensure your safety and security. That's why we need to be smarter about our security. Nomatic came up with the solution of embedding RFID linings throughout the product, effectively securing essentials such as your passport, credit cards, and ID and protecting your information with ease.
No More Lost Keys
For people that often find themselves losing their keys. This product by Nomatic comes with a handy retractable key leash that ensures the safety of your keys. Simply stick your keys on the item and use it with ease.
Spacious
The original storage capacity of this product is 20 liters (1220 cubic inches), which is the average amount for most backpacks. However, their product's main compartment can expand to 30 liters (1831 cubic inches), making it the perfect product for travel and commuting.
Is the Nomatic backpack worth it?
No Nomatic backpack review is complete without discussing the costs of the product itself or money in general. When considering the value for money the product provides, we consider certain factors before making a purchase. 
One of these factors is the price of the product; how much is it, how does it compare to other brands of similar bags from different brands? It's important to note any extra accessories that you get with the main product and the value of these extra accessories. Helping us determine if the bag is worth its price. Here is an example: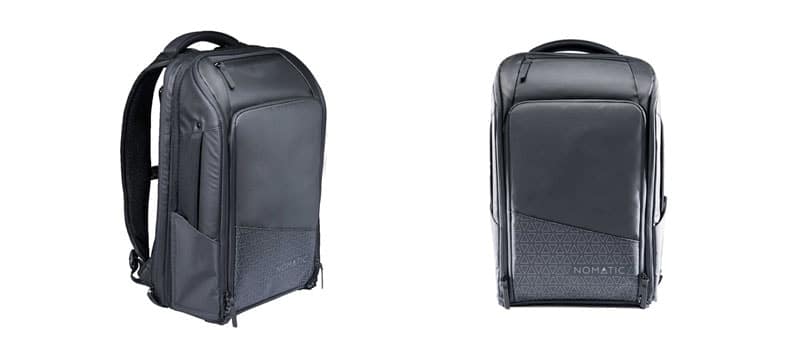 Hardshell Glasses Case
When purchasing the backpack, it comes with a free, hard-shell protective case that can be used to protect your sunglasses. This accessory cannot be purchased alone. Making it impossible to know how much the item is worth. The actual value of the item will depend on your habits.
If you often find yourself misplacing your glasses or sunglasses, this free accessory can become useful. It's made of sturdy material, and it has a hard-shell exterior that ensures the protection of your beloved glasses. It's rectangular and can be easily fit into any of the many pockets of the backpack.
Price Point
The Nomatic ensures functionality and quality. These two important features are the main components of the best backpack for travel. The Nomatic is an expensive backpack. Its price point costs as much as a high-end suitcase or other types of high-end bags.
But you get what you pay for this product because of its many features and benefits with the addition of the high-quality materials used in making the product.
But other brands offer decent backpacks at half the price Nomatic is offering. So, why should you spend more money on this product? It's because it's one of the few backpacks that are versatile, meaning you can wear it any time and anywhere—making it suitable for different occasions such as using it as a suitcase when you're going to work. The product looks professional and polished, making it an amazing work bag.
Aside from these numerous benefits, the versatility of the bag makes up for the price. Because it can work as a carry-on and an overnight bag, giving you more than just the average everyday backpack. If you love the Nomatic line and need something to bring on any kind of adventure, this product is worth it.
How much is a Nomatic Backpack?
The Nomatic travel backpack costs $239.99. The product isn't cheap, and it may seem a little too much, but the product comes with a lifetime warranty that guarantees you get your money's worth. The backpack makes up for its price with its numerous benefits and features that make traveling and commuting easier for everybody.
However, if you are not 100% satisfied with the overall quality of the product. You may send the product back to Nomatic themselves, guaranteeing that they will give your money back. No further questions asked.
Conclusion
When you commute or go on short, unexpected trips frequently. This product is a great choice. However, we do not recommend it being used if you are planning on going on a trip that will last for more than three days because this item can only accommodate you for a maximum of 3 days' worth of storage.
But we found the 30L capacity to be unbelievable, with an initial storage capacity of 20L and expanded to 30L is impressive. The bag also retains its minimalistic, streamlined, sleek, and stylish aesthetic even when it's full to the brim.
Nomatic knows what they are doing, and in this review, we have enumerated the numerous benefits and features that come along with their iconic bags. These products are brilliant, innovative, and an up-and-coming option on the travel bag and rucksack scene. Researching about this product left us pleasantly surprised by the massive positive feedback it has gotten even though it's still a relatively new brand.
No wonder they have more than 100,000 customers daily because the Nomatic backpack truly embraces quality, functionality, and versatility. Our final verdict for this backpack review is that the Nomatic backpack is one of the best backpacks for travel out there in the market right now. So, if you are still looking for your next companion during your adventures, we suggest you try this product and experience its great features.