Let's say you are going on a big camping and hiking trip. You are about to have some serious fun, get in touch with nature, and get some great exercise. For many people, there is really nothing better than being outdoors, sleeping under the stars, fishing, canoeing, seeing wildlife, and roasting marshmallows. Now, with that being said, you will need to bring along a lot of gear, and the longer you plan on being out there, and the more you want to do, the more gear you need to bring.
Of course, this means that you need to pack a lot of gear, and chances are that your first line of defense in this fight is going to be an awesome backpack. A hiking or camping backpack can have a lot of room, especially if you get one of those oversized bags you see backpackers who journey cross country take with them. But still, so you can fit everything in there, and access it with ease, you need to pack right and pack smart.
It might sound kind of odd, but how to pack a backpack the right way is something that a lot of people want to know. In all reality, it's much easier to talk about packing a backpack the right way than to actually do it. It may be a challenge, and it's why we're going to provide you with some valuable packing tips so you can fit everything in there and easily get to what you need.
1. Make a List of Essentials
The first thing that you need to do before you even start packing is to create a list of what you plan to pack. Organization is half the battle, especially when it comes to dividing what you need to bring with you.
Now, there are going to be items that are essential to your survival and well-being, items that will help you in some way, and then there's the miscellaneous stuff, the things that you might like to bring for fun or entertainment, but are not necessarily essential.
Therefore, you need to create a list and you need to start with the most essential items first. Remember, your backpack only has so much room inside of it, and you can only carry so much weight, so you need to start with the most important items first, then work your way down the list. If you happen to have room leftover for entertainment items, treats, and other such things, you are in luck.
It's probably a safe bet that you need to pack things like a tent, sleeping bag, some extra clothes, foods of various kinds, clean water and water purification tools, cookware and burners, bug spray, a first aid kit, a flashlight, and other such essentials. Then you can move onto things like snacks, treats, games, toys, and other entertainment-related items. Packing a bunch of junk won't serve you well if you forgot the essentials you need to stay alive and comfortable.
2. A Test Packing Round
A big mistake which people make when it comes to packing backpacks for camping and hiking is to do so at the last second, only to realize that they can't fit everything into their pack. It's a big problem and it often results in various items being left behind. Therefore, once you have bought and gathered everything you plan on taking with you, see how it all fits into the bag. You might be more comfortable packing it one way or another, but most of the time, this is a matter of preference.
Either way, seeing that everything you want to bring with you can actually fit in or on your pack, in one way or another, is a good thing to do a few days before you plan on leaving. If you cannot fit everything you plan on taking, you will need to narrow down the list and exclude some items. That, or you can invest in a new and larger camping backpack.
Personally, we would go with a new backpack that can fit everything, as having to decide what to take with you and what to leave behind is never fun. It's also essential to do a test packing round to see how the weight distribution is and how comfortable it is.
You might discover that having a metal pot poking into your back isn't that comfortable, which is even less fun when you only realize when you start hiking. We always recommend doing a test packing to see how it all goes.
3. Finding the Right Backpack to Pack
This is another thing you want to do before you begin packing. You need to find the right camping backpack to begin with. Simply put, the longer you want to go camping and the more supplies you plan on taking with you, the larger a backpack you are going to need.
So, one thing you should do first is try to approximate roughly how much space your gear and supplies will take up, and then get a backpack to match the required space. So, when buying a backpack for this, look up how much room it has in terms of square feet or square inches. It sucks if you end up with a backpack that is way too small to fit all of your supplies.
There are also other things you should look for when buying a backpack for camping or hiking, such as pockets and sections. Some backpacks will have one or a couple of very large pockets, with some small ones on the outside. These are great if you have a lot of large items and some small ones to take with you. There are backpacks that have a variety of large, moderate, and small compartments, as well as outer compartments too, which are best if you want to be well organized and have a lot of smaller stuff to take with you.
Something else to look for here has to do with hangers, hooks and looks on the outside of the backpack. Good camping backpacks have lots of attachment points on the exterior for tents, sleeping bags, cookware, and other such things. In other words, the best camping backpacks allow you to jam the interior full of unique camping stuff, and hang items on the outside, so whatever can't be fit into the bag can be hung on it. On a side note, compression and support straps will come in handy when it comes to lugging it around; it's all about comfort when it comes to carrying these things around.
4. Weight Distribution Packing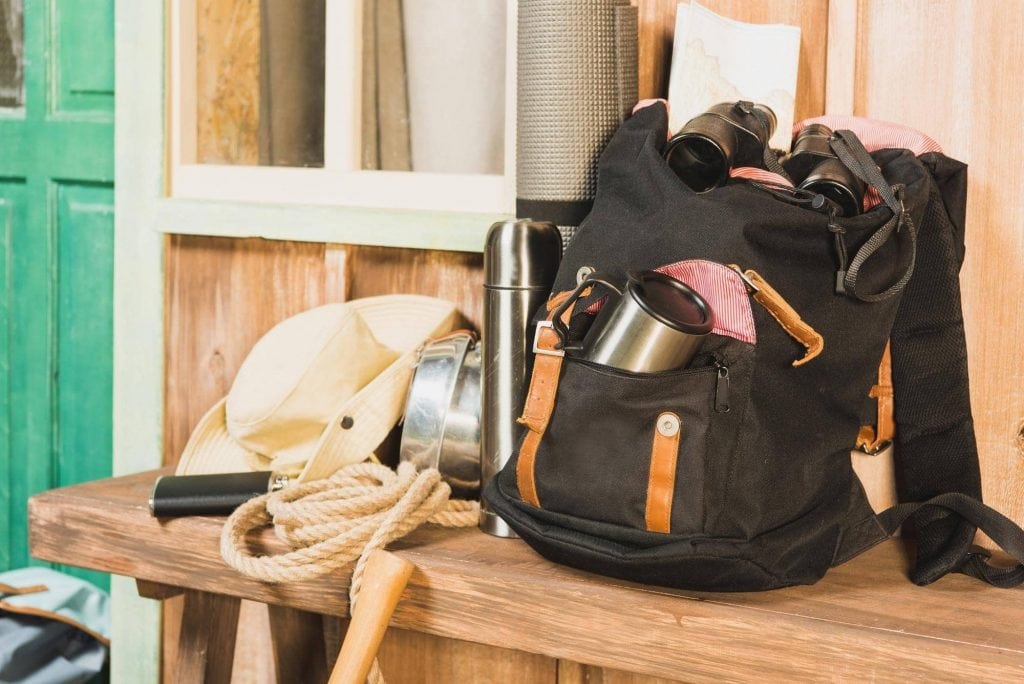 Ok, so now we are getting to how to actually pack the backpack. What needs to be said here is that there are different methods of packing a backpack, especially for something like long-distance camping or hiking. One prime way of packing is to make it all about weight distribution. How you pack your items in terms of weight and size will make quite the difference when it comes to your comfort and how easy it is to carry the pack long distances.
So, if you need to travel far distances, and yes, here we mean hiking over rough mountainous or forest terrain, you need to distribute the weight accordingly. Generally, this means packing light and medium weight items in the bottom to create a solid and soft base, yet one that is not so heavy that it will pull your center of gravity down towards the ground.
This is why the heaviest and densest items should be in the center of the backpack. Keeping the heavy stuff in the middle and as close to your back as possible will help keep you balanced and stable, and should also help to reduce pain and fatigue.
The lightest of your items can then be put on top and in the accessories pockets. If you plan on walking far, the most important thing to avoid is a top or bottom-heavy pack that will mess with your balance. The heavy stuff in the center near your back is the way to go.
On a side note, if you are hiking on easy terrain, instead of helping you with balance, if you want to increase comfort and help maintain proper posture, packing heavier items slightly higher up than you normally would can help too. Remember that this weight distribution method of packing is all about comfort and how easy it is to carry all of your gear over long distances, but when it comes to ease of access, this is not the best way to pack, so let's talk about that next.
5. Ease of Access Method of Packing
If weight distribution is not your main concern, then the above method of packing is not what you should go with. Another great way to pack a camping backpack is by the importance of the items. In other words, which items do you need to access at what times?
Things you will need to readily access at a moment's notice, without having to dig through your whole backpack, are things that should be packed on top. At the same time, things you won't need until later on in your journey should be packed near the bottom, under the stuff that you need easy access to. So, how would a backpack packed in this manner look like?
The Bottom
Things that you won't need until you are at the campsite, need at the end, and are not needed while you are journeying, should be stored at the bottom of the pack. You won't need them for a while, so not having easy access to them is not a big deal. Things you may want to store at the bottom of the backpack include the following.
Pillows
Sleeping clothes
Camp shoes
Anything else you won't need until the end of the day
The Middle
The stuff you pack in the middle of the backpack are things you may or may not need during the day, things that may come in handy given a certain circumstance, but may not be essential to get to at a moment's notice. This may include items such as the following.
Water reserves
Food stores
Cooking gear
Bear canisters
Tent materials
Games, swimwear, radios
The Top
Next comes the top of the backpack. Here, at the top, you should pack things which you will need throughout the day, things you may need while hiking around, and things you may need to access at a moment's notice for whatever reasons. This could also include things that need to be charged in the event you have a solar panel on your pack. Items you may pack near the top include the following.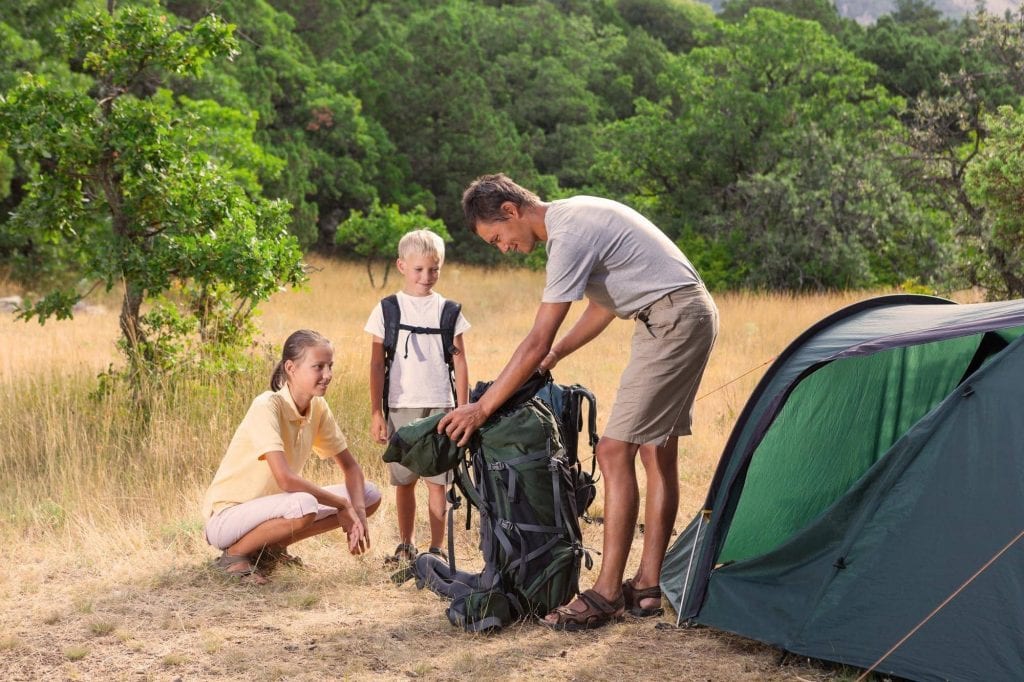 Rain gear
Two-way radios
First aid kit
Some snacks and food
Bug spray
Water filtering or purification items
Toiletries
Outer Pockets
Finally, besides the top of your backpack, you should also have plenty of exterior accessory pockets. These are great for anything you might need at a moment's notice, or just for small items that you need whenever the occasion calls for them. Items that should be put into these outer pockets include the following:
Keys
Phone
Snacks
Water bottles
Bug spray
Flashlights
Headlamps
Compass
GPS
Sunscreen
Hats
Maps
ID
Cash
Loops and Hangers
Your camping backpack probably has a bunch of loops and hangers too, which can also come in handy. Here are some of the things you may hang onto these loops.
Axes and camping knives
Tent poles
Ropes
Crampons
Packing A Backpack – Final Thoughts
There you have it, more or less everything you need to know about how to pack a backpack for hiking and/or camping. Remember that you will need to decide between packing in such a way that provides you with the most comfort and balance for long-distance trekking, and packing in such a way that allows for easy access to the most essential gear.
Also, keep in mind that the style and size of the backpack you get are going to make a difference as well. Do you have lots of smaller items, larger items, or whatever else? Make sure you get a large pack with enough room for everything you plan on bringing, and always ensure that you pack essentials before nonessentials.