How To Heat A Tent Properly And Safely When Camping
For most outdoor enthusiasts, inclement weather conditions will never stop adventures from conquering new boundaries. Regardless of the season, there are always helpful solutions to every possible setback you might encounter during camping. The good news is, we can cover all the details about camping and outdoor activities and everything you need to know. Plus some free tips and advice to keep you warm during the freezing winter season.
Below are all the safety methods you can try to keep the warmth locked inside your tent. With the right precautions and list of easy yet safe methods, most people use to provide adequate heat during the cold winter season. There are different ways on how to heat your tents safely and properly during camping.
You can use the following to heat your tents during winter camping the safest way:
Portable Generators 
Tent Heaters 
Candle Heater
You may have heard about the risk involved using propane a canopy heater. The harmful emissions of carbon monoxide known to have great health risks when exposed. However, expert studies have shown that it is not risky once you are properly using the products for heating your tents during winter camping. As you want to maintain a good temperature, it is essential to know what may be life-threatening and safe for you.
First and foremost, you have to camp smartly. That means you're aware of the risk involved when camping at a freezing moment. Things like bringing along the right camping gears are essential. A canopy heater powered by gas are substantial but innovative tent heater are some of the top-rated products to maintain the required safely temperature inside your tent.
If you are looking for portable saving grace during gusty weather conditions, a canopy heater is your tangible life-saver. They are effective in keeping the right temperature to prevent any risk involved with cold weather. Knowing there are 3 types of canopy heaters to select will help you check which one works best for you, then its compatibility to the tent that you have and its safety precautions.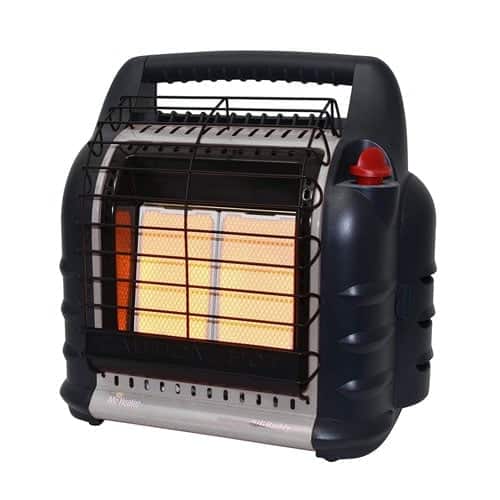 Propane 

Butane 

Electric
These three types of heaters will help you decide which one works best for you, For example, if you will be using butane powered heaters, they transform from liquid to gas using high temperature compared to propane types of canopy heaters. On the other hand, you can heat your tent using propane heaters. They are your most reliable source of warmth to heat your tent. If you are planning to use an electric heater, they may not take longer especially if you are staying longer in the open.
To get the most of your camping heater, you can check these helpful features;
Safety feature

Heater type

Noise 

Weight and size
A portable generator is another option to stay warm while outdoors. When it comes to providing convenience, a portable generator is your safe essential to stay connected and provide adequate power supply amidst the wilderness. This means you can also check for the perfect handy generator to supply power for your heater and other devices for camping.
There are different types of generators and checking what features needed will save you time, money, and effort/
This type of camping gear is trendy for outdoor adventurers and camping during the winter season. With the right product, you can stay warm inside your canopy even when it's freezing outdoors. When you take along with your heaters for your tent, especially those electric ones, a portable generator will keep the warm lock during the night for a cozier sleeping experience.
A candle heater or warmer is designed to provide the perfect heat needed inside your tent without compromising safety and health. It is one of the safest ways to stay warm while staying outdoors in a cold winter season.
They are healthier and practical, with the absence of flame, you'll have peace of mind from black marks caused by the candle flames when they are burnt. You may not notice but the smoke that traditional candles emit has harmful effects both for humans and your lovely pets.
There are a lot of benefits that you can get with a candle heater compared to an ordinary candle burning. One of these is reducing any possible cause of fire indoors. Since you will be using an electric candle heater, there is no need to check for the lifespan of your candle from time to time. This gives greater peace of mind and safety al at the same time.
Another benefit that you can get with a candle heater, aside from the warmth and safety they provide, is its efficiency. Most candles that are flame-it doesn't burn the whole candle. With a candle heater, it provides supreme efficiency. If you happen to purchase a scented one, you'll even have a good aroma while keeping warm outdoors. Double win for the adventurer you!
Is There A Safe Way To Heat A Tent?
There are proven ways on how to safely warm your tents without unhealthy gas emissions. Aside from using heaters for your tents, most campers have a fair share of how to smartly heat your tents. For example, using an insulated tent for winter camping is a great option to keep you warm.
Insulated tents trap warmth from the inside to maintain a great temperature to combat freezing weather conditions. Next are the things that you will use for sleeping, a heated blanket, sleeping bag, sleeping pad, warmer clothes, even heating rocks, and using body heat if the weather is in a tremendous stage.
Using sleeping bags with warm blankets will keep a bed cozy warm during winter. Some used water bottles with hot water inside their sleeping beds. Putting boiling water to your water bottle or thermos can leave a warmer feeling when it's about time to hit the bed while outdoors.
What Is The Best Way To Heat A Tent?
There are different yet safe ways to heat a tent when you are camping outdoors. Especially if it's in the winter season, like using portable heaters and generators to maintain a cozy temperature inside. Aside from using a four-season tent that is insulated for winter camping, using proper camping gear will save you from any possible health risks associated with cold weather like hypothermia.
If you have a spacious insulated tent it is also ideal to take along with you zero degrees sleeping bag. An additional liner to keep you toasty warm when it's time to hit the bed will also lock the right temperature while sleeping. Use sleeping pad instead or air mattress. The insulation of a sleeping pad provides warmth against chilling temperature and secures your body temperature properly.
For convenience, you can also place your sleeping pad above the mattress. With technology and innovations, you can use heaters that are safe for tents like the Coleman Catalytic Blackcat. Even though they are tried and tested safe for using indoors with winter camping, best not to keep them running all night. You can let them run hours before you hit the bed, that way, you can set the perfect temperature inside.
Thermal blankets are not just emergency camping gear but you can use these resources to reflect the heat from your catalytic heater going down to you instantly. This can be done if you will tape the blanket to your tent ceiling. The process enables the heat to bounce back to you directly.
Layering clothes is another way to heat your tent and keep you warm. Wear warm clothes as well as clean and dry socks. Even if small damp of fabric that will touch your skin will have a great heat loss during the night. The best way to keep you warm is to wear your socks once you are ready to sleep inside your sleeping pad. On the other hand, if you start sweating, best to remove a few layers of clothes or you will start sweating when you are sleeping.
Using hot coals are another way to heat your camping tent. This can be done by removing a few packs of rocks from the flame and let it cool for a while. Wrapping them around a towel and placing them in the middle of your camping tent or at the bottom of your sleeping pad will keep you warm all night.
This can be a tricky part but you must also keep good ventilation inside your tent to avoid condensation and dampness. This is caused by your body temperature and your breathing which can cause dampness from the inside.
What Heaters Are Safe For Tents?
Winter season should not stop you from your outdoor adventures, taking along with you the best and safest heaters for your tents are the next trend for a wonderful winter wonderland camping adventure. There is a myriad of selections, all offer stunning ways to keep the temperature wonderful while it's freezing outside. Plus they promise safety towards your tent interior too.
Brands like Mr. Heater have a variety of heater selections safe for your camping tents elect the best heater size which depends on the capacity of your tent. If you are going solo or with a companion, with some friends and families, there surely is one suitable for your needs.
Regardless of the brands, it is best to equip yourself with the best knowledge when it comes to heating your tent properly and safely. 
Checking the dimension/floor is of your tent. That way you can easily determine whether you will need a larger one or a small tent heating process. 

Determine how much thermal units your space will need. This is measured in BTU. 

Learn feedback about gas heaters for camping tents. From the pros and cons, this will help you weigh things easily. 

Check manufacturer's safety concerns regarding electric heaters. 

Using portable camping stove with proper precautions and adequate tent ventilation.
If you are planning to create a campfire to provide the perfect heat during winter camping, you can also make use of the hot rocks. Just don't burn yourself from a hot surface. You can use boiling water and place it in a bottle to add warmth while outdoors or have a hot cup of joe. Take advantage of these tips for security and protection against harsh weather conditions.
How Can I Keep My Tent Warm Without Electricity?
With limited resources, while you are in the wilderness and freezing weather, it is best to know practical ways to keep your tent warm and lock the heat inside your canopy. If camping heaters are absent in the scene, there are ways to keep you toasty while the weather is chilling!
Here are a few tips and a lot of golden nuggets to remember on how to heat a tent with limited resources;
Investing in the right tent will keep you cozy and comfy. We mean not just ordinary 4 season tents out there but something that had to stand the test of time, especially the chilly one.
Find the perfect sleeping bag/pad designed for extreme weather conditions. Though there are good quality sleeping bags, check for the ones that are known for their extensive support for the coldest of weather.
Select the perfect clothing to keep the cold at bay. You can invest with premium quality sleeping bags and tents but the first thing you have to take into consideration is your body. 
Packs of heated stones from your campfire will do the trick for electricity absence.
Find the perfect spot for your tent. The best place is where trees will block the sun rays, winds while keeping a good distance underneath the tree at the same time. 
Hot or boiling water underneath your sleeping pad/bed. It works magic for chilly temperatures while providing perfect warmth.
Insulate your canopy properly. From tent carpet to blankets.
Invest with handy gas-powered heater.
There are different ways on how to heat a tent properly and safely. With the right tools and knowledge, you can be a professional camper no matter where you go. Regardless of the weather condition and challenges that nature will slam on you.