Camping in a forest may not be the same experience as camping in national parks or other areas. But it's not such a difficult or daunting process.
You can camp in a forest by preparing the necessary camping gear, looking up open and accessible national forests, learning the dos and don'ts of specific forests, and booking your trip by reservation or lottery. These things are vital for you and the forest's protection.
Roughing it in the wild is different from organized camping. Let's discuss how to successfully camp in the forest.
Step-by-step Guide to Camp in a Forest
Camping in the forest means some of your equipment may not be usable, depending on the situation.
Being in the wild also doesn't mean being free to do whatever you want. Different offices govern national forests, so it helps to know the rules.
Also, it's best to consider the weather outside the peak seasons of the forests.
Some are open year-long but being particular with your schedule can make for a comfortable experience. So, how do you start forest camping?
1. Prepare your Camping Equipment
The gear you pack won't likely differ much compared to traditional camping. But you may have to pack extra when roughing it in the wild.
This is what you can prepare beforehand:
a. Tent
Consider the ideal size of your tent to ensure that you and your family (or friends) will fit comfortably.
You should also double-check that the mattress or sleeping pads fit.
Set up the tent at home to see if everything is in working order, such as the stakes, poles, and zippers. See that there are no holes in the tent as well.
When measuring how many people can fit, consider the shape of the tent.
Even if the dimension of the tent is for two people, getting a 3-person tent for that extra space can make all the difference.
b. Pillows and Sleeping Bags
You shouldn't underestimate the temperature in the wild. It can be especially cold at night in the forests, so make sure that your sleeping bags can keep you warm.
Pillows will also help you sleep comfortably on the hard and uncomfortable ground. Ideally, you can bring with you:
Insulated sleeping bag. This is perfect when dealing with extreme temperatures. It prevents heat loss in your body due to the cold ground beneath you.
Down sleeping blankets. These can serve as an alternative to sleeping bags. They are compact and easier to use as you can conveniently get out of your tent at night when you need to go to the bathroom. It can be used as a blanket, a lining in a hammock, or a neck cushion or pillow when packed.
Inflatable pillows. These pillows are compact and can be blown up. Typically the go-to for camping because of how easy they are to pack, yet still comfortable and durable to use.
Self-inflating pads. These pads are also heat insulated. However, what makes them more convenient is some have built-in pillows – an easy 2-for-1 pack.
c. Food & Cooking Essentials
You've got many options when it comes to choosing cooking equipment.
However, certain forest warnings will prevent you from using others. For example, charcoal grills and campfires won't be allowed during fire bans.
You can use propane gas stoves instead. This is because fire can be quickly turned on and off. Just keep the warnings in mind when using them. Sometimes, they can explode.
When it comes to pots and pans, one for cooking is enough.
However, there is stackable and portable cookware that includes: pots, pans, cups, bowls, plates, and utensils that can all be packed together in a mesh bag.
In addition, you can also pack:
Kettle
Can / bottle opener
Cooler
Matches or lighter
Large water container
Pack all the food you desire as long as it can last the entire time. Write a rations journal beforehand to meal plan to help you gauge how much food you might need.
Remember that it's always better to overpack food because you might eat more than you anticipate.
d. Camping Furniture
The point of camping is to enjoy the outdoors. Camping furniture can help with that. Some of these can include:
Fold out chairs
Camping tables
Windbreak
Hammock
e. Miscellaneous
These are some of the extra equipment and gear you might use during your camp:
Lantern
Duct tape
Sweeping broom
Bug spray
Batteries
Pocket knife
Toilet roll
Trash bags
Toilet trowel/shovel
Some forests may have toilets for campers, but if you plan to go in the off-season, doing your business in the bush requires a bit of digging.
Pack your used toilet tissue in a sealable plastic bag and leave no trace. You can also bring the following for your health and safety:
Sunscreen
Handwash
First-aid Kit
Your first-aid kit is essential to prepare for any obstacles the wilderness may throw your way. This includes bee stings, cuts, bruises, or allergic reactions.
Antiseptics are good for cuts and scrapes. Include insect repellents, pain relievers, tweezers, and a snake bite kit.
Don't forget any required medication in your first-aid kit. Its contents should be tailored to your specific needs.
f. Emergency Supplies
We can count the first-aid kit as one of the emergency supplies.
But, there are other supplies we can pack, such as:
Map of the forest
Compass for directions
Flashlight
Whistle
Extra warm clothing
Emergency blanket
Camping at designated campsites is most likely safe, but you can never be too safe.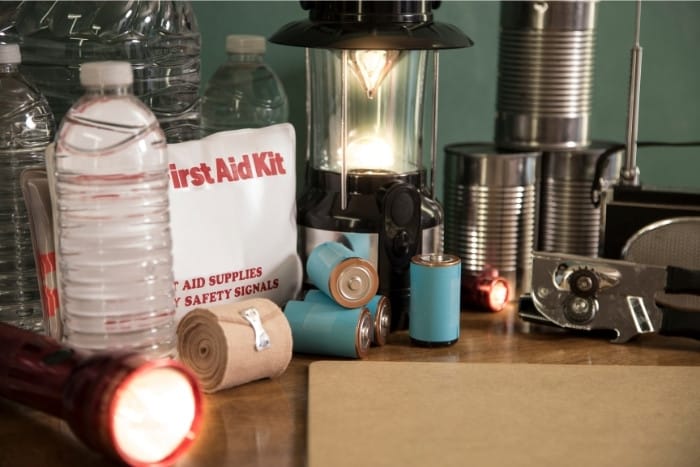 2. Look Up National Forests You Can Camp In
The US Forest Service has an interactive map to locate forests near you. This is helpful if you're still undecided on where to go.
Input your address, city, or zip code; it'll show you all the forests nearby.
The website will also show you ratings on how expensive it can be, featured activities on-site, directions, background information about the forest, and website links.
a. Make a reservation if necessary.
Some forests have a booking system. Recreation.gov can help you book a site.
You can view the campsite list, opening season and fees, rules and cancellations, and more information about the facilities on the sites.
The ratings and reviews section shows you what people think of the place.
b. Enter through a lottery system.
Others use a lottery process to limit the traffic due to the high volume of people camping. The lottery is a randomized distribution system used to book a site.
This can include permit, seasonal, or day-before lottery, among others. Recreation.gov can help you with these bookings.
3. Know the Dos and Don'ts in Forest Camping
If you've been a Boy or Girl Scout, you know camping requires survival skills.
Understanding the dos and don'ts can protect you and ensure you get the most enjoyable experience. In addition, there are rules to follow in National Forests.
Keep these things in mind when you decide to go forest camping:
a. Be aware of your surroundings.
It's best to arrive at the campsite during the day so you can survey your surroundings and easily set up camp.
You can also check for hazards such as glass or sharp objects, branches, poison ivy, large ant beds, bees, or hazardous terrain.
You can choose which site has enough space for your camp. Pick out a space with trees and shrubs to help buffer strong and unexpected wind gusts.
b. Ensure fires are always attended to.
Think of the forest as a huge tinderbox. When you've got a campfire going, it's wise to watch carefully.
Be aware of any forest announcements relating to fire. Some areas may be off-limits due to these warnings.
And as mentioned previously, you may be prohibited from using campfires or charcoal grills.
c. Watch out for bugs and wildlife.
Check out a forest's website to view a list of possible wildlife you might encounter. Oregon's Forests, for example, provides a wildlife list, so you know what to expect.
These species are to be protected. Some animals are extremely dangerous and can even kill.
This could include timber rattlesnakes, black bears, northern copperheads, or coyotes. It's best to be on guard when out in these forests.
It's also a good idea to check out iNaturalist.org to view recent wildlife observations on a map.
d. Understand which plants are poisonous.
Do some poisonous plant research, especially in the forest you're camping in.
Common poisonous plants include poison ivy, poison oak, wood nettle, poison sumac, stinging nettle, and poison hemlock.
USDA has an extensive description of these plants you can look into.
e. Keep forest boundaries in mind.
Forests have boundary lines because different offices manage different areas. Having a map of the forest of your choice helps.
Also, don't assume all forest land is national forest land. Ownership of land is fragmented, while some are privately owned.
If you enter privately owned land, you'll have to comply with the state's laws and the owner's rules.
Boundaries between national forest land and private property are marked with red paint and signs.
USDA has standard map products you can use for your trip. These include forest visitor maps, national forest atlases, and wilderness maps.
Forest visitor maps can identify attractions, opportunities, facilities, and services.
f. Don't litter.
As you camp, you'll clean as you go. Pack trash bags with you as cooking and eating can get messy.
The rule of thumb is that you've got to leave the place the way you found it – assuming it was clean in the first place.
g. Don't ignore forest warnings.
USDA Forest Service has a page for these warnings. You can select the forest of your choice to see the ongoing regional orders and their expiration.
You can view announcements on fire restrictions, system roads, and explosives.
They include announcements of felled trees, burned landscapes, and wildland fire information. Announcements of camping stay limits are also on these pages.
Other local forest websites may also have this information for you.
h. Don't disturb the natural environment.
Remember, we're guests visiting nature. Respect the home of wildlife as if it were your own.
Disturbing the natural environment is against the forests' rules and regulations. You can get fined or kicked out.
You should camp at previously made-up spots instead of making a new site.
Disturbing the environment can also include vandalizing trees or rocks and trampling on sensitive vegetation off the beaten path.
4. Find the Ideal Time to Camp in a Forest
Assuming you don't have a set schedule, consider the weather and influx of people when deciding when to go forest camping.
Use a camping app to plan, consider the summer or fall seasons, and check out the operating seasons.
a. Download camping apps to plan for your trip.
There are many apps for camping available. Campendium is an app "created by campers for campers."
You can find information like cell signal strength at a location, RV hookups for electricity, water, sewer, recreational facilities nearby, pet friendliness of the site, etc.
These will help you identify what you can expect for your trip.
You can also use general planning apps to schedule your trip and list your packing essentials.
Simply using Google Calendar will suffice as you can also input essential links.
Use Google Tasks for the packing list mentioned above. These apps make it easier as they sync with all your devices.
b. Summer vs Fall
The summer months (June/July) are usually when there's an influx of families at campsites.
Children are officially out of school, and the weather is great for any outdoor activity. This is also usually the time for a vacation.
Some may argue that fall is the ideal time for camping. You'll avoid the heat and mosquitoes and likely find it easier to book a site.
Water temperatures cool, and fishing tends to be better. Because it is a less crowded season, you and your family can relax.
c. Look up the operating season of the national forest of your choice.
Campgrounds and state parks typically open around April and close in September or October. Others are in operation all-year-long.
If you prefer a serviced experience, you'll need to book in-season. Otherwise, expect the toilets and facilities to be closed.
You can choose to visit USDA to view which forests are open for camping.
In Summary
You'll only need to remember four steps to camp in a forest. Firstly, list and prepare all the essential camping gear.
It's inconvenient if you forget something while out in the bush, especially if there are no nearby stores. Secondly, locate a forest you can camp in.
Some forests require a reservation or a lottery system for you to access.
Then, research and understand the dos and don'ts of camping specific to the forest of your choice.
Lastly, book the ideal time to camp based on the weather and operating season. Peak season isn't always the best option.