Camping is fun, and it makes for good memories. No matter how experienced or inexperienced you are, you can always learn new things about camping.
You need enough preparation for camping, because if you are not well-prepared, camping may be challenging. In this post, we will provide some useful family camping tips to ensure an awesome time for you and your family.
Prepare and pack your meals beforehand
If you have a plan to go camping, you must pack your meals. Once you are in the woods, you will enjoy most of your time enjoying the natural beauty. If you carry meals with you, you will not have to worry about preparing meals when you are at camp. You must also be careful about packaging the meals properly. If you manage to do it well, food will not go bad within a short time.
If you take snacks with you, put them at to top, because they are supposed to be eaten or cooked immediately. Proper packaging will help you keep your food fresh for a long time. To store your meals, you can use zip-top bags.
Take first-aid kits
When you are in the woods, you will have to deal with scrapes, bug bites, and cuts. Taking a first-aid kit is highly recommended because it can save your life in such situations. Keep first-hand kits in the backpack, camper, truck, and purse.
There is another way to keep creams and other sprays together. Keep them in ziplock bags and label those bags. It is a good idea to keep an emergency kit in your car.
Pack different types of cloths
You will not be able to take a lot of clothes when you are going to camp, but you should try to take different types of clothes. You may find the weather warm during the day, but the temperature may drop significantly at night.
While exploring the woods, your kids may get too wet or muddy. Considering all these things, bring some extra clothing. Bring different types of clothes and keep them in Ziplock bags. To keep dirty clothes, you can bring some dirty clothes.
Protect yourself from pests
When you are hiking or camping in the woods, you will have to deal with pests such as ticks and mosquitoes. You can prevent tick bites using a mixture of water and tea tree oil. You can make the mixture simply by mixing some tea tree oil and water.
Make sure that the proportion of water is higher than tea tree oil. This is an effective tick repellant. To drive away mosquitoes, add some sage to the fire. You can do something even if you get a bite. You can stop the itching by using a hot spoon.
Camping activities
When outdoors, many people want to disconnect from cell phones and that is a good thing. Like all other kids these days, maybe your kids are glued to their smartphones. Camping is a great opportunity to make a difference, and make them understand that life can be different. Planning some camping activities ahead of time can be a great idea.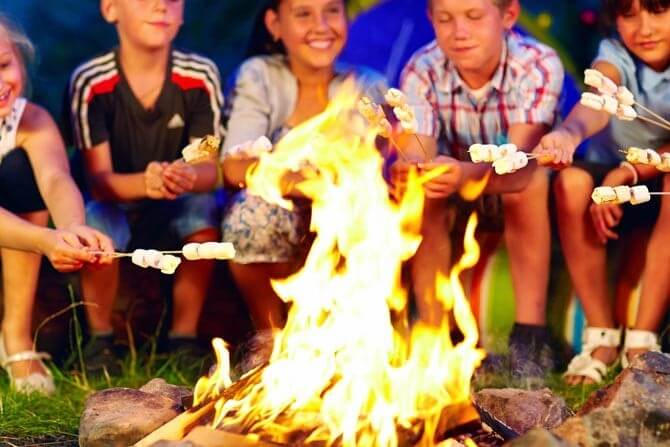 They will find peace in wild things and learn to live differently. Yes, this is one of the most practical family camping tips. When you are in the woods, let your kids have fun and be one with nature. Spend time with them, and show them that disconnecting from social media is not necessarily a bad thing.
Research the area
When choosing a venue for camping, some important things should be taken into consideration. Get to know the place you are going to. Make sure that you have a gas station nearby. In an emergency situation, you may need some medical care.
That is why you should choose a place from where you can easily reach a medical care center. Is there any grocery store nearby? Sometimes you may lose a cell signal. It is a good idea to write down the emergency numbers; you may be able to use numbers anyway. Plan ahead what you will do if your kid gets sick on vacation.
Visit ranger stations
On weekends and holidays, ranger-led programs are offered by many parks. These programs include scavenger hunts, family hikes, crafts, and animal encounters. If your kids visit ranger stations, they will be able to join many kid-friendly activities. Some parks even provide wildlife identification checklists. Help your kids become junior rangers.
Take some toys for your children
You do not need to bring a lot of toys, but it is a good idea to take a few toys for your kids. You will turn off the screen once you are in the woods, and your kids will need a way to channel their bottomless energy. Your kids may not immediately start enjoying the real world, and these toys will help you keep them busy with something.
You should only bring toys that are simple and easily portable. If the venue has an open area or a big field, you should take a tennis ball, a football or something your kids like. This is one of the most useful family camping tips. For exploring the outdoors, you can bring a magnifying glass, butterfly net, and a pair of binoculars.
Your kid has some favorite toys: dress-up stuff, dolls, toy guns, shovels, buckets, bubbles, water guns, trains, and trucks. Bring at least a few of them and read this post for more tips when camping with kids.
Bring some tarps
A tent is enough if there is no rain. But if you wake up in the morning to rain, the tent will not protect you. If it rains for a long time, you will really have a bad experience. That is why you need to bring a tarp. It is even better to bring multiple tarps.
To avoid unexpected hazards, set a tarp over your cooking area. You will not have to worry too much when it rains. You will be able to make a fire and cook your meals.
Use single-serve coffee packs
You may find it a bit tough to make coffee when you are outdoors. To make the process easier, you can use single-serve coffee packs. To make them, you can use basket coffee filters. Pulling all the sides together, you can tie them with floss or twine.
Then you can store the bags in an airtight container. If these bags are ready, you will just need some hot water. If you and your family members often drink coffee, it is one of the most useful family camping tips for you.
Take personal hygiene seriously
When it comes to maintaining personal hygiene on a camping trip, your steps should be easy and simple. Among other things, you can use some soap flakes. You can easily make them from a bar of soap. Store the flakes in a container.
When you go to take a shower, just use a flake. You can dispose of the remaining portion. If you do it, you will not have to deal with a slimy and soggy bar of soap. This is among the best family camping tips for people who do not like sharing a bar of soap with others.
You will find some organizer-type bags that you can use as shoe-organizers. Make sure that the bag you use has a hook of some sort. You can keep all your washcloth toiletries in the bag.
Set up a hand-washing station
On a camping site, your kids will often get gross, and you will have to deal with bug guts, germs and dirt. It will be really a problem if the nearest bathroom is far from your tent. When your kids need to clean, you will have to spend some time. Wipes and hand sanitizers are good, but they are not enough if your kids love to play with dirt.
That is why setting up a hand-washing station is a good idea. You can easily do it using your laundry detergent bottle. These reusable bottles are also easy to use. After setting it up, you will no longer have to hike to the bathroom.
Plan some fun activities
Plan some activities that do not require fancy things but give you and your family a lot of fun. Try and see if your kids enjoy a scavenger hunt. To do it, you do not need to prepare ahead of time; it can be done on the spot. Make a list of fun activities and try to implement at least some of them.
A list of family camping tips will remain incomplete if we do not show you some ways to have fun. There are many simple activities you can try. You can help your kids build a fort and make a map of the park. You do not need any preparation for any of these. If you find that your kids are not interested, do not force them. Perhaps they just wanna hit the beach. If so, get your tips here.
Set up sleeping arrangement for kids
If you are camping with a baby, you will have to take some extra measures when you are in the woods. To keep bugs out, bring a pack up crib and use an extra sheet. If you use a pack and play, you can easily move them around. You can put the baby in it for a while when you are preparing meals.
For older kids, use a double camping cot. These cots take very little space, and they are easy to carry. And if you are sleeping on the floor, do not forget to use a soft floor mat beneath the sleeping bags. Using a yoga mat is also a good idea. Although these mats are a bit thin, they provide much comfort.
Take some glow sticks
Glow sticks can be very helpful when you are in the woods. They make it easy to identify things in the dark. For example, glow sticks can help you figure out where the toilet is. This is one of the most useful family camping tips. Hang some glow sticks where you keep your important things.
They can be hung at the watering point, by the toilet etc. stick some glow sticks on the bags your kids use. The glow sticks will help your kids locate the bags. Pick different colors of glow sticks to make the whole thing interesting.
Give each kid their own backpack
You need to keep some essential things in the backpack. The essential things include water bottles, tissues, headlamp and sunscreen. If you take these things, you will be more self-sufficient when you go on a hike.
The day's supplies will not weigh you down. You can also include a whistle in the list. If you get lost, the whistle will let others know where you are.
Keep all these things ready before you go on a hike. Give the backpack to your kids and give them some good advice. Here is a great article if you need help choosing a backpack.
Learn and practice fire safety
Without a marshmallow roast, a camping trip remains incomplete. When you are on a camping trip, you and your family members should know at least the basics of fire safety.
So, before you go on the trip, spend some time with your kids and teach them how to handle fire. To add an extra layer of safety, you can bring a fire extinguisher, and teach your family members how to use it.