For many of us who camp, sitting around a fire exchanging stories and good conversation is a major part of the joy of camping. Sometimes, however, having a campfire is not an option, and you may wonder if camping without a fire is possible or worth it.
Many people camp without a fire because it's less hassle trying to start, personal and ecological choices, and due to location based restrictions. While camping without fire may have disadvantages, it's perfectly possible to have a great camping trip without fire as long as you plan properly.
Why do people not have a fire in the camp? What are the advantages and disadvantages of this? And how can you have an enjoyable camping experience without fire? Read on to find out.
Why Do People Camp Without a Fire?
Personal choice
For some campers, the thought of going without a campfire is untenable – without it, there's no point even getting your tent out.
The coziness of a campfire get-together with friends and family is a key part of the camping experience.
Yet, for others, the hassle and maintenance of a fire is much more trouble than it is worth since it requires constant fuel, and careful extinguishing.
Restrictions
Sometimes, you may have no choice in the matter due to local restrictions.
Although it may bring us plenty of comforts, camping with fire does not come without considerable risks, including the danger of a devastating wildfire.
In recent years, news channels have been filled with the tragic news of wildfires that have caused utter destruction across continents.
It is estimated that over 7 million acres of land are destroyed yearly by wildfires.
Since people's careless actions can often cause such ruin, many camping areas impose campfire restrictions to decrease the chances of a wildfire starting.
For example, the U.S. Forest Service has two different campfire restrictions.
Stage one does not allow you to build (or attend) your fire or stove fire, but you are permitted to have one within designated steel rings at certain campgrounds.
Stage two is more restrictive and does not allow fires, although propane stoves and heaters with an on/off switch are permitted.
Before you embark on your camping trip, it's always important to check local restrictions like bans or permit requirements and ensure that you follow all relevant safety advice wherever you are in the world.
What are the Benefits of Camping Without a Fire?
In addition to giving camping access to places with legal fire restrictions, there are other key benefits to camping without fire.
1. Less hassle
Building and maintaining a fire can be time and labor-consuming.
You need to find the appropriate fuel, which isn't necessarily readily on hand, keep the fire fed and also make sure it's completely put out before turning in for the night.
Many visitors to the great outdoors follow the 'leave no trace' mantra, which is much harder to do when building a nightly fire. Removing all traces of your fire can be challenging.
You'll need to wait until it is completely cool before you scatter the ashes and get rid of all evidence of your stay.
Some campfires also damage the vegetation making it even harder to disguise where you've been.
2. More freedom
While a fire can be a friendly focal point for your site, it also tends to restrict where you spend most of the time at your camp. Some campers reflect that forgoing a fire allows you more flexibility in your setup.
You can have a table as the main centerpiece of your site, or you can even pitch your tent and then head off to find a beautiful viewpoint to base yourself to prepare your dinner by the stove and enjoy the evening.
If you're a solo camper, the communal aspect of fire probably has less of a draw anyway, and you may find it far more convenient to choose a lightweight stove which will be more practical in most circumstances.
3. The night sky
To trump them all, perhaps the most mentioned draw of no-fire camping is the beauty of the starlit sky when you have no fire to dim it.
Campers have reflected on how stunning this aspect of camping is once they've given up the comforts of a fire at night. For many, this is the biggest advantage of having a no-fire camp.
What are the Drawbacks of Having No Fire?
Despite the advantages considered above, there are some drawbacks to camping without a fire, some more obvious than others.
Heat and light
The first and most evident is the lack of a heat source, particularly during the evenings when temperatures can get considerably cooler.
Although there are other alternatives for cooking, like a propane-powered stove, you may notice a distinct drop in comfort levels if there's no fire to provide a constant heat source before you turn it in for the night.
Similarly, light becomes a problem too.
Without a fire, camps can be very dark once the sun has gone down, especially on a cloudy day, and you will need to ensure that you have an alternative light source to still carry out all your necessary activities.
Lack of communal point
The lack of a communal focal point is also sorely missed by some campers. They find that instead of spending an evening talking together, people might retreat to the comfort of their tents as soon as dinner is over.
For all these reasons, if you camp without a fire, you're more likely to live with the sun's cycle, go to bed when it's dark, and rise when the sun is up again.
Some campers enjoy this to get the most out of the daylight hours. However, for some, this shortens the fun of the experience.
Why traipse out to the middle of nowhere just to go to sleep as soon as it gets dark?
However, considering the potentially overwhelming negative consequences of having a fire in an inappropriate area, more campers are turning to alternative methods and workarounds to ensure an excellent, fire-free camping trip.
How to Camp Without a Fire? – Before You Go
Given that you will survive without a powerful heat and light source when you go no-fire camping, it's important to ensure that you are adequately prepared in advance.
Let's look at the top things you need to consider before setting out: food, clothes, and gear.
1. Food and cooking
Without a fire, you may need to reconsider what food you bring with you, as many types may not be suitable if you cannot use any heat source. Preparing food at home before you leave is one option.
For example, a pasta or chicken dish that's good to eat hot or cold.
Or there's the option of foods that don't need heating, like peanut butter and jelly sandwiches or cereal.
Non-cook camping food is particularly useful if you are on a short overnight trip and don't necessarily need the sustenance for a prolonged camping experience.
Pitta bread and tortillas are versatile options that pack well, stay relatively fresh, and can be filled with a good array of fillings to mix up your diet while you are away.
Alternatively, you may consider another heat source, such as a propane stove. While this won't create the same snug atmosphere as a roaring campfire, it will provide sufficient power to cook your food.
As always, it's vital to check local restrictions and fire warnings before you head off to ensure you are fully aware of what you can and can't do or bring in each area.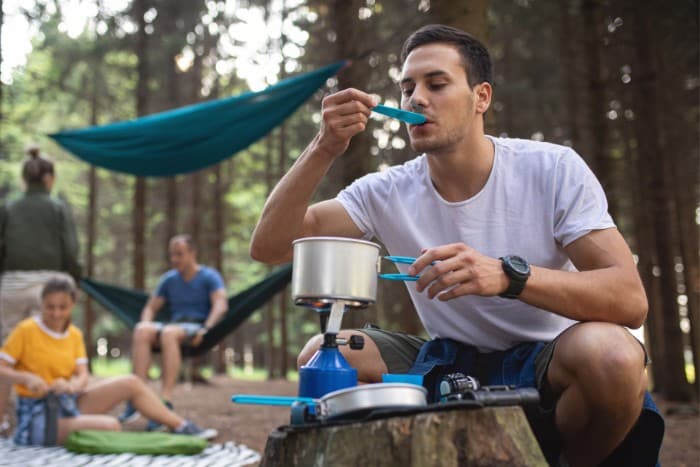 2. Clothing
Without a fire to warm yourself around at camp, it's also important to pack adequate clothing to have a comfortable experience.
Layers are key to staying warm and not sweating so much that your body temperature plummets when you cool down.
Be aware that you'll need a warmer layer when you're relaxing around camp and the exertions of hiking or setting up are over. You'll notice that it can get cool very quickly without a fire.
Depending on your camping season, you should consider a warm hat, socks, and gloves to keep your extremities from losing too much heat. 
3. Equipment
Just as important as clothing, choosing the rest of your gear carefully can also help offset the potential negatives of not having a fire.
Staying warm will be a priority, so packing a good sleeping bag is an obvious necessity.
Campers should be aware that the temperature rating does not always reflect how pleasant your experience will be at that temperature.
Choosing a good sleeping pad can get overlooked, but this gear is important for keeping you warm at camp.
Look carefully at the R-value rating and consider getting an air-filled option to give you great insulation from the chillness of the ground. A portable stool can also serve a similar purpose around camp.
As considered earlier, alternative heat sources are available depending on local restrictions. There are a vast array of camping stoves that you can choose from.
There are several convenient options, from lightweight alcohol stoves to propane fuelled options.
Some campers eschew campfires and instead opt for stoves when given a choice due to the ease of setting up and clearing away.
You could also consider bringing a hot water bottle inside your sleeping bag for extra backup. Last but certainly not least, a headlamp is an invaluable addition to your campers' pack.
Without a fire, your camp can get dangerously dark, and a headlamp is an excellent hands-free alternative, allowing you to move about camp even when the sun has gone down.
How to Camp Without a Fire? – At Your Campsite
1. Ease yourself in
Since pitching without a comforting fire can seem a more extreme form of camping, some experts recommend starting with car camping first.
This is where you drive to your site and set up camp at a location easily accessible from your car.
The logic behind this is that you can test out your gear in an environment that's more easily managed, and you can always go back to grab an extra blanket from your car in an emergency.
2. Setting up your camp
The lack of a gathering place is one of the most often mentioned drawbacks to camping without a fire, but there are ways to get around this.
If you have the capacity, it's possible to find flame-free alternatives, for example, battery-powered fairy lights or 'fake flame' lanterns.
While they won't provide the added comfort of a heat source, campers still successfully create a snug and magical 'campfire' experience.
If it's permitted, a portable propane fire pit is also a viable option. Although pricier than a campfire, it can provide you with an attractive and low-maintenance alternative to a campfire. 
3. Entertainment
Think about how you will fill your time if you're not chatting around the campfire.
While some prefer to go to bed early and rise with the sun to get the most out of the daylight, other options can be equally enjoyed with a headlamp and a lantern.
Having no fire doesn't have to mean any fun. Board games or card games are popular options, and the setup may be easier if you are not circled around a fire.
Or, if you don't have too far to travel on foot to your campground, you can bring a guitar or other transportable instrument.
4. Embrace the difference
On the other hand, you can avoid re-creating the conditions of a 'campfire site' and embrace the experience as something positive.
Instead of bringing alternative ambient lighting with you, enjoy the true darkness of a fire-free night.
Some campers love the exhilaration of a nighttime walk in the woods as long as they're careful and aware of their surroundings.
With only a headlamp to keep the environment from being dangerous, take your time to enjoy an experience different from the well-lit environment of city or town life.
If relaxing is more what you're after, nature can also provide the perfect entertainment. Without the light of a campfire, the stars will appear impossibly bright, so get ready to spend your evening stargazing.
Or you can welcome the rhythms of nature. Going to bed with the sun and rising at dawn is thought to be a healthy reset to our sleep cycles which are otherwise artificially maintained by electricity.
However, if you choose to approach it, camping without fire is both easily possible and potentially highly enjoyable.
Final Words
Whether through necessity or choice, there are plenty of reasons why camping without fire is just as exciting as camping with.
As long as you are adequately prepared, there's no reason why a no-fire camping trip can't make just as many memories.