A camping backpack is an essential piece of equipment, but how do you know which one is right for you? Many campers feel confused by all the information available on backpacks and have analysis paralysis. To know how to choose the perfect backpack for camping, you need to know which features are the most important.
When buying a camping backpack, you need to look at storage space, size, and support for your back and hips. Padding, ventilation, and lightweight materials make it more comfortable to carry. Look for many access points, internal organization, built-in hydration, and an internal or external frame.
For more details on choosing the right camping backpack, this guide has everything you need to be on the lookout for.
What to Look for in a Camping Backpack?
Your backpack is a multifunctional piece of equipment you won't want to be without, whether you're an amateur camper or a seasoned pro.
Backpacks help you carry and store equipment on the trail or hiking to your campsite. You need something that's going to be durable, spacious, and comfortable for long periods of wearing it.
If you've been wondering which camping backpack is the right fit, here are a few guidelines to consider before you hit the checkout.
1. Storage Space
Of course, perhaps the most obvious requirement for your camping backpack is how much stuff it can store. To this end, you need to figure out how much storage space you need.
Some backpacks will be smaller in scale, measuring just 20 liters or so. Others will be roomier at 50 to 60 liters. How much space do you really need?
Consider what gear you need to carry and how that might expand in future years. After all, a camping backpack should be a long-term investment instead of something you'll use for a single season.
A smaller pack is great for a short hike, while a larger one could be the right choice for longer trips to the campsite, where you'll need more clothes, cooking supplies, and other items.
Take a quick inventory of your gear before estimating how much space you'll need in your new pack. A day trip usually only needs 30 liters or fewer, while multi-day trips may require 50 liters or more.
A weekend trip often falls somewhere in the middle, from 30 to 50 liters. This is a good rule of thumb to help you decide what size is right for you if you aren't experienced with buying a pack.
2. Extra Storage
The inside of the backpack isn't the only thing you'll need to consider when storing your gear.
Some items are too awkward or bulky to fit on the interior of your backpacks, such as pairs of extra hiking boots, trekking poles, or even an avalanche shovel for winter camping.
You'll need additional storage if you know that you frequently take some of these items with you.
One way to avoid carrying these bulky items by hand is to choose a backpack with some external options for attaching gear to it, such as loops, straps, lash points, bungee straps, and daisy chains.
Even if you don't have any equipment that requires this right now, you might consider looking for a backpack with it.
It can be useful to pack smaller items that you want accessible during a hike in these outer parts, such as pouches for snacks and extra water bottles.
3. Getting the Size Right
The truth is that not all packs are created equal, and size matters. Some will be different shapes, and that makes them ideal for more than just storing your gear.
You need a backpack supported by your body shape and type – and everyone is different! Think about your torso shape and length and the width of your hips before committing to any backpack.
A backpack with the best fit won't put undue stress on your back and hips, even if you carry it for extended periods.
How do you ensure that you're getting a backpack that's the right size for you? The best thing to do is look for a size chart from the manufacturer.
If you can, head to a camping supply store and try on each backpack that you're considering.
A backpack that fits you properly will fit relatively tight to your body without pulling too much on your shoulders.
You don't want much movement when you walk or hike, so ensure it stays steady in the position you fasten.
4. Look for a Hip Belt
If you're carrying your backpack for a long trek to your campsites, you want to protect your back. You can do this by transferring the majority of the weight that you must carry to your hips instead of the back.
This requires just one simple tool: a hip belt.
A hip belt allows you to transfer the weight of the majority of your pack to your hips, spreading out the weight distribution and minimizing pressure on your back which can be sensitive.
Of course, a hip belt only helps if you pack your backpack the right way. Your heavy items must be in the pack's middle near your back. This allows you to transfer that weight where it needs to go.
5. Proper Padding
It might go without saying, but your backpack needs to be comfortable for you to wear long-term. Whether you plan to carry it long distances or not, you know it'll be loaded with your supplies.
Straps without padding can dig into the shoulders and cause pain points, chafing, and general discomfort.
Instead, you need to look for a backpack with comfortable padding in all the key points where it connects with your body.
This means you need padding in the shoulders first and foremost, but you also need padding in your back and hip area.
Of course, there's such a thing as overdoing it when it comes to padding in your backpack. It can exert too much pressure on sensitive body parts if it's too padded.
This is why you should always try your backpacks on before buying them whenever possible.
6. Ventilation
Another key item you want to look for in a camping backpack is ventilation. Many people use their camping backpacks to carry their gear for long hikes.
If your backpack doesn't come with some ventilation, how long will you be able to carry it before you become uncomfortable?
Hiking in the summer with a backpack with no ventilation is a miserable experience.
It means that your backpack is going to trap in the heat along your back and lead to a buildup of sweat that makes your hiking or camping experience significantly uncomfortable.
Ventilation can be as simple as mesh netting between the back of the pack and your body. It'll allow the air to flow between your skin and the backpack, evaporating sweat at the source.
This is the opposite of what can happen with a traditional backpack. You might also find proprietary ventilation systems on backpacks designed specifically for camping and hiking.
7. Materials
In addition to other considerations, many people neglect to consider what the backpack is made from. Different fabrics are ideal for different uses.
You'll want a fabric that's going to be lightweight, but you also want something that'll be mostly waterproof (or, at the very least, water-resistant) for hiking in inclement weather.
Many of the top choices from leading backpack manufacturers are made from nylon which can resist water for a little while.
You might notice that there are different types of nylon, though. The first and perhaps the most popular type is ripstop nylon.
This prevents tears in your backpack from spreading and worsening with more wear and tear. It lends a bit of structural integrity to your backpack.
Holes aren't something you can avoid with regular use, so be sure they won't ruin your backpack. Another consideration is the denier of the nylon.
The higher the denier (usually marked by a capital D), the more rugged your backpack will be. If you use it often and get tons of wear and tear, you'll want to look for the highest denier possible.
8. Color
At first glance, it might seem like the color of your backpack is relatively arbitrary. Who cares if your pack is bright pink, neon orange, or black?
While you may have some color preferences, the role of the color of your pack is quite important. Consider when and where you'll be using your pack the most.
If you are camping or hiking in an area where hunters are looking for deer or other game, then you may want to get a pack in a bright color to signal to hunters that you're there.
Otherwise, they may mistake your rustling in the woods for that of their game. On the other hand, if your goal is to explore and connect with nature, you may not want to stand out.
This can alarm some animals, so choosing a pack that camouflages well is necessary. Make sure you steer clear of hunting lands if you go this route.
9. Frames
In addition to all the other functions and features of the backpack, you also have to consider the frame. There are two types of frames: internal and external.
These days, internal frames are more popular because they are usually more lightweight and minimize the overall footprint of your backpack.
This makes them more comfortable to carry, improves your balance, and even increases your mobility.
An internal frame will make it easier to store your bag in a cramped car, tent, or campsite because it takes up less space.
An external frame isn't the most popular option, but it's still good if you want to carry heavy loads with lots of external storage.
Not to mention, these tend to be the most cost-effective backpacks. If you're on a budget and carry lots of gear, external frames could be the right fit.
10. Access Points
You want to get to those items at the bottom of your backpack, but you don't want to pull out all of your gear to get to a sweater or a snack.
Multiple access points are one convenient thing to look for on a solid backpack. This often manifests itself with lots of internal storage options.
At a minimum, you likely want a back that allows you to grab stuff from the top, front, back, and side.
You can also look for backpacks with lots of internal storage solutions, such as pockets for technology, separate sections for your sleeping gear, and outside pockets for water bottle storage, snacks, or first aid kits.
The more pockets it has, the more likely you won't have to pull everything out to get to the item you need.
One important thing to remember is that the most internal storage and convenience backpacks tend to be the most expensive. If you want to save money, you might look at a backpack with fewer access points.
However, you'll want to ensure that you're okay with potentially unloading the whole backpack to get to items at the bottom.
11. Hydration
Some camping backpacks are equipped to make staying hydrated on the hike as easy as possible.
Most campers know to look for water bottle pockets on the side of their pack, but a good pack often comes with bladders that store your water and a mouthpiece so that you can drink directly from the backpack.
That being said, this type of hydration system isn't without risk. It doesn't allow you to use a filter if you're securing your water from a nearby lake or stream.
There's also a greater chance that this system will fail than a tried-and-true water bottle. Consider having a backup option, even if your backpack has this type of hydration system.
You should also consider how much water your backpack can hold in this bladder. Most packs will range from 10 to 15 liters.
This is much more than you could fit in a standard water bottle, making it great for extended trips in the wilderness.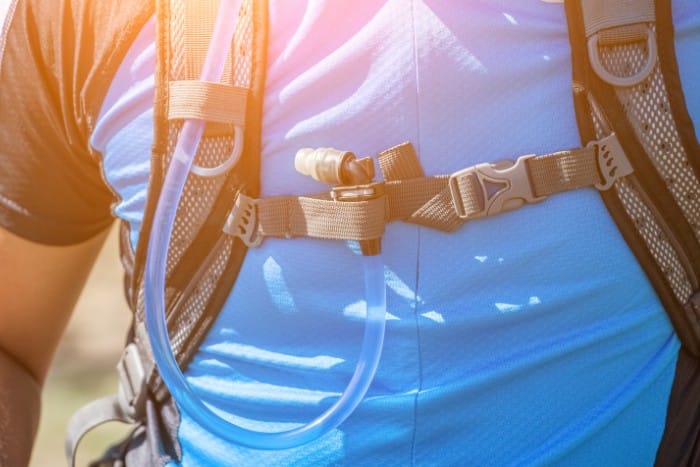 Final Thoughts
Buying the right camping backpack is essential to get all of your gear from the car to the campsite.
Even if you just use it for long hikes, you'll want something that fits comfortably and makes you feel cool and supported. Look for the right size, shape, and storage to use it as efficiently as possible.
With some of these tips in mind, you'll be able to select the perfect camping backpack for your next excursion.