Choosing a backpack that can accommodate your reliance on your technology can be a complex process. You need a backpack with a generous size, good organization, and impressive technical specifications. Not to mention, it also needs to be comfortable to carry and easy on the wallet. How do you choose which smart backpack is the right fit for you?
To make your decision easier, we created this objective roundup of the best smart backpacks on the market today.
If you're in a hurry and want to know the best smart backpack without reading, we recommend the SHRRADOO Extra Large 52L Travel Laptop Bag for its spacious interior, excellent tech specs, impressive organization, and affordable price point.
Best Smart Backpacks
Compare Top Smart Backpacks
Detailed Analysis Of The Best Smart Backpacks
1. Yorepek Travel Backpack
Overall Score: 84
Advantages
Opens 180 degrees for TSA inspections
Solid tech specs with built-in charger and hole for earphones
Great organization
Comfortable to wear
Disadvantages
May leave room for small laptops to shift around
Size
If you want a backpack that will hold all your gear, you've come to the right place. The Yorepek travel backpack comes in two sizes: 17-inch and 18.4-inch.
This flexibility allows you to determine which size is right for your computer and other tech items.
Despite the generous proportions of this bag and how it accommodates most laptops, it won't weigh you down at just a touch over two pounds.
You'll be able to fill it to the brim with all your gear, especially while traveling, without worrying about the backpack weighing you down.
Organization
Organization is paramount in a backpack this size, and you won't be disappointed with what the Yorepek offers. The bag has three major compartments, including one that fits your laptop.
The other two are great for your necessary items like clothes or books. Last but not least, there is a front pocket which is comprised of many smaller pockets to aid in organizing your goods.
Plus, you'll find that the outside of the bag is laden with pockets. There are more than ten, including two mesh side pockets where you can store your water bottles and other items you might need in a hurry.
Tech Specs
One of the best-selling features of this smart backpack is that it is TSA-approved. You can unfold it up to 180 degrees, making it quick and easy to get through a security checkpoint at the airport.
This option leads the way for those interested in a bag that can travel well with them.
However, ease of travel isn't the only thing this backpack offers. It has an external USB port and a built-in charging cable, though you will need a portable charger to make things work.
The area of the backpack that holds your laptop also has a hole so that you can use earphones more easily.
Comfort
Despite the oversized nature of this backpack, you'll be happy to learn that it was designed with your comfort in mind.
The back has thick padding and excellent ventilation to align comfortably while keeping you cool.
The shoulder straps are adjustable and padded, giving you more comfort when you have to be standing around in the airport for long periods or taking a long hike.
Price
The good news is that this backpack isn't going to blow your whole budget. Affordability is the name of the game when you invest in the Yorepek backpack.
It won't set you back too much and is a great long-term investment in your gear if you need that built-in charger for your tech while traveling or hiking.
2. Oscaurt Anti-Theft Travel Backpack
Overall Score: 80
Advantages
Hidden main compartment to thwart thieves
Comfortable to carry
Affordable
Disadvantages
Laptop sleeve only measures 15.6 inches
Size
Oscaurt makes a generously-sized backpack, though it won't hold laptops as big as the ones accommodated in the Yorepek.
Instead, it has a laptop sleeve that measures 15.6 inches, complete with elastic and velvet to protect your tech.
Because it has a more modest size, this smart backpack can fit just about anyone, from teens to adults. You also won't find that you're weighed down too heavily by this backpack.
It falls in line with most smart backpacks regarding weight, clocking in at 2.3 pounds. You'll have plenty of space to load it up with your gear without worrying about being slowed down by a heavy pack.
Organization
You'll love the way that this backpack from Oscaurt is organized. Multiple compartments house everything you could imagine, from your laptop and pens to your phone and water bottles.
It has a hidden back pocket that makes it ideal for your high-value items and makes it less likely that they will wander off with someone who has sticky fingers.
It also has two side pockets when you need easy access to items like your water bottle.
Tech Specs
One of the best features of the Oscaurt backpack is that it makes it less likely that your tech will be stolen.
The main compartment that houses your laptop or tablet is fully protected, with the zipper hidden in the bag. It'll take someone a bit to locate it, by which point you'll likely notice unwanted attention.
Additionally, it has an external USB with a built-in charging cable. You'll need to provide your own power bank, though.
The laptop sleeve is also well-protected to keep your tech safe while you travel from point A to point B.
It features a velvet sleeve to prevent scratches and wear and tear, along with an elastic band to hold it in place while you move around.
Comfort
Despite the massive amounts of storage that you'll find on this backpack, this design remains easy to carry.
The shoulder straps are wider than average to distribute the weight and pressure on your shoulders, but they're also curved and padded.
Along the back, you'll find EVA material that is more breathable to make it comfortable to carry for hours at a time.
Price
This bag is worth the initial investment for those who are worried about their tech walking off from them. It's an affordable solution that has some impressive specs and features.
If you want something that'll prove useful for years to come, this is a solid contender for your money.
3. Voltaic Systems Converter Solar Backpack Charger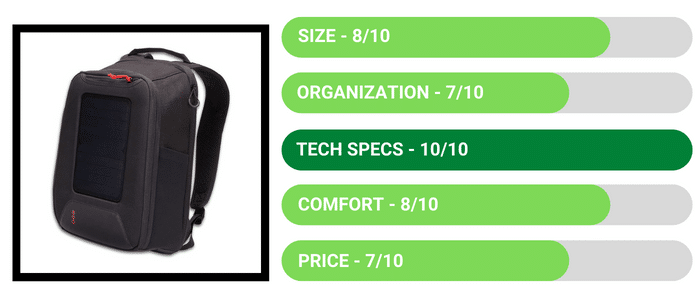 Overall Score: 80
Advantages
Solar panels and battery to charge your devices
Holds up to 20 liters of gear
Compatible charging with most devices
Disadvantages
Size
For those who want something nice and spacious for their gear, you can't go wrong with this option from Voltaic Systems.
It holds an impressive 20 liters of gear and accommodates reasonably sized tech (15-inch laptops or 10-inch tablets).
Despite its heavy features, including solar panels (which we'll review in the tech specs section), this smart backpack won't weigh you down at just 2.4 pounds.
Organization
The storage space in this backpack is quite impressive. Like most smart backpacks, it has a separate laptop or tablet sleeve to protect your tech located in the back of the bag.
The main compartment is much larger and has several organizational pockets to store small items. You won't find that little items get lost easily in this organization style.
Front and side pockets are available for conveniently charging your smaller items on the go.
Tech Specs
One of the most impressive features of this bag is its built-in solar panels.
The monocrystalline solar cells make it unnecessary to provide your own power bank and can fully charge devices in a matter of hours, provided that the backpack is placed in full sunlight.
This backpack, including smartphones and the batteries from a DSLR camera, supports most items that charge from a USB port.
An important thing to note about these solar panels is that they're attached to a battery system. Solar energy can be unpredictable, with spikes and uneven power transfer.
Storing the energy in a battery ensures that your tech receives a perfectly even charge.
Comfort
Most people who purchase this bag report that it's more comfortable than expected. The straps are nice and wide, making for an even weight distribution across your shoulders.
It may not be heavily padded, but that doesn't mean it's uncomfortable to carry. As long as you keep the load relatively light, you'll find that this is a great option.
Price
Because this backpack has features you won't find elsewhere, you can also expect to pay more. The solar panels make this bag an investment, but it's reasonable if you want to charge your devices while camping.
If you have the money to invest in a solid bag, this one should make it to the top of your list.
4. SHRRADOO Extra Large 52L Travel Laptop Backpack

Overall Score: 92
Advantages
Extremely spacious (52 liters)
Lots of interior storage
Holds up to a 17-inch laptop
Unfolds for TSA inspection
Disadvantages
Weighs a little bit more than some
Size
Campers or hikers who don't travel lightly will want to bump the SHRRADOO to the top of their must-have list.
While most of the other backpacks included on this list are great for small to mid-sized loads, this one easily wins for being the most spacious.
At an impressive 52 liters, you have room for everything you could need while traveling. It also holds a 17-inch laptop and still comes in at less than three pounds.
Organization
With a backpack this size, you'll want to ensure that it's easy to stay organized, and SHRRADOO doesn't disappoint.
It has three main compartments and some hidden pockets for items you don't want to be found by those searching your bag. It boasts an impressive twenty pockets for keeping small things in their place.
As with most backpacks, you'll still have mesh side pockets to stash your umbrella or water bottle.
Tech Specs
Much like the Yorepek, this model makes it easy for you to travel to your next destination.
It unfolds 90 and 180 degrees to allow TSA to check your gear, including the padded laptop sleeve that can accommodate just about any size computer up to 17 inches.
It also features an external USB port with a set-in charging cable to keep your devices juiced up and ready to go.
There's also a hole for your headphones to snake through, allowing you to listen to music or podcasts on the go while your devices charge. It has everything you could need in a smart backpack.
Comfort
For those who plan to max out the 52-liter capacity of this backpack, you want to ensure it'll stay comfortable on your back and shoulders.
The good news is that it has heavy padding on the shoulder straps to distribute the weight evenly here. They are made of breathable mesh and sponge pad.
Not to mention, it's also well-ventilated in the back area with a U-shaped 3D ventilation design to make carrying this backpack more comfortable, even in uncomfortable situations.
Price
Considering how much this backpack holds and its impressive features, you'll be pleasantly surprised by the price. It falls right in the middle of the pack and won't blow your budget on a simple, smart backpack.
For those who aren't sure how much they'll use the tech features on this type of bag, the SHRRADOO is a wise investment.
5. BAGSMART Travel Backpack
Overall Score: 80
Advantages
Extremely lightweight (1.7 pounds)
Lots of organization and hidden pockets for precious cargo
Comfortable to carry
Disadvantages
Smaller capacity (20 liters)
A bit more expensive than some
Size
The BAGSMART provides reasonable storage for your technology and other items.
While it won't hold nearly as much as the SHRRADOO, it's a great option for those who just need to cart their tech around if they're going to class or traveling for work.
This backpack can hold about 20 liters of items, weighing just under two pounds. It accommodates a laptop up to 15.6 inches or a tablet up to 12.9 inches.
Organization
You'll find that the BAGSMART is a great option if you need a little help staying organized. In the back of the bag, you'll have a compartment for your laptop and tablet.
It can also conveniently hold your keyboard, mouse, and charging cords so that all your tech items are together.
You'll find the main compartment, a front storage section, and an outer pocket for items you need quick access to.
It also has a hidden back pocket perfect for small items you don't want stolen and large side pockets for your water bottle.
Tech Specs
Perhaps the best feature of the BAGSMART is its easy charging capabilities. It features a built-in cord and power bank pocket to charge your items anytime and anywhere.
As long as you can use a USB charger, you'll be able to use this backpack to its fullest capacity. One thing to note is that it has anti-theft zippers to protect your cargo.
Any potential thieves will have to spend some time unlocking your zippers, giving you notice that someone is trying to break into your bag.
Comfort
Comfort and durability are of the utmost importance to BAGSMART. Perhaps this explains why they put so much effort into making this smart backpack a comfortable carry.
It has thick padding along the back panel to make it comfortable against your spine. The shoulder straps are padded and curved so that it'll be easier for you to carry.
Price
While slightly more expensive than some of the bags found here, it won't break the bank if you want a solid, smart backpack.
It's a sharp-looking backpack with lots of organization and tech specs to consider, especially given its price point.
6. Nomatic Backpack

Overall Score: 76
Advantages
Can shift between backpack and briefcase
Impressive organization
Incredibly lightweight (1.28 pounds)
Disadvantages
Size
The Nomatic backpack isn't the most spacious option on the market, but it still holds a solid load.
Ordinarily, the backpack holds about 20 liters, but it can also be expanded to hold 24 liters using the handy built-in expansion zipper at the bottom of the bag.
This is great for finding room for those last-minute items you forgot to pack. Remember that this smart backpack isn't likely to weigh you down soon. It weighs just a little over a pound (1.28 pounds).
You can find more information about this awesome backpack by Nomatic in my article on the Nomatic Backpack Review.
Organization
Nomatic has your needs in mind when they designed the organization of this bag.
There are more than twenty pockets to store your gear, including a fleece pocket to keep your tech from getting scratched or damaged by your other items.
Many pockets are made of mesh elastic, so you can see and access small items quickly. For breakable items, it also has a hard protective shell ideal for sunglasses.
Plus, there's a hidden pocket for those items you don't want anyone to find.
Tech Specs
This is one of the most advanced smart backpacks on the market. Every compartment has pass-through holes so you can easily charge your tech.
This is a great solution if you have lots of tech that doesn't necessarily get stored in the designated laptop sleeve. Not to mention the backpack is also waterproof for added protection.
Don't forget to read my article on the Best Waterproof Backpacks.
Comfort
A key thing to note about the Nomatic backpack is that the straps allow you to switch quickly and easily between the backpack and a briefcase.
The panel along the back is comfortable for your spine, and the straps are shaped to be more comfortable to carry while in the backpack position.
Price
One area where the Nomatic smart backpack doesn't come in at the top of the list is its price point. You'll find that this backpack is easily the most expensive included here.
This could be the right fit if you have the budget to make a hefty investment in a solid backpack.
Campers and travelers who aren't sure how often they'll use the features may want to choose a less pricey option, at least initially.
Final Thoughts
Finding the perfect smart backpack can be quite a chore, but it doesn't have to be. With this list of the best options on the market today, you'll be certain to find one that works for you.
If you want something extra spacious, affordable, and heavy on tech features, then the SHRRADOO Extra Large 52L Travel Laptop Backpack might be the fit for you!