Although many RV campgrounds offer access to a water hookup, not all do, and there may be times when you're dry camping and need to rely on your own supply. It's vital, therefore, to have a well-functioning pump so that you're never caught without a source of clean water, but which water pumps are the best option for your RV?
To help you make an informed decision, we will look into the best water pumps on the market and consider the following aspects: the strength of water pressure, the amount of noise generated, how easy it is to install, any special features, and, of course, how much it will set you back financially.
To give you a quick rundown, those looking for an affordable pump with great water pressure should consider the Bayite 12V DC pump. Alternatively, those seeking a quieter option should look into the Flow Max Water Pump.
Best Water Pumps For RVs
Compare Top RV Pumps
Detailed Analysis Of The Best RV Water Pumps
1. Bayite 12V DC Fresh Water Pump

Overall score: 86
Advantages
High water pressure
Very affordable
Disadvantages
Fairly noisy
Only runs for 6 hours
Water pressure
Although this pump is small, it delivers in terms of water pressure.
Providing up to 85 PSI, it ranks joint strongest of all the pumps we're considering and has a self-priming system that keeps your flow consistently smooth regardless of the strength required.
Noise
While the water pressure is excellent, if you choose the Bayite, you must factor in the noise levels.
Although the design has rubber mounting tabs to reduce vibrations, it makes a droning sound that may bother some RV owners.
Ease of installation
This compact pump is easy to install and should pose no problems for first-time RVers or those who are not usually inclined towards DIY.
Features
As a small pump, it's easy to slot this into any position that suits you for accessibility.
It also doesn't consume a lot of electricity, so it's an ideal option if you're looking to be economic with your power consumption.
If you want to purchase the Bayite, you should note that it won't pump for longer than 6 hours at a time. However, this should not be a major hassle in your day-to-day RV life.
Price
Available at around only $30, the Bayite pump is amazing value for money for an integral part of your RV.
2. Shurflo 4008-101-A65 3.0 GPM
Overall score: 84
Advantages
Good price
Easy to install
Fairly quiet
Disadvantages
Not the strongest water pressure available
Water pressure
Running at around 55 PSI (pounds per square inch) of pressure, the Shurflo 4008-101-AG65 will provide a decent amount of pressure to your RV's shower or taps.
It's also designed to stop any backflow, so you know that all the water is coming to the correct fixture and not an alternative you're not using.
Noise
Only making noise when you've turned on a fixture, this freshwater pump is produced to be quieter than earlier versions.
Although other pumps get more recommendations for their noise levels, RV users find it comforting that the Shurflo 4008 only makes noise when a fixture is turned on since, this way, it's easy to tell if the water's been left running.
Ease of installation
On the testimony of many RV owners, the Shurflo 4008 is extremely easy to install, even without plumbing knowledge, so you can get your replacement pump installed in no time.
Features
The Shurflo 4008 is designed as a one-piece diaphragm to be a reliable pumping system for any RV.
Rapid cycling, whereby the pump turns on and off at too frequent intervals (thus reducing its longevity), is prevented, meaning that it should work for a considerable period with no complications.
It also has thermal protection and can run dry without being damaged, so you can rest assured that you won't damage your water pump, even if you leave it on when your tank is empty.
Price
At around $75 for a durable pump, investing in a Shurflo 4008 won't make too much of an impact on your bank account.
3. Flow Max Water Pump for RVs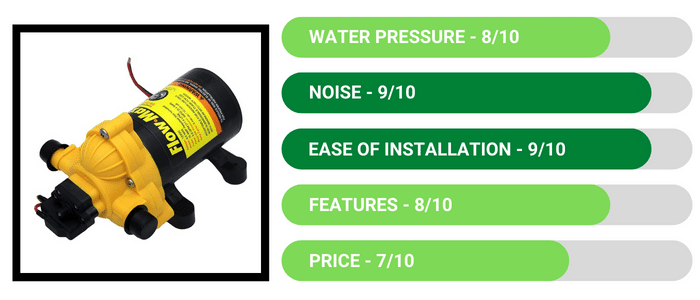 Overall score: 82
Advantages
Quiet operation
Smooth water flow
Disadvantages
More expensive than other options
Water pressure
With 50 PSI and a smooth flow, the Flow Max Water Pump will provide good pressure and a consistent stream of water to any RV fixture.
Designed to be self-priming, this stops any air pockets in your RVs plumbing system so that the flow of water is even with no pulsing or interruptions.
Noise
One of the major advantages of the Flow Max Water Pump is its quiet operation, with RV owners commenting that they can hardly hear it.
If you've got a noisy pump that's bothering you, the Flow Max is a great alternative option for reduced disturbance.
As part of the design features, the feet of the pump are flexible to minimize vibration and noise levels.
Ease of installation
It should only take around half an hour for you to get this component installed. There's also a lot of flexibility in terms of the location.
You can install it level with the water tank or above or below, so you can choose where's best for you in terms of easy access for maintenance.
Features
With a motor resistant to corrosion and able to run dry without damage, this pump should provide a durable and long-lasting addition to your motorhome.
It also comes with a closed casing and a finish to prevent moisture damage and any impact from the elements or rusting.
Finally, a thermal breaker will automatically stop and reset the motor if it gets too hot, so you can rest assured that there are no safety issues with your new RV water pump.
Price
At just over $100, the Flow Max is in the average range for water pump prices, but you'll certainly be able to choose a cheaper option if cost is your major concern.
4. DC HOUSE 42-Series Upgrade Water Diaphragm Pressure Pump
Overall score: 80
Advantages
Great water pressure
4-year warranty
Thermal shut off
Disadvantages
Water pressure
With a range from 40-80 PSI with its adjustable pressure switch, you'll enjoy great pressure from this upgraded pump.
The DC House pump will remain dormant until you turn on a water fixture within your RV and will automatically provide you with a good water flow when required.
Noise
As we've seen with other pumps, high pressure often equates to a noisier machine, and the DC House is no different.
It scores quite low for noise, so this should be borne in mind by those seeking a pump that causes minimal disturbance.
Ease of installation
Simple to install and set up, you don't need to worry about being technically minded to get this pump going.
Features
The thermal shut-off feature will stop the motor from running if it gets too hot, so you don't need to worry about overheating.
You'll also get a 4-year warranty when you purchase the pump, so you can rest assured that you'll get sent replacements should there be a failure in the system.
Price
For a good-quality component, you'll pay around $70 for the DC House pump, which is on the cheaper end of the scale.
5. Precitrade Shurflo 2088-554-144
Overall score: 78
Advantages
Easy to install and set up
Can be positioned for easy access
Good price
Disadvantages
Water pressure
With 45 PSI, the Precitrade Shurflo 2088 delivers a little less water pressure than the Shurflo 4008, but RV users who have chosen this pump tend to be more than satisfied with the great water flow and a reliable pumping system.
Noise
The biggest drawback to this water pump is that it is a little noisier than others.
Although you can solve this yourself with DIY insulation or cushioning, if a quiet pump is an important concern, you may want to look at other models recommended for their quiet operation.
Ease of installation
As with the Shurflo 4008, this pump is highly praised as being easy to install, so if you're a first-time RVer or just looking for a simple solution, the Precitrade Shurflo 2008 will be a great option for you.
Features
This lightweight pump can be positioned anywhere for installation and is designed to be easy to maintain.
The parts of the pump that are in contact with water have also been made with safe materials to ensure your water isn't contaminated and is safe to consume.
Price
You can get this in the $75-85 range, so while it's not the cheapest option, it's certainly pretty affordable for a well-designed component.
6. SEAFLO 12V 5.5 GPM 60 PSI Water Diaphragm Pressure Pump
Overall score: 78
Advantages
Good pressure
Quiet operation
Disadvantages
Pressure switch issues on previous models
Water pressure
With a delivery of 60 PSI, the SeaFlo doesn't deliver as much pressure as the Bayite OR DC House pumps.
However, it should still be far more than adequate for most RV users who aren't prioritizing high pressure over other features.
However, one drawback that should be noted is that despite the great motor and pressure, some users have experienced reliability issues with pressure switch failures, although these problems have since been rectified on more recently made products.
Noise
The Seaflo does score highly in terms of noise, and if you choose this model, you shouldn't experience high amounts of noise disturbance.
If a quiet pump is for you, then the SeaFlo may be a good alternative to a noisier Bayite.
The motor operates continuously, though, and not just when fixtures are turned on, so you should be aware that the noise emitted is likely to be constant.
Ease of installation
Scoring well for ease of installation, the Seaflo can easily get situated in your RV without any expertise or outside help, so difficult installation shouldn't be a concern for any.
Features
With a good build, the SeaFlo is a solid replacement if you're unhappy with your current RV pump setup.
Since it is strongly built and heavy-duty, you can be confident that it should withstand any of the stresses that RV life can put on your water pumping system.
Similarly, the SeaFlo also has a run-dry feature, so it's impossible to accidentally damage it if your tank runs empty.
Price
As it costs around $130, the SeaFlo loses some points for value for money since there is an abundance of cheaper options available.
7. Flojet R3526144D RV Water Pump – 3.0 GPM
Overall score: 78
Advantages
Smooth water flow
Quiet operation
Easy to install and maintain
Disadvantages
Fairly significant maintenance required
Water pressure
With 50 PSI of water pressure, this won't put much strain on your pipes, but it should be plenty for a decent flow.
Consistency is key here since the strong pump system can easily supply water to all fixtures while an eliminator reduces pulses and self-primer assists a smooth flow.
Noise
Positioned on mounts that absorb noise, users have found this pump to be a quiet option and good for those looking to replace a noisier model.
Ease of installation
As an automatic pump with 'snap-in' parts, it's easy to use, install and partially replace if the need arises.
Features
Although this pump doesn't have too many additional features, it is made of material resistant to corrosion and boasts smooth operation as it doesn't require using a highly-pressured accumulator.
It will require a decent amount of maintenance to ensure everything stays working and in order.
Price
At around $100, the Flojet comes within the standard price for RV pumps, although it faces competition from more affordable options.
8. Remco 55-AQUAJET ARV Aquajet RV Series Water Pump

Overall score: 74
Advantages
Great water pressure
No pressure drop for multiple fixtures
Disadvantages
Noisy operation
Most expensive option
Water pressure
With higher water pressure than your average RV pump, at up to 85 PSI, this pump will let you enjoy a high-powered shower in the comfort of your RV.
As there's a greater flow of water, the Aquajet works to counteract the drops in water pressure you get when more than one fixture is used simultaneously.
This is ideal if you're a family or several people enjoying RV living who often need to operate multiple fixtures simultaneously.
Noise
What you gain in water delivery, however, you lose in noisiness. While it advertises silent operation, the Aquajet does not score highly in terms of quiet operation.
The noise it produces is also not continuous, so it can be quite jarring as you go about your day-to-day life.
Ease of installation
However, it is easy to get into place, although not quite as simple as some of the other models we've looked at, which can take only half an hour.
Features
The Aquajet uses a 5-chamber design to move more water than usual for RV water pumps with 3 or 4 chambers.
It also uses sophisticated electronics to manage the speed of adjustment when turning fixtures on and off, making for a highly reactive water system.
Price
Unfortunately, these advanced electronics come with a hefty price tag. At over $200, the Remco Aquajet is the most expensive pump on our list and is a significant investment when cheaper options are available.
Final Words
With a great selection of affordable, high-quality water pumps available for your RV, you should have no problem dry-camping to your heart's content.
Whether you prioritize great water pressure or quiet operation, you can choose an option from our carefully curated list of easy-to-install RV water pumps.