Whether you just purchased your first RV or are a seasoned camping pro, you need to be well-equipped with the right gear: a sewer hose. This is crucial equipment to empty your hold tanks, but many campers are overwhelmed by the specs. You'll have to consider the price, size, compatibility, storage, and additional features.
To help make your buying process easier, we've compiled this objective look at the best RV sewer hoses on the market.
If you want to know the best RV sewer hose in a hurry, we recommend the Camco 39667 Revolution 20′ Sewer Hose Kit.
Best RV Sewer Hoses
Compare Top Sewer Hoses For RVs
Detailed Analysis Of The Best RV Sewer Hoses
1. Camco 20' (39742) RhinoFLEX 20-Foot RV Sewer Hose Kit
Overall Score: 84
Advantages
Durable material with steel wire
Two 10-foot hoses to customize size
Very affordable investment
Disadvantages
Comes in a complete kit (no option to buy replacement parts)
Material
When it comes to your sewer hose, you want something that's going to be durable because it's an important piece of your RV equipment.
It needs to last you for the long haul, so you don't have to invest in a new sewer hose whenever you want to take a camping trip.
To this end, you'll find that the Camco RhinoFLEX is more than sufficient to meet your needs.
This RV sewer hose is made from 23 mil polyolefin and is reinforced with steel wire, making it an extremely durable solution to your sewage needs.
Compatibility
Another issue that pops up when considering what type of RV sewer hose to purchase is whether it'll be compatible with your RV.
The good news is that the RhinoFLEX takes this to a new level and has multiple slip sizes to ensure that it always fits. It fits a 3-inch slip, 3 ½-inch slip, and 4-inch threaded dump station pipes.
Additional Features
Many campers looking for a new RV sewer hose require the complete kit. This makes the RhinoFLEX one of the best options because it comes with everything you need to be ready to roll at the campsite.
It comes with two 10-foot sewer hoses, pre-attached swivel bayonet and lug fittings, and a transparent elbow with a 4-in-1 adapter. It also comes with four storage caps.
Storage
When not in use, you'll be glad to know that the RhinoFLEX doesn't take up any valuable space in your RV storage.
Each of the 10-foot pieces can compress down to a mere 39 inches, and the 4-in-1 adaptor is removable. You'll be able to store the hose in just a 4-inch square bumper to make the most of your space.
Price
For campers looking for a great deal, the RhinoFLEX offers a robust solution. It's a very affordable option, given its features, storage abilities, and durability.
If you need a new sewer hose but don't want to break the bank to get something durable, this Camco option is one you'll want to consider.
2. Camco 39667 Revolution 20′ Sewer Hose Kit

Overall Score: 86
Advantages
Durable vinyl construction
Wye fitting for connecting two sewer hoses simultaneously
Compact storage
Affordable
Disadvantages
Two 10-foot hoses instead of one 20-foot hose
Material
Much like the Camco RhinoFLEX, the Revolution from Camco also prides itself on being made of very durable materials.
With its heavy-duty construction, an investment in this sewer hose will last a long time and may even be a bit more durable than the RhinoFLEX.
Unlike the RhinoFLEX, made from polyolefin, the Revolution is a durable vinyl.
Compatibility
This particular sewer hose comes with a wye fitting that allows two sewer hoses with lug fittings to connect simultaneously to the same dump station.
This makes it ideal for RVs with more than one hold tank that they need to empty simultaneously. It allows you to save time at the dump station.
This model also has a swivel clear bayonet elbow with a 4-in-1 adaptor.
Additional Features
The primary feature to note about the Revolution is that it comes with that wye fitting we talked about in the last section.
One great thing about the Revolution is that you can buy replacement parts without purchasing the whole kit again.
New elbows, lug fittings, and wye fittings are all sold separately and as part of the package.
It's also important to note that the pre-attached fittings can rotate up to 360 degrees, making them convenient and easy to use.
Storage
One area where this model trumps the RhinoFLEX from the same brand is in storage. Each 10-foot hose will only compress to 2 feet for storage.
However, you can still store it in a 4″ square bumper once the 4-in-1 adaptor has been removed.
Price
If you need an RV sewer hose that will attach to multiple hold tanks simultaneously, you'll find that this Revolution model is quite reasonably priced.
It may not be the cheapest option on the market, but it's a great solution that won't take up your budget. If this meets your needs, you'll be pleasantly surprised by the price!
3. Valterra Viper 20-Foot Sewer Hose
Overall Score: 82
Advantages
Extremely durable construction with extra protection
Bayonet hooks
Flexible even in cold weather
Disadvantages
Takes up more space in storage
A bit more expensive than some
Material
If durability is your primary consideration in a new RV sewer hose, you won't go wrong with constructing the Valterra Viper 20-foot sewer hose.
This is made of a thick 25 mil TPE material, but that's not all. To make it even more durable, it has a 135 mil protective beading to strengthen the hose's construction.
Compatibility
One feature that matters most, regardless of what RV sewer hose you purchase, is its compatibility.
Fortunately, the Valterra Viper has a 90-degree adaptor with a universal threaded connection for an extremely tight fit.
The pre-installed fittings are there to ensure that you don't have any leaks while this hose is in use. It fits six different sewer types while remaining gas-tight.
Additional Features
A feature that sets the Valterra Viper apart from other RV sewer hoses is the way that it attaches to the holding tank. It comes with bayonet hooks that latch onto the tank with universal fittings.
This is in place to make this sewer hose as leak-proof as possible. Plus, the fittings can easily be rotated to prevent the hose from kinking and help it to lay flat.
Another core feature of the Viper is that it will stay flexible, even in inclement weather conditions. This model remains flexible even down to -20 degrees Fahrenheit.
Not to mention, it will be UV-stabilized and crush or puncture-resistant for added durability.
Storage
You'll want to note that this RV sewer hose will take up more storage space than some of the other solutions on this roundup.
Each of the 10-foot hoses will compress to take up about 50 inches. While this may not make or break your storage space, it's worth considering if your space is at an absolute premium.
Price
While the Camco options are great for your budget, it's important to note that the Valterra Viper might be a step up, particularly regarding price.
It isn't the most expensive piece of gear you'll need for your RV, but it comes in a little higher than some. Be prepared to spend a little bit more for the durability of this sewer hose.
4. Valterra Dominator 20-Foot RV Sewer Hose Kit
Overall Score: 82
Advantages
Plastic material holds shape after positioning
Fits six different sewer types with gas-tight seal
Bayonet hooks for tighter seal
Great storage space
Disadvantages
May not last as long as some other sewer hoses
Material
The Valterra Dominator may not be the most durable solution out of all the RV sewer hoses found here, but that doesn't mean it isn't a solid option.
It has plenty of features that set it apart from the competition, and it'll be mostly durable with the right maintenance and care. This model is constructed from 23 mil plastic.
The benefit of this type of plastic is that it'll hold its shape no matter how you position it. This allows for better drainage and makes your job even easier.
Compatibility
Much like the Viper, this Dominator model from Valterra will also have a range of compatibility.
The sewer fitting is a convenient 90 degrees and will be compatible with six different sewer types with the all-important gas-tight seal.
It features universal threaded connections that make it as easy as possible to attach to the dump station.
Additional Features
Like the Viper, this Dominator model also features bayonet hooks for leak-proof transfers from your holding tank.
However, it also has other areas where it truly shines. One important aspect to note is the sewer adaptor, which is made of clear plastic so that you can see when you're done draining.
This makes it easier than ever to empty your tanks. It remains flexible, even in extremely cold conditions (down to -20 degrees Fahrenheit). This model is also UV-stabilized to make it last even longer.
Storage
One area where the Dominator does set itself apart is the storage. Each of the 10-foot hose pieces can be compressed down to a mere 39 inches.
Compared to the Viper's 50-inch storage space requirement, you'll love just how little space the Dominator takes up in your RV when it isn't in use.
Price
While it has some areas where it outshines the competition, it's important to look at one final category: price.
The Valterra Dominator is quite affordable, which is great given that it's made of slightly less durable material.
If you want to purchase something inexpensive that'll last for a little while so that you can figure out what you want, then the Dominator is the right fit for you.
5. Thetford Titan 17853 15-Foot Premium RV Sewer Hose Kit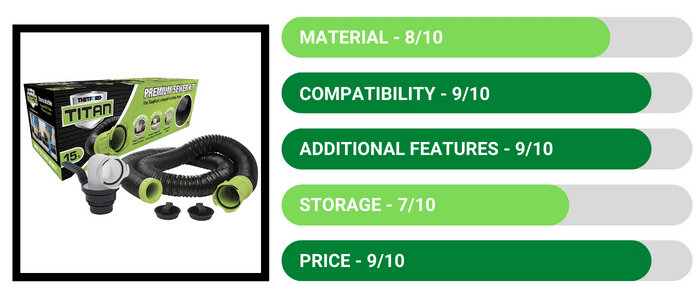 Overall Score: 84
Advantages
Puncture-resistant TPE construction
5-in-1 adaptor
Ergonomic fittings
One 15-foot hose included
Affordable
Disadvantages
Not as long as some other hoses on the market
Material
Much like the Valterra Viper, this Thetford Titan offers some durability when constructing the hose.
While it doesn't disclose exactly what the mil is on it, it is made from the same TPE plastic that promises to last for the long haul.
It is very resistant to punctures and wear and tear that naturally comes with the long-term use of your RV sewer hose.
Compatibility
While most of the sewer hoses on this ranking have a 4-in-1 adaptor, most people are pleasantly surprised to learn that the Thetford Titan comes with a unique 5-in-1 adaptor, making it even more likely that this hose will fit your hookup points.
Plus, the end caps revolve, making it easier to get a tight fit.
Additional Features
Even if you aren't the most experienced camper, you'll find that the Thetford Titan is extremely easy to use. It has an easy-align feature with a revolving adaptor, complete with a handle.
Not to mention, it has ergonomic fittings that make twisting it on even easier. Because of the TPE, this hose is also practically uncrushable, no matter what you do to it.
It's important to note that this is only a 15-foot sewer hose instead of the 20-foot options seen in all other items found here.
Storage
This hose will take up a bit more storage space than the others on this list. Whereas the others are typically two 10-foot hoses, this one is a bit longer with just one 15-foot hose.
As a result, you can expect that it'll take up a few extra inches once it's collapsed and needs to be tucked away in storage.
Price
If you need something in a pinch and price is the most important factor, then the Thetford Titan is the right move. It is easily one of the market's most affordable RV sewer hoses.
Don't break your budget by buying the fanciest gadgets that money can buy. This solid option promises to last you for a long time at an extremely affordable price point.
6. Lippert 359724 Waste Master 20' Extended RV Sewer Hose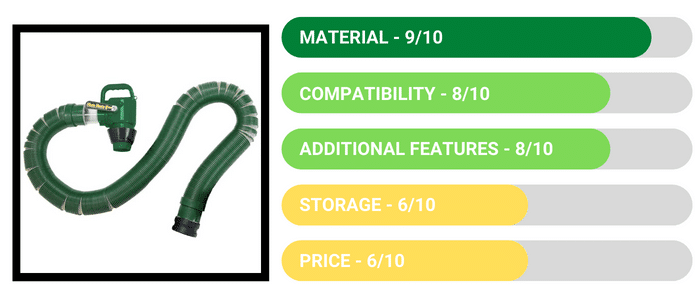 Overall Score: 74
Advantages
Smooth interior to the hose
Permanently connected nozzle with shut-off valve
True 20-foot hose
Disadvantages
Requires an investment
Not great for when you only need a smaller hose
Material
This sewer hose system is one of the most effective options on the market. Unlike some leading competitors, it doesn't feature wire-bound hoses.
Instead, it has a helical coil on the hose's exterior, but the inside remains nice and smooth.
This prevents you from getting any buildup of waste materials on the interior of the hose – something that should be considered when you're looking to make a new purchase that you want to last you for the long haul.
Compatibility
One of the best features of the Lippert Waste Master is that it's likely compatible with your needs. It features a cam lock that makes it virtually leak-proof.
The nozzle is a permanently-connected feature so that it's always ready to hook into whatever system you need. It has a 90-degree discharge port for fitting into most inlets.
Additional Features
The Waste Master doesn't disappoint when it comes to features. Unlike many other hoses, this one is a true 20-foot hose instead of two 10-foot hoses.
However, that isn't the only area where this sewer hose shines. It also comes with a pre-attached nozzle that you can shut on and off when it's in use. It has a clear port to tell when the drainage is done.
Another thing to note is that this is made of extremely durable, puncture-proof material. It is UV-protected so that it won't wear even in the brightest sun of a summer day.
Storage
Because this is a true 20-foot hose, expect it to take up more space in your storage. It can still compress down, but it takes up 5.5 feet when you do so.
If you have a bit of room in your RV to spare, this is one RV sewer hose that you'll want to consider despite how much room it may take up.
Price
Unfortunately, its price point is one area where the Lippert model doesn't fare well on this ranking. It is easily the most expensive sewer hose found here, but don't let that deter you.
If you know that you'll be using it frequently and want something that's going to be extremely durable, then the Waste Master from Lippert is worth the initial investment.
Final Thoughts
An RV sewer hose is an absolute must-have if you intend to head out into the great outdoors.
You'll need to empty your hold tanks at some point, so be prepared with this equipment that doesn't often come with your RV.
With some of these criteria in mind, you'll be able to find a sewer hose that meets your needs.
While we recommend the Camco 39667 Revolution 20′ Sewer Hose Kit, you should weigh your needs to determine which one is right.