RV Sewer Hose Expert Buying Guide: What You Exactly Need!
Checking for the most durable, multifunctional, and reliable, simple to mount, clean, and store waste outlet is essential. For you to find one, you need to know what your standard is needed and what peculiarities you should check. This insight will provide you with information that you need to weigh things out and decide easier. 
Features To Check/Factors To Consider
Length Of The Hose
The length of your best RV sewer hoses depend on your preferences. Most veteran outdoor campers and RVers tend to bring along with them two lengths of hose for convenience. This enables them to match their needs when it comes to connecting the RV to the sewage system.
Most RV sewer hoses come in a variety of sizes and lengths. There are those that come between 15-25 feet or more. And they are compatible with adding external hose extensions if needed.
Usage Frequency
There are two types when it comes to the best RV sewer hoses to select. These will vary depending on the frequency of usage and how often you will hit the road. If you go on a seasonal camping trip, best to find one regular type of waste hose.
While regular campers and RVers can go for a more expensive yet multifunctional, reliable, and heavy-duty waste outlet. It can be expensive but surely will be used longer compared to regular types of RV hose.
Durability And Materials 
Finding the right RV sewer hoses means you have to check with the materials used during manufacturing. This can determine the durability and efficiency of your RV sewer hoses.
From abrasion and puncture resistance to the thickness of the bayonet and its fittings, and flexibility to withstand the changing weather from outdoors. Your sewer hoses will be placed outdoors and will be connected to the sewage system.
Simple To Mount And Detached 
Convenience is a must-have factor for your sewer hose. Don't just check for affordability. You might get one hose that is super cheap but makes your life more complicated than helping things out.
Check for the best RV sewer that comes in a complete and universal package where you won't need to buy additional things to ease your work. Our top selections come with these complete and universal fittings that come in variables to sewage pipe fittings.
Next is to check the convenience to detach the sewer hose without making a mess. This can help you work easier as you won't need to worry about spills or drips. There are even translucent elbow sewer hoses that can help you check if you already drained the RVs sewage system straight to the exterior waste system.
Sanitation And Extra Accessories
This can be tricky but an important factor to consider. Your sewer hose must be able to provide secure waste disposal without spills or drips. Sanitation is important and can be achieved with the right tools used for your RV camping.
Extra accessories may be needed if you don't have a complete kit. While taking additional extension hose or storage caps and locks for your bayonet, adapter, and other connections. Check for one that has multifunctional features for convenience.
Storage And Maintenance
Your sewer hose should provide you ease of storage. Either it goes for removable fittings or you can store it with less space needed to fit into a box with security and sanitation. 
Price
Checking your budget is essential for you to determine how and what type of sewer hose you will purchase. There are a variety of sizes and variations to consider that will meet your budget.
Benefits Of A Good Waste Outlet When Camping
The most reason why people go on trips, camping, and any outdoor adventure is to relax and have a good time. Away from the stressful days of work and career, you want to have peace of mind and a renewed soul to meet the daily demands of life, as we know it. 
Imagine you go out on nice scenery close to nature and the last thing you would ever want to deal with is poor sanitation and sewage disposal. A multifunctional, reliable, and durable sewer hose means you'll have peace of mind and just enjoy the good days while out in a completely fresh environment. 
The sewer hose enables you to remove all the accumulated waste that is in your RV holdings. Disposing it properly into the outside sewage system is essential and you will need the right tools to make the work a breath of super fresh air.
Camper Sewer Hose Types
The primary usage of your sewer hose is to help you drain all water properly, hygienically and easily by connecting the waste outlet from your RV directly to exterior sewage without the hassle of doing the job manually. It is excellent to find highly efficient materials that provide convenience both when mounting and removal.
This vital RV gear is useful and helps keep a high sanitation level to your RV. It prevents unwanted smell due to waste that is not properly disposed of, either from the kitchen or the toilet. The sewer hose prevents contamination and provides cleaner surroundings and better RV experience until it's time to go back home.
Whenever you will need to drain waste, all you have to do is attach the sewer hose to the campsite's sewage system. Your sewer hose should have multiple functionalities that meet a variety of pipe sizes compatibility for ease and protection.
In summary, there are multiple ways on how you can use your sewer hose. 
Attaching the sewer hose from your RV holding and connecting into the sewage system provides hygiene and sanitation. 
It helps you to easily remove and drain waste into the sewage with proper sanitation and protection. 
It's an investment that will keep your RV from smelling and keeping waste for a longer time. 
The sewer hose provides ease of operation, cleaning, and maintenance to your campervan, motorhome or RV. 
It helps you save money through proper disposal of waste that you can directly do without the need of any professional help. Unless necessary. 
Proper maintenance and care are needed to make sure that your sewer hose stays cleans, sanitizes, and lasts longer.
Types Of Sewer Hose
Checking for the types of sewer hose will greatly be categorized into three types. This enables you to determine what type of sewer you will need based on your preference or needs.
Width And Length 
Determining the types of sewer hose means you need to know what length or width would you prefer. While the standard length for most waste outlets is about 15 feet, you can always extend this to another 10 to 15 feet if you demand.
This is important when checking for hose types as you will know by yourself the distance needed from your Rv to the exterior sewage.
The width of your hose will vary from the sewage systems' pipe size. It is best to find a kit that has variables to meet a variety of options with ease. That way, you can carry with you the right hose length and width in one piece.
Material Types 
Vinyl is one of the most durable materials to use with a sewer hose. This type of material is known for its multifunctional features that enable the sewer hose to stay longer and can withstand any temperature and weather conditions outdoors. The vinyl is also abrasion and puncture-resistance and bounces back to its original size even when run over or stepped on in the camping ground. You can check for the most durable and reliable vinyl materials.
Collapsible Types 
Collapsible types of sewer hose provide convenience and comfort not just when using it but through storage. With a collapsible hose, you can adjust its length based on the position of the exterior sewage and your RV waste holdings.
Once you are done with them camping, you can easily store your hose and keep it in a safe place until your next outdoor adventure. The best part about collapsible hose is you can either make it longer or shorter it by demand.
Disposing of your waste is such a tedious task. However, things will be a lot easier if you have the right sewer hose and the extra materials to do the job. Once you find the perfect hose, it's time to dispose of your RV waste properly. 
Latex glove – They are hygienic and essential for you not to have first-hand contact with the waste. 
Waste outlet supports – The waste outlet support makes everything convenient and easy. It enables a complete draining process from your RV to the sewage. 
Macerator – The motorized grinder turns solid waste into slurry waste making it easier for disposal. Though macerators are best used if there are no available sewage systems. 
Transparent sewer adapter – We get it that not everyone will want to see everything that is coming out of the waste box. However, there are great advantages when it comes to using a translucent elbow sewer adapter. It enables you to see if you have completely drained the RV before disconnection. 
Flushing hose – This enables you to flush off your sewer with the use of a hose. This type of hose is similar to the once that you are using from your gardens. It is best to use an extra flushing hose that is used for RV sewer only. 
How To Mount Waste Outlet Without Leaks And Spills
For most RVers, if you can skip something throughout your trip, that would be the disposing and draining of the sewer into the exterior sewage area. Though no one will be of such fun doing this, you can make it easier, quicker, and safer for you. 
Here's how you can do this easier like a pro. 
Step 1. Wear your disposable gloves. 
Step 2. Check that your RV valve sewers are closed. Don't take the cover off unless you have closed the sewer valves, otherwise, you'll get a splash of something you would never want to have, ever.
Step 3. Mount the waste outlet to the campervan or RV sewer fittings. Then connect the other end to the exterior sewage inlet. Secure both ends of the hose and fastened it properly. 
Step 4. Open the sewer or blank tank slowly. There will be good pressure once this tank is opened. Remember to always go for the black tank before draining the grey box. Check if there are any leaks while doing this process. 
Step 5. Open the tank that is grey like how you did with the black tank. Make sure to do it as slow as possible. Check if there are leaks. Close its valve once it's completely drained.
Step 6. When you have finished draining all your tanks, secure the valves. 
Step 7. Unmount the waste outlet to the RV and put back its covering cap. 
Step 8. Collect the sewer hose and go near the sewage inlet. Don't unmount it to the sewage system yet.
Step 9. Use a cleaning hose to spray water into the sewer hose to cleanse it. Spray water into the exterior surrounding as well. 
Step 10. Disconnect your waste outlet from the sewage ground system and put back the cap. 
Step 11. Store the hose into its right place. Make sure that you have cleaned and rinse the hose properly from any waste residue before storing it.
The water from your grey tank comes from your RVs kitchen and shower. The black containers are human waste which is from your RVs toilet. When you drain the black tank first, you remove the waste first from the toilet. Then the grey that contains all the water residue from the sink and shower will rinse your sewer hose.
That is why it is essential to drain the black water before the grey container box. Dispose your glove and wash your hands or sanitize your hands. Disinfecting the hose and the valve, sewage ground and even the sewer hose before storing protects you from contaminations and keeps your hose for longer use.
Variations of RV Sewer Hose Fittings

When getting an RV sewer hose, your focus must be on the quality of the hose and the type of fitting it comes with. There is a long list of RV sewer hose fittings, and each one is unique. Each RV hose fitting comes with a different locking mechanism, and some are more complex than others.
Slip fittings are a bit old school, but they are arguably the most straightforward locking mechanism for a sewer hose. All you have to do is connect the fitting to the hose and secure it with a hose clamp. Threaded fittings are usually for connecting two hoses to make them longer.
Bayonet fittings are probably the most common locking mechanism you'll find on sewer hoses these days, and they fit well with a watertight seal. They usually come pre-installed on hoses. There are also swivel fittings that have a bayonet fitting at the end of an elbow angle. Some hoses that come with a bayonet fitting have a lug fitting on the other end. Lug fittings are known to be snug and reliable.
Camlock fittings are not as popular as bayonet fittings, and they're more expensive. However, Camlock fittings are more reliable and can handle pressure better.
Next to slip fittings and threaded fittings, blueline fittings are also very simple. However, they may not be able to handle high pressure.
Wye fittings allow you to connect two different pipes to the same outlet or dump station. Depending on how your truck camper is designed, you may need a 45-degree fitting or 90-degree fitting to make a connection.
If you have ever tried installing an RV hose fitting, then you know it can be a tricky task. If you're having difficulties setting up a sewer hose, it is advisable to get a hose that comes pre-installed with a fitting or consult an expert for assistance.
Compatibility Guide: RV Sewer Parts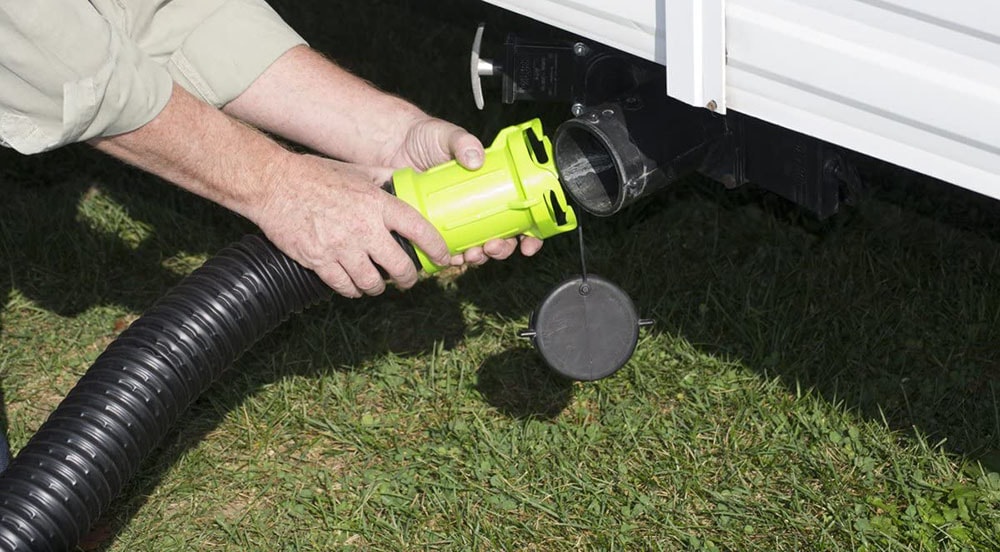 If you're a newbie to setting up an RV sewer hose, it can be challenging to figure out how things work, what goes where, and how to ensure they're compatible. But, the good news is that it is easy to get the hang of this.
The first thing you need to know about is your RV sewer parts. There are different parts of an RV sewer, but we won't bore you with all the technical details – just what you need to know.
Sometimes, in rare instances, the fitting on your sewer hose may not be compatible with the outlet of your RV sewer outlet. In this case, you will need an adapter. This is why it is essential to check the fitting on your sewer tank before buying a hose.
You will also need an adapter to connect your drainage pipe to the dump station. Although it may be tempting to fit the drain hose in the dump station and leave it, the water pressure can cause the pipe to dislodge and spill the wastewater everywhere. This is why you will need to get an adapter to connect your sewer hose to the dump station.
Here's a tip: when you look at your RV's sewer drainage area, there's usually a place labeled black water and another labeled gray water.
Black water/tank is the waste from your toilet, while gray water/tank is the wastewater from your bathroom and kitchen. When emptying your RV waste tank into the dump station, always make the black water flow first before the gray water so the latter rinses the pipe.
Where should my RV Sewer Hose be
There are intelligent ways to store the 'stinky slinky with ease and style. Being creative has great points. However, if you're not that type of person, you can just have a storage carrying box that is specially designed for sewer hose.
Our top recommendations have their carry and storage boxes with them. Check it out!
What is the Ideal Place for your RV Drain Hose
Camping in an RV can be enjoyable, but one of the least fun things about an RV is setting up your sewer connection and creating a storage store for your RV drain hose.
Some campers store their hose in the bumper of their trailer. Although some precautions are necessary (like using lid caps on the hose and ensuring it is dry to avoid rusting), this is an excellent idea. However, some RV hoses are too large to fit in the bumper, so what do you do?
Another common storage solution for RV hoses and other components is to put them in a trash bag, plastic box, or bucket. Many experienced campers do this. You can choose to put it in a trash bag first before throwing it in the box or bucket. One of the pros of this approach is that it will be easy to clean up if there are any spills. Also, using a box or bucket with a lid means you can lock it up and avoid any potential of spreading an unpleasant odor in your trailer.
You can also choose to make a DIY hose storage tube. All you need is a plastic tube that will fit the hose, along with lids for both ends of the tube. It is also a good idea to drill holes in the tube for ventilation.
Never put your RV hose in your trailer without any proper storage. There is a risk it will leak fluid which can be difficult to clean up and also smell unpleasant.
What Length RV Sewer Hose should I get
The standard length for most sewer hose is around 15 feet. Longer than that depends on your preference but regular outdoor campers and RVers carry along with them at least another extension hose as a backup gear.
You can go for a 15-20 feet waste outlet and an additional 10-15 feet durable and universal size one and you are set for a great adventure.
How do you Shorten an RV Sewer Hose
There are different ways on how you can shorten your sewer hose based on your preference. However, before doing so, it is best to check if it's necessary to do so. If you think you'll need a shorter one, then you can cut it off.
Regular RVers tend to get standard length hose and an extension hose. That way, you'll avoid cutting your hose and might regret it afterward. best to check for collapsible sewer hose which you can conveniently adjust the length, make it longer or shorter, without the need to cut it.
How do I connect my RV Sewer Hose to my Adapter
The best way to connect your RV waste outlet to the adapter is to find the perfect fitting pipe/hose. Next, before connecting, make sure you have closed and secured the RV valves. This will prevent unwanted scenes from happening.
Once everything is closed, mount your sewer hose into the RV adapter and check the fittings. Then you can connect the other end of your hose to the outdoor camping sewage system. Secure and fasten both ends of the hose. When you are finished, you can start draining your RV holdings.
Best Sewer Hose for RV
There are various sewer hoses for RVs on the market from different manufacturers, but you can't just use any kind of hose. The best sewer hose for RV will depend on your specific needs. There are short and long hoses, as well as thick and thin ones. Also, hoses come with different fittings.
The Camco RhinoFLEX 20-Foot RV Sewer Hose is arguably one of the best sewer hoses available today. This kit comes with everything you need to set it up (apart from the hose support stand). You get two 10-foot sewer hoses with pre-attached bayonet and lug fittings. The kit also includes four storage caps as well as a transparent elbow, and a 4-in-1 adapter.
With this kit, you're ready to dislodge the waste water in your RV holding tank into the dump station. Camco hoses are made of durable polyolefin with reinforced steel wire. The hoses are designed to be weather-resistant and completely leak-free. Although the hoses are 10-foot long, they can be compressed to just 39-inches.
The 4-in-1 adapter at the end of the hose can fit into any dump station. The transparent elbow allows you to see when the hose is empty and the dumping process is complete.
The hoses come with bayonet fitting means they're likely to fit in most RV sewer truck outlets without any compatibility issues.
This Camco hose kit is not only versatile and comes with everything you'll need, but it is also tough and durable.
How to Choose the Best RV Septic Hose
If you are looking to buy an RV septic hose, there are many options on the market today. But, you can't just buy any hose that you find at the store because a water hose is very different from a sewer hose. There are several factors to consider before getting a sewer hose.
RV hoses are made of metal rings wrapped with a plastic or vinyl material. These metal rings have varying thickness levels. Thinner hoses come with thinner metal rings. Usually, hoses made of very thick rings are more durable and are likely to last longer and withstand more pressure.
Another thing to consider is the length of the hose. You don't want to go to a campsite only to find that your sewer hose is too short to reach the dump station. Of course, you can always get an extra hose with a threaded fitting. However, to avoid any complications, it is advisable to go for a long, relatively long hose. Most hoses on the market today are 10-feet to 20-feet long.
Some other things to keep in mind when choosing an RV septic hose include the fitting on the hose. You also need a hose that is weatherproof, leak-proof, rust-resistant, and not prone to cracking. Before you come to a conclusion on what type of hose you want to buy, it is advisable to check reviews and see what others have to say about the product.
Best Online Deals for RV Sewer Connectors
It is easy to find both online and physical stores that sell RV sewer connectors. Regardless of the models of the hoses you want or what particular connector or equipment you need, you're likely to find different sellers with competitive prices on stores like Amazon and other major outlets. Here are a few incredible deals for sewer hose hits.
The Camco 39625 Revolution Hose Kit comes with a 20-foot heavy-duty hose, 4-in-1 adapter, pre-attached swivel fitting, and translucent elbow. You can get this Camco Revolution kit on Amazon for only $29.97.
The TITAN 17853 Premium RV Sewer Hose is another excellent product. For only $33.03, you can get this kit which includes a 15-foot hose with ExtendGrip fitting, two end caps, and a 5-in-1 sewer adapter. You can get this kit on Amazon.
The Valterra Dominator RV Sewer Hose Kit comes with a 15-foot hose with two drip caps and a rotating 90-degree sewer adapter. You can get this Valterra hose kit on Amazon for only $39.43.
The only thing missing from these sewer hose kits is a support base for your hose to ensure the waste flows properly. You can get a sewer hose support like the Camco Sidewinder on Amazon for only $35.05.
RV Sewer Hose Reviews: Conclusion
Draining the waste from your RV is not fun, in fact, it's one of the tedious tasks that every RVer would never want to talk about. You need to find a reliable tool to make sure you have a safe, clean, sanitized way of draining your waste into the sewage. Our verdict for the best RV sewer hose is the Camco RhinoFLEX 20-Foot RV Sewer Hose Kit with 4-In-1 Dump Station Fitting.
It's a multifunctional waste outlet that is known for durability and reliability. It provides ease of use, the convenience of connecting from RV to sewage inlet. The 4-in-one compatible adapter enables you to secure your hose to a variety of sewage pipes with ease and protection. Guaranteed no leaks during operation and its the ease of storage after use for hygienic or sanitary purposes.