The best RV roof vents offer superior air circulation and ventilation to keep your RV comfortable year-round. These vents are designed to be weatherproof, quiet, and easy to install on most roofs. Many also include built-in fans or rain guards for added protection against the elements. Instead of spending hours searching the internet for the best RV roof vents, this list guides you through some great options.
Below we've reviewed 8 of the best RV roof vents. If you're short on time and need the best overall RV roof vent currently on the market, we recommend the Maxx Air 00-07500K MaxxFan. It's quiet, remote-controlled, waterproof, and easy to install. Everything you need!
If you're looking for a specialized vent that is either eco-friendly, simple to install, or can be bought on a budget, we've got plenty of other options below. The best RV roof vents will help you maintain a safe and comfortable temperature inside your vehicle no matter the season – making them an essential part of any RV owner's toolkit!
Best Roof Vents For RVs
Compare Top RV Roof Vents
Detailed Analysis Of The Best RV Roof Vents
1. ECO-WORTHY Solar Powered Fan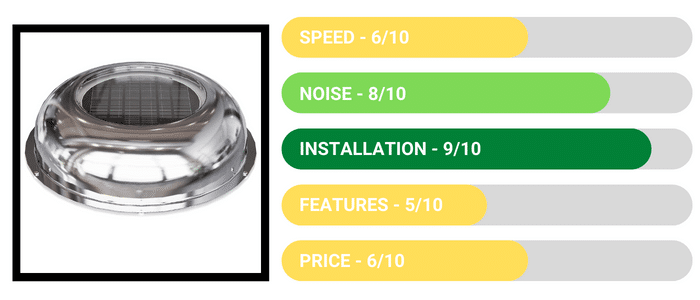 Overall Score: 68
Advantages
Disadvantages
No adjustable speed
Batteries run out quickly
Speed
Unlike some of the other vents in this review, the Eco-Worthy is fully automatic. This means you'll have no choice in speed setting.
This may present some difficulties, especially if you're camping in seriously hot temperatures and want your RV to be as cool as possible.
Noise
For an automatic vent, the Eco-Worthy is quiet. If you want this fan to be completely silent, it can easily be achieved by building insulation around the base of the fan.
You'd be guaranteed to have a peaceful night's sleep.
Installation
The Eco-Worthy is super easy to install. With pre-drilled mounting holes and self-tapping screws, the Eco-Worthy is simple to mount.
There is no extra wiring you'll need to connect for the fan to start working. All you need to do is take it out of the box!
Features
The vent has a built-in rechargeable lithium battery, which starts to charge as soon as daylight hits it. At the same time, there's light. You can expect the fan to circulate fresh air throughout the day.
However, during the nighttime, it's most likely the battery will run out. This means you'll be spending several hours a night without airflow.
Price
The eco-worthy fan is an affordable, easy-to-install vent option. If you fancy experimenting with solar-powered vents, why not give it a go?
However, if you're likely to need a fan that ventilates your RV all night, we'd look elsewhere!
2. Maxxfan Deluxe 00-06200K
Overall Score: 80
Advantages
Great speed range
Easy set-up
Disadvantages
Speed
A powerful 10-speed fan allows the MaxxAir 6200 to run efficiently while saving energy on lower settings.
The fan speed also has a reversible setting to give you flexibility and accuracy on the temperature you want inside your RV.
Noise
The MaxxAir 6200 can keep noise to a minimum. Even on higher settings, the fan keeps quiet. This will be extremely handy when you need cool temperatures and quiet nights in the summer.
Installation
The MaxxAir 6200 comes in three components: the flange for the outside of the vehicle, the fan, and the mounting flange on the inside.
Following an instruction video on the Amazon link, you can put this vent up in no time. The unit is light, so it's easy for one person to install it.
Features
The best feature of the MaxxAir is the built-in rain cover which makes this unit waterproof. This is great because you can continue ventilating your RV even when it's raining.
The 6200 model has a handy insect screen to stop any bugs from getting inside, which is useful if you're camping near a lake or somewhere humid.
The MaxxAir also has a built-in thermostat, so you can keep the temperature of your RV consistent. This vents lid must be opened and closed manually using a knob located at the ceiling.
Price
Even the older MaxxAir vents models are not cheap, but you can still save.
Although the 6200 model is manual, it still has many great features some of the more recent models have without the hefty price tag.
MaxxAir has built a renowned reputation for extremely reliable products. You get what you pay for!
3. Fan-Tastic Vent 801250 1250 Series Vent
Overall Score: 80
Advantages
 Disadvantages
Speed
The Fan-Tastic 1250 works over three speeds, keeping fresh air flowing throughout your RV all day. It's great for summer when you need ventilation to keep your RV as cool as possible.
Noise
The noise of a vent can be seriously distracting when you're trying to drift off. The Fan-Tastic 1250 doesn't have this issue!
With Quiet Operation technology, the vent housing can keep the fan soundproof so that you can sleep without interruption.
Installation
Installing the vent is straightforward. Just use self-tapping screws and self-leveling sealant.
If your previous vent was smaller, you could cut the roof to fit the Fan-Tastic 1250. Just remember to use roof sealant to keep it waterproof.
Features
The Fan-Tastic 1250 has a controlled thermostat to turn on and off to keep your RV at the desired temperature. The Fan-Tastic 1250 also comes with a reversible airflow option.
This vent must be manually adjusted; it won't change speed automatically. It also does not have a rain sensor, so you need to be prepared to manually open and close the dome yourself.
Price
Fan-Tastic vents are among the most expensive on the market, but you get what you pay for. This vent is an investment and will surely last you for years and years.
The manufacturers of Fan-Tastic vents also have a great reputation for repairs and warranty.
4. RVLOVENT 12V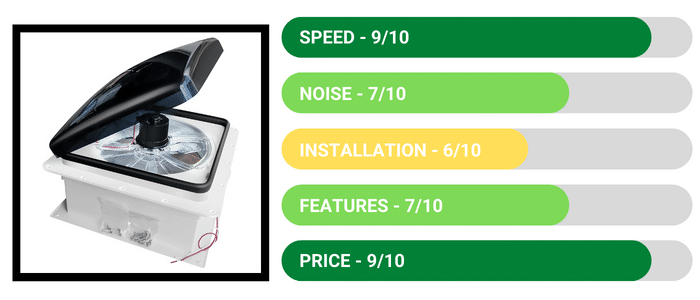 Overall Score: 76
Advantages
Attractive price point
Reversible airflow
Disadvantages
Small screws for set-up
Noisy on high speed
Speed
The RVLOVENT has three airspeeds (low, medium, and high), allowing you to find the perfect temperature inside your RV.
With reversible airflow, this vent will help you keep cool in hot summers and reduce bad odors inside.
Noise
The noise level of the RVLOVENT is reasonably little on the low and medium settings. The fan will make a louder hum at high speed, but this should not be loud enough to distract you or keep you from sleeping.
Installation
The RVLOVENT is super simple and easy to install with a one-size-fits-all roof insert.
The only drawback is that the screws that come with the vent are small, which could make it tricky to secure the vent if you're heavy-handed.
Features
The RVLOVENT has a powerful yet efficient motor, which allows the vent to work consistently without using too much power from your RV.
Even on high, the vent will not drain your RV. This vent is manual, so you'll need to remember to shut it once it rains.
Price
With 3 speeds, reversible airflow, easy installation, and low noise levels, this vent is an absolute bargain. You'll struggle to find a vent with this many features while paying below the $200 mark.
5. Fan-Tastic Model 2500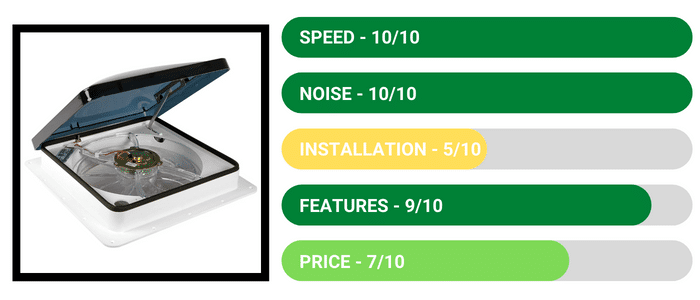 Overall Score: 82
Advantages
Best reversible airflow
Quiet
Disadvantages
No instructions for installation
Expensive
Speed
The Fan-Tastic 2500 is a powerful vent with a three-speed fan, so you can achieve the perfect temperature inside your RV.
The reversible airflow mode is among the best around, as its fixed manual speeds are also accessible in reverse. This means you can ventilate your space quickly and efficiently.
Noise
For such a powerful vent, the Fan-Tastic 2500 remains quiet. If you're planning to put a vent in your RV bedroom, this is a strong option to keep you cool while you sleep.
Installation
This vent is extremely easy to install and connect to an electrical hookup. An issue that some buyers found was that instructions for installation were not included.
This could be a mistake by the manufacturers or a way to push you to have it installed professionally (to avoid liability).
If you have experience installing RV vents before, this should not be a problem. It's pretty straightforward.
Features
With an automated climate feature that combines a thermostat and thermometer, the Fan-Tastic 2500 makes it simple to achieve whatever temperature you need.
This feature automatically turns the fan on and off, making your life much simpler. You won't be fussing with buttons!
Price
This is not a cheap vent, but as we say throughout this review, you get what you're paying for.
The climate feature with reversible airflow makes it simpler to keep a consistent temperature inside your RV throughout the day. Perfect for summer!
6. Leisure Coachworks
Overall Score: 66
Advantages
Disadvantages
Only 1 speed
Difficult installation
Speed
This Coachworks vent is set at a constant speed, so adjustability is limited. However, it does come with two modes: air in and air out.
Making it easier to push stale air out and fresh air in. This is a good option if you want a simple vent.
Noise
The Coachworks is a relatively quiet vent. One advantage of the fan running at one consistent speed is that you'll inevitably get used to the noise.
Making it easier to sleep at night and ignore during the day.
Installation
The Coachworks is not the easiest to install, so we'd recommend having some experience in vent installation if you want to mount it correctly.
A particular problem we found was that the hinge setup has 3 drill points, making it difficult to seal the flange. If installing this yourself, use waterproof sealant and tape to stop leaks.
Features
The Coachworks vent is perfect for those that need a reliable, simple way to ventilate their RV. The vent comes with a manual knob to easily open the cover, making it simple to clean.
Price
On the cheaper end of the vent scale, Coachworks is a good option for those on a budget who want a straightforward product.
If you want a vent that'll keep your RV cool in super hot summers, you may choose a vent with a selection of air speeds.
7. MAXXAIR Vent Maxxfan Dome
Overall Score: 70
Advantages
Tool-free installation
Cheap
Disadvantages
No speed adjustability
Loud
Speed
The MaxxAir Dome runs at 200CFM, which makes sense as the vent is generally smaller (10 x 10.5 x 10). It's an exhaust fan, so you won't have a reversible airflow option.
It also does not come with an option to adjust the speed.
Noise
Unfortunately, the Dome is not a quiet vent. With a small vent moving a lot of air, it's understandable that it's louder than bigger vents.
However, if you need peace and quiet to get a full night's sleep, we'd suggest a different vent.
Installation
One of the best things about the MaxxAir Dome is that it can be installed without tools. You just slide the fan into the molded waterproof mounting tabs, and you're good to go!
This makes it handy for those who aren't as skilled in the DIY department but don't want to pay more for someone else to install it.
Features
One of the best features of the MaxxAir Dome is that the vent is waterproof.
There is one complication, the Dome must be installed on a completely flat surface, or the lock will not be secure to keep the vent waterproof. You don't want to risk a water leak.
Price
If you need a small air vent for your RV, we can't recommend the MaxxAir Dome enough. It's generally well-priced which is handy as it's waterproof.
We know it's a little louder, but that's likely to be common among all small vents. Just make sure you install it correctly.
8. MaxxAir 00-07500K MaxxFan

Overall Score: 90
Advantages
Great airspeed range
Remote controlled
Disadvantages
Expensive
Some auto-features are noisy
Speed
The Maxx Air deluxe has a very impressive air speed of 900CFM, so you'll be able to ventilate your RV as quickly as possible.
With 10 speed choices, you can closely alter what airflow you need in the RV. Much more accurate than a 3-speed vent.
Noise
The vent is quiet, making the Maxx Air Deluxe almost perfect. The only downside is sometimes the automatic features can get noisy. For example, the hood of the vent can get noisy when it's raised.
This is not a huge issue, as you can stick to raising the hood while awake and avoid it when everyone's asleep.
Installation
The Maxx Air deluxe is easy to install. The only time-consuming part of the installation is taking off the old sealant before putting this new vent on.
The Maxx manufacturers have made this process worth it because vents purchased from them again will fit onto the same base mold. You'll just need to put in 4 new screws.
Features
The Max Air Deluxe comes with a remote, which makes adjusting the temperature even easier. A remote-controlled vent is handy for shorter people, or taller RVs where reaching controls might be difficult.
The only issue is the remote control can struggle to send commands to the vent if it's obscured or far away.
In this case, the remote will say the commands have been reached even when the vent hasn't received them. Another great feature is the design of the vent, which includes a built-in rain shield.
This will keep your RV driving no matter the weather.
Price
The Maxx Air Deluxe is the most expensive vent on this list. However, you get what you're paying for.
We'd recommend this vent to anyone who needs accurate control over the airflow in their RV or struggles to reach manual controls. It will not let you down!
Final Thoughts
The Best RV Roof Vents are a great way to keep your recreational vehicle well-ventilated and free of moisture buildup.
The best vents are easy to install, have a selection of airspeeds, keep quiet, and are worth the price.
Whether you're looking for more ventilation or an upgrade in style, choosing one of these roof vents can help make your next camping trip even better!