We now live in a world of technology where electricity is crucial to power our everyday lives. This goes for powering an RV too. The only difference is you'll need to use an electrical hook-up, generator, or power source in an RV park to ensure your RV is connected.
Reaching a plug-in can be difficult if you can't park close, and that's where purchasing an RV power cord comes in handy! Below we've reviewed 8 of the best RV power cords currently around. If you're looking for the best RV power cord, we'd recommend the Camco 25′ PowerGrip Cord. It's weather-proof, durable, reliable, and offers 50 amps!
If you're looking for something that's longer or has a lower AMP, then we've got plenty of other reliable products below!
Best Power Cords For RVs
Compare Top RV Power Cords
Detailed Analysis Of The Best RV Power Cords
1. GoWISE Power RVC3004
Overall Score: 82
Advantages
Best 50ft power cord
Weatherproof
Disadvantages
Length can be a hazard
Expensive
Current
With 30 amps, the GoWise cord will power light and smaller RVs.
If you're looking to power a big RV with a bigger electrical system, you'll need a cord with at least 50 amps to provide you with the power you'll need.
Length
The GoWise is 50 feet long, making it perfect if you know your electrical hook-up will be further away.
Long power cords can be handy if you need to hook up to an electrical system at a distance, but sometimes too much extra length can become a hazard.
If you know you'll need the extra feet, then the GoWise is a good option.
Best Features
The GoWise is weather-proof, so you don't have to worry about it failing in storms. It also has an easy grip hand on the plug so you can easily disconnect the plug from the electrical system.
Warranty
The GoWise comes with a 1-year warranty, so you can check to ensure it works correctly. Since RV power cords are not the cheapest, purchasing one that includes a warranty is safer.
Price
The GoWise cord is pretty expensive, but it's reasonably affordable for a cord over 30ft and with a warranty! As well as this, the cord is also worth it due to its waterproof exterior.
2. Leisure Cords 25
Overall score: 84
Advantages
Disadvantages
Current
With 30 amps, this cord will work best for small to mid-sized RVs, motorhomes, and trailers. Alongside this, the Leisure is guaranteed to be safe with its watertight molded plug.
Length
The Leisure cord is 25 feet long, which falls below the average-sized 30 ft power cord.
If there is an abundance of electrical outputs in your campsite, or you're using this cord to link your RV to a generator, it'll work just fine. Otherwise, you'll want to look for a 50 ft or longer cord.
Best Features
The Leisure cord is made from marine-grade material, which makes it waterproof and extremely durable. A handy add-on is that the Leisure has an LED light that glows green when it's receiving power.
Warranty
Leisure offers a 1-year warranty on their power cords, so you have plenty of time to return it if it's not working effectively. It's also ETL and CSA-approved, so you'll be covered for insurance purposes!
Price
Of this quality, the Leisure RV power cord is the best budget option on the market. With this price, it's a real bargain for a waterproof, sturdy cord that's reliable!
3. Road Power 95707508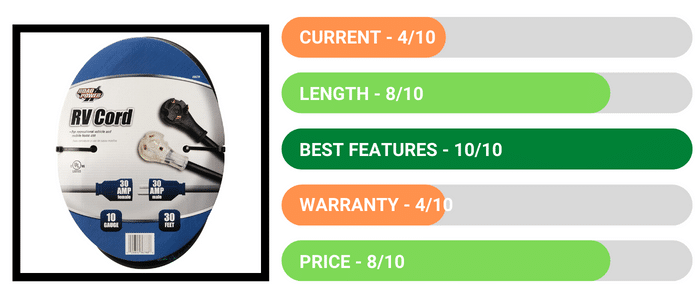 Overall Score: 68
Advantages
Best for extreme weather
Good length
Disadvantages
Some unsafe connections between female and male plug-ins
Vague warranty
Current
The Road Power is a heavy-duty cord that can take a 30 amp current. Unfortunately, several reviews state the female end of this cord does not attach completely with some male connectors.
This means there'll be space for water and debris to fall into the connection. This is a fire and electrical hazard.
Length
The Road Power is 30 feet long, making it perfect if you need a bit of extra length to reach your power supply.
A cord this length will be helpful if you plan to camp somewhere new and are unsure if you'll need an extension cord.
Best Features
This cord is perfect for any time of year and any weather. It's weather, chemical, moisture, and abrasion resistant.
So you can be sure it'll last you through some seriously heavy weather. It also has a handy LED light to indicate when it's receiving power.
Warranty
The warranty available for the Road Power is pretty vague, with the manufacturer Coleman Cable stating that the warranty will only apply in some cases.
Although the Road Power cord is fairly priced, it can be off-putting to invest in a plug without a warranty.
Price
In theory, this plug is great value for money. However, the hazards associated with the female end are too great for us to warrant buying this product.
We'd only recommend investing if you have male plug-ins that will completely connect with the female end.
4. Parkworld RV 30-Amp Extension Cord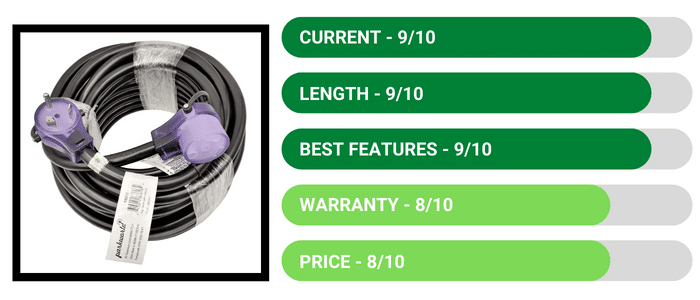 Overall Score: 86
Advantages
Disadvantages
Expensive
Long cables can be a trip hazard
Current
The Parkworld has a 30 amp loading with a 125-volt capacity. Most reviewers of the Parkworld 75 ft cord can't recommend it enough. It never fails on power to and from an electrical outlet or generator.
Length
At a crazy 75 feet in length, the Parkworld is designed for those that know they need a long cord.
As mentioned with the GoWISE above, you want to ensure that you only purchase a longer cord if you know you'll use the extra length. Otherwise, it can get tangled and become a hazard.
Best Features
The Parkworld has a 100% pure copper wire making it highly efficient at conducting electricity while remaining flexible.
It's also molded with a copper terminal which resists oxidation. This increases its durability!
Warranty
The Parkworld has CUL and UL certifications to prove it has been tested and is safe to use. Parkworld provides a 1-year warranty to guarantee you receive the best quality cord.
Price
Usually over $100, the Parkworld is one of the most expensive cords in our guide. It's not surprising that such a long cord is priced higher.
You want to know that it'll be reliable and efficient enough to power your RV from a fair distance away.
5. Conntek 14360 30-Amp RV Extension Cord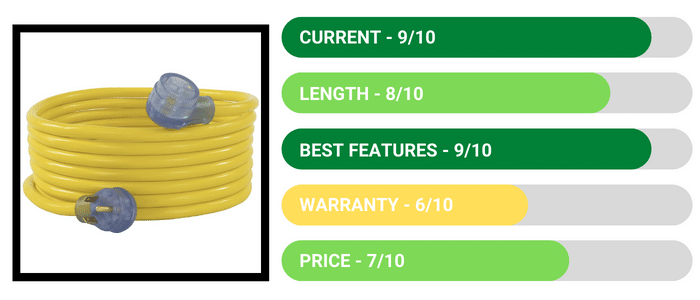 Overall Score: 78
Advantages
Best for high-temperature environments
Size choice
Disadvantages
Current
The Conntek offers 30 amps 125 volts with a maximum of 3750 watts to give a small to mid-sized RV the power it needs from a hook-up. The 100% copper coil inside is great for conducting electricity.
Length
This Conntek power cord comes in two sizes: 10 ft or 25 ft.
We'd recommend that you always purchase a slightly longer cord (around 25 ft) if you're using it to reach electrical hook-ups and only get a shorter cord if you are linking to a generator.
Best Features
The Conntek is best for those camping in the desert or where temperatures will be high. The moisture and heat-resistant cord won't overheat or fry if left out in the sun.
The cord also has handy ear grips that make the plug easy to take in and out.
Warranty
Conntek offers a 12-month warranty on these cords, so you have a safety blanket! While the 25 ft version of the Conntek is UL-approved, the 10 ft version is not.
If it puts your mind at ease, all components in the cord are UL-approved for the 10 ft model. The UL does not approve of the length.
Price
With usually a $50 difference between them, the Conntek varies drastically in price from 10 ft to 25 ft. For a reliable, heat-resistant cord, we'd recommend the 25 ft Conntek.
The lacking UL certification on the 10 ft could affect insurance on your RV, so double-check this by buying a shorter cord.
6. Miady Extension Cord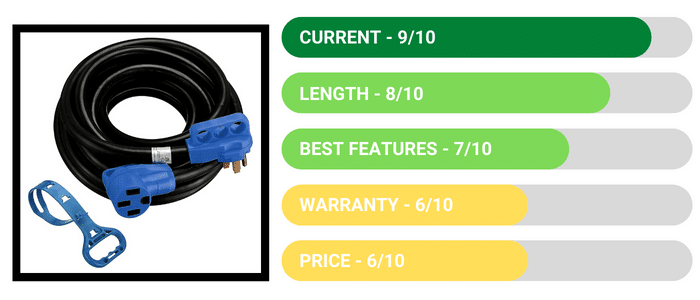 Overall Score: 72
Advantages
Easiest to use
50 amps is better for larger RVs
Disadvantages
Not weatherproof
Vague warranty
Current
The Miady cord is 50 amps at 125 volts and 6250 watts. This means it's perfect for bigger RVs with a larger electrical system.
Be aware a 50 amp cord may not be the best choice for smaller RVs as it could short-circuit your RV's electrical system.
Length
The cord is 30 ft, which makes it a great size for a mid-size camper. Unless you know that electrical hook-ups are difficult to reach your campsite, a 30 ft will usually do the trick.
It gives you just the right length without risking any trip hazards.
Best Features
The Miady cord has a handle design on each plug to make it even simpler to push on and remove, putting less pressure on the plug and cord.
The Miady also comes with an adjustable duty cord organizer to keep your cord neatly wrapped when not in use. A downside to this cord is that it is not weather-proof. It may struggle in a storm!
Warranty
The Miady comes with a limited warranty that is vague. Trying to find the manufacturer's website to check out what warranty limitations are was a struggle.
Miady is a fairly reputable brand. Make sure that it offers a warranty wherever you purchase this cord.
Price
The Miady cord is usually priced between $100 – $150, which is an expensive price to pay for a vague warranty and cord that may not fare well in unpredictable weather!
7. RVMATE 50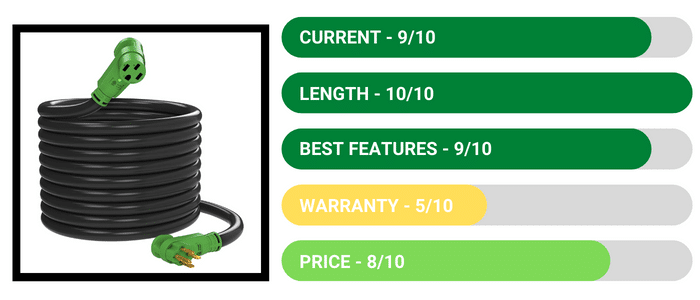 Overall Score: 82
Advantages
Very durable
Choice of size
Disadvantages
Current
The RVMATE is a 50 amp, heavy-duty cord. It'll make reaching electrical hook-ups or generators super simple and easy. With high-quality copper wire, the RVMATE conducts electricity very efficiently.
Length
The RVMATE is available in various sizes: 15 ft, 25 ft, and 50 ft. It's super handy to have a manufacturer that offers a choice in cord size. You can focus on other aspects of the cord instead!
Best Features
The RVMATE has a handy LED light to tell you when power is being received and a comfortable handle to make plugging and unplugging even easier.
Constructed with a flexible and durable PVC coat, the cord is UV-protected and all-weather resistant. This cord will work to a maximum of 60℃ before it overheats.
Warranty
Unfortunately, for such a great cord, the manufacturer of the RVMATE lacks warranty information.
You can pay some serious buck for an extension cord, and it's important to have some assurances on the product you purchase!
Price
The difference between the 15 ft and 25 ft is usually $30 – $40, so we recommend purchasing the longer cord. However, the 50 ft will easily see you spending up to $100 to level up.
There are plenty of 50 ft power cords that are cheaper, lighter, and with a better warranty!
8. Camco 25′ PowerGrip Cord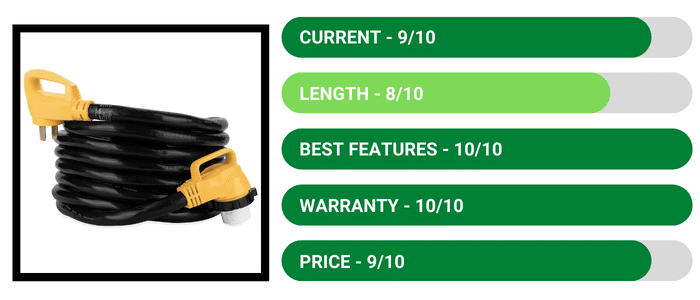 Overall Score: 92
Advantages
Best overall
Flame retardant
Disadvantages
Current
With 50 amps, the Camco is rated at 125/250 volts and 12500 watts. Perfect for RVs with bigger electrical systems. It has a 100% copper wire to guarantee superior conductivity throughout your camping trip.
Length
The Camco is 25 ft long, so perhaps not ideal for someone searching for a longer cord.
However, the Camco does offer 25 ft of flame retardant, heat-resistant PVC cord, which will hold up against any weather!
Best Features
The power cord is extremely flexible, making it perfect for reaching those hard-to-get electrical hook-ups. With handles on each plug to make plugging in and out hassle-free!
With a weather-proof, lock-in connection on the female plug, you can be sure no rain will stop your electricity.
Warranty
Camco offers a year warranty on normal use and defects in workmanship from the date of purchase. This means you can get some serious wear out of the cord to check it holds up to Camco standards.
Price
This is another pricey power cord, but we think it's fully worth it. The durability and features this cord offers make it pretty reasonably priced. Invest in this cord if you want reliable power on all your trips.
Final Thoughts
It's better to be prepared and purchase an RV power cord before you get somewhere and need one!
By assessing the length, current, warranty, and best features, we hope this review gives you all the information you need to purchase the right cord.
Just a reminder to always remember to purchase a cord that's safe to use.