What is an RV Mat
An RV mat is an essential outdoor gear for every RVer that wants an instantly cozy and clean space around their motorhomes. This is the colorful and stylish mat that you see from that camper next to you from your previous outdoor adventure and now you are planning to purchase one (which you will do after reading this review).
The patio mats serve a great purpose while providing a stylish curb appeal to your motorhome campsite. It's a multifunctional gear that enables you to have that instant dirt filter from going into your camper. This debris falls off to your RV mat thus creating a good way to keep this dirt from entering your RV and those debris found close to your campsite ground and vehicle.
Easy Buying Guide For RV Patio Mats
One of the many reasons that most campers or RVers purchased camping mats or exterior mats is the sole reason that they want an instant comfortable space while they are outdoors, away from their comfort zones. The patio mat serves as an extended cozy space that you can place your camping appliances like your portable stove or foldable table and chair in a clean area outside your campervan or motorhome.
This recreational space enables your family to feel cozy or comfortable while on picnic grounds. Your kids can stay and place on the mat. This multifunctional camping gear can serve as a clean space for your pet to stay and exercise at the same time. They are durable and known to be lightweight with a compact folding size to easily take along with you no matter where you go.
These complete buying guides for RV mats will help you weigh things out so you can find the perfect mat suitable for your needs. Before that, we will help you determine the different types of RV mats and their excellent benefits why most campers and outdoor enthusiasts enlist them as one of the must-have gears on their checklist.
Facts About RV Patio Rugs Or Camping Mats
Camping mats provide an excellent cozy space while you are outdoor. You can easily set these mats outside your camper van or customize motorhomes. Though you can easily find one from the market, it is essential to find the perfect type with the right features to simplify things for you. 
Most RV mats are reversible. They are UV coated to make sure they have resistance to damaging sun rays and protect the designs and colors from fading. These camping mats are made with virgin and all-natural materials such as polypropylene plastics that are known for fast drying, durable, and super easy to store and clean. The RV mats can be cleaned via sweeping off the dirt of watering down with a hose. They dry faster and are soft and compact to fold. 
Most camping mats are resistant to mildew and mold. Thus they are known to last longer and are economical and practical to use. This versatile feature makes them a good gear that provides convenience and comfort, which is suitable for remote areas that you need to make the most to enjoy. 
With a portable patio mat, you can easily set it up into your desired space, be that indoors, in your garden, patio or just anywhere near your RV for an instant relaxing space.
Benefits Of Camping Mats
Needless to say, we need that comfortable space no matter where we are. Something that won't need too much complication setting, cleaning, and storing it up are the key features. We don't want drama and hard work when outdoors. That is what RV reversible and compact RV outdoor mat offers.
Plus the unique and stylish designs are another thing. It adds to the equation that you have a good looking mat to count on wherever you go. This enables you to build a relaxing ambiance replicating your home.
The RV mats help you and your family feel secure and cozy during trips and camping. If you are a regular RVer, it is essential to invest with these types of outdoor gear. In summary, you can break down these benefits. 
It provides a relaxing place outdoors.
It replicates a cozy space and boosts the feeling of being home when outside.
It provides convenience for easy setup, cleaning, and storage.
The patio mat is versatile and can be used indoors and outdoors.
Guaranteed durability with the longevity of use without color fading and breakage.
It's a great investment for regular campers who need an instant cozy space while outdoors.
Features Of Camping Mats To Check
Checking for the best mobile home mat seems easy until you get to find yourself surrounded by thousands of options and you just find it overwhelming. The following features enable you to make the selection easier due to the peculiarities that you need to check. These fundamental features are essential for the overall comfort and convenience of your outdoor adventure.
Here's what you need to consider when purchasing a camping mat. Don't just settle for word of mouth, our expert and unbiased review of the best selection from campers and consumers who have been in the road will help you weigh your decision and prevent the common pitfalls most beginners never have thought they will ever encounter. Be smarter today and check the basics!
Durability
Checking for durability means you need to find certain specific features such as UV resistance. This protects your RV outdoor mat from possible damage due to frequent sun exposure.
It can be damaging for most fabrics to be exposed to such temperature and regular usage can shorten the life span of your mat. Mats that are UV resistant are able to withstand weather conditions.
The materials that are used can affect the quality of performance your RV outdoor mat has to offer. 100 percent polypropylene material manufacturing is durable and convenient to clean, softer, and dries faster. That way, you can prevent any possible mold build-up that may damage your mat. 
Reversible mats offer extra options when setting up your campsite or picnic area while outdoors. This also saves the other side of your mat from regular sun exposure and enables you to switch sides often for comfort. These top features help you determine what you need.
Type
There are a variety of preferences that you can select when it comes to outdoor and RV mat. Options from eco-friendly materials such that do not harm grasses when placed above it.
You can also buy a patio mat made of recycled materials. This may be particularly expensive but it all depends on your preference. 
Next is determining what designs or colors. There are a variety of reversible products available in the market. The top products above are all eco-friendly, won't damage your garden or the park grasses, have extreme breathability features, and let air and water pass by easily without damaging the materials or promoting mold & mildew from developing.
Weight And Size
The size and weight of the RV outdoor mat is an essential factor. You may want to consider getting a RV outdoor mat that is ultra-light. Next is portability. You want something that is lightweight and is easy to store, fold and take anywhere with you. You wouldn't settle for a heavy and bulky RV outdoor rug that adds hassle to your adventure.
The size of your RV outdoor rug will depend on your preference and who will use it together with you. The standard size of the best RV patio mat is 9ft x 12 ft. However, there are larger mats available in the market that accommodates large families.
If you have a smaller group coming with you, or how you prefer things, you can always check the size availability and its options.
Extra Features
You want something that is hassle-free, easy to store and travel-friendly. Additional features include stakes to secure and hold your RV outdoor rug in place. While not all campers would go for that, again, it's about personal preference.
Next is portability, which means, you can check for a camping mat that has a transit bag included in every purchase. It is helpful for you to have a case to keep your mat in place and won't eat much space in the booth of your camper or motorhome. Though these additional features may add extra to the cost. It also adds convenience to you and saves your life over time. Our top selections have these features without costing you a fortune.
Weather
Weather is an important factor when it comes to buying the perfect mat for your preference. For example, you will need a mat that enables you to secure and hold it if you have plans on going to places with extremely windy conditions.
The same goes if you will put your campsite near places with known rain frequency, this will help you decide for waterproof types of mats. Moreover, it is essential to find the best RV patio mat that has ground stakes included in them. That way, whether or not it is windy, you can always secure your camping mats through the ground stakes included in them. 
Versatility
Versatility is an important factor for any outdoor gear that you wanted to include in your list. Multi Functionalities enable you to get the most of everything. This includes the usage of the product. With outdoor mats that are versatile enables you to use them anywhere. From garden to patio, lawn, beach, park, campsite, planning for sightseeing, and even hiking or just a staycation with the family.
Price
Determining your budget will help you weigh things out and decide easily with the price range of your choice. This will help you keep track of your expenses and how much would you want to spend. That way, you can check for basic features and decide whether you would go for additional peculiarities that still come handy with your budget. 
Best RV Mats Brands To Buy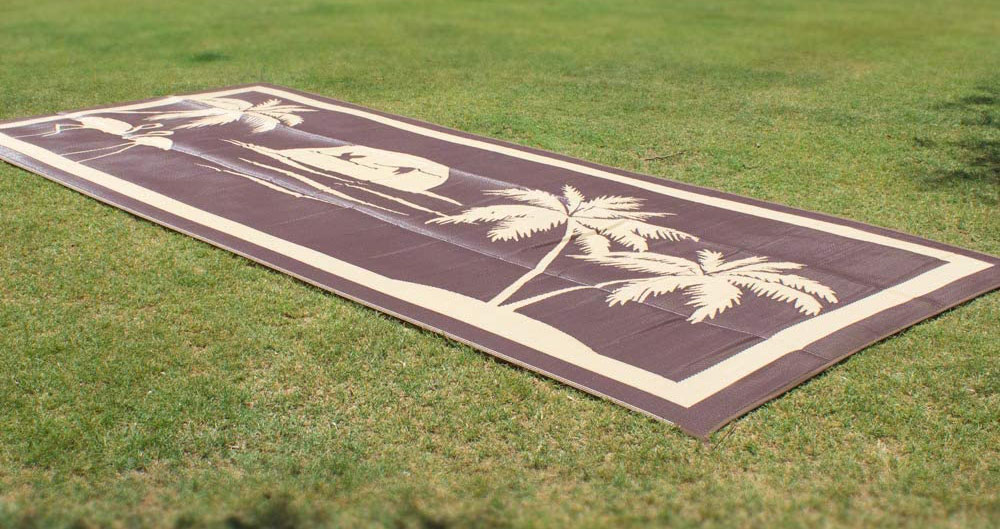 Checking for the most reliable RV mat for your next adventure is essential. There are established brands that will ring a bell if you try to find one with great credibility and reliable features with outstanding performance. These insights usually come from campers and experts when it comes to outdoor adventures.
Some of these brands include a collection of outdoor mats from Professional EZ Travel, Ming's Mark, Stylish Camping, Reversible Mat, and Faulkner Deluxe. Our top selection of the best mats comes from this brand as they have a great reputation with premium-quality products that are guaranteed to last for years.
Their outdoor mats are eco-friendly and won't damage park or garden grasses. They are extremely breathable and have UV coating resistance to make sure that your mats are durable and stylish.
Most RV mats are woven designed to make sure that water, dirt, and snow will pass through them. Though most brands won't mention their water-resistant features, they guarantee that water/snow won't be a problem as they dry faster and prevent mold & mildew build-up.
How To Select The Best Size For Camping Rugs
Honestly, this will differ for individual needs and preferences. You can go for standard-size mats with all the features mentioned above. If you have a large family or people that will be coming for your trip, picnic, or vacation in the countryside, then going for a large one is essential.
Most outdoor adventurers go for something that will make them feel at home while away from home. There is a myriad of selections for sizes that will perfectly fit your preferences and needs.
Can You Customize RV Outdoor Rugs?

RV outdoor rugs are comfy mats designed specifically for outdoor use by people who own RVs or trailers. These rugs are usually colorful and have attractive designs. If you are looking to get one of these rugs, you may be wondering whether you can customize them. The answer to that question is yes! You can personalize your outdoor rug as you desire.
A few brands offer customized RV rugs. All you have to do is provide details about how you wish to customize. These details should include the design and colors you have in mind for the RV rug. You can even add your name, the name, or the image of your favorite celebrity – no idea is too wild. Customized RV rugs make for a lovely gift.
There are a few things to keep in mind if you are looking to get the best RV outdoor rug with some personalized touch. You have to be sure the rug you buy is premium quality and is made using high-quality cured UV ink. UV ink will prevent the RV mat from fading. Also, the ink should be attached to each fiber of the mat material. No vinyl in RV mats means that you would not experience any peelings.
Ultimately, ensure that you buy your mat from a reputable brand.
How do you Clean an RV Patio Mat
One of the benefits that your RV patio mat is the convenience of cleaning. You can either water it down with a hose or sweep off the dirt from the surface of your RV mat.
Most outdoor mats and RV patio mats or rugs are made of polypropylene material that is mold & mildew resistant. They enable fast drying features that shake off any water or dirt from it through its woven designs.
Our top 10 selections are also UV-resistant coating. These products are durable, provide convenient storage, soft, and can be folded into a compact size. They come with a travel carry bag for perfect comfort.
How do I keep Dirt out of my Camper
There are different yet effective hacks on how you can keep your camper free from dirt, debris, and muds coming from boots and shoes. Your rv patio mat will serve its excellent purpose in doing its job. You can use a handy shower head to wash off the mud from your muddy boots.
Other campers use a boot scraper to make sure the debris and other unwanted elements stay off your RVs. While some recommend pouring a bottle of water to your muddy shoes/boots and letting that footwear stay outdoors to your outdoor mat until dry or clean.
If you have your adorable pet coming with you, you can clean up those muddy paws by using the handy showerhead to rinse off the dirt. You can also check for entrance mats that filter the dirt from your shoes or boots even before you take them inside your RV.
Does Outdoor Carpet Hold Water
Most outdoor mats don't absorb water due to the materials used in them. These RV patio mats are made of 100% polypropylene material that are tightly woven to resist water and dirt. That is why they offer ease of cleaning and they are fast-drying too.
Since they don't necessarily mention their water-resistant features, they guarantee easy cleaning through watering down using a hose or by sweeping off the dirt from the surface. They dry faster to prevent any mold or mildew build-up.
Best RV Rugs for Outside Use
There are different types of RV outdoor mats available on the market. These mats come in various color options, sizes, and designs. There's an outdoor RV mat for you regardless of your preference or the amount in your budget.
RV outdoor mats are versatile and can be used in different outdoor environments like beaches, parks, or picnic grounds. Are you looking for the best RV rugs for outside use?
The Professional EZ Travel Collection RV Patio Mat is one of the most popular outdoor mats on the market. This multi-functional and durable outdoor mat is extra wide and comfortable.
It also comes with a simple, colorful design. You can get this mat on Amazon for $121.00.
Another great outdoor mat is the REVERSIBLE MATS 159183. This mat is 9-feet wide and 18-feet long. It comes with an intricate pattern. You can get this mat on Amazon for just $89.99.
Ming's Mark GC1 Stylish Camping Patio Mat is also worth mentioning. This reversible mat is 8-feet wide and 20-inches long. It is black/silver and has an eye-grabbing pattern. This outdoor mat is available on Amazon for $79.99.
Patio Mats for Camping – How are they made?
Patio mats are designed for camping but can be used for virtually any other outdoor activity. There are many types of patio mats today, and it is essential to know what materials they are made from and how they are made because some materials work better than others.
Polypropylene is one of the most commonly used materials for outdoor rugs. This is a synthetic material, which is tough and heat-resistant. Mats made with polypropylene are breathable, so they will not kill the grass underneath. It is also resistant to mildew and dries quickly.
Some patio mats for camping are also made from recycled materials, mainly plastic. These mats are weather-resistant and ideal for people who care about pollution and sustainability.
Polyethylene is another material used in the production of patio mats. This high-density woven fabric will prevent sand from getting lodged in the rug. This makes it ideal for use at the beach. Another perk of using mats made with polyethylene is that they are heat resistant.
There are also patio outdoor patio mats made with foam. This option is ideal for babies or small children since it provides ample cushioning. However, mats made with foam are likely to become infected with mold over time if they get wet.
What are the Benefits of Reversible Patio Mats?
There are many types of patio mats on the market, but reversible patio mats are the most popular. The idea of reversible mats is genius because of the ease and versatility it offers.
With this type of mat, you can set up your outdoor space without overthinking if the right side of the rug is up. Also, you can switch from one side to the other if there is a stain. Reversible mats are also easy to clean and keep from becoming very dirty. You can either choose to sweep the dirt away or wash it with water.
Reversible rugs are usually made with water-resistant, breathable material. Some of the top brands that make reversible outdoor mats are Professional EZ Travel, Ming's Mark, Stylish Camping, Reversible Mat, and Faulkner Deluxe.
These brands are known for making high-quality mats using premium materials. Most patio rugs are water-resistant and resistant to mold and mildew. These mats are also designed to dry quickly and are very durable.
These mats are pretty affordable, and you can buy them from major stores like Amazon. The prices of these mats can range from $70 to $80 on Amazon.
Conclusion
Our verdict for the best RV patio mats with outstanding multifunctional features is Professional EZ Travel Collection RV Patio Mat: 9×18 Extra-Wide Ocean Blue RV Mat. This patio mat for your RV is made with premium-quality materials, known for its durability, it's reversible, lightweight, and folded in a compact size that you can place into a travel carrying bag for convenience.
It is UV-Resistant which protects the stylish design from fading or getting damaged through frequent use. With mold & mildew resistance to make sure that your mat stays longer. The versatility of this mat provides convenience. It's a complete set, comes with ground stakes to help you secure the mat perimeter easily. A great deal that will transform your outdoor experience with ease and extreme comfort.