Camper Leveling Blocks: Facts And Buying Guide
Outdoor adventures are one of the best parts of staying close to nature and bonding with the family or circle of friends. Closer means going over places that are seldom visited and requires you to have stability over your vehicle to make sure that it is secured and all appliances are working efficiently. You don't want to park your vehicle far from where you wanted to stay. That is why taking with your RV leveling blocks is a necessary option.
This review will help you learn the fundamental benefits and facts about how you can level your Rvs securely. If you ever used rocks for stability, you know that these do not offer complete height requirements and are not convenient at all. That is when innovative about proper tools comes in place. Rocks are the thing of the past. RV Leveling blocks and ramps are the most efficient camping gears, especially for regular RVers. 
There are four types of RV leveling blocks to select. Interlocking blocks, ramps, electric and inflatable levelers. These levelers provide the most essential stability needed for camping.
Interlocking Blocks
These blocks are like bigger lego versions where you can use them to provide adequate stability to your RV, motorhome, trailer trucks, or campervan. Stacking them up together provides additional increments to reach the needed height for your RVs stability.
Though they may stand 1inch or sometimes 2 inches, when stacked together they only create half their height. You need to build/stack them in stairs to achieve the needed adjustment for your vehicle.
Leveling Ramps
Balancing ramps are ready-to-use types of units that you don't need to stack with. They are molded and the designs have fixed heights like stairs to a certain level of needs. Though some units have issues like slipping off when you drive into them, these balancing ramps have excellent support over your RVs wheel chocks.
One of the best solutions to this issue is by placing a rubber mat underneath your ramp. You can also check your tires once you have fixed and leveled the campervan, motorhome or RV.
Inflatable Levelers
Inflatable types of levelers enable you to provide stability to your RV or motorhome by placing the product underneath the tires or wheels that you wished to be lifted. You then manually pump the air to raise the leveler to the desired height. You can work with the inflator pump for your tires.
Though one of the setbacks with regards to this type is instability and wobbly vehicle. It can affect the suspension of your tires and most campers do not like these types. That is why we don't recommend them too.
Electric Levelers
Electric levelers provide an intuitive and extremely convenient process but with a great expense. It can cost you a fortune with just the products, roughly around $2,000 just for the products, and it doesn't sum up the service and installation. This leveler includes a remote control for easy access and navigation. Electric balancing jacks require minimal intervention.
Believe it or not, no matter how technology influences our lives, it's still ideal to sometimes work with the simple and old tactics of using RV leveling blocks or ramps for your RV and other outdoor vehicles.
Essential Features To Check
Maximum Weight
One of the most important features that you have to check with your RV leveling tools or ramps is their maximum weight capacity. This will help you find the perfect blocks that can withstand the weight of your RV and provide stability with balance. 
There are premium-quality RV leveling tools like those from Lynx RV brands that can carry up to 40,000 pounds of weight. There are even others who can support more. Now, before you purchase one, you need to determine the overall weight of your Rv including the appliances and everything inside. These additional things will help you weigh which one suits your needs.
Maximum weight capacity enhances the efficiency of your balancing blocks or ramps to make sure they provide the perfect support to your campervan or RV.
Durability
Durability is an essential factor for you to have a great camping journey. This means checking the materials that are used with your chosen RV leveling ramps.
For you to find one, aside from the manufacturer's breakdown and promise, warranty, word of mouth from reliable and expert consumers, plus expert insights and recommended products from common and expert outdoor enthusiasts. They will tell you what you need and which one has an established brand with reliable features.
Durability includes the resistance to weather and materials that are used to these products.
Think ahead of time and try to visualize the worst case that may happen if you don't check the product's durability. These can cause bigger accidents, injuries, and property damage. Like food getting spilled, someone might just accidentally bump their heads or falling objects might hit someone when your RV levelers break.
Aside from that, it can also break the RV's frame. This can cause the Rv to shift due to unbalanced terrain. And lastly, resistance to UV that causes products to be brittle, should take into consideration.
Convenience (Use And Storage)
Convenience is an important factor. This includes ease of usage, installation, and storing it back in place. Check whether you need help using or installing it or does it promise you to do it by yourself. if it does, that is perfect. 
Next is how you can clean and store them after use. Driving on the leveler with convenience is one of the most important benefits that you should take advantage of. 
Price
The price range sometimes affects the product's durability and additional features plus the convenience of using it. Most outdoor enthusiasts are looking for a product that offers the best of both worlds. 
The RV levelers price varies from brands to the warranty that they provide and the extra features that simplify your life. However, you don't need to break the bank, you can find incredible features with excellent durability. You can check our top product recommendations above and you'll surely have great and reliable RV leveling tools at an affordable price.
RV Leveling Ramps Advantages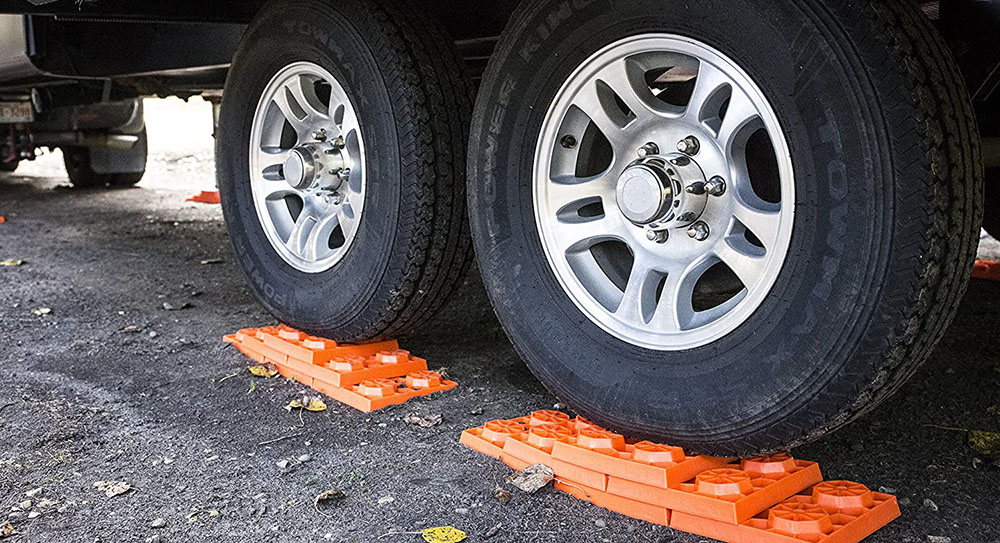 One of the main reasons why you need to have the best RV leveling block is to make sure you have the perfect tools to keep a secured stabilizer for your motorhome. It's an ancient way to use RV levelers made from woods or rocks found on a campsite, if luck is in you, you might find it hard to get something that will match what you need.
You can take chances when you are outside. It is suitable to be prepared for every possible thing that might happen. Including convenience that you can easily part and level your RV anytime. Even if you have an RV that has an independent balancing system, it is essential to be prepared. Our top selections are lightweight and won't take so much space.
What RV levelers provide is convenience, durability, and reliability. Unlike rocks or wood planks, interlocking blocks and ramps are strategically designed to provide optimum wheel support. They can withstand any extreme weather changes and conditions without failing. 
It provides a sustainable leveler that campers can easily access.
For emergency purposes in case the balancing frame of your RV breaks.
It provides comfort and convenience to easily level your motorhome or RV effortlessly. 
RV leveling blocks or ramps are durable and highly efficient. 
Balancing ramps serve two ways, adjusting the height and using it as ramps for big trucks to reach certain heights needed.
RV Leveling Blocks Efficiency
The leveling system and ramps are used to add heights for your RVs, motorhome, and campervans. They are placed into the ground and provide the needed height increments. You can set them up and drive into them for you to achieve the perfect level for your vehicle to be leveled.
You can select between leveling blocks or ramps based on your preference, your RVs weight and how much weight it has with the appliances inside the campervan. Most campers go for ramps as a dual purpose, an RV leveling block or a ramp for you to conveniently drive over to certain heights.
What are the best RV Levelers
When it comes to checking for the best levelers, you may have a few names that will ring a bell. These blocks or ramps have already established a name in the industry, provided comfort and convenience based on outdoor enthusiast experiences, and have trusted quality. 
You can check Andersen Camper Leveler, Tri-Lynx 00015 Lynx Levelers, Camco RV Leveling, Valterra, OxGord, and Homeon among the few brands. They are strategically designed to provide comfort and convenience, ease of use, easy storage, adjustable support for your wheels, and extreme durability.
How do you make RV blocks Leveling
If you are the type of camper that likes to improvise and do things on their own, you can build your personalized RV leveling system or ramps from materials around the home. You can also check for spare lumbers that you don't use anymore.
First is you need to check a few things including the basic measurements for balancing blocks or ramps. Standard measurements per side are eight inches by ten inches in between. While the thickness should be around 1 to 2 inches.
Step By Step Process
Cut the wood planks on the desired size as long as it meets the measurement per side. Your wood planks should have 1 to 2 inches thickness. 
Attach an eyelet screw on the side (you can do this on one side alone).
Tie a string or a rope through the screw eyelet. 
The rope will provide convenience to easily store or pull the homemade levelers.
How many leveling blocks for RVs will you need
Every campervan, motorhome, or RV has its required balancing blocks. It is essential to know how much will you need for your vehicle.
For example, for most RVs that are single-axle, you will need a set of an RV leveling block that has 10 pieces or one piece of leveler ramp.
While checking for tandem wheels require you to double that amount. However, this can still affect the number of blocks that you will need if you have a wider based block or ramps.
Making sure you have an additional set of leveler ramps or blocks is also a wise move. This is extremely essential if you are a regular RVer to make sure of your convenience and comfort.
What's the best way to level a camper
The most excellent way to level your RV or campervan is to use leveling blocks. This will help you easily determine the heights needed for adjustments. For more Rvers, this can be a piece of cake of a struggle. If you are a neophyte, you can learn from the easy steps below.
For most campers, leveling RV with your blocks, ramps, or homemade essentials is necessary. If you haven't tried a leveling system or struggle to level your RV, motorhome, campervans, and trailers, this guide will help you do it like a pro.
With free tips and tricks from what you need, how to do it and with the use of your leveling blocks.
First, find a good spot on the campsite that you wish to stay the night or wanted to place your motorhome. Make sure there is enough space, including nearby trees should have a good distance to open or close your doors.
Check the level of your RV or camper van on each side. There is a leveling system to use in this process. If there are a few adjustments, you can make them up and start leveling.
Place your leveling blocks into the designated spot. Check with your level meter how much height is needed to balance the vehicle.
Once you have completed the leveling process, including checking from the RV interior and everything is set, you can go back to your leveling blocks to secure them.
Don't forget to place the tire chuck into the front of your wheels to prevent them from rolling over.
Once you have leveled your RV or campervan from side to side, make sure to check the alignment from front and back.
*If your campervan has a tongue jack, you can use that to level your motorhome. Check with your level meter how much you will need. The electric tongue jack is easier to use. 
Once everything is leveled, you can place the supporting stabilizing jacks for optimum support. Stabilizing jack comes in both electric and manual settings.
Once all the stabilizing jacks are put for support, you are ready to camp!
Camper's Tip: The stabilization jack is not meant for you to use as an RV leveler for your campervan, RV or travel trailer. It was specially placed there to support the vehicle when proper leveling blocks or ramps are made for perfect adjustments. The jack provides stability support once you are leveled.
How do I fix the hydraulic leveling jack on my RV
Whether your leveling jacks don't go down or raised after camping, it is suitable to address the inconvenience. Stuck hydraulic jacks that won't retract easily is another issue. But all of these are experienced by some campers. That is why knowing how to troubleshoot is essential.
Here are the most excellent ways to easily fix the problem with your leveling jacks.
Step 1. Do the basic test. 
You can check how your hydraulic jacks react when you press its power button. If there is noise or nothing is happening, it can be a short circuit or fuse malfunction. Mechanical issues can be fixed but need to determine which area needs fixing.
Next is to check physically if you can override the system manually. After checking the control panel and nothing happens, you can start looking for the bigger picture.
Step 2. Inspect the jacks visually.
The best way to determine what is the cause is to check each jack. If there is liquid leakage that may prevent them from retracting. If they get frozen from the surfacer, you can pour warm water into them.
Step 3. Check the manufacturer's manual guide. 
The manufacturer is aware of the possible problems that you may encounter with your RV. You can find a troubleshooting guide that will walk you through and help you fix the problems.
Step 4. Try to retract it manually. 
Most RV models enable you to manually retract hydraulic jacks if they get stuck until you can take them for repair. proper precaution must be observed when manually retracting your Rv hydraulic jacks. Never go under the campervan or RV when raising your jacks as this can cause serious injuries and death.
Step 5. Check for additional help.
It is never too late to ask for some help coming from co-campers. Someone will surely know what needs to be done until it's time to hit the road back to repair shops.
Pro Tips on How To Stabilize Trailer Leveling Blocks
If you own an RV, then you know the importance of RV leveling blocks. Although most RVs come fitted with hydraulic or electric levelers, many don't come with any. RV leveling blocks offer a simple solution for stabilizing your trailer and can easily be stacked to reach the desired height. Here are some tips for stabilizing your trailer leveling blocks.
One of the first and most important tips is to find a good parking spot. You need to park on a flat surface with ample space. Check the level of each side of your RV van to ensure it is balanced. Most RVs come with a leveling system that will come in handy with just a few alterations to the settings.
It is best practice to keep an eye on your level meter when leveling your trailer. You want to be sure that the leveling blocks are the right height needed to stabilize the trailer. It can save a lot of time and energy if you measure the blocks using the leveling meter.
Of course, after you have finished leveling your trailer, put a tire chuck in front of your wheels to prevent them from moving.
Where to Find Quality RV Utility Blocks
There are different types of utility blocks on the market for leveling trailers. You can find these blocks on stores like Amazon. Every type of leveling block comes with a long list of pros and cons. Leveling blocks for trailers can be made of wood or plastic. Regardless of what you choose, it is best to buy high-quality blocks.
The pros of wooden leveling blocks are that they are inexpensive to make. Although there are many DIY wooden block posts, this is not the best approach. Wooden blocks tend to be water sensitive and more prone to slipping out of position.
Plastic blocks are also popular for being hassle-free. Many brands offer a variety of plastic leveling blocks for different trailer sizes. The cons of plastic blocks are that they easily break, crack, and bend.
The best leveling blocks are lightweight and are very hard to crack, break, or blend. Utility blocks come with different designs - including anti-slip patterns - that makes them particularly suited for their purpose.
Key Differences Between Camco and Andersen Levelers
Two brand names that stand out when you are looking for leveling blocks are Camco and Andersen. Both brands have earned a solid reputation in the highly competitive industry. But what are the differences in the levelers produced by Camco and Anderson?
A quick look at online reviews from campers will reveal that while leveling blocks from both brands are good, Andersen's tend to be stronger. Andersen uses more durable plastic to make its levelers, which makes them more durable and last longer.
Although Andersen levelers are stronger, Camco levelers tend to slip less. This is a significant difference. There are numerous complaints about Andersen levelers slipping without any backing. These slips tend to occur when a trailer is parked on a wet surface. Levelers by Camco don't have this problem.
Unlike Andersen levelers, you do not need to change or make any modifications to use Camco levelers. Camco levelers tend to be designed to be shorter than those by Andersen. However, levelers from both brands can raise a trailer to about 4 inches.
Conclusion
Outdoor adventure renews your spirit and enhances mental health. With this in mind, it is essential to find the most reliable leveling blocks or ramps for your RV. Our verdict for the best RV leveling blocks is Andersen Camper Leveler 3604. This leveling tool provides comfort and convenience, ease of use, and is known for its durability.
The Andersen Camper Leveler 3604 is made with durable materials that are known to be heavy-duty and can support up to 30,000 lbs of weight. They are compatible with any campervan or RV which makes them multifunctional and versatile. A good run for your money that provides the best support for your next escapade.