Best Gas Fire Pit To Buy + Helpful Tips & Must-Have Features
Owning a propane flame pit has a lot of advantages, not just for your outdoor adventure but for providing a relaxing ambiance to your co-campers, friends, and family. The use of firewood has become the thing of the past. Though it provides a homey feeling, propane flame pits are the new trending tools for every outdoor enthusiast.
First, they offer convenience and easy to set up campfires in just a few minutes. Second, they have stunning aesthetics that will surely impress everyone. Third, they set the mood without compromising safety and comfort. With all the different products in the market, promising safety and comfort, which one should you get?
How will you know which one has the right feature that you need for your next camping, beach party, or RV trip? Now we've compiled all the helpful features that you have to keep in mind. They will save you money, secure your safety, and promote better outdoor living.
Before setting up a campfire on your next destination, it is essential to know the fire restrictions on the area and comply. Next is to personally check the possibility of setting up a fire pit. Prevention is always better than risking lives and safety. 
Essential Features For The Best Propane Flame Pit
These features help you determine the most excellent fire pit for your next camping or any outdoor adventure. 
Portability And Size
For most outdoor enthusiasts, portability and the camping gear's size is an important factor. This is due to the limitation of spaces you have in your camper van, motorhome, RVs, and backpacks.
The size and weight come next, you wanted to bring a tool that is both lightweight, handy, reliable, and guarantees durability. Camping flame pits enable you to create a relaxing ambiance with convenience and ease.
With the right accessories like covers and carry bags, this helps easily take the propane flame pits wherever you want to set it up. With excellent mobility and ease of use, setting up the best fire pits is always a breeze.
Fuel Type You'll Use
The type of fuel that you'll use with your fire pit matters. Though most of them use propane tanks, it is essential to know which one is the most convenient for you. Checking benefits and setbacks for every fuel type is important.
The propane flame pits need something to secure your fuel tank. Checking for a safe and convenient spot to place your tank is another factor to consider. Regardless of what fuel you used, most portable gas flame pits are designed to simplify your life without compromising security and comfort.
BTU Rating
BTU is the amount of heat energy that your fire pit can provide. The higher the rating, the warmer it can get. Take into consideration the space you wanted to place your flame pits. All propane fire pits indicate their BTU ratings.
Most of them can generate from 30K BTUs up to 100K BTUs. The product's energy output can also depend on its construction, burner capacity, and size. With that, you'll have a better idea of which product you should purchase.
Ignition Type
The ignition type of your propane flame pit provides additional security. This prevents any unnecessary ignition that can cause major damage or accidents. There are fire pits that come with manual or automatic ignitions.
Aside from their unique yet user-friendly designs, ignitions are sometimes hidden away for users' safety.
Assembly And Aesthetics
Setting up your fire pit should not be complicated. Check for products that require no tool for setups. That way, you can easily set it up in a few minutes and you'll be relaxing in no time.
Aesthetic is another factor. Unique designs that are durable, reliable, and mobility should be part of your fire pits' design. You want to invest with a good-looking fire pit that has outstanding performance, not just to show-off but to add convenience on your part. 
Adjustable Flame Size
Adjustable fire size is ideal for you to control the flame of your fire pit. That way, you can control it to the size ideal for you to feel extra cozy and warm. 
Construction
The durability of your propane flame pits depends on the materials used for construction. Solid steel manufactured types are guaranteed to last longer, with protective enamel and high-temperature finished, you know you're investing with a superior-quality product. 
Safety Features
Safety features include accessories that improve convenience without compromising safety. A longer hose to keep your propane tank from a distance with a tank regulator. You can also check for locking lids to secure your fire pit.
A stabilizer ring that secures your gas tank. Next is a propane stand that keeps your gas tank in secured and prevents falling over that may cause an accident. Shutoff valves are also essential in case of unwanted scenarios.
Maintenance
Your fire pit needs proper maintenance for to keep it working and retain its quality. Aside from visual checking, cleaning the unit from time to time provides better performance.
If you noticed that your fire pit is off, you need to do a quick check-up to make sure you don't compromise its quality and avoid long term damage. Find a unit that is low-maintenance and is not complicated to clean.
Budget
The amount of money you want to invest in a portable propane flame pit will tell its quality and performance. Buying a cheaper product may not be wiser as there are a lot of safety features that may be missing.
If you want a fire pit that can withstand the test of time, invest in a premium-quality one. You're already doing yourself a favor by doing so.
Benefits Of Outdoor Gas Fire Pit
Handy fire pits are getting popular for most outdoor enthusiasts. There are specific benefits that you can get simply by owning one. Aside from the convenience and instant yet consistent warmth that they produced, we've listed below what's in store for you, if you've decided to ditch the traditional and laborious firewood for your campfire.
Convenience And Safety
What most campers, RVers, and nature lovers adore about portable propane flame pits is the convenience and security that they provide. Since they are handy and ready to use, you can simply use them with push buttons, manual or automatic ignitions.
You don't need to gather and bring forth with you heavy woods and firestarters. Most of the time it's harder to control and cause accidental fires due to sparks and fumes. Propane flame pits are mostly UL or CSA-approved for a safe outdoor campfire.
With their safety features, you can easily control or shut the fire off instantly for emergency scenarios.
Stylish Aesthetics
With multiple functionalities and stunning designs, these fire pits are truly the center of attraction for every camping, beach parties or RV trip.
With unique designs to select from, you can opt for something simple yet provides outstanding performance. There is a myriad of sizes and shapes to select that fit perfectly for your RVs and motorhomes.
Easy To Use And Portable
Gas flame pits are guaranteed safe and easy to use. With their user-friendly and travel-friendly features, they become part of your outdoor must-have gears.
Most fire pits come with matchless ignition, to begin with. With no required tools to set them up, you just tag them along with you, place them on the most appropriate 'center' of the attraction, and ignite their valves. As simple as that, no woods or firestarters needed.
Mobility is their second name. Like you can take them anywhere you like, they will surely provide the warmth to compliment the night sky.
Instantly Provides Consistent Warmth
Unlike firewoods, gas flame pits provide an instant yet consistent warmth everyone will feel cozy with. With their easy settings and fast ignition, you will not wait hours until you can feel the warmth, especially in the colder season where staying outdoors seems a challenge.
There are a variety of energy outputs to select which determine the heat temperature that every fire pit provides.
Easy To Control
Conveniently adjust the level of flame or temperature that your propane flame pit produces. With organic lava rocks to add flickering effects to your fire. You can set how warm and cozy you want by simply controlling the valves. 
No Smoke And Clean Flame
You'll surely agree with us that you don't want that tearjerker smoke which is produced by firewoods unless you want to take home the smell. Gas flame pits provide a clean and smoke-free flame.
It's a great advantage to be cozy warm next to fire without worrying about the smoke that most firewood produces. Using propane enables you to be comfy while relaxing next to a warm fire pit anywhere.
Ideal For People With Allergies
The smoke has major setbacks not just for kids but for people who have allergies or sensitivities when exposed to smoke. While gas flame pits provide a spark-free and smokeless burn, you'll have peace of mind knowing everyone is safe, and cozy warm.
Portable Propane Fire Pit Facts
Campfire sets the mood when it comes to outdoor adventures. This simple center fire allows social gatherings extra special and interactively cozy. However, there are some instances that setting your own campfire may be a challenge.
Campfire bans, for example, will restrict any firewood campfire. Next is the availability of firewood resources when you are out in the wilderness, if you'll be carrying your firewood, you need a good supply and check state restrictions at the same time.
This is where tagging along with you a portable gas fire pit becomes an excellent decision. It enables you to instantly fire up your pit either for warming up or for roasting something –like marshmallows–, or cooking hotdogs.
With total control over energy output, you won't need to worry about smelling fresh the next day. With campfire bans, you don't need to worry about a thing as most propane fire holes are UL or CSA-approved for safety and effectiveness.
You don't need to worry about smelling smoke afterward. 
No need to worry about wood supply or expensive firewoods.
Works perfectly even with campfire ban restrictions.
Saves you time and energy.
They are extremely lightweight, handy, and easy to use. 
Portable propane fire holes are multifunctional and can be used at your backyard or at a campground.
Outdoor Propane Fireplace
The luxury of owning an outside gas fireplace enables you to enjoy the outdoors even if it's chilly weather. The best ones are those that are connected to a propane tank. With a smokeless and clean fire pit, you'll surely have a relaxing night while enjoying the breeze.
With tons of options in the market today, all ranging from different sizes, aesthetics, prices, and manufacturers, it might take you some time to figure out which one should be part of your patio or backyard. This comprehensive review of the best fire pit, either for outdoor space or camping, will provide a helpful pointer to remember for you to easily find one suitable to your requirements.
Essential Factors To Consider
Portability
Looking for semi-permanent furniture to compliment your patio or backyard and serve as a fire pit adds beauty to your space. However, if you like to go for movable fire holes, then going for an outdoor fire pit is an excellent option. Checking for factors that affect the portability includes the weight, design, handle, and size to be exact.
Size
Whether you go for an outdoor, travel-friendly compact fire pit or a stylish table, you have to consider its size to fit with your living space and complement the area.
Durability
It's imperative factor to check the materials used for your table or flame pit to make sure it will last longer. The weather-resistant coating, rust-resistance, solid steel, or stainless steel are among the few impressive materials to take into consideration.
Design
The unique design is essential if you are planning to get a semi-permanent furniture table or burn pit. With the decor in mind, you can set standards of how you want it to look outdoors.
Warranty
The warranty is essential for all the products that you purchase. As with fixtures, you'll never know if something will be off after a few months of use. review warranty coverage and check consumer feedback on the product at the same time. 

There are a variety of factors to consider when it comes to buying a home fixture that improves the quality of your life. Regardless of how marvelous it looks, safety is our top priority. If you have kids playing and roaming around with you while outdoors, it's essential to keep an eye on them –-always–.
Propane Campfire
Propane campfires have changed the way we enjoy flame pits for camping grounds. From using expensive and heavy firewoods to lightweight propane burn holes, you'll easily notice the convenience that it offers.
With stunning benefits such as saving time from working with firestarters, energy-carrying lots of firewoods, and money buying woods and other essentials. the risk of possible allergy from smoke that is hazardous for most people, especially kids.
The fire ban will also refrain you from using firewoods, while propane burn holes are mostly UL and CSA-approved, which enables you to use it despite the burn ban.
With that, gas campfires have become the new face of outside camping with the safety, efficacy, and convenience that it offers.
What is the Best Small Propane Fire Pit?
When it comes to outdoor adventure, a campfire is the highlight of the evening, especially when the weather is colder. Outland Living has taken the camping ground by storm with its unbeatable durable products with complete convenience, portability, and ease of use.
The most excellent among their line up of fire holes is the 870 Premium model with automatic ignition and has a 58K BTU of energy output. This fire bowl is suitable for small to large groups. It is handy, easy to carry along anywhere you go, guaranteed durable, and user-friendly.
With its complete set from a carry bag to a protective cover to keep your organic lava rocks in place and an all-weather finish that lasts for years of use. It comes with safety features c=such as the 10 feet of pre-attached gas tank hose. This matchless ignition is safe and effective and is CSA-approved even for the campfire ban.
What makes it a premium option is its solid and robust steel construction that provides durability. You can easily set this up without any tools in just a few minutes. The compact and lightweight gas burn pit is surely a great investment for RVers and outdoor enthusiasts.
Key Features of The Best Portable Propane Fire Pit
Fire pits can add warmth, coziness, aesthetic appeal, and a different ambiance to your indoor or outdoor space. Unlike a wood burning fire pit, there are fire pits that don't require any combustible material like wood. You can get gel, natural gas, and propane fire pits in different styles and sizes.
Portable propane fire pits are arguably the most popular among them. You can get a propane fire pit table, a fire pit bowl, or a classic fire pit. Whether you are looking to buy a wooden deck propane fire pit or a patio fire pit, here are some key features to keep an eye out for.
Portable propane fire pits are lightweight and don't take up a lot of space. They are designed with fire-resistant materials like ceramic, stones, and steel. And they run on propane gas.
To guarantee your safety, these fire pits are made according to electrical and mechanical safety standards. They can be operated easily using an electronic ignition system or a long-tipped lighter. Some propane fire pits allow you to regulate the heat level and flame height.
Most portable propane pits come with a 20lb propane tank. They are smokeless, burn clean, and have a heat output of up to 50,000 BTU.
Regardless of your home design style, you will find a propane gas fire pit that fits in perfectly. The Outland Firebowl 870 is arguably the best portable propane fire pit on the market today. You will find many other top-rated fire pits at stores like Amazon. Check out reviews before you choose a firepit to buy.
Do Propane Fire Pits Keep you Warm?
One of the benefits that you can get with propane fire pit portable products is the amount of warmth that they instantly offer, especially during those chilly seasons and you want to stay outdoors. Though most of them will not make heat, they keep the heat in place.
All you have to do is find the best types of media that will help retain the energy output that your gas flame pit produces. There are even fire holes that come with multifunctional features such as producing heat and cooking something above the fire at the same time.
Now that is cool, right? Being able to stay outdoors even when the weather is chilly and you stay warm is relaxing. This relaxing ambiance can be set anywhere you prefer. With the portability and comfort that propane fire holes offer, more and more campers and RVers are investing with these tools to illuminate their outdoor evening. The centerpiece allows you to bond with the whole family or friends while being cozy.
The propane flame pit will surely keep you warm. They come with a variety of BTU output, the measurement of heat that this fire pt produces. You can go low or high, depending on your preference. Every fire pit has its specific BTU measurements to help you decide.
Do You Need A Regulator for A Propane Fire Ring?
All propane fire pits require some sort of regulator. The regulator on your portable gas fire pit or burner controls the gas pressure of the pipe leading to your propane fire ring. Fire pits have a metal or stainless steel burner. The fire ring is usually shaped like a ring, but also comes in other shapes.
To appreciate the importance of this regulator, you need some insight into the parts of your propane firepit. The main parts of your propane fire pit are the gas pipe/flex line, the valve/regulator, and the fire ring/burner. The regulator determines how large or small your fire is. It is also a safety feature and is also highly functional. It allows you to create the kind of ambiance you desire with your burning fire pit and regulates its heat output.
No doubt, there are some fire pits without a regulator. However, the best propane fire pits all come with a regulator, especially those with a portable gas or liquid propane tank. If your fire pit is connected to your household gas supply or a larger tank, you may need to use a different type of regulator. All types of regulators serve the same purpose. Some fire pits even have two regulators.
How Long does a 20 lb Propane Tank Last in a Fire Pit?
Knowing how much time your 20 lbs of propane tank lasts with your portable fire pit matters. traditionally, it will last up to approximately four to four and a half hours (4 – 4 ½ hours). That is if you are using your propane tank at its maximum output. However, if you use a moderate fire, it will likely last for approximately 9 hours max.
This will still depend on the amount of BTU that your table or fire pit produces.
Nevertheless, the lifespan of your gas tank will depend on how often or the amount of energy you will need. For example, if you have a 5 gallon or 20 pounds propane tank, and your fire pit is around 10K BTUs, then it consumes about 0.5 lbs for every hour and will likely last for about 40 hours.
On the other hand, if you have a table pit or fire pit that has 20K BTUs which uses about 0.9 lbs every hour, then your 5 gallon or 20 pounds gas tank will last for about 22 hours, under maximum burn.
And if you have 30K BTUs of energy output for your fire or table pit consume about 1.4 lbs of gas per hour, it will last for up to 15 hours. That is already fair. So the higher your BTU energy output is, the lesser time it will last.
DIY Tips: How To Build A Propane Firepit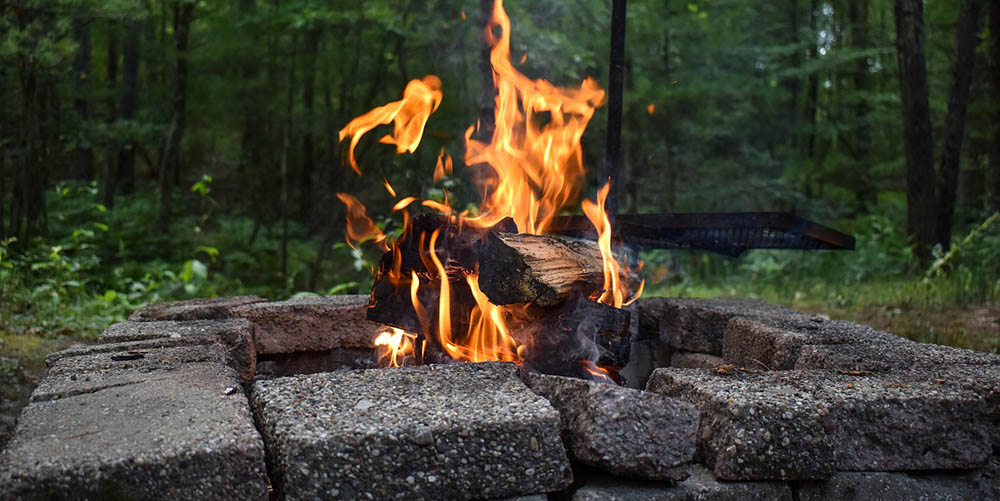 A propane fire pit can provide heat and create a different ambiance in your home or outdoor space. It is also great for camping. Propane fire pits are easy to build and safe.
If you are looking to build a propane fire pit, you will need to have the right tools, a suitable space, lots of patience, and attention to detail. Before anything, you need to check and confirm that the site you intend to build your fire pit is not flammable or close to any flammable material. If you are creating a wooden propane fire pit table, you must ensure that there is a suitable metal plate (the fire tray) separating the wood from the open flame.
You can build a DIY propane fire pit using different materials like ceramic, rocks, metal, and wood. If you would like to move your fire pit around and possibly take it to your campsite, you need a portable setup. It will include a gas tank that you can carry around. You can use a larger tank for a stationary fire pit since you won't have to move it around.
You need to fill your firepit with durable, safe materials. Rocks are the most common option, but there are also fire glass pits and other options that add to the aesthetics of your pit.
Whatever your choice, you can purchase all the basic components you will need for your fire pit online. It is important to use high-quality materials and observe the proper safety protocols when setting up your fire pit.
Safety Guidelines for Outdoor Propane Fire Pits
Although propane fire pits don't create sparks and are safer than a wood fire pit, they may pose a safety risk if they are not used properly. These are some safety guidelines for outdoor propane fire pits.
Ensure you have a fire extinguisher nearby whenever you are using a fire pit. A dry-chemical fire extinguisher works best and is available in portable sizes. Using water to extinguish the fire may result in damage to ceramic parts of the propane pit.
Accidents happen no matter how much we try to prevent them so it is best to always be prepared. If you are using a fire table made of wood, check that the top and base areas of the table are not exposed to the flames.
Always inspect your fire pit before using it. Kids or pets may put combustible materials like paper and plastic in the heating chamber while playing. Always clean your propane fire pit clean before using it. Take out debris, leaves, and other combustible materials before you ignite the flame. Also, ensure there are no leaks in the pipe connecting your tank to the burner.
It's also best to never leave a fire unattended to limit the chances of a fire outbreak. Turn off the fire on your propane fire pit if you will leave it for several minutes.
Check the weather forecast before using your propane fire fit. It is not advisable to use a fire pit in extremely windy conditions or when it is raining.
Keep children and animals at least 3ft away from your propane fire pit.
Conclusion
At the end of the day, whether you are driving or camping for adventure, you will want to sit and relax under the night sky and feel a refreshing breeze. With the colder season, you will want to feel the chilly breeze without freezing to death. Campfires are the best center of attraction for every outdoor lover.
Though there are instances like a campfire ban that restricts you from burning firewoods for safety, you need to bring with you effective and safe alternatives. This is where a propane fire pit comes in place. They are CSA-approved and can be used even with a fire ban.
Our verdict for the most excellent gas flame pit is Outland Firebowl 870 Premium, 58,000 BTU With Auto-ignition. This compact, handy, and lightweight flame bowl is user-friendly and travel-friendly at the same time.
It's the complete kit that will instantly provide the perfect warmth to your RV or camping adventure. With matchless ignition, spark-free, smokeless, and no messy ashes afterward, you'll have a relaxingly great night outdoors. It's even weather-resistant and constructed with solid steel. CSA-approved effective and safe products even for a fire ban.
With easy setup, you won't need to take many tools along with you. With multifunctional and safety features, no wonder it's the best propane burn pit in the market today. Don't be left behind and enjoy the benefits, convenience, and comfort the Outland propane fire pit offers.