A sleeping pad is an essential piece of equipment to help you stay comfortable and warm at night. As important as your sleeping bag, finding the right pad can sometimes be a real challenge as you have to weigh overall dimensions, prices, and R-values, among other things.
No matter what you're looking for in a camping sleeping pad, an objective review can help you figure out which is right. To make your purchase decision a little easier, we put together this objective overview of the best camping sleeping pads you should consider.
If you want to know the best camping sleeping pad without reading, we recommend the NEMO Roamer XL Wide for generous dimensions and a very high R-value though it'll be an investment in your equipment.
Best Camping Sleeping Pads
Compare Top Sleeping Pads For Camping
Detailed Analysis Of The Best Camping Sleeping Pads
1. Sleepingo Sleeping Pad for Camping
Overall Score: 82
Advantages
Extremely lightweight and compact
Affordable investment
Generous dimensions and thickness
Disadvantages
Mid-range R-value suitable for 3-season camping
Overall Dimensions
Even if you are quite tall, you'll love the overall size of the Sleepingo pad when you go camping. It has generous overall dimensions to accommodate just about anyone of any size.
You can rest easy knowing that you aren't likely to roll off the pad and will still have plenty of space. Dimensions come to 73.5 inches long by 21.5 inches wide.
You'll also rest easy knowing that you have plenty of padding beneath you. It comes with a solid two-inch thickness that'll have you sleeping soundly.
Weight
Nobody wants to be weighed down by the necessities in their pack, and a sleeping pad is one of several accessories you won't want to be without, especially in the winter.
The good news is that it won't add much weight to your backpack, coming in at less than a full pound.
Sleepingo makes this pad so light that it weighs just 14 ounces and takes up about as much space as a water bottle. This makes it convenient and easy to carry.
R-Value
If you plan to do a lot of camping in the winter, then you might want to know the R-value of any sleeping pad you're considering.
The higher the R-value, the more likely it is to help insulate you during those winter nights.
Sleepingo's pad found here is better suited to spring through fall and is considered a three-season option with an R-value of 2.1.
Material
The material that your pad is made from determines how long it will last and how durable it'll be for the long haul.
This candidate for the best sleeping pad for camping boasts ripstop nylon and a 20-denier thickness. It's designed to be waterproof, so it won't be ruined even if it gets wet.
If you want something that can withstand serious wear and tear, you can't go wrong with this option from Sleepingo.
Price
One of the benefits of the Sleepingo sleeping pad is that it won't break the bank.
Campers who know they need a sleeping pad for comfort and warmth will want to consider this option as an ideal starter sleeping pad. It's affordable, durable, and has generous proportions.
What more could you ask for in a sleeping pad?
2. Coleman Self-Inflating Camping Pad with Pillow

Overall Score: 76
Advantages
Extra thick pad with generous height and width
Self-inflating with compression straps for deflating quickly
Disadvantages
Slightly heavier than some
No listed R-value
Overall Dimensions
While the Sleepingo was definitely generous in its proportions, you'll find that this option from Coleman offers even more.
It's taller, wider, and even thicker than most pads to give you extra cushioning, making your sleeping experience more comfortable when you're roughing it.
The dimensions come to 76 inches by 25 inches with a 2.5-inch thickness.
Weight
This is one area where the Coleman doesn't shine through. While many sleeping pads clock in at less than one pound, this one is significantly heavier.
If you aren't camping far from the car, then it may not be enough to deter you from choosing it. However, every pound matters if you're hiking to the campsite long distances. It weighs 2.2 pounds (1 kilogram).
This may not be enough to deter you, but it's worth considering if you'll be traveling.
Another thing to consider is that it's self-inflating, so you won't have to worry about a pump or to inflate it when you get to the campsite.
R-Value
Unfortunately, Coleman isn't forthcoming with the R-value for their self-inflating sleeping pad.
If you look at the thickness of the pad (2.5 inches), you might conclude that it'll be good for colder temperatures, but there's no research behind it.
You'll take your chances on this sleeping pad if you do winter camping.
Material
This pad is designed to last you for the long haul. The shell is made from polyester, capable of withstanding some of the harshest conditions.
While it may not be the ripstop nylon of other pads, that doesn't mean it's inherently less durable. It's still weather-resistant, allowing you to camp in pretty extreme conditions.
Price
If you want something that will inflate itself and don't want to blow your entire gear budget on a sleeping pad, this option from Coleman is a great fit.
Given its overall thickness and features (self-inflating and compression straps for deflating), you'll be pleasantly surprised to see that it's still affordable.
3. Powerlix Sleeping Pad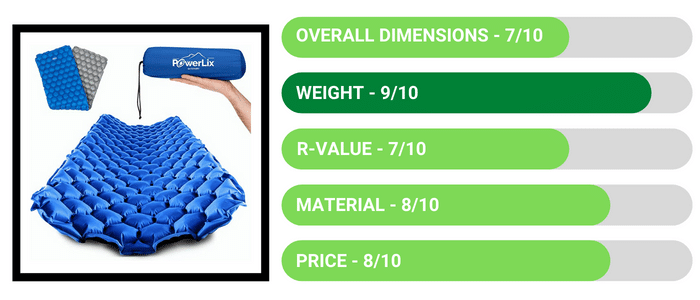 Overall Score: 78
Advantages
Lightweight and compact
Solid overall dimensions
Waterproof nylon construction
Affordable
Disadvantages
Low R-value, not suited for winter camping
Overall Dimensions
The Powerlix sleeping pad is a bit bigger than the Sleepingo but not as generous as the Coleman option. Falling solidly in the middle of the pack, it measures 74.8 inches long by 22.83 inches wide.
It's ideal for taller people, but it doesn't give you much room to roll around at night. That being said, not many sleeping pads do offer the option for those who like to sprawl out in their sleep.
It isn't as thick as some of the pads, but it comes close. Powerlix measures thickness at 1.97 inches thick.
While you aren't likely to notice a 0.03-inch difference in thickness, it's worth pointing out in a detailed review.
Weight
For those worried about being weighed down, this option from Powerlix clocks in at right around the size of a typical water bottle.
It measures 1.32 pounds (600 grams). Even if you can't fit the compact bundle in your pack, carrying it from the car to your campsite won't be any extra hassle.
R-Value
This might not be your first choice if you're looking for a winter camping pad or a 3-season pad.
The R-value is measured to be around 1.6, which isn't as impressive as some other pads offering similar features. However, for the price, you can't go wrong if you'll only be camping in warm weather.
Material
The Powerlix sleeping pad is made from durable nylon, designed to be waterproof and weatherproof.
If you're worried about your pad getting wet from the ground underneath your tent or if you choose to go tentless camping, you'll be pleasantly surprised by the durability of this option. 
Price
While the price of your pad will depend on what color you select, you can get a great deal on this Powerlix model.
It isn't priced to break your entire budget on this one essential piece of gear. It may not be the least expensive sleeping pad you'll find, but it's affordable, given the durability of warm-weather camping.
4. Nemo Roamer Sleeping Pad, XL Wide

Overall Score: 84
Advantages
Extra wide dimensions
High R-Value
Disadvantages
Heavier than most
Expensive
Overall Dimensions
Campers who like to roll around in their sleeping bag to get comfortable will want to consider this option from Nemo.
It's one of the only sleeping pads on our ranking with a wide version that you can enjoy with dimensions that clock in at 78 inches long and an impressive 30 inches wide.
Not to mention, it has an overall thickness of 4 inches for your ultimate comfort, no matter what the situation is in your tent.
Weight
One of the areas where the Nemo doesn't shine is the overall weight of the pad. If you're counting up every pound in your pack, this may not be the right fit.
While many sleeping pads are around one pound, Nemo's XL Wide comes in at around 5.5 pounds (2.5 kilograms).
R-Value
Campers who intend to enjoy the great outdoors year-round will want to rush to add this Nemo option to their pack despite its weight.
It has an impressive R-value at 6, making it as insulating as possible for those chilly nights. Combined with the durable material and thickness, you'll be as cozy and comfortable as possible on this pad.
Material
Nemo prides itself on making quality pads with waterproof and weatherproof material. It has a 50-denier stretch fabric durable enough to withstand any conditions.
You can sleep on a smooth surface, but you don't have to worry if you need to put it over rocks, uneven terrain, or even in the backseat of your car (provided it fits).
Price
The only place where the Nemo Roamer doesn't shine is its price. Be prepared to shell out big money for this model.
However, if you want something comfortable and ideal for four-season camping, you can't go wrong with this generously-sized camping pad.
It should be on your short list of the best sleeping pads if you have the budget for it.
5. Klymit Static V Inflatable Sleeping Pad
Overall Score: 80
Advantages
Low weight
High R-value
Durable 75D polyester material
Affordable
Disadvantages
Smaller overall dimensions
Overall Dimensions
After looking at the Nemo Roamer, you might not be impressed by the smaller dimensions of the Klymit. It's smaller than some, with a height of just 72 inches.
If you're extremely tall (over 6 feet), you might want to reconsider whether this is the right pad. Plus, it's pretty narrow at just 23 inches wide.
In terms of thickness, the Klymit Static V is pretty standard, with a 2-inch thickness.
Weight
As you might expect from a more compact sleeping pad, you won't be weighed down by the Klymit. It weighs a meager 1.4 pounds, so you'll have room in your pack for other important items.
When investing in this sleeping pad, don't get weighed down with the essentials.
R-Value
Depending on how low the temperatures drop in your area, the R-value on this sleeping pad could be just what you're looking for.
It has a higher R-value of 4.4, much better than some other pads in the same price range. While it may not keep you toasty in many sub-zero temperatures, it has some insulation in milder winter conditions.
Plus, the V-shaped design of the pad can trap your body heat in the grooves to make you feel even warmer when those temperatures drop.
Material
One of the benefits of the Klymit is that it's also made of highly durable polyester material. It has a 75D material that makes it perfect for windy conditions.
Throw it out anywhere you need to, whether over gravel or wet ground. It can withstand most of these conditions with ease.
Price
Klymit's Static V inflatable pad isn't the least expensive pad on our ranking, but it does have great value for what you pay.
It comes right in the middle of the other options – not as expensive as the Nemo but not as cheap as the Sleepingo.
Given its durability and how well it holds up in the cold, it's worth every penny of the investment.
6. Therm-a-Rest MondoKing 3D Self-Inflating Camping Sleeping Pad, XXL

Overall Score: 82
Advantages
Made for double sleeping
Highest R-value
Extra thick pad
Disadvantages
A more expensive option
Heavier due to extra size
Overall Dimensions
Are you looking for a sleeping pad to share with a camping buddy? Keep that body heat flowing with a sleeping pad that can easily accommodate two people, like the MondoKing in the XXL size.
When you upgrade to this size, you get extremely generous dimensions of 77 inches in length and a whopping 80 inches wide.
You may even be able to squeeze a third person on this pad, depending on size. You'll also get a nice thick pad at 4.25 inches thick.
It's comparable to other pads like the Nemo Roamer regarding how much comfort it provides on a long night over uneven terrain.
Weight
Given its generous sizing, you'll be surprised to learn that it still doesn't weigh a ton. It weighs about 5.25 pounds, which is quite light considering that you can fit two to three people on this pad.
If it's too heavy for one person to carry, you can take turns carrying it on the hike to the campsite with your tentmates.
R-Value
This is easily the pad that offers the most in the way of insulation for cold weather. This is truly an all-season pad with an 8.0 R-value.
If you only want to invest in one piece of equipment that allows you to camp all year round, then the MondoKing is what you'll want to add to your pack.
Material
You'll be able to rest easy knowing that your investment in the Therm-a-Rest is well-placed. It's made from a very durable 50D polyester knit that can withstand some of the toughest conditions in the wild.
It can keep you comfortable over rocks, tree roots, and any other obstacle that often gets in the way of a solid night of sleep in your tent.
Price
Given its larger size, impressive thickness, and high R-value, it is probably no surprise that this pad is a bit more of an investment.
It's more in line with the price of the Nemo Roamer, so if you were thinking of investing in a high-quality pad that will last you for the long haul and protect you from cold temperatures, then you can't go wrong with the Therm-a-Rest.
Final Thoughts
The ideal camping sleeping pad depends on your height, how much you want to move around, and what seasons you'll be camping in.
The Nemo Roamer is the best option if you need something that offers a lot of insulation against cold temperatures and still has room to move around.
It's a bit of an investment, but having a solid pad from one of the leaders in the camping equipment space is well worth it.