The Best Camera Backpack for Travel
Among our top 10 camera backpacks, the Lowepro ProTactic 350 AW Camera Backpack is one of the best camera backpacks for travel. It is simply the most suitable choice for all types of travel. It is rather a pricey choice, but considering the prices of your gears and camera, you would want only the best pack to keep it safe, secure, and accessible for you. Lowepro is a world-renowned company that designed the most innovative camera bags, and their ProTactic modular pack is a great value for money.
It can be modified to fit all types of scenarios. It has Velcro dividers inside to accommodate your gears – camera, lenses, a laptop, and even a drone. You can even fit your favorite lens attached to your camera. Or you can take the dividers off if you favor a more open space.
This gives the photographer options for easy access of equipment. It has a rear-opening wherein you'll find the zip laptop compartment. But the real advantage of this pack is the loops in the exterior. You can attach various accessories like a flash holder, a tripod toe-cup, phone case, straps, and others.
Considering all the features, this bag is a versatile camera backpack choice for comfortable travels.
The Best DSLR Backpack
The Lowepro Flipside is a trusted DSLR camera backpack for years, and it's for a good reason. It is a solid, reliable pack designed for comfort and utmost protection for your gears. It has well-padded shoulder straps and a supportive waist strap. These features make a big difference if you are carrying a lot of gears for a long period.
It snugly accommodates your DSLR camera and accessories with its padded dividers. Smaller accessories can be kept in pouches at the back. The dividers also allow the user to organize according to their preference, with emphasis on easy access of camera and lenses. Impressively, you can easily slide off the shoulder straps and access your things by pulling it in front of you just as long as the waist belt is connected. It turns into a table of some sort so you can change lenses whenever you need them.
The bag is made from waterproof, tear-resistant material, so it's durable and will last you several years of service. It comes with a tripod mount that is centrally located, so carrying will not be a burden.
The Best Travel Camera Backpack
When choosing a camera backpack for your travels, there is always the temptation to find a pack that will accommodate all your gears and stuff. But the best camera backpacks should be chosen according to the type of traveling that you will do. Will you be hiking most of the time? Will you be exploring cities and urban locations? A backpack with all your cameras, extra lenses, tripod, and other devices like your laptop can be extra heavy when worn for long periods. It can strain your neck, shoulders, and back.
Ideally, a camera backpack for travel should be around 30 to 40 L in capacity. However, it should also be versatile and flexible so that you can pack more efficiently for your type of travel. Some of the top considerations for a travel camera backpacks are adjustable or removable dividers, multiple, multi-functional pockets, separate tiers, and hassle-free access. If you are a light traveler, you can get a smaller 20 L backpack, which you can pack smartly for your quick trips.
In some cases, photographers have plans of adding new lenses to their collection or for their profession. If this is the case with you, too, you have to find a travel camera backpack that will grow with your needs.
But what features should your travel backpack have? The best features usually are subjective to one's personal preferences. What might be an impressive feature for you is not a fundamental need for others. So based on the functionality and primary needs of travel photographers, here is the list of the features that should be in a travel backpack:
Solid Square Base – this might be a simple feature, but some backpacks fail to remain upright on their own. When shooting outdoors, your backpack should be stable. The last thing that should happen is for your pack to topple over and damage your lenses and other gear.
Weatherproofing – the best camera backpack for travel is protected from the elements. It should be made from high-density non-porous material with sealed zippers. An additional rain cover that fits over your pack is essential for unpredictable weather conditions.
Split Compartments – in recent years, roll-top camera backpacks have become a thing. A lot of travelers now prefer to have dual compartments in their travel backpack. These camera bags offer less space, but it gives you the advantage of having separate spaces for the photography gear, lenses and personal items.
Tripod Holder – for many, the perfect camera backpack has some contraption that will secure a tripod to its exterior. It must have straps with clips or bungee loops to attach the tripod securely. If you can try out before buying, take your tripod to the store with you and see how it feels to carry the bag when the tripod is fastened.
Quick Access points – this feature has become a must-have in new camera backpacks. Some bags now allow you to access your camera from an easy side-access, so you don't need to take off the backpack whenever you have to use the camera.
Waist belt and straps – Padded-shoulder straps is a given essential feature that camera backpacks should have. But waist belts are a very practical addition that can help distribute weight evenly to your torso. If you need to walk long-distances, it is best to get a back with a waist belt for better support.
Which Brand Has the Best Waterproof Camera Bag?
Water and camera don't go well, which is why it's essential to invest in a high-quality waterproof camera bag to ensure your DSLRs are safe. Thorough soaking spells doom to your expensive camera kit. A good camera backpack comes with multiple storage spaces to take a variety of camera accessories, including an extra lens, tripod, and flashes.
While there are plenty of stylish camera bags that offer water-resistant canvas materials, the best photography backpack offers exceptional features. These include an adjustable hip belt, sternum strap padded interior for support, adjustable shoulder strap, an adjustable divider for the camera body to have versatility and flexibility, and all-weather protection.
If you take your camera equipment ready to take shots, the padded divider must have enough dimensions to support the camera's attached lens. While a multipurpose everyday backpack can be an alternative, it must have enough protective room or compartment space to secure your camera equipment.
Furthermore, with a comprehensive guide to walk you through the must-have essentials for an excellent camera case or DSLR backpack, you'll soon be off the traditional messenger bag or sling bag as you'll have the perfect storage for your pricey equipment.
Whether you're taking a mirrorless camera, multiple DSLRs lenses, tripods, and more, a good version of a camera backpack must have a side panel for easy access and several storage dividers to take a considerable amount of camera accessories.
The Most Durable and Best Photography Backpack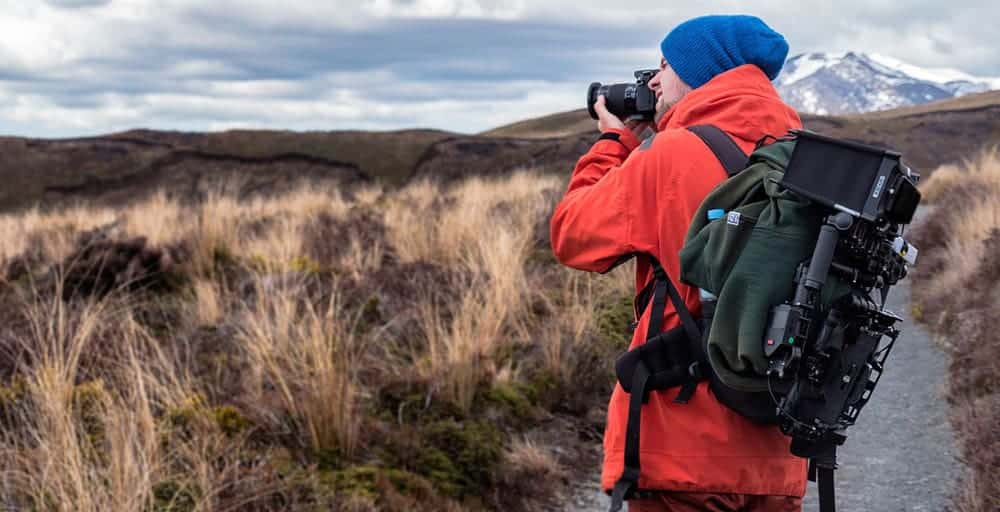 A functional, durable, and high-quality photography backpack makes a massive difference when honing your photography skills or finding your perfect groove. Whether you trek to capture rare wildlife or endangered mammal shots or keep low-profile touring public places for poignant snapshots, you'll need to ensure that your camera accessories or your extra lens are safe and protected.
The best photography backpack provides plenty of storage space to keep all the camera equipment secured. An adjustable divider padded interior helps protect the camera body during transit. In contrast, the adjustable hip belt, sternum strap, and shoulder strap support your body when carrying your pricey camera kit.
While you may use an old sling bag or messenger bag to carry your DSLRs with an attached lens in it, here are the best reasons why you'll need to invest in a good camera backpack. These bags provide the perfect amount of storage space and secured compartments for all your camera accessories.
The contour with your body to ensure you're conveniently in great condition as you carry your equipment in transit and are properly protected at the same time.
For instance, if you trek in the wilderness to capture a great shot, your DSLR backpack that is made with padded divider, water-resistant canvas, and has enough side panel or room for multiple camera kit, you'll have peace of mind knowing your equipment are secured from lousy weather, bumps, and knocks.
Most stylish camera bags come with a variety of storage dimensions to accommodate your everyday backpack and DSLR requirements. Whether you're working with a mirrorless camera version or using multiple flashes and tripods, this guide will lead you in the perfect direction.
Camera and Lens Backpack — 2021 Deals You Can't Miss
In your ongoing pursuit of that winning shot, you'll need a reliable, durable, stylish camera and lens backpack to carry your essentials for photography. The great news is that there are plenty of stylish camera bags to choose from, including mirrorless camera bags, DSLRs, and a padded divider sling bag for all your camera accessories.
If you have a good camera backpack, you can take along all camera equipment easily and securely. Whether you take urban shots, rare wildlife footage, or stunning landscapes, your backpack becomes your safe and secure storage space for all your camera accessories.
A valid reason to invest in the best photography backpack isn't only for looks but also for protection. Whether you are carrying a DSLR camera with an attached lens with you or an extra lens as an accessory, your DSLR backpack comes with a customizable padded interior that can be reshaped or reconfigured to fit your personal needs.
Despite the ease and variety available with an everyday backpack, dimensions are crucial if you wish to ensure optimum room protection for your bulky camera kit. Although most photographers can be comfortable with a messenger bag with waterproof canvas materials, professional photographers need more than that.
You must prioritize having ample amount of space to carry your camera accessories safely. Support is another element to take into consideration. For instance, the adjustable divider for the interior panel in your camera bag is another plus point. This enables you to take multiple lenses with you.
Most DSLR backpacks come with an adjustable hip belt, shoulder strap, and sternum strap to guide and allow your body to move like you when needed. Traditional version backpacks include tripod holders and rain covers to ensure your accessories and camera body are well-protected and easily handled.
Best Hiking-Friendly Canvas Camera Backpacks
While nature and photography coexist, there are several factors you need to consider before using canvas camera backpacks on your next hiking or photography shoot. If you intend to hike, the best photography backpack must be fully equipped to secure bulky DSLR cameras with an attached lens or a mirrorless camera with an extra lens.
Taking shots with high resolution while keeping optimum support is vital. While an everyday backpack like a sling bag or messenger bag is your first choice, this may not offer the perfect storage space dimensions and the perfect amount of padded divider interior support for your camera accessories.
Having a good variety of options can help you weigh which one works best based on your distinctive requirements. A good camera backpack must offer convenience and support from an adjustable divider or multiple panel storage to secure your DSLRs.
Several stylish camera bags that are made with canvas come with a different versions that offers genuine room to carry your camera kit while in transit. Having functional, durable, and high-quality for your camera equipment is a top-priority.
With plenty of support coming from an adjustable sternum strap, hip belt, and shoulder strap can leverage your photography experience. When searching for the perfect DSLR backpack, aside from securing the camera body, this should help guide your winning shots through the multiple amount of padded interior your pricey camera accessories require.
Best Travel-Friendly Mirrorless Camera Backpack
In the quest for the perfect mirrorless camera backpack, there are a few things that you should consider as your best buying guide for a multifunctional and reliable camera bag. A good camera backpack is a must-have if you're going to be taking your camera kit along on your hikes, in transit, or all around the urban areas for HD shots.
The best photography backpack offers comfort, support, and convenience thanks to its adjustable divider interior, hip belt, shoulder strap, and an adjustable sternum strap that ensures your bag stays put. Some stylish camera bags have a variety of storage space and compartment sizes for the camera body.
While an everyday backpack like your sling bag or messenger bag can be an option for your camera accessories, a DSLR backpack must be your top choice. These bags come with a padded divider on their panel to protect multiple camera accessories.
Since your camera equipment is a massive investment, you may want to opt for a version that provides plenty of room to secure your valuables. A variety of compartment dimensions offer various uses, while a padded interior provides full protection for your camera accessories.
Whether you'll be taking bulky DSLRs with their attached lens or take an extra lens from your mirrorless cameras, their canvas materials should offer the perfect amount of support and protection required for your DSLR accessories.
In case you'll need extra storage space to travel in style, you'll also want to check for various camera backpacks that come with traditional features and innovative materials in one. These bags are made with the photographer's convenience in mind with excellent unobtrusive options for your city breaks.
Perks of Having a Side Access Camera Backpack
For complete photography convenience, you can choose a side access camera backpack that is available on the market today. With these bags, you can get quick access to your camera equipment like an extra lens or a mirrorless camera for those high-resolution and distinct shots.
A good camera backpack without any side access can be tedious and cumbersome. While there are plenty of options available, a DSLR backpack comes with side access for mirrorless cameras and various camera accessories.
Choosing a reliable and durable storage space for your camera body like your bulky DSLRs with an attached lens can be challenging. There are ample amounts of variations in the market, all offering excellence.
The best photography backpack offers the perfect amount of features beneficial for a photographer. These include an adjustable divider with padded interior compartment dimensions, hip belt, adjustable sternum strap, and cushioned shoulder strap to contour with your body while in motion.
Messenger bag and sling bag may have a padded divider interior for your camera kit, but this everyday backpack may not be the perfect equipment to support your bulky DSLRs. The most stylish camera bags are strategically designed to provide enough protective room and a variety of storage space to secure your pricey camera equipment.
If you're searching for a complete guide or walkthrough on how to find the perfect camera backpacks with side access, why you need them, and what version to check, you're on the right side of the internet.
It is imperative to choose canvas material bags for camera equipment that offers protection from various elements. Most camera bags feature a padded panel inside the main compartment to protect DSLR cameras with attached lenses while in transit.
Sizing and Fit Guide: Small or Large Camera Backpack
When traveling, hiking, or going on city breaks, a large camera backpack is an ideal choice for photographers who prefer to carry several kits and camera accessories. You can easily equip yourself when outdoors or when traveling in remote locations in such a way that you'll stay comfortable.
There is a variety of camera equipment depending on your favored style and preferences to carry along. Photographers, newcomers included, will find that a DSLR with an attached lens cannot simply be fitted into their everyday backpack. In addition to the main camera body, some of the more sensitive features require a padded interior for optimum protection.
Whether you're using a messenger bag or a sling bag to carry out all your accessories, a good camera backpack offers excellent support and convenience on your end. Aside from its protective features, the best photography backpack makes your life easier as you carry multiple gears, an extra lens for your mirrorless camera, or other DSLR equipment.
Finding the right fit and size for all your camera kit can be challenging as you'll consider the storage space, adjustable divider, padded divider, panel version, and support features. Besides compartment dimensions or several room pockets for tripods and handy jibs, you'll want to cover all sorts of odds and ends.
Most stylish camera bags come with plenty of standard features like a cushioned shoulder strap, adjustable sternum strap, and hip belt to contour with your body as you move. The DSLR backpack materials greatly vary with their functionalities and serve as your guide when packing your essentials.
Some canvas bags for DSLRs come with an ample amount of padded compartment to secure your pricey kit, like an extra lens for your mirrorless camera.
Conclusion
Finally, the best camera backpack is more of personal preference. Choosing the right bag for the camera depends on your travel style, and the gears you need to take with you. Some bags give you the option for sole camera use or personal items. There are even bags designed to accommodate all you need for your travel. You should also consider the places you will visit using your pack.
Are you exploring trails and the outdoors, or will you be visiting museums and cities? Once you've decided on the features you need, take a look at our top recommendations for you to find the bag that will work for you. The Lowepro Fastpack 350 DSLR Camera Backpack is considered the best camera backpack by most users, especially for pro DSLR owners.
The Vanguard Alta Sky 66 is the most spacious bag on our list and big enough for long travels while the Beschoi DSLR Camera Backpack is a nice camera daypack for your city travels.