Waking to the sound of waves crashing and sand beneath your toes is part of the charm of beach camping. Whichever beach you plan to camp on may have specific state laws to govern if and how you are allowed to camp. In this easy-to-use guide, we talk you through the laws in all 23 states that touch the sea.
Most states only allow camping in a designated area, such as Massachusetts or Rhode Island. While others may ask you to secure a camping permit beforehand, such as in Connecticut or Hawaii. Some states, such as Texas and Louisiana, still have free legal camping on the beach.
You should ensure that you follow the law in whichever state you camp in. Illegal camping on the beach can have serious consequences, from a small fine to up to 2 months in jail. Keep reading to find out what laws are effective in the 23 states that touch the sea.
The US Beach Camping Laws
1. Alabama
You may be surprised to hear that Alabama even touches the sea. Well, you're in luck! You can legally camp on designated campgrounds in Alabama.
Gulf Shores allows public camping in tents along the beach. However, they must reach a maximum of 7 ft W by 7 ft L and be no taller than 4 ft.
If your shelter or tent is greater than this size, you'll have to move it to one of the designated camping areas.
Further west along the spit is Fort Morgan Peninsula, which spans over 14 miles. The beaches along this spit are a mixture of private and government-owned.
There are 5 different beach access points along the beach, and each has different laws governing what the beach can be used for. It's best to double-check which laws are in effect around the year.
If you're looking for beach campgrounds, we recommend Gulf State Park or Pelican Nest RV Resort and Campground.
2. Alaska
You may associate Alaska with freezing temperatures, but camping on the beach is still possible here. To camp in Alaska, you must purchase a Land Permit.
The Land Permit allows you to camp anywhere on Alaska State Trust land, and permits can be bought for a single day, a week, a month, or even a year.
If you purchase a longer permit, you should know that you can only camp for up to 14 consecutive days.
We'd recommend camping at Deep Creek on Cook Inlet, which has sandy beaches and spectacular birdwatching. Or check out Homer Spit in Kachemak Bay for fishing and marine life spotting.
3. California
California is known for its stunning beaches and warmer climate in the summer.
Recently, California has implemented new laws around camping on the beach to protect precious ecosystems that call the beaches home.
North of LA, Ventura County does not allow camping on its beaches. However, camping is allowed on several beaches with a permit.
These include Points Reyes National Seashore, Refugio State Beach, and Oceano Dunes on Pismo Beach.
Just be aware that some campgrounds on these beaches will be closed for your safety during the rainy seasons (from December to March).
4. Connecticut
Facing the open ocean, Connecticut beaches feature calmer tides, making perfect swimming conditions.
While several free camping sites are located throughout Connecticut, the Department of Environmental Protection asks that you secure a camping permit before camping anywhere along the coast.
Hammonasset Beach, where you must secure a camping permit, is a popular beach in Connecticut.
With glorious sunsets and a variety of watersports, the campgrounds at Hammonasset offer a maximum stay of 21 days, where you must then exit the beach for 5 days before returning.
5. Delaware
Delaware beaches usually offer good waves for the perfect chance to surf. A tent or shelter on the beach is strictly prohibited on Fenwick Island.
As for the rest of Delaware's beaches, camping is only allowed in designated campgrounds, regardless of if the beach is public.
For six miles of ocean coast, we recommend checking out Delaware Seashore State Park, which offers a variety of campgrounds (full hookup to primitive camping).
Or Rehoboth Beach, which offers numerous campgrounds right next to the water. Most camping is open year-round but may have restricted services operating in winter.
6. Florida
With the Gulf of Mexico on one side and the North Atlantic ocean on the other, Florida offers hundreds of miles of beach. Unfortunately, in Florida, it is not legal to camp on any public beach.
According to Jacksonville Beach City Ordinance Section 16-10, all camping and sleeping on the beach at any time is prohibited.
Many residents live directly on the beach and do not tolerate campers in their backyards. Failing to follow this law could result in a $500 fine or a maximum of 60 days in jail.
There are, however, hundreds of campgrounds located on Florida's beaches. We would recommend checking out campsites in Canaveral National Seashore or Flagler Beach.
7. Georgia
With 13 barrier islands and hundreds of miles of shoreline, Georgia offers various beaches.
The Golden Isles is one of the most popular camping destinations, but while camping on public beaches is prohibited, you can find plenty of campgrounds not far from the shoreline.
The same laws apply in Tybee and Jekyll Island, where you'll need to stay in a designated campground.
While there is no free camping on the beach, plenty of public camping grounds are located in the forests and mountains of Georgia.
You could always find one close to a legal and free beach and take advantage of being closer.
8. Hawaii
Made up of a group of volcanic islands, Hawaii offers fantastic hikes and surf-ready beaches. All beaches in Hawaii are public.
However, you must secure a permit before camping. It's important to note that camping permits cannot be purchased from campgrounds.
They must be bought online at Hawaii.gov or in person at a district office. Make sure if you're booking online that you print your permit before getting to the campsite.
Also, be aware that only one campground in Hawaii accommodates RVs or campervans, and that's in Waiʻānapanapa State Park. Otherwise, every other campground is strictly tent camping only.
9. Louisiana
Louisiana is one of a few states that offer free and legal camping on public beaches.
Located west of Rockefeller Wildlife Refuge and east of the Gulf of Mexico, Rutherford Beach offers a wonderful free camping experience.
While facilities are limited at Rutherford Beach, you get a more rustic, secluded camping experience.
The waters are a mixture of salty water from the sea and freshwater from the Mermentau river, which means unique wildlife is easy to spot.
Holly Beach is another popular free camping destination in Louisiana that allows you to even drive along the beach.
Some beaches have designated camping areas, so double-check where these are located before you arrive.
10. Maine
With many campsites accessible only by canoe/kayak or hiking, Maines beaches are perfect for those looking for that extra adventure.
Each town in Maine will have specific beach laws, and some will require permits. While several lakes and forests will offer free camping, free beach camping is rather scarce.
Instead of just pitching up anywhere, we'd recommend camping in a designated campground along the coast.
Check out either: Lobster Buoy, which is located approximately 7 miles from Rockland, Waterman Beach, which has easy access to the sea, or Ogunquit Beach, near Portland, for a sandy paradise.
11. Maryland
Maryland has over 3,100 miles of blissful shoreline and an abundance of campgrounds to pitch up in. Maryland is a beach experience unlike any other.
With ponies roaming freely at Assateague State Park and a water park with a zip-line at Frontier Town, you can find a beach that interests you.
Unfortunately, you can't just pitch up anywhere in Maryland. You will have to camp in a designated camping area if you plan to camp on the beach.
If you plan on taking a pet, double-check it's allowed on the beach, as some prohibit pets.
12. Massachusetts
Massachusetts boasts some spectacular camping spots. If you like falling asleep to the sound of waves, or stretching your toes in the sand when you wake up, then Massachusetts beaches are the ones for you.
It is only legal to camp on the beach in a designated campground, so there is no free camping, unfortunately.
We don't see this as an issue, though, as campsites on Horseneck Beach State Reservation and Scusset Beach State Reservation let you stay oceanside!
13. Mississippi
Mississippi offers some beautiful coastal camping where you can unwind. Mississippi offers boat-in backcountry camping on some of its wonderful islands, including Petit Bois, Horn, and East Ship.
If you plan to camp in the wilderness on these islands, you must camp on level ground without damaging the dunes or vegetation. It is only permitted on East Ship Islands if you want to take a pet.
Otherwise, if you plan to camp on the coast, it'll have to be in a designated campground. We'd recommend checking out Buccaneer State Park, which offers spectacular views of the Gulf of Mexico.
14. New Hampshire
Ocean camping in New Hampshire is vastly different from that in Georgia or Connecticut. Beach camping in New Hampshire can be rustic or glamorous. It has options to suit everyone.
By law, camping and campfires are not permitted in New Hampshire State Parks except in designated campgrounds. You are also only allowed to camp for free in roadside car parks.
Check out Hampton Beach State Park Campground, which offers camping on the beach, restrooms, showers, and a small shop.
15. New Jersey
New Jersey has strict beach rules, including even beach curfews at night.
Where camping is concerned, the Department of Environmental Protection states, ' Camping/erection of tents and shelters (a) A person shall not camp on any beach under the jurisdiction of the State Park Service.'.
So there is no public beach camping. However, there are campsites just a short distance from the beaches.
Ocean City Campground and Ocean View Resort are stunning campsites that get you as close to the beach as possible.
16. New York
Believe it or not, you can camp on Long Island and Staten Island beaches. While New York state allows primitive camping in many public forests, you cannot camp freely on any beaches.
This is partly because the oceanside beaches are so close to New York City. If you want to camp on Long Island or Staten Island, you must do so at a designated campground.
We'd recommend Hither Hills State Park on the eastern tip of Long Island or Camp Gateway on Staten Island, which boasts beautiful views of the Verranazzo-Narrows Bridge.
17. North Carolina
North Carolina offers a unique mix of organized beach tent camping and wild, sandy set-ups. Unlike most states, there are public beaches that offer primitive, undesignated camping.
Here, you can also read about my article on the Best Tents for Beach Camping.
Take Cape Lookout National Seashore, for instance, where you can camp wherever you like, right on the beach.
Known for its wild horse, the only rule you must follow on this beach is camping at least 100 ft away from wells, docks, shade shelters, and bulletin boards.
Permits are not generally needed unless you plan to camp in a group greater than 25.
If you prefer a campsite with amenities, check out Hammocks Beach State Park, which offers hot showers, restrooms, and even a ferry service!
18. Oregon
Oregon is another great state to camp in if you prefer a more primitive camping vibe.
Sections of Oregon coast beaches allow you to camp overnight, as long as you do not camp adjacent to Oregon State Park or within any of the surrounding city's limits.
Located along the stunning scenic coast, we'd recommend Elk River Road for free beach camping.
Otherwise, if you prefer one of the more pristine beaches, you'll have to camp in a designated campground. We'd recommend either Tillicum Beach Campground or Beverly Beach State Park.
19. Rhode Island
The best beach camping on Rhode Island is usually found between September and October. This is when the crowds are smaller and autumn foliage is blooming.
Unfortunately, you can only camp in designated areas on the beach, so there is no public camping. This isn't an issue, as the many designated campgrounds put you right at the edge of the water.
Campgrounds we'd recommend include Second Beach Family Campground and Charlestown Breachway.
20. South Carolina
You may have heard of Myrtle Beach in South Carolina. The famous city and beach are renowned as a popular vacation spot, and its 60-mile-long cluster of beaches is known as the Grand Strand.
To legally camp directly on Myrtle Beach and other beaches along the South Carolina coast, you must do so in a designated campground for a maximum of 14 consecutive days.
There is free, legal camping along the coast, but it's not directly on the beach. If you don't mind camping a few miles from the beach, check out Francis Marion National Forest or Santee Coastal Reserve.
21. Texas
Texas is another one of the few ocean states that do offer free legal camping on the beach. The only condition is purchasing a beach entrance fee, usually between $5 and $10.
North Beach in Padre Island National Seashore and Beach RV Park in Port Aransas offers free, public legal camping on the beach.
Texas has plenty of designated campgrounds along the coast if you prefer a more secure beach camping spot.
We'd recommend checking out Sea Rim State Park, which is surrounded by fantastic wildlife and offers boat-in camping, electrical hookups, or primitive campsites.
22. Virginia
Virginia is surprisingly famous for Virginia Beach, which sees hundreds of campers descend throughout the year.
Laws governing camping on Virginia Beach and other beaches along Virginia's coast state that you must camp within designated camping areas.
While some forests in Virginia offer free public camping, the beaches do not. However, this doesn't mean the campgrounds will be busy and overcrowded. You can still primitive camp in many secluded places.
For this camping experience, check out False Cape State Park for untouched natural beauty or First Landing State Park, which offers sheltered camping in the dunes off the beach.
23. Washington
If you like hiking trails combined with relaxed beach vibes, camping on one of Washington's beaches is the trip for you.
Following Washington state law, camping is only available in specific locations and may require a wilderness camping permit.
While you'll have to pay for the permit, many remote camping destinations will not require additional fees.
We'd recommend checking out Pacific Beach State Park or Hood Canal with gorgeous views of the Olympic Mountains.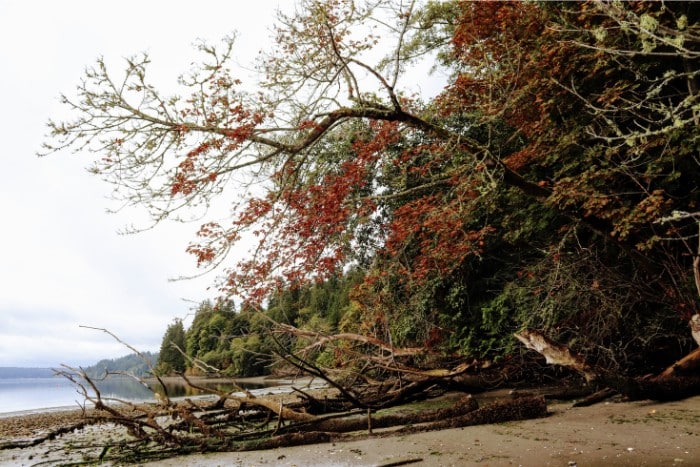 Final Thoughts
The United States boasts some of the most beautiful beaches in the world, and camping can make it easier to experience and access these locations.
Whichever beach you camp at, you want to ensure that you are up-to-date with the state laws. We hope this guide has given you all the information you need to have a safe and legal beach camping trip!