Canada has a great mixture of seas and lakes, providing you with plenty of beaches. The laws governing camping on beaches change depending on the province, park, territory, or beach. This easy-to-use guide outlines the major rules and laws that govern all thirteen of Canada's Provinces and Territories.
Some territories and provinces, such as Alberta and Manitoba, will ask you to register and buy a camping permit. Other places, such as the Northwest Territories, allow free legal camping in various wilderness regions. A national law in all of Canada is that you respect wildlife and vegetation.
Keep reading below to learn more about the laws governing each of the thirteen territories and provinces found throughout Canada!
Canadian Beach Camping Laws
1. Alberta
Alberta has several different laws governing its many parks and public lands.
Camping in Alberta is becoming increasingly popular throughout the year, and with this, so are the pressures on the environment.
With the wildlife, vegetation, and water in mind, Alberta requires that anybody wishing to camp in public lands along the Eastern Slopes of the Rocky Mountains must secure a Public Lands Camping Pass.
If you wish to camp on the beach in this area, particularly in Waterton Lakes National Park, you'll have to secure this Pass.
You'll be pleased to know that the money sent on these passes is reinvested back into the landscape.
For provincial parks in Alberta, the Provincial Parks Act states that you must register the campsites you are in and purchase a camping permit when applicable.
If you are making a reservation with a campground, this is not applicable, as the campground will sort it. Camping permits work on a first-come, first-served basis and cover a maximum of 6 individuals.
Most campsites allow individuals to stay for a maximum of 14-16 days before you must leave the area for at least 72 hours before returning.
2. Manitoba
Manitoba has an abundance of wonderful provincial parks that offer great beach camping.
Take the Winnipeg Beach Provincial Park, for example, which offers 3 kilometers of sandy, warm beaches. Rainbow Beach Provincial Park is another wonderful lake-beach camping destination.
Unfortunately, you can't pitch up anywhere on Rainbow Beach and must ensure you are on designated camping grounds. This is due to the high level of traffic along the beach.
For other beaches in Manitoba Provincial Parks, you must legally register once on-site and acquire a valid permit. A permit can only be issued for one camping site and must be made in the registrant's name.
It cannot be named on behalf of someone else. As well as this, permits can only be issued to people of 16 years or older.
Always double-check to see which beaches have separate rules attached. Remember these rules are in place for your safety.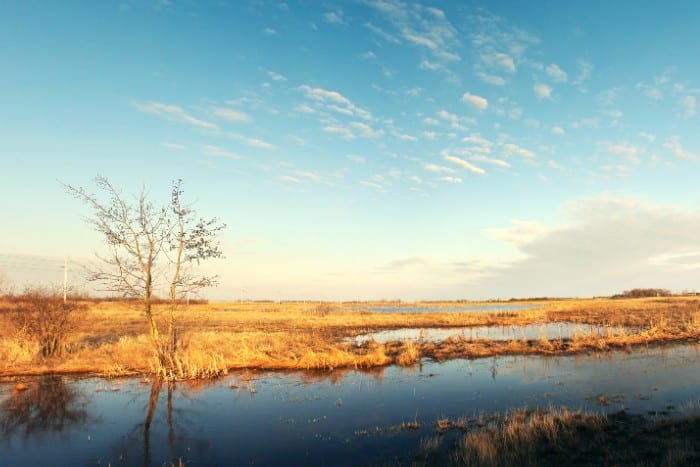 3. Saskatchewan
Saskatchewan's air is super clean, and the beaches are a wondrous space of natural beauty.
The Saskatchewan Provincial Park mandate stipulates that park lands should be a source of education and enjoyment.
With this in mind, camping in any provincial forest on vacant Crown or unoccupied leased land is legally allowed.
It does not, however, extend to all beaches. For instance, in Meadow Lake Provincial Park, if you wish to camp on a sandy beach at the edge of the lake, you'll need to camp in a campground.
Backcountry camping is allowed in Meadow Lake with a valid Backcountry Permit and Park Entry Permit, but it is unlikely you'll find a wonderful beach to camp on outside the campgrounds.
Our favorite beaches in Saskatchewan include Sandy Bay and Minowukaw Beach, both in Candle Lake Provincial Park.
Not only does the Park have some wonderful jackpines surrounding the beaches, but the sand is so fine it almost sparkles in the sunlight.
Camping on the beach will require you to camp in a designated campground and follow the campground rules.
It's important to know that many of Saskatchewan's parks and campgrounds are located in bear country. So take necessary precautions, even when camping on the beach.
4. Ontario
In Ontario, 80% of the land is Crown owned, so the provincial government manages it. While some land is reserved for parks and others for extraction, the rest of Ontario is open camping land.
If you're an Ontario resident, you can camp in a spot for up to 21 days, but if you're a non-resident, you could have to pay up to $10 a night to camp.
You may also be required to purchase a backcountry camping permit if you plan to do any backcountry camping.
The permit is not too expensive, but you will have to buy a different permit depending on the area you wish to camp in.
Wasaga Beach Provincial Park is one of the spots we'd recommend checking out for a day trip. At 14 km long, it is one of the longest freshwater beaches in the world.
The beach is strictly no camping whatsoever, and any defiance of the rules could lead to a hefty fine. If you want to camp near Wasaga, you'll have to pitch up in Craigleith or Awenda.
5. Quebec
The natural spaces in Quebec are unique, which explains why many Quebecers spend their summers camping here.
Some public lands in Quebec offer free legal camping, but overnight camping in Provincial Parks is usually prohibited. Some municipalities even have their own rules.
Take the regional county where Lac-Saint-Jean is found. Here you must camp in a designated campground. This is hardly an issue once you see how fantastic the campgrounds are.
Check out Vauvert Sur Le Lac-Saint-Jean, where you can camp on the shoreline next to a beautiful boreal forest.
Even though wild camping is scarce, most beaches have an abundance of campgrounds. There are several islands in the city of Varennes that you are not allowed to camp in, even if they are publicly owned.
These include Île au Bœuf, Île au Cochon, Île aux Crapauds, Île aux Hérons, Île Sainte-Thérèse, Île aux Vaches, and Île au Veau.
6. Nova Scotia
Nova Scotia offers wilderness areas where camping is legally permitted overnight without a permit or fees. These wilderness areas are identified under Nova Scotia's Wilderness Areas Protection Act.
Camping here comes at a cost, as all wilderness campgrounds lack amenities.
This also means you must follow wilderness camping guidelines such as pack in, pack out and only build campfires with a fire ring or firebox/pan.
In Provincial Parks, the rules are slightly different. You'll need to purchase a camping permit and camp within a designated campground.
Risser Beach is famous in Nova Scotia for great surfing and exciting hikes over its rocky shores.
We'd recommend staying at North Beach Campground, which offers fantastic views of the ocean as well as hot showers and electricity.
If you fancy an adventure or staying somewhere a little quieter, check out Grave Island Provincial Park, which provides panoramic sea views.
7. New Brunswick
Similar to Ontario, in New Brunswick, you can camp on Crown Lands as long as you follow the Lands rules and only for a limited time.
However, the Department of Tourism, Heritage, and Culture in New Brunswick states that you must have a camping permit to camp in any Provincial Park.
Double-check if you are staying in a provincial park or land marked as wilderness, as the laws will vary.
Camping on Parlee Beach is famous, but we believe it's slightly overrated, and the campgrounds nearby are pretty worn out.
We would instead recommend checking out Murray Beach Provincial Park, where you can camp steps away from the beach, and, in the summer, the waters warm!
Or check out Kouchibouguac National Park, which is a Dark Sky Preserve. This means artificial light in the park is prohibited, making it even better for sleeping under the stars.
8. British Columbia
If you plan to camp at a beach while backcountry camping in British Columbia, you'll need to register for a backcountry permit. To get a permit, you must be 16 years or older.
Most backcountry camping in British Columbia requests that campers stay in a designated campground but remember this is for your safety.
If you want to double-check if you need to stay in a designated campground in a provincial park, then you can search for it here on the British Columbia Parks website.
Most provincial parks with beaches will ask you to stay in a designated campground.
Rathtrevor and Miracle Beach are beautiful spots for camping on the beach, but they are very popular in high season, leading to the campgrounds being booked up months in advance.
Don't worry about it, though, as there are plenty of campsites on the beach that work on a first-come, first-serve basis. In particular, we'd recommend camping in Silver Beach Provincial Park.
9. Prince Edward Island
By the name, I'm sure you can tell Prince Edward Island has plenty of beaches to camp on. Wild camping on Prince Edward Island is illegal, so you'll have to find a designated camping spot to pitch up.
In the Prince Edward Island National Park, you must camp in one of these two campgrounds: Cavendish and Stanhope.
Even though these campgrounds are only open from June until September, they've got a fantastic summer vibe with camping provided right on the beach.
Outside the national park, plenty of other beach camping options exist.
Check out either Panmure Island Provincial Park, which has red sandy beaches and a campground right on the beach or Cabot Beach Provincial Park, which offers camping on the cliffs overlooking the sea.
10. Newfoundland and Labrador
Unlike many of the provinces and states in Canada, Newfoundland and Labrador offer some free, legal camping on the beach.
North of Gros Morne National Park is Bellburns Beach, which offers beautiful camping straight on the beach.
There are also a couple of camping options at the site that allow you to choose what you want, depending on the weather.
If you plan to camp in a provincial park, you'll have to check their own beach camping laws. For example, Sandbanks Provincial Park does not allow camping on the beach.
There are plenty of campgrounds close to the beach, but you could pick up an expensive fine if you fail to follow these laws.
Pinware River Provincial Park is slightly different and offers a designated campground with camping straight on the sand.
11. Nunavut
Camping in Nunavut is not for the faint-hearted, it can be seriously demanding camping in Arctic conditions, but it is worth it for the spectacular untouched beauty you can witness.
You can watch beluga whales in Nunavut at Whale Cove, catch the migratory birds in Polar Bear Pass, or even observe the dazzling aurora borealis.
All camping in Nunavut could be named wilderness camping. Even in designated campgrounds, it can feel like camping on the edge of civilization.
You can legally camp almost anywhere in Nunavut, but you must ensure you have specialized gear, and at times even a guide must be with you.
Beach camping can be seriously cold, so we'd recommend only taking part if you are an experienced camper in these conditions.
12. Northwest Territories
In the Northwest Territories, there are several free, legal campsites on the beaches of lakes and rivers. Stingray Head, Salt Creek Rest Area, and Little River offer free, legal camping throughout the territories.
If you're looking for something more organized and offering amenities, then there are more developed campgrounds throughout the region.
If you plan to stay in one of the Territorial Parks, you must first acquire a camping permit. These are pretty simple to get either online or at the Gatehouse on entry to the park.
The Northwest Territories have strict campfire laws, and you must adhere to these to ensure the forests are kept safe from wildfires. Find a full list of the rules here: NWT Campsite Etiquette & Rules
13. Yukon
Camping in Yukon is generally run on a first-come, first-served basis, and most camping is drive-in.
If you plan to participate in drive-in camping, you will legally need to purchase a camping permit and register once you arrive.
There are a handful of backcountry camping sites in Yukon, including spots along the Yukon river and the Coal River Springs.
While these two sites do not require permits or registration, some backcountry sites will.
Beach camping is scarce in Yukon, but the best spot to check out for the closest beach experience you'll get is in one of the designated campgrounds along the Yukon River.
Final Thoughts
Camping in Canada is becoming increasingly popular, and we recommend you get out there and enjoy it while there are still so many beach camping options available.
We hope this guide has given you all the information you need to camp legally in any province or territory. Above all, remember to respect your environment and leave no trace when your trip ends!