From San Francisco to San Diego, California's stunning coast covers 600 miles of white sandy beaches, spectacular views, and rocky coves. While many of these beaches allow day visits, finding out which allows tent camping can be confusing. Here we cut the dribble and give you the straight answer to whether tents are allowed on California beaches.
Each beach will have varying laws, but generally, tents are not allowed on beaches in California unless they are in a designated campground. This is for your safety and the protection of the surrounding environment. Although beach camping is limited, there are still some hidden gems.
Below we explain in more detail exactly why it's illegal to camp on California sand overnight. However, don't let this ruin your camping plans! We also provide a list of California beaches that allow beach camping and which campgrounds to check out.
Are Tents Allowed On California Beaches?
For most beaches in California, it is illegal to camp directly on the sand overnight. This is due to a combination of laws and rules to ensure your safety and wildlife protection.
Even campsites that allow camping on the beach will only allow camping at the top of the beach, which will be due to high or unpredictable tides.
Regarding wildlife protection, the Marine Life Protection Act (MPLA), passed in 1999, ensures that many of the beaches along California are protected under a conservation status.
This means that certain activities are prohibited, including camping. There are plenty of beaches that do allow tents. However, the majority of these will be in designated campgrounds.
So if you're looking for free camping, we'd recommend choosing another state.
With this, it's important to highlight that the legality of each beach is different, so double-check before arriving at which laws you must abide by.
Another important side note, in case you're wondering if beach tents are allowed on California beaches, then you're in luck.
As long as your beach tent only has three walls and is not fully enclosed, it is okay to set up on most beaches.
Which Beaches Can You Camp On?
Tents are allowed on some California beaches, but you'll likely have to camp in a designated area. Below are our top 8 beaches and the correlating campgrounds that you can check out.
1. Pismo State Beach
Pismo State Beach covers a stunning 17-mile stretch of California's coast. Attracting millions of visitors yearly, the beach is famous for its Clam Festival and unique monarch butterfly grove.
Mere footsteps away from the shore are two renowned camping sites we'd recommend checking out: Oceano Campground and North Beach Campground.
Both campgrounds offer tent camping and a range of amenities, from flush toilets to showers. Just beware, you may have to pay extra for these.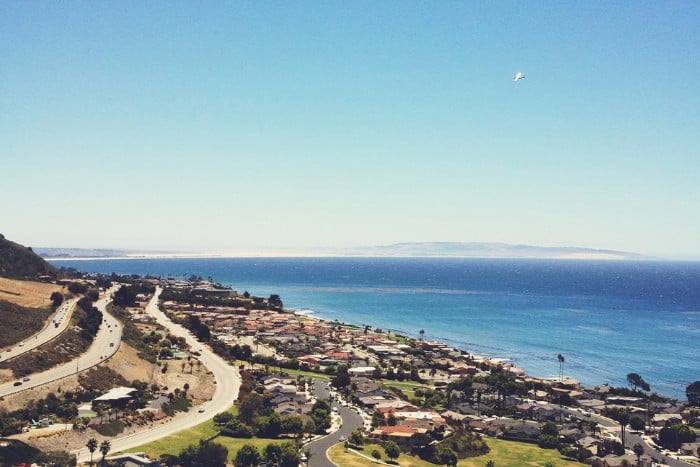 2. Bodega Bay
Bodega Bay covers a wondrous stretch of California's coast, offering scenic hikes, exciting water-based activities, and sublime camping.
Bodega Dunes Campground is the most renowned campsite in the area, and this is partially due to the large campsite space you're guaranteed, which offers privacy and quiet.
If you're headed to Bodega for the wildlife, check out Wright's Beach Campground, where whale watching between January and May is super popular.
3. Point Reyes National Seashore
Point Reyes is hugely popular for the adventure seeker, offering only hike-in backcountry or boat-in camping.
Due to its remoteness, Point Reyes gives an untouched view of Calforinia's coast, expect quiet vibes and flourishing wildlife. If you're keen to boat in, check out Tomales Bay Campground.
Here, you can camp in small sandy coves but be aware that only 20 permits are available each day. Wildcat Campground is the best option if you like hiking, camping, and legendary ocean views.
A 5.5 to 6.3-mile hike is needed to reach Wildcat, but feeling like the ocean is all yours is worth it.
4. Angel Island State Park
Inside the San Francisco Bay area, Angel Island is a picturesque gem that offers quiet, secluded camping.
Only accessible by private boat or ferry, the Park has over 10 primitive campsites which can be reached by hiking or boat.
Most campsites are a 1-2 mile hike from the ferry port and helpfully include picnic tables and charcoal grills.
However, be aware that there are no stores to buy camping supplies on the islands, so you'll have to pack appropriately for the entirety of your stay.
Alongside camping, fishing, birdwatching, and stargazing are popular pastimes you should make the most of while on the island.
5. Big Sur
Big Sur is the spot if you're looking for a more sheltered camping experience. The campsites in Big Sur surround the Big Sur river and are situated in the Redwood forest that hugs the central coast of California.
Most campsites are slightly inland as the cliffs bordering the ocean make it tricky to camp directly on the beach. This is not an issue; you can still visit Pfeiffer and Andrew Molera Beach during the day.
Camping experiences vary from wilderness hike-in camping to resort-style campsites with full amenities.
6. Channel Islands National Park
Situated on the southern end of the California coast, the Channel Islands comprises five individual and remarkable islands.
Explore the sandy beaches of Rosa Island, capture the incredible views from San Miguel Island, or dip into the pristine waters at Anacapa.
Whichever island you visit, you will surely have a different and unique beach camping experience.
Most of the camping sites on these islands can only be reached by hiking, so ensure you pack appropriately for the distance you'll have to hike.
On another note, these islands see very unpredictable weather. Make sure you pack for all weather conditions.
7. South Carlsbad State Beach
In the San Diego county of California, South Carlsbad is popular for its warm and relaxed stretch of sandy beach.
Close to the city of Carlsbad and with a camping store on sight, South Carlsbad Beach is perfect for anyone that wants beach camping with convenience.
Unlike some of the more rustic beach camping options above, South Carlsbad campground offers a range of amenities from flush toilets to hot showers.
With numerous water activities at your fingertips, this is a great spot to take the family during the holidays.
8. New Brighton State Beach
New Brighton is another popular family beach camping site located on the Santa Cruz coast.
New Brighton State Beach Campground has over 100 camping sites between pine trees for added shelter and privacy. Even amongst the trees, sites have scenic views of the ocean.
The campground also has restrooms, pay showers, and campfire stations.
If you're looking for a more active holiday, you'll be pleased to hear New Brighton offers exceptional surfing, attracting both experienced and beginners.
Final Thoughts
We hope this article has given you all the information you need regarding the laws and rules surrounding tent camping on beaches in California.
Although many of the beaches in California do not allow direct camping on the sand, there are some exceptions. As long as you stay in a designated campground, you can make the most of California's coast!