8 Easy Camping Meals for the Whole Family
Planning campfire recipes for a camping weekend can be a bit like a military operation. Some people are incredibly thorough in their approach and like to have everything at hand so that they know exactly what they are doing when they are doing it and critically, what they are eating. Some people are more relaxed and prefer to plan less. For them, we have 8 easy camping meals.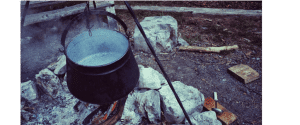 Of course, when you go camping, you don't have to cook every meal. If there is a restaurant or a bar nearby then you might want to eat out. After all, you are on vacation and want to relax. However, if you are only camping for a night or two, or if you are camping in the middle of nowhere, then you are probably going to want to cook for yourself. Often it is more exciting and it always tastes better 😉
Camping is all about enjoying the big outdoors and that is kind of ruined if you don't eat in the big outdoors as well. A well-fed family is usually a happy family, so it's important to get the food right if you are going to cook it all yourself. With all of this in mind here are 8 super easy camping meals that are suitable for the whole family. Don't forget to make sure you have the proper cooking utensils added to your camping gear list.
First though, a list of 'food basics' to take with you:
tea, coffee, sugar, long life milk, eggs, bacon, sausages, bread, butter, cereal, spreads, pizza sauce, noodles, pasta, fruit, bottled water, canned/packet soups, canned food (tuna, beans etc).

Now, let's run down the 8 easy camping meals:
Paper Bag Eggs and Bacon
This is a camping classic and it is surely one that everyone will love. As well as tasting really good the other great thing about this recipe is that if it goes wrong it's still exciting – if the paper bag burns up then it is quite a spectacle – a bit of a pain for the cook(!) but great fun for the kids to watch. Anyway, to do it you first need to line the bottom of a paper bag with four slices of bacon. Next, crack the egg into the 'nest' shape that you will have made. Fold the bag in two and pierce a hole through it with a stick. Carefully hold the bag over the fire so that the bacon cooks and the fat melts. Keep cooking it until the egg melts. Then it's ready to eat (mind you don't put it on your pants though as it will ruin them – suggest you put it on a plate first!).
Kabobs
Of course, we all know that kabobs are great. They are also pretty easy. Cut up some meat of choice, as well as all of the vegetable prior to leaving. Then, when it's time, just slide them all on the skewers and cook. One thing to remember, canned potatoes hold together and fully cook better than raw.
Camping Pizza
A pie iron is pretty crucial for this but you can get them at most camping stores. All you need is bread, pizza sauce, mozzarella cheese, and butter. Make it like a grilled cheese sandwich, then put it in the pie iron dish thing and put over the fire. Wait until cooked and then eat! Delicious!
Spaghetti with Veggie or Meat Sauce
If you have a couple of saucepans and the ability to boil water over a fire or camping stove then this is a nice easy one. Brown some onions in one pan while boiling the water in the other. Once the water is boiling add the pasta. In the other pan add various veg (celery, mushrooms, tomato) or meat (sausage, mince) depending on what you are doing. Finish with some tomato sauce. Combine and add to bowls and eat.
BBQ Steak, Corn on the Cob and Baked Potatoes
There is nothing quite like a steak over the fire. Wrap the baked potatoes in foil and put in the fire to cook. Don't let things cook too long!  If you are cooking on a rack over the fire, the potatoes can tend to take a little longer.  Don't forget to add chopped onions, sweet peppers, and fresh garlic for a truly awesome potato packet.
Left-Over Meal
Don't forget about the value of leftovers. It is usually rare when you are camping to have leftovers as generally everyone is hungry enough to eat everything but if you do have leftovers then you can be creative and go for it with some creative meals.
Foil Meat and Veggies
Tin foil is great for camping. Put a burger patty in the foil and add various vegetables that you think might be good. Serve with cheese or some sort of sauce.  The simplicity of this option is ridiculous.  Add some spices for a great feast. Another, even fancier variation is shared in the video below.
Banana Boat
This is a great dessert if you want something sweet at the end of the meal. Slice an unpeeled banana from the stem to the bottom. Open it and fill with marshmallows and chocolate chips. Wrap it in foil and put on the hot coals or the fire for 5-7 minutes. When done, eat it out of the peel. The marshmallows will have melted and it will be delicious.
I'm sure you knew we were going to end this post with an alternative to the tried and true s'more.
Hopefully, you like at least one of these awesome, outside the box easy camping meals.
Don't forget to make sure you get a solid night sleep after these awesome eats for the campsite. One great option is a lightweight sleeping pad.
Enjoy the outdoors!